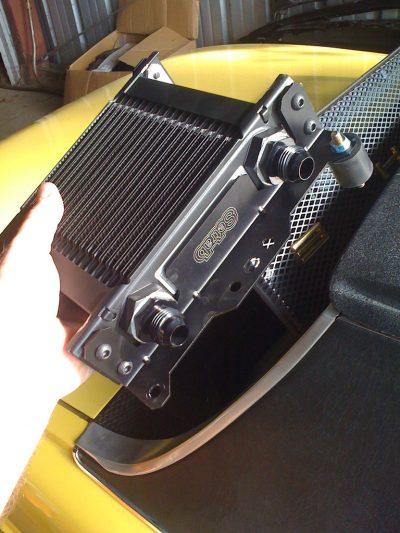 An oil cooler is a part of your vehicle's cooling system that is designed to cool the engine oil as it goes through the coils.
Oil coolers may not be so strange to you if you have a vehicle. You may have noticed it when you open the bonnet. So, you may be wondering what exactly goes on in these oil coolers.
In these coolers, engine oil is used as a coolant. It removes excess heat from the internal combustion engine. So, your engine never overheats and you can get to your destination without any hassles.
In this article, we would look at how an oil cooler works, the advantages and disadvantages, and why they are important.
How Does an Oil Cooler Work?
The purpose of an oil cooler is to extend the life of your automobile's oil and engine. This is done by constantly keeping it cool when the engine is running.
Automobile engines produce excess heat. Because of this, they need enough transmission fluid to cool down. An appropriate temperature for engine oil falls between 180⁰C and 200⁰C.
Engine oil kept under the right temperature works well as a coolant, cleanser, and lubricant. The heat which the engine transfers to the oil go through the oil cooler of your vehicle commonly known as the radiator.
When the oil cools, it flows back into the hot engine to cool it. This cycle is repeated continuously until you turn off the engine.
Check out this video below to learn more about how an engine cooler works
What is an Oil Cooler? – Advantages of Using Oil as Coolant
i. Oil is not an electrical conductor. So, it can make contact with electrical equipment and automobile parts without causing an explosion.
ii. Because the vehicle uses oil as a lubricant, you don't need a separate tank for the coolant. As mentioned above, it serves as a coolant, lubricant, and cleanser.
iii. If the gasket of your vehicle fails and oil leaks into the combustion chamber, there would be no terrible outcome. Your engine won't experience heavy damage.
iv. Unlike water, oil helps to prevent corrosion.
v. Oil can cool items at temperatures of over 100⁰C. This is because it has a higher boiling point than water.
What is an Oil Cooler? – Disadvantages of Using Oil as Coolant
i. Oil can degrade, but water can't. Although you can boil water and it may evaporate, you can't do the same with oil. It may even leave ashy deposits if the engine gets hotter than 300⁰C.
ii. Oil may not be readily available when compared to water which can also serve as a coolant. You can find water everywhere.
iii. Oil may be flammable. So, it might be dangerous using it as an engine coolant.
iv. If the temperature of your engine is always high i.e. it produces large amounts of heat, water is a better option for good performance.
v. Water has a greater specific heat than oil. So, it can absorb a greater amount of heat than the same quantity of oil.
Check out these other in-depth articles/reviews…
Ivation 8-Bottle Wine Cooler with Wooden Shelves — Extensive Review
Whynter 24-Bottle Dual Zone Wine Cooler — In-depth Review
Phiestina 33-Bottle Dual Zone Wine Cooler — In-depth Review
Avanti 12-Bottle Wine Cooler — Extensive Review
Frigidaire 8-Bottle Wine Cooler — Detailed Review
Costway 6-Bottle Wine Cooler Review — In-depth Review
Conclusion                          
While not all automobiles use oil coolers, they have proven to be a very important component. Without these radiators, most vehicles would break down due to overheating. So, you would be unable to move it and have to wait for the engine to cool down.
There are various advantages of oil coolers. For example, when the vehicle radiators become faulty, it causes a lot of discomfort to individuals who have to travel far. A few disadvantages of using oil as a coolant exist, but it has worked well in vehicles producing a moderate amount of heat.
Examples of engines that use oil coolers include Victory Motorcycles, Kubota OC95, HKS 700E, and Suzuki GSXR 750.
Click here to buy and check out oil cooler kits like this on Amazon!