AstroAI 4-Liter Mini Fridge is a product of AstroAI, a manufacturing company based in Southern California.
AstroAI creates a new generation of products that many individuals love by remodeling and redesigning old products. For instance, it boasts a bestselling digital tire gauge that has received tons of positive reviews from its users.
The company's location pushes it to continuously manufacture new products and stay on top against competitors.
It also offers excellent customer service to ensure that its users have a god after-sales experience. AstroAI gives warranties on its products as a way to assure users of quality and durability.
Its range of products includes multimeters, air compressors, tire gauges, tire inflator gauge, converter, accessories, battery chargers, masks, and mini-fridges.
Let's take a look at the features of the AstroAI 4-Liter Mini Fridge and see if it's worth having in your office or home.
Who Needs the AstroAI 4-Liter Mini Fridge?
The AstroAI 4-Liter Mini Fridge is suitable for people who need to store up to 6 beverage cans or items of similar sizes in a cooler.
Refrigerators with this capacity are very portable and can be used by people who need cold beverages or desire to keep their food warm wherever they may be.
Nursing mums, for instance, will find this unit particularly useful. They can express their breastmilk into feeding bottles and have the milk preserved conveniently in this fridge.
What's more? With this unit in place and bottles of milk in it, she can attend to other things while a partner, babysitter, or caregiver can feed the baby in her absence.
People who work in offices would also find this personal refrigerator very useful. So, if you work in a large open office, with this fridge, you no longer have to use the communal fridge and risk losing some of your food items or drinks.
Because this 4-liter mini-fridge by AstroAI can fit into very small spaces, you can have it placed at your desk. So, not only will it keep your food items safe, but it will also make it easy to reach for whatever you want whenever you want it.
We should also mention that this mini fridge is suitable for storing cosmetics and medications that need to be refrigerated.
Meanwhile, if you are a student, then you will also find it useful because you can have it in a room where you don't have so much real estate to have a larger fridge installed.
Click here to get it on Amazon
Features of the AstroAI 4-Liter Mini Fridge
Cooling/Warming Function
Home appliance manufacturers have realized that many individuals prefer comfort and affordability.
No one would like to buy a separate mini-fridge and warmer when there's an appliance that can do both.
The AstroAI 4-Liter Mini Fridge like many portable refrigerators has this dual feature.
What do we mean?
With this mini-fridge, you can have your cold beverages whenever you want some. And with just a touch of a button, you can also switch to keeping your food warm in it.
This is a great feature for people traveling or those who are usually occupied with work and will rather have their meals at a later time.
Temperature Control
As mentioned above, the AstroAI 4-Liter Mini Fridge has a dual temperature function. As a result, there has to be a way to change the temperature function whenever you want.
In this refrigerator, you can easily change the temperature with the switch located behind the refrigerator.
Before switching from cooling to warming function or vice versa, it helps to ensure that all items have been removed from the refrigerator and that the unit is unplugged from the power source.
By the way, it takes approximately one hour for the internal temperature of your refrigerator to adjust after switching the function.
Power Option
Electrical and electronic appliances including refrigerators come with one or several power options. Some of these power sources include AC/DC adapters, batteries, USB adapter, and solar panels.
The AstroAI 4-Liter Mini Fridge has both the AC and DC adapters.
With the AC adapter, you can connect your refrigerator to a 120V AC outlet in your home, office, or anywhere you have an AC socket.
The DC adapter, on the other hand, allows you to make use of this refrigerator in a vehicle. All you need to do is to connect it to your cigarette lighter and your fridge will be ready to serve.
You should only plug your fridge in when the ignition is on, to avoid draining your car battery. With this feature, you can enjoy your snacks at warm temperatures and your drinks at cold temperatures whenever you are on a trip.
Design
The AstroAI 4-Liter Mini Fridge comes in a very attractive design and you can purchase it in one of three colors – black, white, or blue.
The exterior of the unit is sleek and looks great wherever you decide to place it.
More so, the refrigerator is small and fits underneath tables and shelves, on car seats, office tables, and in small corners of your room.
It has a flat-back design that saves space in your room or vehicle. Its adapters and temperature control switch are located at the back of the refrigerator and are easily accessible.
What's more? This design is quite modern. The sliver door handle, for instance, makes it look exquisite and makes it easier to open.
Meanwhile, organizing and cleaning the interior of the unit is easier because of the single shelf that is located right in the middle of the unit. This shelf allows you to arrange your beverage cans properly.
Portability
Most mini-fridges are portable and you can carry them around easily. Although their size makes it easy to lift them by grabbing their sides, some of them come with added features that make transferring them from one place to another hassle-free.
The AstroAI 4-Liter Mini Fridge has a strong handle on top for this purpose.
You also don't have to worry about the handle breaking off because it is strong enough to withstand the weight of the cooler even when it is fully loaded.
Click here to get it on Amazon
Pros of the AstroAI 4-Liter Mini Fridge
i. It is portable and can be carried anywhere
ii. Its size allows it to fit into small spaces.
iii. It has a dual temperature function (can cool and warm)
iv. A switch behind the refrigerator makes switching between warming and cooling easy.
v. has both AC and DC adapters.
vi. It has a removable shelf for easy cleaning and organization.
vii. It has a grabbable handle for portability.
Click here to get it on Amazon
Cons of the AstroAI 4-Liter Mini Fridge
i. Dual temperature function may not work.
Check out these other in-depth articles/reviews…
Alternatives to the AstroAI 4-Liter Mini Fridge
Larger Capacity
Cooluli 15-Liter Mini Fridge
The Cooluli 15-Liter Mini Fridge is a larger-sized mini-refrigerator suitable for people who have more than 6 soda cans to store in their mini-refrigerator.
With this refrigerator, you would be able to store up to 22 canned beverages. This is great for organizing a small get-together with family and friends or for use on a road trip with friends.
This fridge also has a very nice design typical of all Cooluli products and comes with similar features to the AstroAI 4-Liter Mini Fridge.
In addition, it has a dual temperature function (can be used to cool or warm items) and can also be used in vehicles due to its DC adapter option.
There's more to learn about this mini-fridge before you make a decision. Learn more in our detailed review of this product here.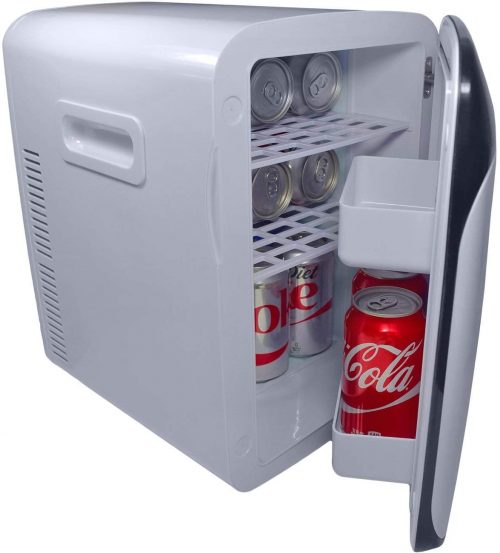 Click here to get it on Amazon!
USB Adapter Option
Cooluli 4-Liter Portable Mini Fridge
The Cooluli 4-Liter Portable Mini Fridge is of similar size to the AstroAI 4-Liter Mini Fridge. The two products have similar features such as the size, removable shelf, and dual temperature function.
Apart from the DC and AC adapters and cords that come with both refrigerators, the Cooluli 4-Liter Mini Fridge also has a USB adapter.
This means you can use a power bank as a power source for your refrigerator. You can carry it and enjoy your cold beverages or warm food wherever you want; even in places where there is no electricity supply.
Want to get more information about this mini-fridge? Then take advantage of the extensive review we did on it here.
Click here to get it on Amazon
Freezer Compartment
Black and Decker 2.5-Cubic Foot Compact Refrigerator
The Black and Decker 2.5-Cubic Foot Compact Refrigerator is for people who want something larger and more stationary.
This refrigerator is much larger than the AstroAI 4-Liter Mini Fridge and has 3 removable shelves which make cleaning easier.
Moreover, you can control the temperature of your refrigerator with an adjustable mechanical thermostat and fit in beverage cans and bottles into the door shelves.
Unlike the AstroAI refrigerator, it doesn't warm items or have the DC power option.
It is a great option for people who do not need a refrigerator to carry about but one to fill spaces in their homes or offices.
You can learn more about this compact refrigerator when you read our detailed review on it here.
Quick Comparison  
 
Featured Product
Larger Capacity
USB Adapter Option
Freezer Compartment
Product

AstroAI 4-Liter Mini Fridge

Cooluli 15-Liter Mini Fridge

Cooluli 4-Liter Portable Mini Fridge

Black and Decker 2.5-Cubic Foot Compact Refrigerator

Click here to get it on Amazon!

 

Dimensions
9.4 inches x 10 inches x 6.9 inches
10.6 inches x 12.4 inches x 14.5 inches
10.2 inches x 7.7 inches x 10.5 in
18.5 inches x 17.5 inches x 26.6 inches
Capacity
4 liters
15 liters
4 liters
2.5 cubic feet
Weight
4.6 pounds
10.6 pounds
5 pounds
46.3 pounds
Color(s)
Blue, White, Black
Pink, Turquoise, Black, Yellow
Black, Blue, White, Pink, Cow, Fuchsia, Red
Black, Gray, White
Temperature ranges
Cooling – 30°F -37⁰F below ambient temperature within 3 hours

 

Heating – 150⁰F

Cooling – 32°F -35⁰F below ambient temperature

 

Heating – 150⁰F

At ambient temperature

 

Cooling – 40ºF-45ºF

Heating – 122⁰F-144ºF

At ambient temperature

 

Cooling – 32⁰F-35.6⁰F

Connectivity
It has both AC and DC adapters.
Features both AC and DC adapters.
It has DC/AC adapters and also has a USB adapter for connection to power banks.
It has an AC adapter.
Removable shelves
1
2
1
3
Image
Title
Price
Prime
Buy
AstroAI Mini Fridge 4 Liter/6 Can Portable AC/DC Powered Thermoelectric System Cooler and Warmer for Cars, Homes, Offices, and Dorms, Blue

Prime

Eligible

Buy Now
Cooluli Mini Fridge Electric Cooler and Warmer (4 Liter / 6 Can): AC/DC Portable Thermoelectric System w/ Exclusive On the Go USB Power Bank Option (White)

Prime

Eligible

Buy Now
BLACK+DECKER BCRK25B Compact Refrigerator Energy Star Single Door Mini Fridge with Freezer, 2.5 Cubic Feet, Black

Prime

Eligible

Buy Now
Product prices and availability are accurate as of the date/time indicated and are subject to change. Any price and availability information displayed on [relevant Amazon Site(s), as applicable] at the time of purchase will apply to the purchase of this product.
Prices pulled from the Amazon Product Advertising API on:
What Users Are Saying About The AstroAI 4-Liter Mini Fridge
The AstroAI 4-Liter Mini Fridge has generated a lot of reviews from over a hundred people who have used the products.
A larger percentage of these users loved their mini-fridges for the various features it has to offer.
One of the major features is its design.
The users have commended this mini-fridge because it sits well in very small places and also attracts so many people to the room because of its appearance. Although it looks very small on the outside, it can fit 6 beverage cans just as it claims.
Nonetheless, a good number of the users didn't put more than 5 cans to avoid the difficulty in extracting these cans whenever they are needed.
The AstroAI 4-Liter Mini Fridge also keeps items cold.
In fact, the users stored not just food and drinks in it but medication too. Some of the users who were diabetic were able to store their insulin in it and had easy access to the medication on long road trips. As one user said, 'the refrigerator has been able to keep vials of insulin cold for long periods'.
Thankfully, because the two power options function well, users were able to use the refrigerator in their bedrooms while some others had it in their cars.
The only major problem encountered by a few users is the temperature function. For instance, a user kept her skin products in her fridge. When she returned from her outing, they had gotten so warm as the fridge was heating them instead of cooling them.
Thanks to AstroAI's great customer service, refrigerators with operation issues were replaced with functioning ones in a short time.
Generally, users love the AstroAI 4-Liter Mini Fridge.
Our Verdict
The AstroAI 4-Liter Mini Fridge works effectively in cooling and warming your items. It is not meant for people who need refrigerators to form ice blocks or keep items at near-freezing or freezing temperatures.
It is for keeping already cold items cool and already warm items warm by maintaining a hot or cold temperature.
AstroAI's customer service is great. So if you encounter any problems with your refrigerator, you can easily contact them and they'll respond in a very short time.
The refrigerator also comes with a 3-year warranty, which is a very long time compared to other mini-refrigerators of this size.
In conclusion, the AstroAI 4-Liter Mini Fridge is a good choice for people who need to store up to 6 soda cans or items of equivalent sizes.
Click here to get it on Amazon
Related FAQs — AstroAI 4-liter Mini Fridge – In-depth Review
What are the applications of an AstroAI 4-liter fridge?
For office desks. If you spend a lot of time working at a desk, you can store homemade healthy lunches, snacks, or drinks in this unit. Also, this unit is great for home offices so you do not have to take trips to the kitchen.
To store homegrown food. If you love eating homegrown food, and your refrigerator is probably full of a lot of other items, you can make room in this unit and store some homegrown produce in it.
To keep food allergens separate. Managing food allergies can be very difficult, especially with children. Therefore, to keep the allergens away from the refrigerator, you can do so with this unit and keep away from the reach of children.
What can I store in an AstroAI 4-liter mini-fridge?
An AstroAI 4-liter mini fridge is a very important and handy unit, especially for college students. An AstroAI 4-liter mini-fridge in a dorm room can make any student you feel at home. In the same vein, an AstroAI on a working desk can make whoever is working feel more at ease.
An AstroAI 4-liter mini fridge can store the following:
Beverages.
Snacks.
Milk.
Leftover food.
Cheese.
Skincare products.
Fruits.
Chocolates.
Eggs.
Nuts (they last longer when stored in a fridge).
Water.
How much ventilation does an AstroAI 4-liter fridge need?
An AstroAI 4-liter mini-fridge needs a ventilation path of about 200cm2 to flow over the rear of the unit.
Without proper ventilation, heat can build up around the unit, causing a decrease in performance, and later failure.
This unit works by pumping heat from inside, to cooling elements at the back. The heat which pumps from inside must escape enabling the unit to work efficiently. The elements at the back of the unit make the air around it to be heated and when this hot air comes up, it is replaced with cooler air from below.
Is it safe to put an AstroAI 4-liter mini-fridge in a closet?
This mini fridge carries heat from its inside to its surrounding space. That heat needs to escape because the higher the ambient temperature, the faster the heat will go back into the fridge. If this happens, the fridge won't work as well as you expect it to because the temperature difference between the radiator at the back and the surrounding air will reduce, thereby reducing the heat transfer.
So, it is not safe to put an AstroAI 4-liter mini-fridge in a closet unless you create ventilation holes in the closet to let warm air escape.
If you do not create ventilation holes, the unit might get so hot that it doesn't work as efficiently as it's supposed to be.
Is it safe to place an AstroAI 4-liter fridge on a carpet?
Generally, it is not safe to place an AstroAI on a carpet.
Placing it on a carpet will reduce the airflow to the condenser, which is usually found at the bottom of the fridge. Also, a carper retains heat, leading to the poor performance of the condenser.
However, if you ever find yourself in a situation where you have no choice but to place it on a carpet, take note of the following:
Put something under the unit. Placing it directly on the carpet can cause bad odor and mold when the unit gets wet.
Close the unit doors properly.
Watch out for your coils, especially if they are at the bottom of the unit.
Check it at regular intervals.
How can an AstroAI 4-liter mini fridge be maintained?
Make sure the unit is free of paper and other flammable items.
Leave enough room behind the unit to allow air circulate freely.
Do not block the interior or exterior ventilation openings of this unit.
Do not let the main cable get stuck under the unit when putting it in position.
Do not connect the unit to power until you've taken out all the packaging.
Do not place the unit close to cookers, radiators, or in direct sunlight. This can cause the unit to work harder than it's supposed to just to maintain the internal normal temperature.
Need expert help? Click here to use the chat box on this page to speak with a verified appliance technician right away. No need for expensive in-home service calls. No appointments. No waiting.