The Cooluli 15-Liter Mini Fridge is one of the electrical appliances produced by Cooluli.
The brand is one of the top manufacturers of home appliances and keeps rising even after only getting started in 2016 in Brooklyn, New York.
It is committed to proffering home and office solutions to customers with stylish appliances that are very efficient and also come at great prices.
Cooluli uses quality materials in its manufacturing process so that its customers can bank on the durability of parts and the entirety of its appliances.
In all Cooluli refrigeration products, there are no refrigerants, Freon, compressor, or cryogen used. This makes the products eco-friendly and quiet while working to satisfy consumer needs.
Cooluli's products are mainly mini-fridges but they've all been grouped by the company into respective categories based on their designs and mode of operation. Some of these categories include Americana, Classic 10L, Classic 15L, Coca-Cola Collection, Concord Edition, Infinity 10L, Infinity Series, and Vintage Chic among others.
Let us take a deeper look at the Cooluli 15-Liter Mini Fridge and see what it has to offer.
Who Needs the Cooluli 15-Liter Mini Fridge?
When people are trying to purchase refrigerators irrespective of size or function, they make a list of everything they can ever think of fitting into the refrigerator and see if it is going to take them all at once.
The Cooluli 15-Liter Mini Fridge was built for individuals who plan to store only 15-Liter worth of items, which is about 18 canned beverages. This is perfect for people who would love to keep a mini-fridge in a corner of their rooms so they don't have to walk down every night to the main refrigerator to get what they want.
The dual connectivity of the mini-fridge also lets you use it wherever you want, especially when going on road trips with a large number of friends. Everyone is happy while consuming their cool beverage.
The Cooluli 15-Liter Mini Fridge does more than cools beverages and other items. We will be examining more of its features below.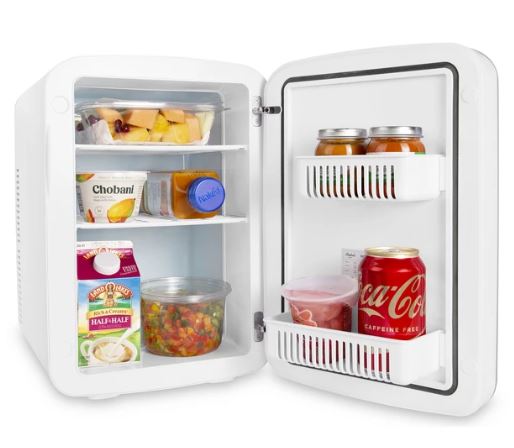 Click here to get it on Amazon!
Features of the Cooluli 15-Liter Mini Fridge
Mobility
The ease of transferring your mini-fridge from one location to another shouldn't be taken for granted. If you're carrying your fridge and it slips from your hands and gets damaged in the process, it comes at a great loss to you.
This is why the Cooluli 15-Liter Thermoelectric Mini Fridge comes with strong handles on its sides for easy mobility. The position of the handles also makes it easier for you to carry it without spilling any fragile content in the fridge.
Connectivity
Large refrigerators and compact refrigerators need a good source of power to be able to function where and when they are needed. All refrigerators come with an AC adapter which you can use to connect it to 110V AC sockets at home.
Because one of the features of the Cooluli 15-Liter Mini Fridge is portability, it comes with both an AC and a DC adapter and cords to use them with.
The DC cord is long enough that you can place your fridge on the back seat of the car while it is plugged to your cigarette lighter on your dashboard.
Cooling/Warming Function
The presence of a dual temperature function in portable mini-fridges has become rampant because the manufacturers have observed that many people need more than something to cool their beverages.
The Cooluli 15-Liter Mini Fridge uses a thermoelectric system to cool or warm food items. So, whether you're in an office where the company policy doesn't permit eating at certain periods, this mini-fridge helps you store your food when it arrives and keeps it warm so that you get it at a good temperature when you're ready to eat it.
This unit functions with an electric fan that blows air from the metal inside the fridge to the external parts of the fridge. This helps keep the fridge functioning without the use of Freon, compressor, or any refrigerants.
This is also good for people on road trips who do not enjoy stopping by the roadside to grab some hot fast food or cold drinks. Before leaving home, you can quickly put those items in your fridge and enjoy it till you get to your destination.
Not everyone who has this fridge uses it as a warmer for fear of damage or because they don't have the need for it. However, some individuals have given it a try and have seen that it functions pretty well as a warmer as it does as a cooler.
Design
Every Cooluli mini-fridge has a design that makes them look great wherever they are placed. Cooluli takes style into consideration during the manufacturing process of its portable fridges. This is good because no one wants to put an ugly-looking fridge on the work table or ruin the amazing kitchen interior with a fridge that seems so out of place.
The Cooluli 15-Liter Mini Fridge aims to please customers with a stylish design. It comes with a glass front door that has the brand name inscribed on it, while the entire body is made of plastic. The plastic material makes it lightweight, and easy to carry from one place to another.
It has two removable shelves and two additional racks on the front door to fit in smaller items like a granola bar, a bar of chocolate, a small bag of cookies or anything else that can fit in.
Temperature Control
Controlling the temperature of the Cooluli 15-Liter Mini Fridge isn't difficult. It comes with an easy switch for changing the temperature function from cooling to warming and vice versa.
You should not flip the switch while the appliance is still connected to a power source and fully functional. When you decide to change from cooling to warming function, ensure you have unplugged the fridge and emptied it.
If you notice any condensation build-up at the bottom of the fridge, wipe it off with a soft clean material before filling your fridge and turning it on so it can begin to perform as you've instructed.
Click here to get it on Amazon!
Pros of the Cooluli 15-Liter Thermoelectric Mini Fridge
i. Has a compact design and can carry large bottles.
ii. Shelves can be removed to accommodate large items and retained for proper organization.
iii. It does not make noise while it functions.
iv. Freon-free and Eco-friendly.
v. It has both DC and AC adapter options.
vi. Functions as a cooler or warmer.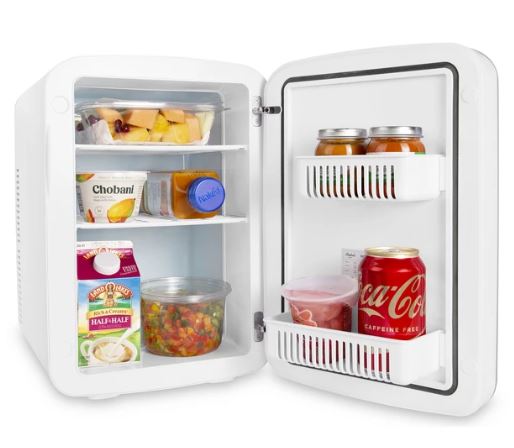 Click here to get it on Amazon!
Cons of the Cooluli 15-Liter Thermoelectric Mini Fridge
i. Takes a while to cool.
ii. Ice forms on the screws at the back.
Check out these other in-depth articles/reviews…
Alternatives to the Cooluli 15-Liter Thermoelectric Mini Fridge
Larger Capacity
Cooluli Concord 20-Liter Mini Fridge with Digital Thermostat
The Cooluli Concord 20-Liter Mini Fridge offers a larger capacity and comes at almost the same price as the Cooluli 15-Liter Mini Fridge.
Apart from the larger size which means a larger space to store more items, the Cooluli Concord mini-fridge comes with a digital thermostat for user-friendly and easy operation.
The thermostat displays the internal temperature of your mini-fridge on the screen on the unit's door. The manufacturers claim that it also allows you to adjust the fridge temperature so that you can get your items at the desired temperature. We say this because some users claim that this feature doesn't work.
That being said, it provides a larger space for your storage and allows you to read your fridge temperature. So, you won't need to get a separate thermometer to know the temperature in the fridge.
Click here to get it on Amazon!
Adapter Option
Cooluli 4-Liter Portable Mini Fridge
The Cooluli 4-Liter portable mini-fridge is one that works efficiently to either cool or warm fewer items than the featured product can accommodate.
In addition to its AC and DC connectivity options, the Cooluli mini-fridge also features a USB adapter which takes the limit off when and where you can connect the unit.
We recommend using a power bank with sufficient capacity to power the fridge and keep it running.
Our in-depth review of this product may help you decide better if this mini fridge will be a better alternative. You can read the full review here.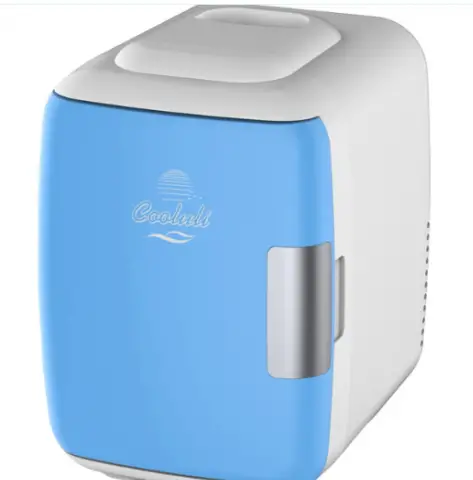 Click here to get it on Amazon!
Freezer Compartment
Black and Decker 2.5-Cubic Feet Compact Refrigerator
The Black and Decker 2.5-Cubic Feet Compact Refrigerator offers more features than the featured product.
With its 2.5-Cubic Feet Capacity, you get to enjoy some space and more shelves.
What's more? You get to enjoy a freezer compartment for items that you need to freeze or cool at low temperatures.
The freezer compartment isn't so large, but you can keep small items and make ice cubes with it.
The only problem is that you can't carry it in your vehicle because it is understandably big and does not have a DC connectivity option.
Click here to get it on Amazon!
Quick Comparison  
Featured Product
Larger Capacity
Adapter Option
Freezer Compartment
Product

Cooluli 15-Liter Mini Fridge

 

Cooluli Concord 20-Liter Mini Fridge 

Cooluli 4-Liter Portable Mini Fridge

Black and Decker 2.5-Cubic Compact Refrigerator 

Click here to get it on Amazon!

 

Dimensions
10.6 inches x 12.4 inches x 14.5 inches
11.4 inches x 13.8 inches x 16 inches
10.2 inches x 7.7 inches x 10.5 in
18.5 inches x 17.5 inches x 26.6 inches
Capacity
15 liters
20 liters
4 liters
2.5 cubic feet
Weight
10.6 pounds
15.65 pounds
5 pounds
46.3 pounds
Color(s)
Pink, Turquoise, Black, Yellow
Aqua Blue, Black, White, Pink
Black, Blue, White, Pink, Cow, Fuchsia, Red
Black, Gray, White
Temperature ranges
Cooling – 32°F -35⁰F below ambient temperature

Heating – 150⁰F

At ambient temperature

Cooling – 40°F

Heating – 149⁰F

At ambient temperature

Cooling – 40ºF-45ºF

Heating – 122⁰F-144ºF

At ambient temperature

Cooling – 32⁰F-35.6⁰F

Connectivity
Features both AC and DC adapters.
Has both AC and DC adapters.
Has DC/AC adapters, and also has a USB adapter for connection to power banks.
Features AC adapter.
Removable shelves
4
2
1
3
What Users Are Saying About The Cooluli 15-Liter  Mini Fridge
This Cooluli mini-fridge has gotten lots of reviews from customers. Most of these reviews have been positive. Nonetheless, there were a few negative reports.
For instance, 'It was great while it lasted' is a common response that users gave when they were asked about the product because it just didn't last as long as they expected.
Although the manufacturer guarantees a one-year warranty on the product, more often than not, the product usually packs up only a few months after the warranty period.
What's more? Some users expressed their disappointment in a lack of efficient customer care representatives and options. When the fridge gets faulty during the warranty period, the users claim that the manufacturers rarely respond to queries on how they can fix their products, get it replaced, or get a refund.
Not so good if you ask us…
All that said, the storage capacity of this fridge is one reason that some users love it. They appreciate the fact that it is a useful appliance for small parties, family reunions, and personal purposes.
Where mobility is concerned, its durable handles at the side make the task hassle-free. So, moving it from one place to another is quite easy.
It also helped many users to learn that they are not restricted to using the unit only when there's a wall socket close by or an AC source. The DC connectivity option makes it possible to have this fridge in a car, remote vehicle, or a boat.
So, on a general scale, there are more people who love this product than otherwise. In fact, for some of them, if they could give it more than the maximum 5-star rating, they will gladly do so.
Our Verdict
For some people, this mini-fridge doesn't cool well enough, while for others, it is the best thing they've ever spent their money on.
We think the Cooluli 15-Liter mini-fridge is affordable for what it has to offer, and has served many people well.
If you eventually get this product and it develops a fault during the warranty period, it will help to contact Amazon at the same time you're contacting the manufacturers. That way, if Cooluli doesn't give a quick response, Amazon will reply and may issue you a refund or a replacement.
In general, the Cooluli 15-Liter Mini Fridge is great for people who want to go on road trips, have small parties with family and friends at home, and keep foods fresh while working at their offices, or even for personal use in the bedroom.
With the AC and DC connectivity options and dual temperature functions, you can use your mini-fridge anywhere, and also get it to warm or cool your items.
Its design makes it stylish enough to place it in almost any location of your choice.
What's more? It lasts longer than some of the other products in its category.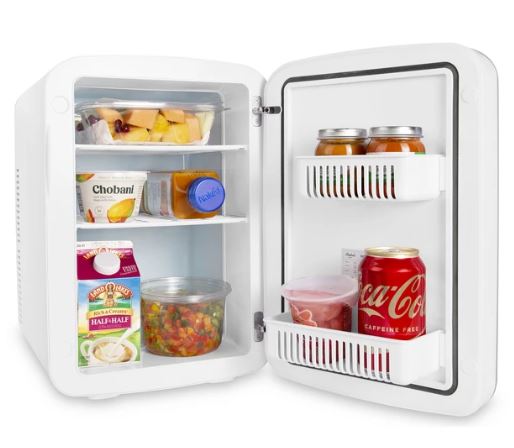 Click here to get it on Amazon!