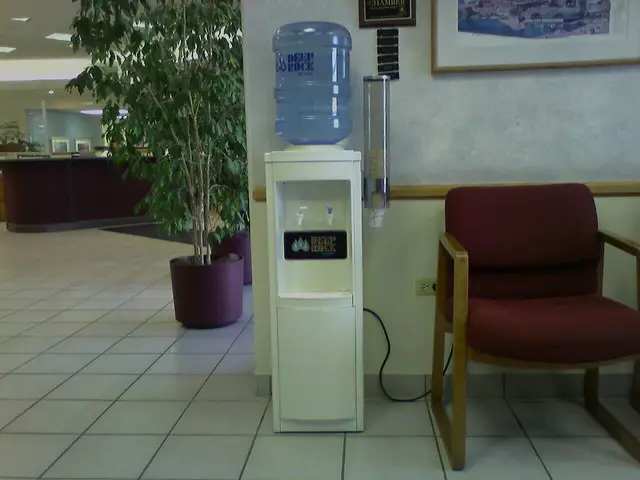 The price of water coolers vary, but the cost circles around $100. However, if you choose to rent rather than buy a water cooler, then it will cost you about $30 to $50.
We should also let you know that a bottle of water for a water dispenser is usually between $5 and $7.
So many people use water coolers in their homes. You would find it in offices, stores, and even in the garage.
What's more? A good number of water coolers come with the option of selecting from at least two different dispensing temperatures – usually a choice between hot and cold dispensing.
In this article, we would take a look at what a water cooler is, how it works, and the prices of the best water coolers out there.
But first?
What is a Water Cooler?
A water cooler which is also known as water dispenser is a refrigeration unit that supplies water.
Some water dispensers make use of bottles while some get direct access to water from the plumbing. The latter are usually located near restrooms.
There are different types of water dispensers based on several factors. So, there are combination units, bi-level units, and whether wall-mounted or bottle filled units.
Bottled water dispensers are the most common of the water coolers in the market. And typically, they make use of 5 or 10-gallon bottles. These bottles could either be top-mounted or bottom-mounted depending on the design of the water dispenser.
Having said that, the cost of your water dispenser will depend on the type or configuration cooler that it is. It means that the prices of the top-mounted, bottom-mounted, and wall-mounted will differ.
Here's a video guide on how to change the water bottle on a top-loading water dispenser. Check it out!
How Does a Water Cooler Work?
Before we go into the prices of good water coolers, it helps to know how these appliances work. For instance, since they use refrigeration units, how are they also able to heat the water?
Just in case you've also pondered on this question, here is a simple explanation of how a water cooler works:
When the bottle is placed on top or at the bottom in the space provided, the seal breaks to allow the water in the bottle to flow into the dispenser.
Normally, you would expect the water dispenser to get filled up with water from the bottle. But, this doesn't happen, because there's a valve that stops the water in the bottle from overflowing.
Close to the reservoir in the water dispenser, there are pipes where refrigerant circulates. These pipes create pressure that causes the refrigerant to change from liquid to gas. Just as there is a compressor in refrigerators, there is also one in every water cooler. The compressor is the device that creates the pressure turning the liquid to gas.
The gas then moves through a valve to cool it.
The gas refrigerant then absorbs heat from the water as it moves through the pipes. The heat in the refrigerant is also removed from the water cooler to cool the water that flows out of the cooler when the cold water option is selected.
For water coolers that also feature the 'hot water' option, they have a heating element that boils the water so that when the hot water option is selected, hot water is dispensed.
Check out these other in-depth articles/reviews…
How To Buy The Best Freezerless Refrigerator
Under-counter Refrigerators — How To Buy The Best For You
Ivation 8-Bottle Wine Cooler with Wooden Shelves — Extensive Review
Whynter 24-Bottle Dual Zone Wine Cooler — In-depth Review
Phiestina 33-Bottle Dual Zone Wine Cooler — In-depth Review
Avanti 12-Bottle Wine Cooler — Extensive Review
Best Water Coolers For Your Home or Office
There are a million and one different water coolers in the market. But to save you the pain of having to make a choice from the several that there are, we did thorough research on the best water coolers and came up with this list of good water coolers that you may be interested in.
Avalon A1 Top Loading Water Cooler
The Avalon A1 top loading water dispenser is one of the best in the market. It provides both hot and cold water. It is also quite slim, so you can fit it in small spaces.  This 45-inch refrigerator will sit beautifully in your kitchen. Moreover, its stainless steel tank makes it durable.
You have the option of using suitable bottles with capacities ranging between 3 and 5 liters.
What's more? This water cooler has a child lock on the hot water tap. This assures parents of the safety of their little ones. So, if you go for it, your child will be protected from hot water burns.
Click here to get this Avalon Water Cooler on Amazon
Primo Bottom Loading Water Cooler
The Primo bottom loading water cooler is one beautiful dispenser you would love to have in your home. It is slender and can fit in small spaces in your homes and offices. So many customers love it that there's hardly anything negative to say about it.
It has stainless steel reservoirs for both hot and cold water. Also, it can take 3 to 5-gallon water bottles in the bottle compartment. Many people will love this dispenser because it is not noisy and also has a 1-year warranty plan. With buttons, you can control the flow of water from the taps.
Click here to get this Primo Bottom Loading Water Cooler on Amazon
Clover B14A Water Dispenser
The Clover B14A water dispenser is like the traditional dispenser you see almost everywhere. It is a top-loading dispenser, so you have to lift the 5-gallon water bottle to the top. This refrigerator has two separate reservoirs for both hot and cold water.
Also, it has an adjustable temperature control that maintains the cold water temperature between 35⁰F and 53⁰F. The hot water is at a constant temperature – 185⁰F. It has an on and off switch which helps you conserve energy and save some money.
Click here to get this Clover Water Cooler on Amazon
HomeLabs Bottom Loading Water Dispenser
The HomeLabs bottom-loading dispenser is a dark 3ft tall water cooler that sits well in your homes and offices. It accommodates 3 to 5-gallon water bottles. Also, you don't have to carry them because they can be easily placed at the bottom.
It has a control panel at the top and child safety lock which prevents children from getting burn injuries.
In addition, the hot and cold features have different switches. This both saves money you spend on energy and wear and tear on the cooler parts.
Click here to get this hOmeLabs Bottom Loading Water Cooler on Amazon
As you can see from the above examples, the prices of water coolers vary. But, if you want to get the best, gather some money. Maybe a little over $100 would get you something good.
Some people rent water coolers instead of purchasing. This costs about $30 – $50.
Conclusion
Getting the right water dispenser for your home is important. But, all the good water coolers come at various prices. So, before picking your dispenser, look at your budget. Then, take a look at the features of the water cooler.
Some people want water coolers that connect directly to the plumbing system. Some want a bottom-mounted water cooler while others want a top-mounted water cooler. There are water dispensers that provide only cold water, while others come with a hot water outlet.
If you find a water cooler that fits your preference and is within your budget, then by all means, go for it.
Meanwhile, once you get your own water cooler and have it up, running and dispensing, then the next thing you want to know is how to clean your water cooler.