If you want a refrigerator that provides the exclusivity and TLC that your vegetables and farm-fresh products need, then there's no better time than now to learn about the freezerless refrigerator.
A freezer/fridge combo may appeal to someone who is trying to manage available space. But not everyone wants that.
As a matter of fact, some people prefer separate fridges and freezers. For them, it matters that the function of the freezer and fridge is spelled out clearly.
Some people also have refrigerators that lend a large chunk of space to freezers so that there isn't enough or as much space as they will like to have for refrigeration.
In such cases, the usual question is, "why can't I have a separate refrigerator that has no freezer?" Well, you can; thanks to freezerless refrigerators.
However, over time, we have realized that a major challenge with buying freezerless refrigerators is how to find the best.
Finding the best will include being specific about the type, fitting the appliance into your available space, and how to maintain the refrigerator alongside a possibly existing refrigerator combo or a separate freezer.
Freezerless Refrigerator Types
Freezerless refrigerators come in 3 variants: the compact model, the two-drawer model, and the standard model.
The Compact freezerless refrigerators usually offer storage capacities within the range of 1.7 cubic feet to 10 cubic feet. So, if you are looking for a freezerless refrigerator for a small space like a shared apartment or a dormitory, then this type may be suitable for you.
Click here to check out this compact freezerless refrigerator on Amazon
The Two-drawer model is usually inbuilt. So, if you are particular about minimal or no protrusion beyond your counter, a two-drawer model will make a great choice. These refrigerator models often come with humidity and temperature-regulated drawers so that you can adjust each drawer to a specific temperature.
Two-drawer freeerless refrigerators also have bins for proper organization. What's more? They may come with panel-ready exteriors or durable stainless steel. However, of the 3 freezerless models, the two-drawer models are the most expensive.
Lastly, there are the Standard freezerless refrigerators. They usually don't have water dispensers and icemakers. And they have single doors.
While some models come with wire racks, others come with bins, drawers, and glass shelves. The less expensive models are usually white in color, while the pricier ones come in black, or even stainless steel.
Top 5 Reasons Why You Should Buy A Freezerless Refrigerator
Space Management
One good thing about freezerless refrigerators is that can easily find the one that will fit into your space. This is relative to finding the right size if you were shopping for a fridge/freezer combo.
A tiny apartment, office space, or dormitory should definitely not be a reason to give up your plans to get a freezerless refrigerator.
In fact, the fact that freezerless refrigerators are usually smaller than other types of refrigerators is a major reason that people with small spaces go for them.
Energy Conservation 
If you are in the market for something that keeps your meat, cakes, and farm products fresh and cool, then you probably need a freezerless fridge.
What's more? Most freezerless refrigerators are certified by Energy-Star. This means that they will comply with the standards that have been set by the regulatory body.
To be sure about how much energy the fridge you want to buy consumes, you can check the yellow guide label that comes with it. You can also lookout for the estimated yearly operational costs for better insight.
The information you get from this will prepare you for what to expect while using the product.
Click here to check out this freezerless refrigerator on Amazon
Affordability
Typically, freezerless fridges cost less than the freezer/fridge combos.
For instance, a French door refrigerator with freezer by Kenmore may cost about $1,500 or even more while a freezerless one may cost about $400 dollars.
If you decide to go for a compact freezerless refrigerator instead, you may be able to get one for as low as $150 like the Danby Compact 4.4-Cubic Foot All Refrigerator.
It is also not unlikely that you'll find a fridge without a freezer that costs about $100.
Good Capacity 
Another reason that people go for freezerless refrigerators is that they get to enjoy the benefits of exclusive fridge space.
So, if you currently have a refrigerator that has a freezer and you are not satisfied with the size of the refrigerating space, then it's high time you got a freezerless model.
That said, it is easy to dismiss the idea of getting a freezerless refrigerator if you leave alone or have a small family. But if you constantly have visitors coming around or you host events in your home, then you may want to consider going for it.
Revamping and Remodelling
Once in a while, the need to remodel your kitchen may arise. And before your interior designer chips it in, we should let you know that he or she is likely to suggest an extra fridge in the plan.
The essence of an extra fridge is to create a separate refrigerating space to chill more food and drinks; especially if you now have a larger family.
Tip: A two-drawer refrigerator will be perfect for you if you are keen on something that is attractive and provides easy access to the contents of the fridge.
How to Choose the Best Freezerless Refrigerator
Choosing the best freezerless refrigerators is a lot easier if you have the right information. Here are some important factors you need to consider before you eventually choose the perfect freezerless refrigerator for you:
Capacity
When it comes to capacity, freezerless refrigerators vary widely.
The compact models, for instance, have capacities ranging between 3.5 and 10.5 cubic feet.
If you think you are better off with a full-sized refrigerator, then you have capacities ranging from 16 cubic feet and 19 cubic feet to make a choice from.
So in choosing based on capacity, it is easier to choose if you have an idea of the amount of storage space you want the refrigerator to provide.
Knowing the purpose for which you'll be needing it could also help you narrow your options down.
Danby DAR044A4BDD-6 Designer 4.4 Cubic Foot Mini Fridge – Black
Has a modern black design, as well as, a functional and scratch-resistant worktop.

Optimal Cooling Airflow : Features wired shelves for ease of air circulation.

Features CanStor beverage dispenser.

Has integrated door shelves with storage for tall bottles

Smooth back design and elegant finish makes it easy to place it anywhere.

Energy Star certified

Multi Functional size makes it suitable as a dorm fridge, office fridge, extra storage in the kitchen or an easy go-to for drinks and snacks in your living room or bedroom.
Prices pulled from the Amazon Product Advertising API on:
Product prices and availability are accurate as of the date/time indicated and are subject to change. Any price and availability information displayed on [relevant Amazon Site(s), as applicable] at the time of purchase will apply to the purchase of this product.
Shelves
Shelves in freezerless refrigerators? We advise you to go for the adjustable ones. These shelves will allow you to customize and optimize the unit's capacity.
And depending on how large the capacity is, you may also be able to create room for large platters of food, cakes, or the Thanksgiving turkey.
That said, there are fridges with wire shelves and others with glass shelves. The glass shelves are commonly found in the high-end refrigerators.
Some of these fridges may also come with bins, drawers, and sometimes, bottle holders and egg racks on the door. These are features you may want to look out for before you finally decide on the perfect freezerless refrigerator for you.
For instance, drawers in the main compartment of a good freezerless refrigerator create the right environment for your fruits and vegetables to stay fresh without wilting or drying out. They are also likely to come with door racks that are able to keep bottles in upright positions.
Alarms
One major rule of refrigeration which goes as far as the principle of thermodynamics is that you don't leave the doors open too frequently. And while some doors have certain kinds of hinges that allow the doors to close on their own, not all doors can do this.
In fact, in some cases where those features exist, they are only effective up to a certain angle. So, a refrigerator door may remain open if you don't shut it.
Having observed potential effects of constantly leaving refrigerator doors open, manufacturers have now introduced alarm systems.
So, some units come with alarms that notify the user when the door is left open. The door can then be shut properly to avoid overworking the compressor or risking the safety of your food items.
In some cases, you may also have an alarm that goes off when the power supply has been cut off. This is an important feature you may want to look out for to prevent your food and vegetables from spoiling.
Knowing if a freezerless refrigerator has an alarm and what the purpose of the alarm is can be a deciding factor on whether or not you need it.
Design and Finish
Refrigerators without freezers usually come in white, black, stainless steel or wood panel.
Irrespective of the color and finish, you want to be sure that the material is smudge or scratch-resistant to avoid unwanted patterns on your appliance.
And while you are deciding on the perfect finish, it may help to zero in on one that blends with the rest of your kitchen furniture.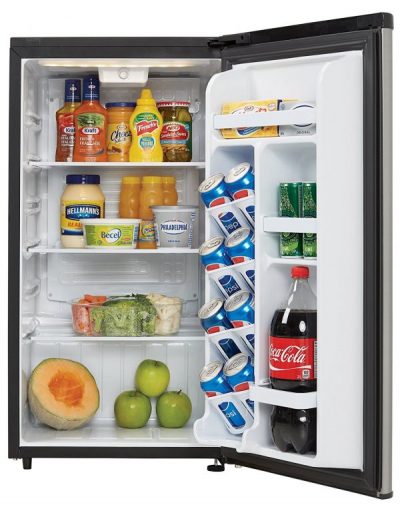 Energy Efficiency 
If you will like to save a few bucks on the electricity bill, then you are better off with models that are certified by Energy Star. 
Apart from the fact that they consume less energy, these models also cost only a few bucks to maintain over a long period of time.
That a product is certified by Energy Star means it meets the Environmental Protection Agency's standards. In essence, the manufacturer would have verified the test results, the energy savings, and consumption, as well as the performance.
Price
Just as we said earlier you can find a few of these fridges for as low as $100. But the price of freezerless refrigerators usually falls within the range of $350 and $2500 or more. 
The inexpensive models are sold between $350 and $600, while the midrange ones could go for $650 or up to $999. The really expensive ones could cost $2,000 or more.
The reason for the price variation, more often than not, is related to capacity, finish, and accessories like bins and drawers. For instance, the really high-end models with all the features like overlay panels, adjustable glass shelves, alarms, and low noise features can run into $3,000 or more.
Things to Note While Measuring the Space for Your Freezerless Refrigerator 
Well, not only are you to measure the proposed installation space, but we also recommend double measurements for accuracy.
The last thing you want to do is receive your order only to realize that the refrigerator doesn't fit in.
To avoid this, here are some important things to keep at your fingertips while taking measurements:
Linear Measurements
Measuring the width, depth, and height of the available space is really a no-brainer. But be sure to take the measurement at least twice to reduce the possibility of errors to the barest minimum.
That said, if there are uneven points along the edges of the space or in the area you have measured, ensure you take the measurements at different points.
If you are considering using a refrigerator base stand, then you will have to factor it into your measurements as well.
Check out this refrigerator stand on Amazon
Ventilation
Most freestanding fridges require clearance for ample ventilation. We suggest that you allow at least 2 inches at the sides and 2 inches on top of the unit for air to circulate.
When the unit is too close to the kitchen wall or cabinet it will take more effort (energy) for the fridge to cool the items in it. If this happens too frequently, then the compressor or motor may eventually break down.
This is one major culprit in refrigerator repairs that you can avoid with this knowledge.
Door Clearance
Take measurements of how far out the refrigerator's door opens fully. With these measurements, you can decide on whether or not your proposed location will be perfect for the fridge.
The point is to avoid hitting cabinets or other appliances in your kitchen and causing damage to them.
Pathways
It makes no sense if you get the space measurement and allowance right if the refrigerator arrives and can't get past the door.
You won't be getting it in through the roof, will you? So, to ensure it can go through the hallways and doorways, it is advisable to measure them.
Check out this 11-cubic foot All Refrigerator on Amazon
Quick Recap
Here are a few important things to note before you buy a freezerless refrigerator:
Double-check all your measurements to ensure that the fridge will fit into your space before you checkout.
Ensure that the finish of the refrigerator blends with already-existing furniture and appliances in your kitchen.
If you have a lot of available space in your kitchen, it will help if you are able to match the refrigerator with an existing freezer.
Plain-colored refrigerators cost less.
Ideally, you shouldn't go wrong with buying a freezerless refrigerator if you are well-informed about what you should know and look out for.
Now that you have read this buying guide, we can rest assured you are fully armed with all the information you need to make a good choice.
You can now look forward to refrigerating all you want without hassles.