Counter depth refrigerators are gaining widespread popularity for quite a number of reasons. Chief of which is the elegance and style that they add to modern kitchens.
These refrigerators are almost easy choices whenever kitchen renovations are being planned.
And if you are still wondering why they are called counter-depth refrigerators, the reason is pretty simple. They are so called because unlike, the regular refrigerators, these refrigerators don't protrude out of the kitchen cabinets.
In essence, you can rely on a good counter depth refrigerator to give your kitchen that streamlined and neat look any day.
More so, you can kiss the days of having to deal with jutting edges and sides goodbye. Sounds like more safety in the kitchen too, don't you think?
As amazing as having a good counter depth refrigerator is, finding it, which really is finding the perfect one for you, isn't easy peasy lemon squeezy.
For starters, there are gazillions of these refrigerators to pick from. And the last thing you want to do is make a regrettable choice.
Not to worry, we are here to make buying one super easy for you. And boy are we glad to have you visit today!
If you stay a little longer with this buying guide, you can rest assured that you'll be better equipped to make an informed choice as soon as you are done reading.
Want that perfect counter depth refrigerator? The one to be proud of each time you make a trip to your kitchen? Then come along with us on this jolly ride and let's give you the '411' of making the best buy in 2018.
How Counter Depth Differs from Standard Depth
Already, we have mentioned that counter-depth refrigerators are uniquely designed to blend with the cabinetry. And we hope you get that.
On to the next…
It is often asked how these refrigerators differ from the standard depth refrigerators.
We think that's an important question to ask because it'll help you determine why you need a counter depth refrigerator in the first place. 
Also, being able to figure out how they differ will help you make an informed decision whenever you want to make a purchase.
With standard depth refrigerators, you are likely going to have some exposed sides. Counter depth refrigerators, on the other hand, don't usually have exposed sides. What you'll most likely see are the doors sticking out a little.
The other way these two refrigerators differ is that the counter depth is often shallower than the standard depth.
Types of Counter Depth Refrigerators
There are 3 types of counter depth refrigerators in the market and each one differs from the other. But generally, they offer the cleaner and more linear look in your kitchen.
They are the regular, integrated, and professional counter depth refrigerators.
Regular Counter Depth Refrigerators
Of the 3 types of counter depth refrigerators, the regular ones are the least expensive.
Typically, they come in different configurations like the French door, side by side, and bottom freezer.
You may go for a Side by side refrigerator if you want the freezer and refrigerator in that configuration. The other reason this type appeals to some people is that it tends to have more freezer storage, better-organized storage altogether and more proportionality.
The French door refrigerator is like the side by side. Only that it has a pull-out freezer at the bottom. You may want to go for this if you run a large bakery or restaurant and will require space large enough for big platters and trays.
There's another style called the Double drawer French door refrigerator. It is like the French door style with an extra drawer as a refrigerator or freezer.
The bottom freezer style is simply refrigerator at the top, freezer at the bottom. It offers a large capacity and makes access to vegetables and fruits easy.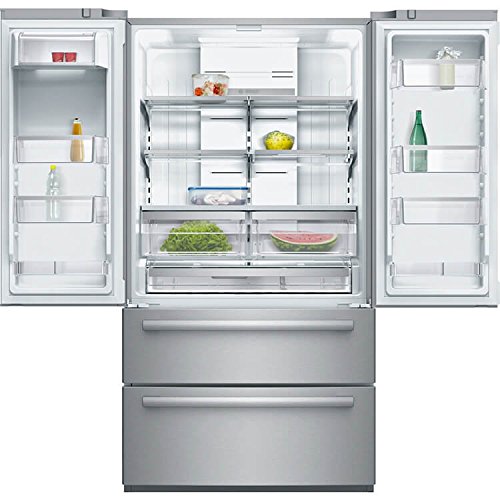 Generally, a regular counter depth's capacity will usually fall within the range of 25 to 30 cubic feet.
If this type appeals more to you, then you should keep in mind that you are better off buying a stainless steel refrigerator.
The reason we said this is that the doors of most counter depth refrigerators are usually thick and don't look so fantastic with panels. If you insist, perhaps, you may check out KitchenAid's line of products for one that will sit well with a customized panel.
Renowned brands to check with for regular counter depth refrigerators are Bosch, Whirlpool, Blomberg, Frigidaire, and GE.
Integrated Counter Depth Refrigerators
The Integrated type is the standard when it comes to that neat and streamlined look. As the name implies, the refrigerator blends so perfectly that it becomes difficult to distinguish it from the kitchen cabinet.
If this appeals more to you, we thought we should let you know that you'll be needing a minimum of 25 inches depth-wise to get a good one in place.
The integrated refrigerators may work with stainless but they look awesome when custom panels are used.
Sub-Zero, Bosch, Thermador, and Jenn-Air make some of the finest integrated counter refrigerators in the market. You may want to check out their line of products for a perfect buy.
Professional Counter Depth Refrigerators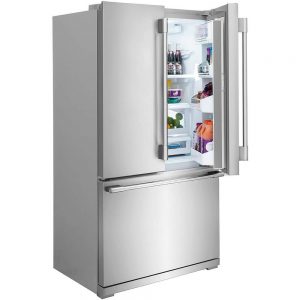 Refrigerators of this type are known for their unique restaurant-setting style. A pro has its compressors at the top and usually measures 84 inches in height.
It is great in stainless. However, you may also decide to match it with customized panels.
KitchenAid, Dacor, Samsung, True, Sub-Zero, and Jenn-Air are among the popular manufacturers of professional counter depth refrigerators. You should keep these in mind before you make a choice.
Top 3 Reasons Why You Should Buy a Counter Depth Refrigerator
Instead of keeping up with the trend (and the Joneses) like some people do, we think you should focus on more concrete reasons why you may need a kitchen addition like a counter depth refrigerator.
Of all the reasons we were able to find, these 3 are popular and tangible reasons why customers buy counter depth refrigerators:
Space Management
One of the perks of having a counter depth refrigerator is that you are able to manage your kitchen space as best as you can.
It is a popular opinion that standard refrigerators usually take more kitchen space than counter depth refrigerators. So, if you are a stickler for space management, here's a good way to make your kitchen dreams come true – buy a counter depth refrigerator.
Having one means you don't have to give up your plans to own a Zen-style kitchen because you don't have so much space. You can check for a good refrigerator based on size and you'll be surprised that there are quite a number of refrigerators that can fit into your small space perfectly.
Storage Capacity
Here's the thing: counter depth refrigerators are relatively bigger than regular refrigerators. This may be one reason that some people have reservations about these refrigerators.
But the beauty of this is that they offer more storage space for your food and drinks. 
If you are running a diner or opening a restaurant soon, this will make a perfect fit for your kitchen. Plus you get to enjoy the benefits of having ample storage space.
You may also want to consider this refrigerator if you have a large family or you run a place that is home to quite a number of people.
Aesthetics
Those who have counter depth refrigerators in their kitchen space often talk about the aesthetic value that these refrigerators add to their space.
We particularly like the hard-to-ignore neat profiling that kitchens with these refrigerators display. There's hardly anyone who doesn't like this special feature.
So, if you want that nice and elegant kitchen style, look no further than a good counter-depth refrigerator.
Easy Steps On How To Buy The Best Counter Depth Refrigerators
Yes, you read right. Easy steps.
Trust us when we say we've done all the dirty work for you and have come up with this comprehensive guide to make your search easy.
Buying the best counter refrigerator doesn't have to be a boring, time-consuming chore if you know what to look out for.
So here are some of the important points we think you should keep at your fingertips:
Capacity: As with any choice in a refrigerator, one of the important factors to consider before you make a choice is its capacity. And your choice based on capacity will depend on your needs and how much you hope the refrigerator will be able to hold. Note that capacity doesn't necessarily translate to size. So, that the refrigerator has several compartments and drawers doesn't mean it has enough space for your groceries. You've got to find out how much.A side by side, for instance, boasts large refrigerator space, but its shelves are narrow and also tall. This means your milk gallons, platters of big cakes and pizzas won't be able to fit in well.

This is why you need to check with the shelves and be specific about what you want – narrow or wide shelves.

If you don't have so much space but are looking for smart choices with regards to capacity, then a medium-sized fridge with smart capacity may be perfect for you.

Cost: Generally, counter depth refrigerators cost quite a lot. Plus there's the electric bill to be concerned about; especially with the older models. Not to worry, manufacturers have identified the energy consumptions issues and a number of energy-efficient counter depths are now available. But they cost a bit more. Counter depth refrigerators are really cool (no pun intended) and a lot of people will like to have one to their name. But not everyone can afford it. This doesn't mean you can't own one.What to do?

Work with a realistic budget. And then look for a good one that your budget can accommodate.

But ensure it is energy-efficient so that you don't have to be dealt with high costs on electric bills. We are also aware that some states offer rebates if you upgrade to more efficient and effective appliances. Those could help.

Integrated counter depth refrigerators usually cost between $5,000 and $12,000. Also, there are talks that you may need about 2 units depending on the purpose you want the refrigerator to serve.

Professional counter depth refrigerators prices fall between $6,000 and $16,000 while regular counter depth refrigerators prices, which are the cheapest, fall between $1,700 and $3,800.

Style and Design: If you have a large space, picking a large refrigerator shouldn't be an issue. This means you can freestyle on the kind of design you want. Not everyone likes the stainless design sitting so obvious in their space. This is one reason some people look out for panel-ready designs. With a panel-ready design, you can fit in customized panels to blend with the rest of the kitchen cabinets. Again, some don't come panel ready and they may be a bit tricky if you don't like the metallic look. So, you must look out for what catches your fancy while searching for the perfect one.The goal, as always, is to have a neat, streamlined and elegant look.

Of the 3 types of counter depth refrigerators, the integrated and professional ones are the ones that are usually selected based on style.

For instance, you may choose to go for the integrated one if you want the fridge to be well hidden. A professional one will be perfect if you are looking for that signature effect. This may be your best option if you are looking for ways to vamp up your kitchen for a TV show.

Functionality: Have you ever had an appliance that was so difficult to use? If you haven't you definitely don't want to try it with a counter depth refrigerator. Especially because they are not a dime a dozen. The best counter depth fridge should ideally have ample storage space, fit in nicely into your kitchen, and make shelves and drawers easy to access. When it comes to easy accessibility, you may want to consider your younger family members if you plan to get one for your house. Ensure that if they will be making trips to the fridge they will be able to use it. The aged should also be considered. For instance, heavy handles may pose issues to the elderly.And… It's a wrap!

Glad you stuck with us till the end.

We hope your choice is better informed.

Thank you for reading and happy shopping!