Thanks to technological innovations, appliances are being improved to ensure that consumers have a better quality of life. Refrigerators, for instance, work round the clock every day and for as long as there's power supply. Why? Your foods, vegetables, and drinks need to be kept cool and safe. But there are newer additions to refrigerators that make them must-haves. Bottom freezers that make bottom freezer refrigerators so called is one of such additions.
These refrigerators provide more benefits to the consumer than the traditional and more common top freezer refrigerators. But they are not without their own fair share of downsides.
In this buying guide, we will let you in on the benefits and drawbacks of bottom freezer refrigerators, the different types and how to find the best for you.
We already know that finding the perfect bottom freezer refrigerator is not as easy as it seems. For one, there are lots and lots of bottom freezer refrigerators in the market to choose from. And that's not without the risk of buying a substandard product. But we think that shouldn't discourage you from shopping for one.
But first, you need to be sure that you need one. However, even if it is your first time shopping bottom freezer refrigerators or you want to replace an old one, the trick is the same. You need to know all there is to learn about bottom freezer refrigerators before you start shopping.
It will be your call to decide, based on the merits and demerits of bottom freezer refrigerators, if you really need to have one for yourself.
So, without further ado, let's get in, shall we?
Benefits of Bottom Freezer Refrigerators
Don't be scared. There are actually more benefits than drawbacks of having a bottom freezer refrigerator. Here they are:
They Provide Extra Storage Space
If you are familiar with side-by-side refrigerators and top freezer refrigerators or the freezer and refrigerator combos, you should know by now that those things take up space. These refrigerator types also make it difficult to fit in large items in the freezer. Well, that's because the freezers are usually small and cramped.
Bottom freezer refrigerators, on the other hand, maximize storage spaces. Also, while top freezer refrigerators have the ice makers in the freezer compartment, the ice maker in bottom freezers is usually located on top. This means you have ample storage space to use in the freezer compartment.
Some bottom freezer models also come with space management features like adjustable shelves and drawers for storage purposes. With such features, you can even customize your storage configuration to accommodate your food and drinks.
They take up less floor space
The other good thing about bottom freezer refrigerators is that they are usually small enough to fit in. while we can't ignore the fact that they take up some space, we must also let you know that the space they take up is relatively smaller.
So if you live in an apartment that has a tiny kitchen and you are wondering what to go for, a bottom freezer will help. That's if you are not a fan of basic refrigerator models.
They feature adjustable temperature settings
Much more than additional storage space and interior space management, bottom freezers also offer the flexibility of being able to change the temperature settings.
In some cases, the freezer comes with a particular drawer that is usually situated above it. You can choose to store beverages, snacks, and other items that you use frequently in this drawer. Often times, you can change the temperature to suit that compartment.
If you eventually get a model with this feature, then you may not even need to buy a beverage refrigerator.
Some models also come with vegetable drawers that are specifically designed to maintain certain humidity levels. The purpose is to avoid vegetable wilting and damage. That way, your vegetables remain fresh and last longer. You also get to avoid food wastage and save some bucks.
They are convenient
Refrigerators seem to be the most used appliances in the home because they run 24/7. But of the two compartments, the freezer section is opened less frequently. The thing we love about the bottom freezer refrigerators is the ease that they bring.
The fact that you can have your everyday food items at eye level makes reaching those items easier. This is what you stand to get when you own a bottom freezer refrigerator.  Also, you are less likely to forget a particular item in the dark corner of the refrigerator if you see it at eye level frequently.
What's more? Bottom freezers also come with handy baskets that make access and storage easy peasy. You can take advantage of the large spaces in the freezer compartment to store large containers of meals and pizzas and the pull-out compartment in the top section for fruits and vegetables.
Downsides of Bottom Freezer Refrigerators
Here are some of the issues customers have with bottom freezer refrigerators:
Cost
This is easily the biggest downside of bottom freezer refrigerators. The price of bottom freezer refrigerators usually depends on a number of factors. They include brand, size, and features. But generally, these refrigerators could be really pricey.
And just so you know, like every other refrigerator, bottom freezer refrigerators also bring maintenance costs along with them.
Typically, the top section of bottom freezer refrigerators come in the French door style. One downer though – these styles are usually not energy efficient like all other top section styles. This means you've got to welcome a spike in your monthly costs. We know we said 'spike' but the increase is usually bearable as some customers have pointed out.
The joy of having a bottom freezer refrigerator is that the benefits of having one outweigh the cost. So, in spite of the extra costs, when you consider the fact that the refrigerator will serve you for a long time, you'll agree that it is a worthy investment.
Bottom Section Access
This is another major drawback of bottom freezer refrigerators. And because the freezer compartment is at the bottom section, you are going to have to throw in tour chicken, turkey, beef and other heavy items in there. That's not really an issue until it is time for you to reach for those items. Bending comes in.
It is true that the freezer section of most refrigerators like the bottom freezer refrigerator is less frequently opened. But you'll still need to open them at some point anyway.
This is one thing you want to consider especially if you currently have back issues or someone in your home does. The items often stored in the freezer sections are usually not lightweight. This means that combining frequent bending with picking up heavy items may be a serious issue for you or anyone else.
So, without mincing word, if you are thinking of a Thanksgiving or wedding anniversary gift for your elderly parents, you may want to try out other refrigerators. There's absolutely no way you are going to put them through the stress of bending low to get the turkey from the freezer at the next Thanksgiving, for instance.
However, if you know that you or the person you may want to gift this refrigerator doesn't visit the freezer too often then you shouldn't have an issue buying this refrigerator.
Types of Bottom Freezer Refrigerators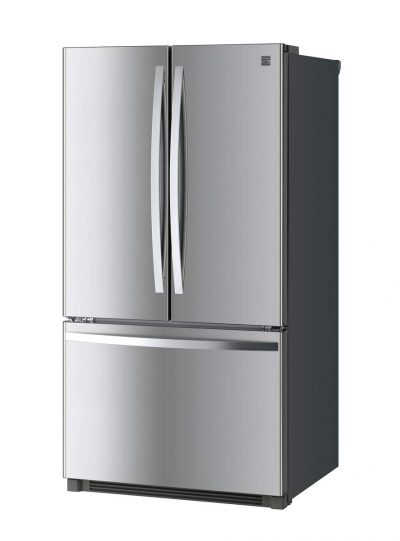 There are a good number of styles and designs to go for when choosing a bottom freezer refrigerator. You may decide to go for models that have their freezers in the drawn-out fashion. You may alternatively choose to go for the ones that feature freezers in the swing-out style.
The common styles are:
The top section in the single door style
The top section in the double French-door style
The top section in French-door style with an extra drawer between the 2 sections
You'll also find out that bottom freezers also come in different colors. Their finishes also vary with brand and model. Black, white, stainless steel or just about any color or finish, you'll find something that will suit your preference.
How to Buy the Best Bottom Freezer Refrigerator
Buying bottom freezers can be pretty straightforward and stress-free if you know what to look out for. The following tips and consideration factors will guide you on how to find the best bottom freezer refrigerator for you.
This is not an attempt to provide hard and fast rules on how to go about your shopping but it will help you a lot. Just be sure to pay attention to the important details.
Size and Space
In the first place, you need to be able to have the space to accommodate a new refrigerator. That is too obvious a point to mention, isn't it? So, we thought too. But people forget this important bit of information. Like can your space take that appliance? Or do you just fancy it?
Of course, there's absolutely no way you can tell how big a refrigerator is by just looking at it online. You need to measure your own space first and get more information about the dimensions of the refrigerator you want.
If you are not sure about the dimensions of that fridge, the rule is, don't go for it.
Why? Well, apart from the fact that you need to be sure that it can fit into your available space, you also need to know if it can get through your doorway and hallways.
Find the height, width, and the length of the unit. It always helps. For instance, knowing the dimensions will help you prepare the same for the unit before it comes. Well, that's if you can make that space happen. You also get to determine if you should go for a freestanding model or a built-in one depending on how much of your real estate you'll be willing to spare.
Now let's talk about the depth a little more. These days, most people want their kitchen appliances counter-depth or somewhere close to it. Really, if you've got what it takes to have a Zen style kitchen, by all means, go for it! But if you miss out on the depth of the fridge, you may not have the desired outcome eventually.
If the unit ends up becoming deeper than the available space, then some part of the fridge will protrude out of the cabinets. That's short of the neat and streamlined look of a counter-depth, isn't it?
So, check the dimensions.
Storage Capacity
Capacity is also an important factor to consider while shopping. You need to be able to tell how much storage space you can get from the refrigerator. And to a large extent, that will depend on the size of your household. It could also depend on the purpose that you want the refrigerator to serve. But primarily the family size.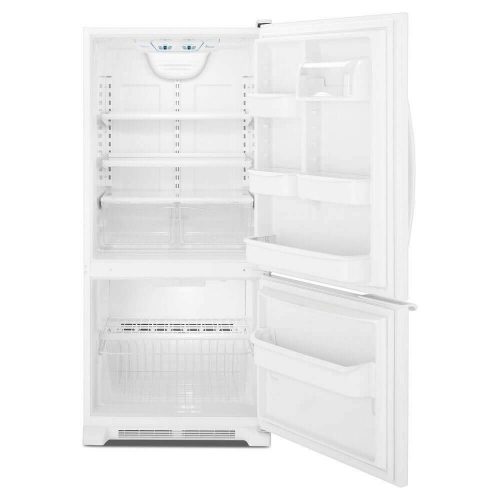 So, you should go for a capacity between 200 to 400 liters if you live alone or with one or two other people. Families with 3 to 4 people will need about 350 to 450 liters. And if there are more than 5 people in the house then you should be looking for 450 liters or even more.
That said, the capacity is usually related to the size of the fridge. So, typically, large refrigerators have more storage capacity than the smaller models. But large could also mean more energy consumption.
It always helps to go for a refrigerator with a bigger capacity than you need. One, you can avoid frustrating experiences like not having enough room for your items. You also get to enjoy the benefits of extra space whenever people visit or you host an event in your home.
While you are at it, you may also want to look out for those with adjustable shelves for more storage options. These shelves could be made of glass or plastic. But we will choose glass any day because they are sturdier and will retain cold air well. Spill-proof shelves could be a plus as well.
Energy Efficiency
This is one important factor that you need to consider before you eventually make a choice. And without wasting time, we should let you know that the easy way to ensure you have an energy-efficient one is to check the certification. Going for an Energy Star-certified refrigerator should not even be debated at all.
But beyond looking at ratings, you should also look at the estimated yearly operating cost.  This is because the standards of efficiency vary with refrigerator types.
If, however, you are able to determine how much it will cost you to maintain and keep the refrigerator running, then that'll be awesome. This is information in itself will help you compare costs among preferred models so that an easy choice can be made.
Remember that refrigerators run 24/7 so be sure to check with the costs so that you can know how much to set aside annually.
Cost
You won't gain much by keeping up with the Joneses. So, don't try to go for refrigerators with price tags that your budget cannot accommodate. This is why it pays to set a working budget and stick to it.
To be very honest, the temptation to go for more than you planned because of all the hard-to-ignore features can be so real. But you need to stay focused and find something within your limit.
Of course, as you may already know, the price of bottom freezer refrigerators vary with features, styles, and designs. But with all the information we've given you already finding a good one that your budget can handle shouldn't be a big deal.
Trust us when we say that the excitement of those enticing but way-out-of-your-budget refrigerators will fizzle away in no time. Best be careful and disciplined than sorry with wrong financial decisions. Oh, yeah, bottom freezer refrigerators are investments too. So, yours had better be a smart one.
Ventilation
Refrigerators produce quite a lot of heat and may even overheat in poorly ventilated areas. Say, you didn't get the dimensions of the fridge before getting it in and space is barely enough. You may have to squeeze it into a small space. In such areas, the ventilation is poor because of lack of clearance.
This is why we emphasize double-checking the refrigerator's dimensions before you buy it. That way you can plan the location and space that can accommodate it. You also get to create clearances from ample air circulation. The risk of overheating and destroying the refrigerator could be eliminated when there's enough ventilation.
Final words
We hope that you saw clearly in this buying guide that the benefits of having a bottom freezer refrigerator outweigh the cost. So, the only person stopping you from getting a good one will be yourself.
However, while shopping, don't forget to work within your budget, measure your available space, and get the dimensions of the refrigerator. Don't forget the storage capacity and options as well as the ventilation.
You can also any of the 3 different styles of bottom freezer refrigerators based on your own personal reference.
Thank you for reading this buying guide.
Happy Shopping!