Hobbyists and professional chefs can give all they can just to ensure that they have ample cooking space for their kitchen adventures. Kitchen space is simply everything to them. And if you are one, then a chef base could make a perfect kitchen companion.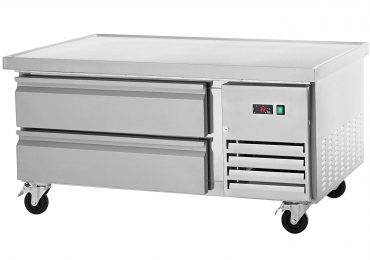 It goes without saying that even the layout of your kitchen can either be a blessing or a curse. That alone is enough reason to be mindful of the chef base options that will be pining for your attention.
Professionals and those who have a wealth of experience in the culinary world may already know what chef bases are. However, if you are that hobbyist who is just getting his or her groove on, you'll need all the information you can get before you decide on the perfect one. Beginner? You'll need them as well.
Hey, it really doesn't matter if you've been following your culinary passions for only a few days, months, or decades, you need what we are offering – a complete buying guide on chef bases.
In this buying guide, we will let you in on what a chef base is, why we think you need one and if you need it ASAP, including factors you should consider before making a choice.
Knowing your onions as a chef takes the right information, skills and of course, the right utensils and appliances. Let's be your guide on this shopping spree as you make the perfect choice in one of the common kitchen necessities – a chef base.
The first thing we'll like to let you know is…
What a Chef Base Is
So, in case you didn't know before now, a chef base is that loyal buddy that will store all your ingredients, keep them fresh and get them ready for your next cooking. What's more, chef bases can be kept so close to cooking areas so that ingredients and prepped meals can be within easy reach.
Simply put, a chef base is a freezer/fridge and cooking table in one amazing kitchen appliance. With chef bases, you may even choose to have mini ovens and fryers on the worktop Talk about neat, compact, and organized cooking.
Much more, the fact that you don't need to hop from table to fridge to counter just because you need some condiments is priceless!
Not sure you need one? Let's help you clear the doubts.
First of all, if you run a restaurant or catering business, don't think twice about it. You definitely need the efficiency and organization that a chef base will add to your line operations.
Moreover, the size of your kitchen is not necessarily a determinant of whether or not you need a chef base. You can find the perfect base for your kitchen space.
And if you are really particular about not wanting appliances that will take up considerable space, a model that slides under a table or counter will not be hard to find.
Now that you have a good idea of what a chef base is, let's show you why we think a chef base is a necessity for chefs.
Why a Chef Base is a Necessity
Not everyone likes the idea of acquiring appliances and equipment that they don't really need. And we are in full support of the notion that not everything in the market is a necessity. But when it comes to chef bases, especially if you have a penchant for cooking, we can give you a hundred and one reasons why you need one.
Oh, not really! We meant the top 3 reasons why you need one.
Here they are:
Space Management
We love the fact that chef bases help a great deal in space management with their unique style. This style features a worktop for meal prepping and a refrigerator/freezer.
Wondering how space is being managed? Well, the refrigerator section of chef bases comes in drawer styles. And the unit as a whole rarely requires so much floor space. All you need is some inches off ground to have it installed and running.
A chef base will be perfect for you if you have a small kitchen but need the organization and kitchen efficiency that a good one offers.
Convenience
One of the perks of having a chef base is that your cooking activities are better organized. If you are familiar with traditional kitchens, then you may already know about how distracting kitchen layouts can be to your cooking. You'll need to move from counter to refrigerator and all other places where ingredients and utensils are stored while cooking.
Reaching items and other items while cooking may become even more annoying and frustrating when the cooking process is time-dependent.
But all that can be eliminated with the perfect chef base.
A chef base puts all the ingredients and items you'll be needing all in one place – close to your cooking area.
Ingredient Preservation
One major fact in cooking is that foods turn out best when you use fresh ingredients. Refrigerating your ingredients is one sure way to ensure that your ingredients are kept fresh.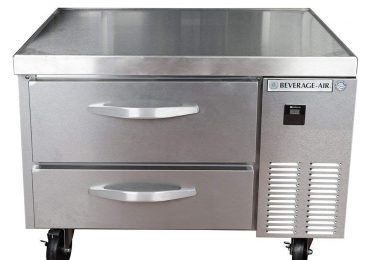 Now, the challenge with traditional kitchens and their settings is that the refrigerators are usually not as close to the cooking area as most chefs would like. This is why chefs in such settings would rather leave the ingredients out on the cooking table to save cooking time.
You don't need to sacrifice the freshness of your foods for effective cooking. In fact, leaving your ingredients may affect the flavor of the ingredients; which may, in turn, affect the taste of the final outcome.
But with a chef base, all these will be history. You can cook effectively and also enjoy the joys of serving gourmet meals with fresh ingredients. The ingredients will all be in refrigerated drawers so that they are within your reach. You also won't need to take them out before time as their freshness will remain intact till you are ready to use them.
Chef Base .vs. Equipment Stand
Equipment Stands look like chef bases but they are different in a number of ways. Usually, professional chefs go for chef bases instead of equipment stands because of the storage that chef bases offer.
Equipment stands are awesome for meal preps but they don't feature convenient storage and access to ingredients like chef bases do.
An equipment stand comes with shelves for storing cooking utensils, pans, and pots. It also has a worktop that is usually made of stainless steel.
A chef base, on the other hand, comes with 2 to 6 freezer/refrigerator drawers for storing ingredients. These drawers can also hold different kinds of utensils and pans that will be useful for the food prep and cooking and a worktop area where the job takes place.
Check out these other in-depth articles…
How to Choose the Best Chef Base
Even though most chef bases do virtually the same things, not all chef bases are the same. The reason for the variation is usually based on what the manufacturer deems necessary for cooking efficiency.
In fact, although chef bases are more frequently used in commercial kitchens, there are also models that are designed for residential kitchens.
You may also want to make a choice between a heavy duty model and a compact one. In spite of what may inspire your final decision, there are important factors you should take note of before you make a choice.
Here they are:
Size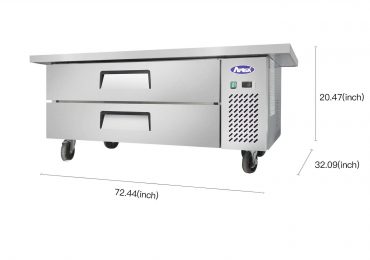 The size of the chef base is one of the top factors you need to consider before you make a choice. But, first, you need to know how much space you can spare for this addition. This information will guide you on how to choose a chef base based on the size.
If you don't have so much space to spare, you can go for a unit that features 2 drawers. A unit of the sort should measure 40 inches or even less. But you must keep in mind, that the worktop area won't be so big because of its size.
Construction
Most chef bases are made from stainless steel. However, not all stainless steel materials are the same. You want to avoid low-grade stainless steel that will corrode or rust easily. So, it's best to look out for high-grade materials.
Some parts of a couple of chef bases also feature ABS, plastic or aluminum. However, the worktops, more often than not, must be stainless steel because they are used for food preps.
Even though stainless steel chef bases are relatively pricier than other metal chef bases. They are more durable. Not just that. They are also highly resistant to corrosion and rusting.
Top Edge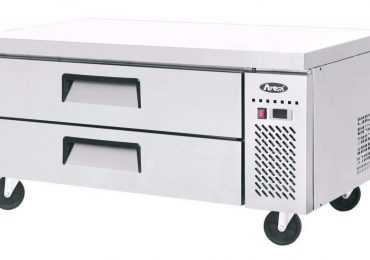 A chef base's top edge, otherwise known as the marine edge, is that part at the top of the chef base that is designed to contain spills and drips.
One downer, though, is that the marine edge tends to reduce the usable work area to a significant extent.
You may choose to go for a model that features a flat top if you think the available work area will not be sufficient for you.
How to? Just check the technical information of the chef base to determine how much work area the chef base offers.
Also, if you are really keen on getting as much space as you can, then you can go for a model with extended top features. Any chef base of the sort will provide you with ample workspace.
Weight Limit
You need to be able to estimate how much weight the chef base can withstand. The last thing you want is to have your chef base coming down under the weight of a kitchen utensil or appliance placed on it.
But before you check the weight limit of the chef base, it will help if you are able to determine the kind of work that you'll be doing in the work area.
If you are in the market for a chef base that will just allow you chop foods and vegetables and other light cooking operations, then you may not have to be so keen on a heavy duty model.
However, if you plan to have heavy items like stoves on it, you shouldn't fold your hands on this one. You need to either go for a lager model or something that can withstand more weight. You should know that larger in size doesn't necessarily translate to heavy duty. Trust us when we say the market is littered with heavy but flimsy chef bases.
So, the call is yours. Check the weight limit of that chef base before you pay for it.
Legs and Clearance
Legs and clearance work hand-in-hand in chef bases.
How do we mean? As you may already know, cooking appliances have legs under them. The purpose is to allow ample clearance for proper air circulation. Longer legs mean better airflow and vice versa. With longer legs also means the unit will operate under safe conditions.
That said, a major drawback of units with long legs is that they tend to increase the size of the chef base. This is where checking your available space becomes top priority.
 If you check and you find out you don't have sufficient space then you should check out a model with a low profile. But while you are at it, be sure that it doesn't need so much ventilation or power.
Check out these other articles…
Ventilation
As with most refrigerators and even standalone freezers that give off warm air, it helps to know the flow rate of the warm air. So, while it's important to allow some room around the refrigerator for proper circulation, knowing the CFM is also important.
Why?
Well, knowing the flow rate of the air will help you determine how efficient and safe it is for the equipment and even the condenser of the chef base.
We've come to the end of this buying guide. Now that you are armed with all the information you need, you can now shop for your chef base.
Here's a quick recap: Chef bases are necessary because they are convenient, they promote space management and they preserve food ingredients.
To be sure you have nothing less than perfect ensure you look out for the size, construction, ventilation, weight limit, top edge, and legs and clearance of the chef base before you make a choice.