Word has it that that the world is better off with frozen foods than fresh foods. Meaning, freezers are a must-have for you and your loved ones.
Wondering why and how that's even something to pay attention to? Well, we wondered too. And our wanderings led us to the fact that well-seasoned dieticians have confirmed this too.
According to them, the freezing inhibits the growth of microorganisms that cause foods to spoil. They also advised consumption of said frozen foods within 6 to 10 months for best texture and flavor.
Now freezers may come in pigeon pairs with refrigerators. These units are well-designed to meet the needs of homeowners who have space constraints to deal with.
But a standalone freezer becomes a basic necessity in other circumstances. For instance, as a family man or woman, you may need to buy your groceries and foods in bulk so that you don't run out of what to eat. If that's the case, there's only little that a freezer in a combo unit can do because it doesn't offer so much space.
Standalone freezers, on the other hand, are specifically designed for those who love ample real estate for their foods. Granted that they take up some square inches in your space, they are actually the best for storing perishable items like meat, soups, fish, and vegetables.
The other reason to have a standalone freezer is the exclusivity that your foods get to enjoy for two to three weeks or even longer depending on how long you want them there.
What if you don't have a family at the moment? Having a standalone freezer will help you reduce your trips to the market or grocery store. So that you can conserve time and even transport fares or gas.
More so, hunters also get to store their fresh meat for a long time with freezers.
Come with us and let's help you learn more about standalone freezers and how to buy the best.
Types of Freezers
There are 3 kinds of standalone freezers: Upright freezers, chest freezers, and portable freezers. Here's more information about each of these types:
Upright Freezers
Owing to the convenience and easy access that upright freezers offer, they are quite popular and can be found in a number of homes, diners, bars, and restaurants.
They are pretty easy to install and do not take so much space. When it comes to getting an upright freezer into your space, you can be certain that it will go through your standard hallways and doors.
Some may also come with a few compartment dividers for you to organize your food properly and in a fashion that you deem perfect.
However, the upright models are on the high side of the general price scale for freezers. They also consume more energy than the other freezer types.
But they beat all other freezers hands down as per convenience, organization, and mobility.
Chest Freezers
These freezers are also known as deep freezers. They are quite popular because they consume low on energy and cost less to buy. Of the 3 types of freezers, chest freezers offer the most in capacity. So, restaurants, large families, and hunters will easily go for a chest freezer because of its capacity.
In essence, if you are still not sure of what to go for and you are looking for something to hold a large quantity of food, then allow us to recommend this to you.
Another reason to root for a chest freezer is that unlike the upright models, a chest freezer stays colder even after a power outage.
However, the challenge with chest freezers is that they are not as easy to use as the upright freezers. To get to items at the bottom, you'll need to remove the ones at the top first. It gets even more complicated if the food items at the top are already frozen solid.
Chest freezers may also need manual defrosting every now and then. It could even messy and difficult to handle.
Nonetheless, the initial and operating costs of the average chest freezer are relatively lower.
Portable Freezers
If you are in the market for something that is even more budget-friendly, then you should consider going for a portable freezer. Now, while you win with costs, you may find its storage capacity rather small.
However, if you are not looking to keep so much in it, this may not be an issue.
What's more?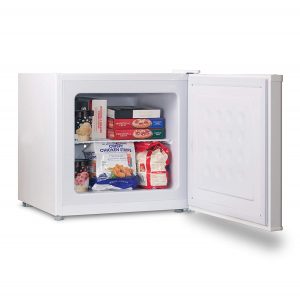 These freezers come with other features that you won't readily find in an upright freezer or a chest freezer. Their portability features also make them must-haves for people who can sacrifice storage space for a handy, easy-access freezer.
You also get to enjoy the benefits of having a freezer during frequent camping, boating or RVing. This is because this type of freezer is able to maintain a constant temperature even with the elements. It also means you don't need to fill the freezer with some ice or deal with melted water. Point is, you only need to set a good temperature and you are good to go.
Factors to Consider Before You Buy a Standalone Freezer
Knowing that you need a standalone freezer is one part to finding the right freezer. Having a good idea of the important things to look out for is the other part.
However, much more than an idea, we will give you concise information on factors that should be considered before you buy a freezer.
Here they are:
Size:
 The first thing you need to know about standalone freezers is that they usually require a sizable amount of space. If you, like many owners of standalone freezers, like the idea of a standalone freezer because the freezer compartment in your combo refrigerator is now too small, then you must have considered size.
However, we can help you put some perspective to that.
With these appliances, size and capacity is a big deal. So, one of the things you want to do is determine how much of your space you are willing to give up for a freezer. Then you should also know how much storage capacity will be enough to meet your freezing needs.
Upright freezers, for instance, will fit into any kitchen space almost conveniently. They also get through doors and hallways easily. But they don't offer so much interior capacity like chest freezers.
However, if you are keen on storage space, then you should go for a good chest freezer.
Cost
Budget is everything with costs. You may find something so nice but are unable to afford it. Except you are keen on it and you want to save up for it, you should be able to find something else within your budget. Only thing is, it may not have as many bells and whistles as you would like.
Apart from the initial cost of buying the freezer, you should also factor in the operating costs. So, a model that is energy-efficient should be your top priority for the most part.
Typically, the upright models consume more energy and are more expensive than the chest freezers. The freezer also tends to be more expensive if it has features such as automatic defrost. The extra cost may not be an issue if you particularly don't like the idea of defrosting manually.
Chest freezers usually cost between $250 and $1,500 while upright freezers may go for as low as $200 or as high as $3,000.
Energy Consumption
Freezers should work almost 24 hours a day, 7 days a week because of the foods being stored. This translates to a significant amount of energy consumption.
This is why energy-efficient models are good investments. You save a few bucks on electric bills and maintenance won't cost so much.
If you are not sure that the freezer you want is energy-efficient, the safest way to make a choice will be to check if it is certified by Energy Star.
Usage Frequency
If you can estimate how frequent you and other users around you will need to use the freezer, it will help you determine what exactly you should go for.
For instance, a restaurant will need a large freezer to store fish, meat, and vegetables. Depending on the demand for the food items, the restaurant may need to fill it quite often.
Families that love pizza or do platter food often may also be on the lookout for a freezer that offers ample space. And if you as a family man or woman and have observed a pattern in how often trips to the grocery store are made, it can influence your choice of the kind of freezer that will cater to your needs.
So, it's up to you to decide what you'll like to store in the freezer and how often you'll be filling it.
Organization
Upright freezers tend to appeal more to buyers because they usually make it easy to store and organize food for easy access. This is in contrast to what chest freezers offer.
A typical upright freezer comes with dividers to make accessing food pretty easy. Chest freezers are not totally incompetent when it comes to organization. They usually feature hanging baskets to deal with how foods are arranged.
But you will still do a great deal of food stacking eventually, including bending so low to reach food items at the bottom.
Noise Level
Freezers make a certain level of noise. That's a given. However, some are noisier than others.
Really noisy freezers shouldn't really be a bother if they are efficient and perfect for you.
It only becomes bothersome when you spend a considerable amount of your time in a room where your freezer is kept.
Not sure how to determine the noise level of a particular freezer that you've been eyeing for a while? Then it should help to know that freezers that require manual defrosting tend to be quieter than the ones that defrost automatically.
For more specific information about the noise levels of a particular product, users' comments can be lifesavers.
Performance after Blackouts
The performance of a freezer after a blackout shouldn't be a thing to worry about if you have constant power supply and rarely experience power outages. However, if you experience blackouts often or on some occasions, then we suggest you opt for a chest freezer.
A freezer that performs well after a blackout is the lifejacket you need to avoid smelly spoilt food that will require an annoying cleaning chore. Chest freezers are known to perform remarkably well after a blackout.
Other Features
We've been able to give you adequate information about what to look for in a freezer before you add it to your cart. But there are still a number of other features to check out if you want the best freezer.
Locks: the lock on a freezer may be all you need to keep the adventurous little ones away from the freezer. Those adorable creatures can make a glorious mess of your freezer if allowed access to it. The door left open may reduce the performance of the freezer; which may affect the food items being stored in it.
So, what are we saying? You should probably consider locks if you live with kids.
Soft Freeze: This feature is a necessity for ice cream lovers. If you are one, then you should consider freezers that have the soft freeze function. This feature will prevent your ice cream from getting so frozen solid and stiff that it becomes difficult to enjoy the ice cream.
Keen on eating your favorite ice cream at the perfect temperature, then ensure you look out for this feature.
Refrigerator option: This is optional for the most part. However, if you think that on some occasions you'll prefer a refrigeration function, then you should prioritize this. You may have already figured by now that you won't always want your food items frozen but just chilled.
A good freezer that allows you to switch between the temperature range of a freezer and a refrigerator will be awesome in such cases.