The Arctic King 7.0-Cubic Foot Chest Freezer is a product of Arctic King, a Chinese brand owned by the Midea Group.
Established 50 years ago, the Midea brand has consistently distinguished itself over the years as one of the top manufacturers of appliances for home use even though its products have industrial applications too.
The brand started out with the production of bottle lids and later on, branched out to provide a range of products that offer good quality, comfort, and value to consumers.
These products include air conditioners, ventilation, and air treatment systems, water dispensers, washing machines, water purifiers, freezers, humidifiers, refrigerators, wine coolers, kitchen appliances, heating systems, etc.
Although headquartered in China, Midea Group has a global reach and stands out worldwide with its innovative and convenient designs, which have earned it numerous design awards. It also rakes in millions of revenue per year.
This review is focused on one of its products, the Arctic King 7.0-Cubic Foot Chest Freezer.
Who Needs The Arctic King 7.0-Cubic Foot Chest Freezer?
This unit is suitable for people who seek a low cost, high capacity, and space-efficient chest freezer.
From individuals to families, everyone needs that unit that enables them to comfortably store and preserve their foods and beverages without worrying about where to fit it in; which is where this chest freezer comes in.
It is sleek, compact, and roomy and requires low maintenance.
In addition, it helps to save costs on food items as it provides good storage for family-pack foods and discount items.
Whether as an individual or family, with this chest freezer, you can go all out with your grocery shopping and stock the house. You can even team up with others, make bulk purchases at lower prices, and split.
More so, nursing mothers will find this useful as breast milk can be expressed and stored in bulk, readily available for use when needed.
What about our fitfam and healthy-eating enthusiasts?
The Arctic King 7.0-Cubic Foot Chest Freezer makes it easier to stick to the lifestyle. This is because you can stock up on fresh fruits and vegetables, as well as healthy home-cooked meals, such that they are readily available when you need them. This can help to reduce the intake of junk food notoriously known as 'comfort' food.
Also, people who love experimenting with food and whipping up new recipes will love this freezer as they can store different types and sizes of foodstuffs for use when the cooking spirit kicks in.
Such freedom to get creative and cook up a storm when you have all you need in one place is true bliss!
In fewer words, this chest freezer has something for everyone.
Click here to check it out on Amazon
Features of the Arctic King 7.0-Cubic Foot Chest Freezer
Storage and Design
The Arctic King 7.0-Cubic Foot Chest Freezer is a sleek and simple unit.
It has 3 color options, white, black and stainless steel, all of which make for a clean versatile look that fits almost perfectly into your space.
There's a flat triangular panel at the lower right corner in front where the thermostat knob control is mounted.
Despite sitting as a 7.0-cubic feet unit, this freezer is made to fit well into smaller spaces and corners, with its compact build. It looks well put together and has a flat-back design.
It also features a single foam insulated lid with well-balanced hinges that can open in increments between 45 and 75 degrees.
This feature allows for hands-free stacking or digging when you need to retrieve or place items in the freezer.
The handle on the lid is also recessed, which enables easy opening and also saves space.
On the interior, there is a hanging wire basket which is useful for organizing and storing small items.
It also comes in handy for storing those everyday items people tend to reach for more often. With this, you won't have to reach deep down into the freezer to get what you need.
Even though defrosting is manual it is simple! The defrost drain is located at the lower-left corner in front of the freezer and can be accessed easily.
Temperature Control
The unit has a temperature range of -12  to -28 degrees Celsius, which helps to keep your foods and drinks well frozen so that the taste, as well as the quality of the food, is preserved.
With the aid of a mechanical thermostat control knob, the temperature can be easily adjusted as desired between the minimum and maximum temperatures.
Capacity
At 7.0 cubic feet capacity, the roomy interior can be considered the star feature of this chest freezer. Although it has a compact look, it is very spacious on the inside and allows you to store lots of foods and drinks.
This is enough to serve an individual or a family of average size that would like to stock up on discount purchases.
Also, depending on your needs, this can be used as a main or backup freezer to store the overflow from the main one.
Cooling Efficiency
The freezer performs well in terms of cooling. It operates with a compressor cooling system that delivers efficiently without consuming too much energy.
As a big plus, the unit works without generating much noise. This makes it a good fit to be placed anywhere, especially if you own a small apartment, as you wouldn't have to worry about the noise carrying across the whole house.
Click here to check it out on Amazon
Pros of the Arctic King 7.0-Cubic Foot Chest Freezer
i. It is compact and space-efficient.
ii. Its simple and sleek design makes it an easy fit into most spaces.
iii. The defrost drain is easy to access.
iv. It has a removable wire storage basket for storage enhancement.
v. It is very easy to clean.
vi. It has low energy demands.
vii. Fast, efficient and low noise cooling action.
viii. It has an adequate storage capacity.
ix. The unit features leveling legs for stability.
x. Its temperature range is wide and easy to control.
Click here to check it out on Amazon
Cons of the Arctic King 7.0-Cubic Foot Chest Freezer
i. It dents quite easily
ii. There is no interior lighting
iii. It lacks a power-on indicator light
Check out these other in-depth articles/reviews…
Alternatives to the Arctic King 7.0-Cubic Foot Chest Freezer
Smaller Capacity
Midea 3.5-Cubic Foot Chest Freezer
Coming from the same parent company as the featured product, the Midea 3.5-Cubic Foot Chest Freezer offers good quality performance at a smaller capacity.
This can be considered a better fit for spaces that are way smaller, like dorm rooms, home bars, etc. It can even be installed in your RV or mobile home.
Despite its small exterior size, it also offers a spacious interior for your storage needs and is great for entertaining guests as it guarantees a steady supply of ice cubes to keep the cocktails and shots flowing.
So, if you have smaller storage needs, you might want to consider going for this one.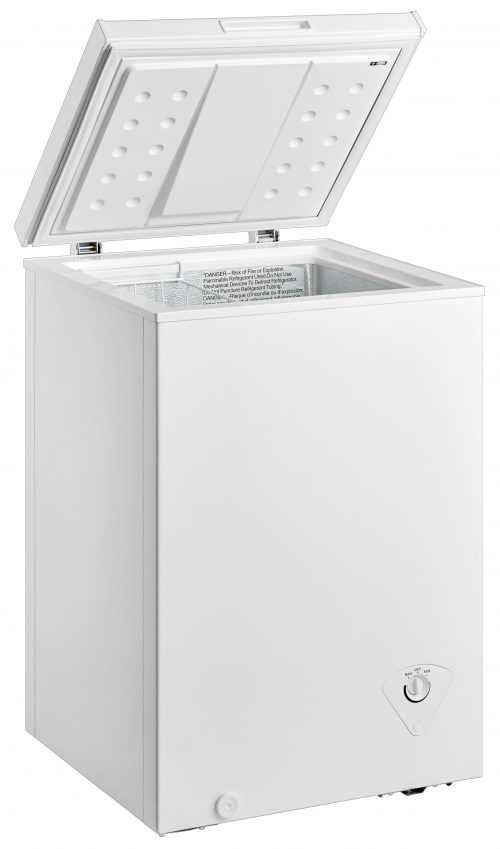 Click here to get it on Amazon!

Extra Storage Option
Koolatron 7.0-Cubic Foot Chest Freezer
While the Arctic King 7.0-Cubic Foot Chest Freezer comes with a single interior storage basket, this chest freezer from Koolatron offers you an extra storage option with two hanging baskets. This eliminates the need to buy extra separately when you need one more.
The baskets in this Koolatron freezer are easy to clean and readily adjustable just by sliding in whatever direction you want. They can also be removed completely when the need arises.
Smaller and everyday items can be stored in them, which means you don't have to dig through the freezer to get what you need.
Also, when cleaning out or rearranging the freezer, some items can be placed in the baskets temporarily until you're done and ready to return them.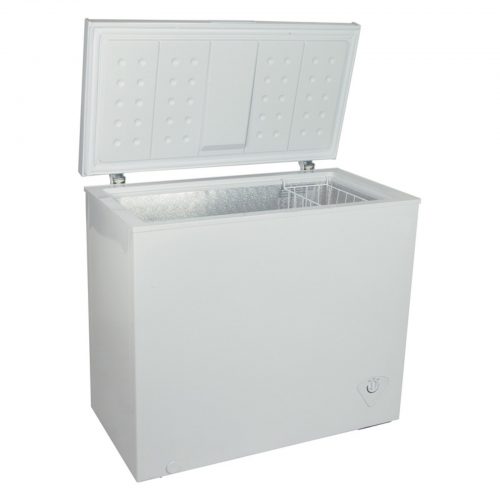 Easier Mobility
Danby 7.2-Cubic Foot Chest Freezer
The Danby 7.2-Cubic Chest Freezer is another good alternative to our featured product. Also with ample storage capacity, it has the added advantage of easy mobility because of the two-wheel casters located at the back.
With these casters, you can conveniently move your chest freezer around as you wish. For instance, you can move it from the kitchen to the garage, or from one corner of a room to another.
Note that you can also add two additional wheels to the front if necessary.
Another added feature is the power-on indicator light which is located right beside the thermostat.
Considering that it has a noiseless operation, this light will help you to monitor the unit and keep you in the know if there's any problem with the unit or the power connection so that you can address it immediately.
What's more?
The interior is very easy to clean and it comes with a removable sliding wire basket and a vertical wire divider to provide more storage and arrangement options.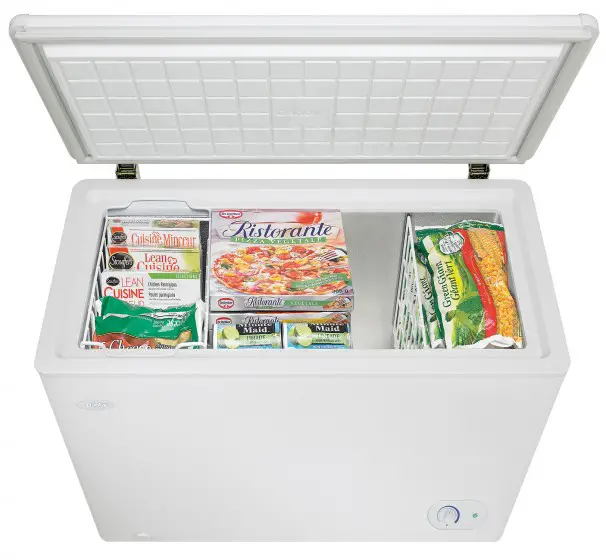 Quick Comparison
 
Featured Product
Smaller Capacity
Extra Storage Option
Easier Mobility
Product

Arctic King 7.0-Cubic Foot Chest Freezer

 

Midea 3.5-Cubic Foot Chest Freezer

Koolatron 7.0-Cubic Foot Chest Freezer

Danby 7.2-Cubic Foot Chest Freezer

Dimensions
20.59 inches x 37.20 inches x 33.46 inches
21.7 inches x 33.5 inches x 22.2 inches
22.2 inches x 39.1 inches x 32.9 inches
22.2 inches x 39.9 inches x 33.1 inches
Available Colors
Black, White, Stainless Steel
White
White
White
Storage basket
Has 1 basket
Has 1 basket
Features 2 baskets
Has 1 basket
Power Indicator
Absent
Absent
Absent
Present
Temperature range (in degrees Celsius)
-12 to -28
-12 to -28
-12 to -28
-12 to -24
Image
Title
Price
Prime
Buy
Arctic King ARC070S0ARBB 7 cu ft Chest Freezer, Black

Prime

Buy Now
Midea MRC04M3AWW Single Door Chest Freezer, 3.5 Cubic Feet, White

Prime

Buy Now
Koolatron KTCF195 Chest Freezer with Adjustable Thermostat, 6.9 Cubic Foot (195 Liters) Capacity-Ideal for Large Families, Homes, Cottage, Offices or Anywhere, White

Prime

Eligible

Buy Now
Product prices and availability are accurate as of the date/time indicated and are subject to change. Any price and availability information displayed on [relevant Amazon Site(s), as applicable] at the time of purchase will apply to the purchase of this product.
Prices pulled from the Amazon Product Advertising API on:
What Users Are Saying About The Arctic King 7.0-Cubic Foot Chest Freezer
Based on popular opinion, the Arctic King 7.0-Cubic Foot Chest Freezer provides good value for money as it delivers efficient freezing action.
On setting it up, it cools down fast and maintains smooth operation even in areas with up to 90 degrees Fahrenheit ambient temperature.
More so, most users stated that they loved the sleek and compact design.
Those who were worried about its 7.0-cubic foot size being quite large found out that it fits well into their spaces.
Some users were also able to make large purchases during the sale season. The capacity made it easy to stock up with the assurance that the foods and beverages would be well preserved.
Moreover, because the energy demand of this unit is low, annual energy consumption came to approximately 250 kilowatts per hour, bringing costs down to about 23 dollars per year.
That being said one major downer is the fact that it dents quite easily.
A lot of users had complaints that their freezer orders came in bent and damaged. Although it still delivered a good performance, no one likes a product that looks like it was rolled down a cliff due to poor packaging.
Also, the lack of interior lighting was a source of complaint because it made it difficult to access items in low light conditions.
In spite of the complaints, many users still felt that this chest freezer is a worthy investment that serves well.
Our Verdict
We think the Arctic King 7.0-Cubic Foot Chest Freezer is one of those products that tend to become an essential home fixture for a long while.
This is because it has proven to be a highly efficient and useful unit that offers users convenience and quality performance.
It has a fast freezing feature that guarantees the safety and preservation of your food and drinks. Plus, it is reliable for long term use and helps to save on costs with its energy efficiency.
It would have been better if the unit had indication lights and interior lights for illumination.
We also think that the manufacturer should look into making the packaging and material better such that it is dent-proof.
Despite these areas that need improvement, we think it would be useful and will make a good addition to your home. It can serve as main or backup storage if you need more storage.
If you're still not sure about this freezer and want expert information about how to choose the best freezer, you can check out our detailed guide on freezers here.
Click here to check it out on Amazon
Arctic King 7.0-Cubic Foot Chest Freezer — Related FAQs
Does the Arctic King 7.0-Cubic Foot Chest Freezer have Wheels?
No, the Arctic King 7.0-Cubic Foot Chest Freezer doesn't have wheels. This chest freezer, however, does have adjustable leveling feet to keep it balanced.
Wheels may not be necessary for you considering the fact that this chest freezer is meant to stay plugged in all the time. You most likely won't need to move the freezer except you want to change its position or will be moving to a new apartment.
If you need to move this chest freezer, ensure that it is empty. Thankfully, it is also very lightweight.
What is the Lowest Temperature on the Arctic King 7.0-Cubic Foot Chest Freezer?
The lowest temperature on the Arctic King 7.0-Cubic Foot Chest Freezer is around 0 degrees Fahrenheit which is a safe temperature to keep food items stored in a freezer.
For context, the dial on this freezer is designed to move between 0 to 10 (from the warmest to the coldest). If you set the dial to the 7th or 8th mark on the dial, the temperature in the freezer will be between 4 and 5 degrees Fahrenheit. So, setting the dial to the 10th mark will place the internal temperature at 0 degrees or less.
Since this freezer doesn't have a thermometer, you can buy a freezer thermometer to get the precise and accurate temperature of the freezer at any given time.
Click here to check out this Freezer thermometer on Amazon
Is the Arctic King 7.0-Cubic Foot Chest Freezer Frost-Free?
No, the arctic King 7.0-Cubic Foot Chest Freezer is not frost-free. It doesn't have an automatic defrost feature to keep frost from building up in the freezer.
It, however, comes with a scraper and has a drain to help you defrost it manually. One of the ways you can defrost the Arctic King 7.0-Cubic Foot Chest Freezer is by turning the dial to the warmest mark (0) to reduce the frost. But, do note that this process may be slow.
Alternatively, you can turn off and unplug the freezer from the power source, transfer perishable items to another freezer or a refrigerator, and leave the freezer lid open for the frost to melt into the drain. Depending on how thick the frost is, you can also speed up the process by using the scraper to get the frost off gently.
How Many Pounds of Meat Can the Arctic King 7.0-Cubic Foot Chest Freezer Hold?
The Arctic King 7.0-Cubic Foot Chest Freezer can hold up to 100 pounds of meat. But, you may need to remove the hanging basket in the chest freezer to get the most of its storage capacity.
However, while you are at it, be sure to wrap the meat in a plastic bag or store it in portions in good quality freezer bags to avoid freezer burn.
Click here to check out these Freezer bags on Amazon
Can You Place the Arctic King 7.0-Cubic Foot Chest Freezer in a Garage?
Yes, you can place the Arctic King 7.0-Cubic Foot Chest Freezer in a garage as long as the garage is well-insulated from the elements — rain, heat, cold.
One of the reasons it may be best to place your chest freezer in the garage is that you get to save floor space in your apartment. However, if the garage is not properly insulated, installing the chest freezer there may shorten the lifespan of the freezer especially since the freezer may get overworked under harsh temperature conditions.
Need expert help? Click here to use the chat box on this page to speak with a verified appliance technician right away. No need for expensive in-home service calls. No appointments. No waiting.