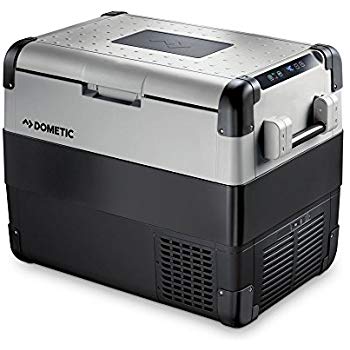 The Dometic CoolFreeze 60-Liter 12V Cooler is one of the many great portable cooling units from the reputable brand Dometic. Before going into the features of this cooler, we would like to give you a brief history of how Dometic came to be.
In the early 1900s, two young engineering students came up with a brilliant idea. They wanted to design a cooling cabinet that didn't have a compressor or moving parts; and they did.
If Dometic were a tree, then these students' innovation were the seeds.
Today, many years later, the brand has grown into a global leader in mobile living.
What's more? Dometic boasts a wide range of RVs and RV accessories that have served users for a long time. These include a full line of portable electric refrigerators, toilets and a number of other mobile appliances.
It appears that Dometic has maintained a good reputation over the years and as fast become a go-to place for almost anything related to mobile living.
In this review of its CoolFreeze 60-Liter 12V Cooler, we will help you make an informed decision on whether or not to go for this product.
Who needs the Dometic CoolFreeze 60-Liter 12V Cooler ?
This high tech portable cooler may be a necessity for a truck driver, a camper or just someone who loves vehicle-based adventures. Frozen foods can be stored easily in this cooler without having to add extra ice to the unit.
What's more? The durability,  quality, and versatility of Dometic coolers, like this CoolFreeze model, make them easy finds in places like farmhouses, shops, home and offices to hotels motels, bed and breakfast type environment and even catering applications.
So, if you are in the market for a 12V cooler that will be useful for you in any of these places or even on road trips, then this one by Domtetic may be what you really need.
The cooler is also designed to be operated from a DC on-board supply socket of a car (like a. cigarette lighter), caravan, RV or boat.
More so, if the user decides to connect it to an AC mains, then he or she can also take advantage of the option on this unit that makes that possible.
Thankfully, this unit comes in different sizes. So users can make a choice based on their preferences.
So, if you are in the market for a cooler that is ideal for outings and over landing trips, great for keeping food and drinks cold, then this Dometic CoolFreeze may be a necessity for you.
What's more? It is suitable for anyone who is tired of the trouble of having to buy ice for non-electric coolers and the inconveniences that come with them because not only do these coolers need ice that take up a considerable amount of the capacity but they may also get messy as the ice melts.

Click here to get it on Amazon!
Features of the Dometic CoolFreeze 60-Liter 12V Cooler 
Efficiency and Noise Level
This Dometic CoolFreeze 60 Liter 12V Cooler has excellent cooling performance. It is able to cool perfectly even at extremely high ambient temperatures. This also makes it suitable for deep-freezing foods and drinks.
The good news is that there is no need for ice in its cooling.
A low maintenance refrigerant circuit with compressor provides the cooling and ample insulation, while the powerful compressor ensures efficient and fast cooling.
With this cooler, the only time you may need ice will be in your drink.
It is also very quiet and makes minimal noises during operation. More often than not, the sounds that this unit makes are not very loud. And if you use it in an RV vehicle or in a car, you may not even hear it at all when your vehicle's engine is on.
Power Consumption
The Dometic 12V Portable Cooler can run on AC and DC supply which allows the owner to go off-grid.
It has a high-performance compressor that goes as low as -7 °F (-22 °C) with minimal energy consumption .Even more, it  can operate with solar energy thus making it energy efficient.
It also has an energy efficient LED interior light and built-in control features to minimize draining the power source.
Design
This unit, as well as most products from the Dometic CFX line, are fitted with robust details. Some of these details include high-grade stainless steel hinges and corners that are well reinforced.
Another useful detail is its well-made lid lining which makes the cooler durable.
The cooler can also accommodate a heel (inclination) of 30°. This is one feature that will come in handy if the user decides to use it on a boat or in an setting where stability is a bit difficult to achieve.
In addition to this, it has foldable carrying handles which make it easy to move the cooler around.
Space-Efficiency
Being the tallest of all the units in the CFX-series, this Dometic CoolFreeze 60 Liter 12V Cooler leaves room around it to maximize the space in your vehicle or anywhere you choose to have it installed.
It also has separate variable temperature compartments which could be made fridge or freezer.
You may also choose to take out the wall to convert the interior into one big space for freezing. This will be particularly useful when you have a considerable amount of items to freeze all at once.
These generous refrigeration or freezing capacity makes it a must-have at outdoor events that may require catering to a large number of people.
 Advanced Technology
There is no doubt that this model is a hi-tech cooler and its amazing features make it stand out. The WiFi app allows users to conveniently control and monitor the cooling temperature in the compartment from their mobile phones.
The cooler  also has a digital temperature display that gives precise and reliable temperature readings. Additionally, this unit has a USB port that can be used for charging small electronic devices.
Click here to get it on Amazon!
Pros of the Dometic CoolFreeze 60-Liter 12V Cooler  
i. Quiet, fast and efficient cooling
ii. Tallest model and has a large volume and capacity.
iii. Easy-to-use program controls.
iv. Energy efficient and consumes very little power.
v. Control and monitor the cooling temperature via the WiFi app.
vi. No ice needed.
vii. Heavy-duty design.
viii. Precise and reliable digital temperature readings.
Cons of the Dometic CoolFreeze 60-Liter 12V Cooler 
i. It is heavy even when it is  empty.
Alternatives to the Dometic CoolFreeze 60-Liter 12V Cooler 
More Affordable Option
Koolatron 18-Quart 12V Cooler/Heater
A lot of the users who only need the cooler on a few occasions would have preferred if the Dometic CoolFreeze 60-Liter 12V Cooler was lighter and easier to move.
If you are one of such people, then you may appreciate this Kolatron cooler/heater even more because it is lighter, and even more affordable than the featured product.
This Koolatron compact cooler which is below 100 dollars is a perfect option for picnic lovers as it has many great features that will benefit the users.
Its slim and compact design is a plus as it can easily fit into minivans, SUVs and small cars. Its lightweight design also makes it easy for you to carry it around the park or to and from your car, office, apartment or house.
In addition to cooling food and drinks, this mobile living mate has a heating function that will be useful whenever the need to warm some food up arises.
Click here to get it on Amazon!
Larger Capacity
Dometic CoolFreeze 88-Liter 12V Cooler with WiFi
If you are in the market for a cooler that has a larger capacity but is not as tall as the Dometic CoolFreeze 60-Liter Portable Cooler which is more suited for taller people, then the Dometic CoolFreeze 88-Liter Portable Cooler is one cooler that you may want to check out.
Coming from the Dometic CFX line of products, this cooler has almost the same features as the featured product. The  major difference is in the capacity and dimensions.
With its 146 can/88 liter capacity, this cooler has a lot more capacity than the average portable cooler. However, we think it is important to also mention that it is on the high side of the price spectrum as well.
Click here to get it on Amazon!
More High-end Option
ARB 12V Weatherproof Fridge/ Freezer with Electronic Lock
While this Dometic CoolFreeze 60-Liter 12V Cooler is hi-tech and durable, some customers complained about the lid being completely removable, we thought we could suggest an equally high tech option that had other features that the Dometic CoolFreeze 60-Liter Cooler didn't have.
Our search produced the ARB portable fridge/freezer which is a more suitable but pricier high-tech alternative.
In addition to its rugged stainless steel and weatherproof exterior, this fishing and camping portable fridge/freezer has a gas strut-assisted lid, which means you don't need to hold the lid open as you search the fridge.
It also has a programmable electronic 4-digit pin lock that ensures that temperatures are not changed, power is not switched and drinks are not taken out of the unit without notice.
Another great feature of this cooler is its full height evaporator that ensures that the entire cabinet area has a uniform temperature.
Would you prefer this product instead? Then you may want to read our in-depth review of this product to make a well-informed decision.
Click here to get it on Amazon!
Quick Comparison
 
Featured Product
More Affordable
Larger Capacity
More High-End
Product

Dometic CoolFreeze 60-Liter 12V  Cooler with WiFi App

Click here to get it on Amazon!

 

Koolatron 18-Quart 12V Cooler/Heater

Dometic CoolFreeze 88-Liter 12V Cooler with WiFi App

Click here to get it on Amazon!

 

ARB 12V Weatherproof Fridge/Freezer with Electronic Lock

Dimensions
28.5 inches x 17.9 inches x 22 inches
17.75 inches  x 9 inches x 16.5 inches
37.7 inches  x 20.8 inches  x 18.6 inches
17.1 inches x 19.3 inches x  32. 3 inches
Capacity
106 cans/ 60 Liters
17 Liters
146 cans/88 Liters
60 Liters
Cooling System
Compressor
Thermoelectric
Compressor
Compressor
Functions
Fridge/ Freezer
Cooler/ Heater
Fridge/ Freezer
Fridge/ Freezer
Smart Features
WiFi app and USB port
None
WiFi app and USB port
Electronic lock and control panel
Available Sizes
60-Liter
17-Liter
88-Liter
60-Liter
Available Colors
Black and Grey
Grey
Grey and Black
Silver
What users are saying about the Dometic CoolFreeze 60-Liter 12V Cooler
There is a lot of praise for the Dometic CoolFreeze 60-Liter 12V Cooler. which is exactly what one would expect of a high-tech cooler from a brand as renowned as Dometic.
A lot of the customers loved that it had separate variable temperature compartments that could transform the unit to a fridge or freezer by taking out the wall.
Another feature that the customers loved was the digital thermostat that gave precise temperature readings in spite of ambient temperatures.
That said, the high-grade materials and heavy-duty design of this featured product which makes it rather heavy even when empty is one of the drawbacks of this cooler. Although, some customers were able to take advantage of this and use it as a bench.
Still on the drawbacks, while the WiFi app is an excellent additional feature and many are on board with the idea of being able to remotely control and monitor the temperature of their cooler via the WiFi app, the wireless connection functions more like a Bluetooth connection.
Here's how we mean: you can only connect when you're close to the cooler and once you are connected to the app your internet won't work until you disconnect from it.
Our Verdict
This Dometic CoolFreeze 60-Liter 12V Cooler boasts a lot of great features. It can be described as efficient, durable, and practical. These are qualities that we believe are exactly what to look out for in a portable cooler especially one you expect to serve you for a long time with no issues.
Of course, we are aware that this cooler is quite heavy and we think it is better suited for campers and long haul drivers than picnic lovers. Notwithstanding we don't believe that the size of this product is a good enough reason to ignore it. And if the size is an issue for you, you can check out other Dometic coolers. You will be pleased to know that there are other smaller, lighter coolers in the Dometic CFX line.
Even though this product is a bit pricey, it is quiet and efficient. Plus, cooling is pretty impressive. Also,the fact that it requires zero maintenance makes it a suitable cooler for all your outings.
Get a full picture of how this unit functions and the features it offers in this short video below.
Click here to get it on Amazon!