The Tibek  12V  Mini Fridge/Warmer with Automatic Locking Handle is one of the many high-quality products from the renowned brand Tibek. This review is aimed at providing you with the necessary information to determine if this cooler suits your refrigerating needs.
Tibek over the years has become a worldwide distributor of home appliances. They are also a leading provider of high-end products in Europe and in North America. This company is dedicated to giving quality products designed to make your life easier.
With a wide range of products including, Coffee makers, juicers, breadmaking machines, electric hairdryers, kettles, mixers and more. They pretty much have all the home appliances you could think of especially those used in the kitchen. We are however more interested in their portable refrigerators and wine coolers.
This company also throws in a 2-year warranty on all their products offered. Coupled with their excellent consumer service we can see that Tibek really has your best interests at heart.
We love brands like this that offer great products and even better service which is why we recommend this Tibek 12V Mini Fridge/Warmer with Automatic Locking Handle.
Who Needs the Tibek 12V Mini Fridge/Warmer with Automatic Locking Handle?
Have you ever had to eat a cold lunch at work because you had no means of warming it?  Where the only alternative was to buy junk food or an expensive meal that was well out of your budget. Maybe you had to take melted ice cream in your car or warm drinks and beer at room temperature when it was extremely hot out.  Perhaps you are just tired of the hassle involved in having to buy ice for your regular cooler and having it drip all around and make a mess.
If you've been in any of the above scenarios, then definitely this cooler is just what you need even though you may not know it yet. If you are looking for a cooler that can be powered by your vehicle, and at the same time also run in your home, office or hotel, this is the cooler for you. With its large capacity and compact design, it offers you quite an amount of space to store all your food and drink. Even with this large capacity, it is still able to cool its contents effectively and alternatively heat food and drink flawlessly as well.
Its ergonomic handle, as well as its compact design, is a huge plus. This is especially important if you plan to carry this cooler around as those features make it easy to move the cooler from one place to another easily. This can be done conveniently even by a single person so if a heavy, bulky cooler is a huge no-no for you then you would be pleased by this product.
Our in-depth review will give you more details on this Tibek cooler and you can continue reading to find out just how well this mini- fridge suits your refrigerating needs.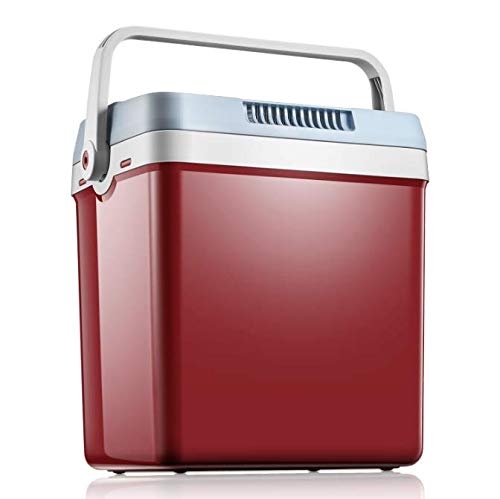 Click here to get it on Amazon!
Features of the Tibek 12V Mini Fridge/Warmer with Automatic Locking Handle
Efficient Cooling and Heating
This Tibek 12V Mini Fridge/Warmer with Automatic Locking Handle has a dual cooling and heating function. This is great news for you as you have a cooler that can serve you all year round regardless of the weather outside.
The cooler has an impressive temperature range that extends to 50F below ambient temperature. This is much lower than the cooling of most thermoelectric coolers which only cool about 40F below the temperature of the environment on average. And it enables you to enjoy cold drinks and ice-cream even when it is very hot out. We love this feature so much as you can say goodbye to hot drinks or spoilt food. At this temperature, it keeps food cold enough to preserve it for hours. This cooler works efficiently and can cool items placed in it in 30 minutes. The best results will be gotten when you pre-cool the items before placing them in the refrigerator just like with any other cooler
On the flip side, this cooler doubles as a warmer and heats food and drinks up to 158F. This means you can also utilize your cooler even during the cold winters when you need all the extra warmth you can get. This warmer ensures you have warm and toasty meals and drinks when you want them. It can also be used to heat up leftover foods or to keep your lunch warm. This essential function will definitely come in handy in more ways than one.
There is an indicator light that helps you know which mode your cooler is in and it is pretty easy to figure out. When the indicator shows red light your portable cooler is functioning as a warmer, and it is a refrigerator when the green light is on.
Energy-Saving Function
This cooler has an energy-saving function and a low power draw, which doesn't diminish its efficiency. The cooling unit is still able to function at its peak with minimal power draw. It has two cooling modes, Max which is for fast cooling, and ECO which is its energy-saving mode. You can start off using the max mode, and switch to ECO mode once your food reaches your desired temperature. Doing this will help you save energy and consequently save money all the while maximizing your cooler. The energy saver mode also works with your AC adapter which means running the cooler at home also saves your power bill
This is a thermoelectric cooler, so its cooling operation is rather quiet. There is no compressor so the vibration effect is reduced resulting in minimal operational noises.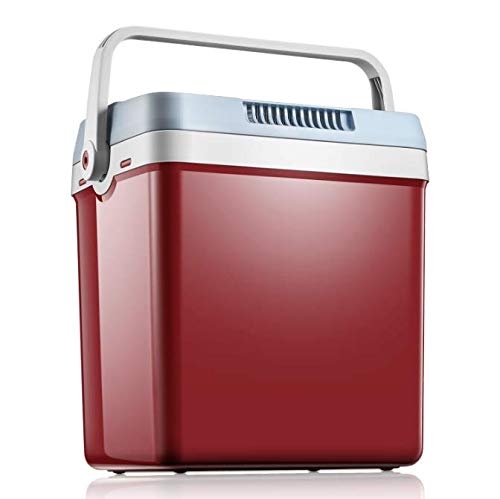 Click here to get it on Amazon!
Built-in AC or DC function
Having a cooler with both an AC and a DC adapter will definitely come in handy. Which is why learning that this cooler has built-in AC and DC cords, is excellent news. The DC cable is a pretty obvious one and can be inferred from the name of the product. It wouldn't be a portable 12V refrigerator if it couldn't be powered by your vehicle's cigarette lighter. Nevertheless, this is a very important feature as it allows you to enjoy the benefits of not just a refrigerator but also a warmer while you're on the go. This includes cold drinks, beers, ice cream and alternatively, hot meals, soups etc.
The AC cable is not as obvious because not all portable 12V coolers come with AC adaptors and they often have to be bought separately. The presence of this cable allows versatile use of the cooler removing restrictions of having to use your cooler only in your vehicle.  This could drain your battery if your cooler is left running overnight. You can take your cooler with you to your hotel or motel rooms. Alternatively, you could run your portable cooler as a mini-fridge in your bedroom or office.
We love that these cables are inbuilt as it eliminates problems like misplaced cables. It also removes the possibility of forgetting one of the cables at home or in your hotel room.
Large Capacity
What use is an amazing cooler with so many cool features and functions if its usage is restricted by the size? It would be a bummer for you to buy drinks and food only to be disappointed to find that the bottles are too large to fit into your cooler. It is because of situations like this that we are pleased to inform you that you have nothing to worry about when it comes to this cooler's capacity.
With a 26-Liter capacity, this cooler can hold up to 33 cans and bottles of different sizes including 2-Liter bottles. We believe the size of this cooler is perfect as its large capacity does not compromise its cooling. It also doesn't affect its storage and this Tibek portable cooler can fit easily in almost any kind of vehicle.
Practical Design
Practicality is very important when buying a cooler and it would be a waste to spend a lot of money on a cooler that isn't suited to your particular needs.
This Tibek 12V Mini Fridge/Warmer with Automatic Locking Handle comes with an ergonomic handle that enables you to easily carry it around. Its compact design also makes this easier as this cooler is pretty lightweight and not bulky. This cooling unit can even be carried conveniently by a single person.
It has a locking handle that ensures the lid is kept shut and prevents the contents of your cooler from spilling over if you had to go over bumps on the road.
Pros of the Tibek 12V Mini Fridge/Warmer with Automatic Locking Handle
i. Efficient Cooling and Heating
ii. Energy Efficient
iii. Environment- Friendly
iv. Compact Design
v. Large Capacity
vi. In-Built AC and DC cables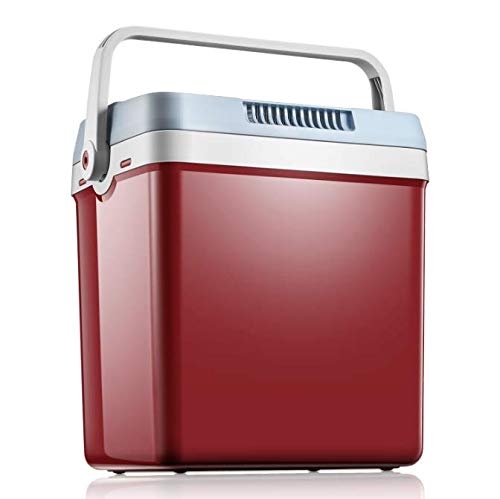 Click here to get it on Amazon!
Cons of the Tibek 12V Mini Fridge/Warmer with Automatic Locking Handle
It doesn't have a temperature regulator, sadly.
Check out these other in-depth articles/reviews…
Alternatives to the Tibek 12V Mini Fridge/Warmer with Automatic Locking Handle
Small Capacity 
Wagan 14-Liter Portable 12V Cooler/ Warmer
We love the size of the Tibek cooler but we do realize that it may not be ideal for use as a personal cooler. What we mean by a personal cooler is a small portable cooler for one person. This Wagan 14-Litre Personal cooler is a stylish and elegant cooler which has the compactness of a personal cooler but at the same time is large enough to hold quite an amount of food and drink
Even though this cooler is about half the size of the Tibek cooler, it is still within the same price range. This unit also has duals heating and cooling function and it runs quietly. It can barely be heard over the sound of the engine of your car.
It has an adjustable shoulder strap so the cooler can easily be carried around. Similarly, it has two cup holders that are large enough to store cups of different sizes.
Find out more about the Wagan 14-Liter Portable 12V Cooler/ Warmer here.
Option with Larger Capacity 
Koolatron 32-Quart 12V Cooler/ Warmer with Split-lid Design 
The Tibek portable cooler is rather spacious and has a generous capacity, but we thought it would e good to suggest a cooler with an even larger storage capacity. This Koolatron Portable travel cooler with is 33-Liter capacity can take even more food and drink. This feature would better serve larger families or people going on longer trips.
Other than the difference in size, This Koolatron cooler has a lot of similarities with the reviewed Tibek cooler. It also has a dual function and can be used as a mini-refrigerator and conversely as a food warmer. It is a thermoelectric cooler so its cooling is quiet and at the same time environment-friendly.
Additionally, this cooler has some cool features that make it stand out from other regular 12V coolers. It has a split lid design that allows easy accessibility and conservation of energy. It has removable shelve which gives it more flexible storage. This mini refrigerator can stand horizontally or vertically and so it doubles as a chest or a mini-fridge.
It however also doesn't have a thermostat and sadly doesn't come with a household (AC) adaptor. The AC adaptor will have to be bought separately.
Learn more about the Koolatron 32-Quart 12V Cooler/ Warmer with Split-lid Design here.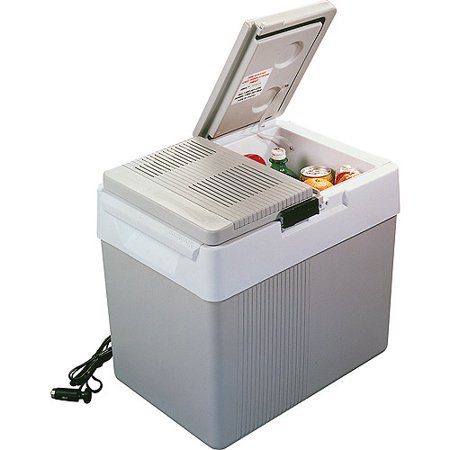 More High-End Option
Dometic Tropicool 33- Liter 12V Cooler/ Warmer
This Dometic Tropicool portable cooler is a high quality and durable thermoelectric cooler. Just like all coolers from the Dometic Line, this cooler is a high- tech product. It comes with a seven stage temperature regulator. This temperature regulation interestingly works both for its heating and its cooling. This helps you operate your cooler at your preferred temperature setting depending on the items you place in it.
Its design is rugged and it has a detachable lid with a magnetic lock. This means you won't have to worry about you cooler toppling over and spilling out its contents. Its quiet and efficient operation is a huge plus, especially for noise sensitive people. It is worthy of note however that this cooler is much more expensive than the Tibek cooler. This Dometic cooler is also a bit heavy, especially when compared to the lightweight Tibek mini refrigerator.
You can also read our in-depth review of the Dometic Tropicool 33- Liter 12V Cooler/ Warmer here
 
Quick Comparison
 
Featured Product
Smaller Size  
Larger Capacity
More High-End
Product
Tibek 12V Mini Fridge/Warmer with Automatic Locking Handle

 

Wagan 14-Liter Portable 12V Cooler/ Warmer

 

Koolatron 32-Quart 12V Cooler/ Warmer with Split-lid Design 

 

Click here to get it on Amazon

 

Dometic Tropicool 33- Liter 12V Cooler/ Warmer

 

Click here to get it on Amazon

 

Capacity
26-Liters
14-Liters
42 cans/ 31-Liters
33-Liters
Dimensions
13.8 inches  x 11 inches x 15.7 inches
12 inches  x 8.25 inches  x 5.5 inches
20 inches  x 14 inches  x 16 inches
22.4 inches  x 20.3 inches  x 15.3 inches
Features
Automatic Locking handle
Adjustable shoulder strap

 

Dual cup-holder

Double handles
Magnetic lock and Seven stage temperature regulator
Function
Fridge/Warmer
Cooler/ Warmer
Cooler/Warmer
Fridge/ Warmer
Available Sizes
26-Liters
14-Liters
31-Liters
14-Liters,

 

20-Liters ,

33-Liters

Available Colors
Red and White
Grey
White
Grey, Green
What Users Are Saying About The Tibek 12V Mini Fridge/Warmer with Automatic Locking Handle
The general consensus about the Tibek mini-refrigerator is that it is amazing. Most of our users were a bit skeptical at first because the cooler seemed too good to be true. They were however pleasantly surprised as the cooler meat wit and even surpassed their expectations.
One of the features our users loved is that the mini-fridge worked efficiently, cooling food and drink quickly to pretty low temperatures. Not only that but also the fact that this fridge does this while make minimal operational noises and is very quiet. It also has a very low power draw which is a huge plus as it helped our users conserve both energy and money.
Another favorite among our users is the cooler's practical design. This cooler is really lightweight even when full and it comes with an ergonomic handle that makes carrying it around easy. It also has a generous capacity that allowed our users to store as much food and drink as they wanted as well as bottles of different sizes.
One of the drawbacks of this cooler, however, is that a few users complained about it overheating when it was used for long periods of time. Its fan is also placed in the and this makes it a bit too heavy when it is empty. Even though there are a lot of other benefits of it being located in the lid.
Check out these other articles…
How to Change GE Fridge from Celsius to Fahrenheit [Quick Guide]

GE Cafe Refrigerator WiFi Setup [Quick Guide]

GE Refrigerator Evaporator [Issues and Solutions]

No Power to GE Refrigerator [Solution]

GE Refrigerator Overheating [Quick Fix]

GE Refrigerator Does Not Defrost [How to Fix]

 
Our verdict
There's a lot to love about a portable 12V cooler more so one with amazing features. This Tibek mini refrigerator is an attractive travel companion which is almost as important as your mobile phone and GPS.
If like us you are tired of the mess that comes with buying ice for regular coolers and having it drip everywhere then this cooler is for you.
We love that this cooler is so practical and also that it is durable. Its large capacity is great as it allows you to store lots of food and drink. Its compact design is also a plus as it is lightweight and easy to carry around. It also comes with built-in AC and DC cords which is great as they don't have to be bought separately.
The deal-breaker for us, however, was the unit's quiet and efficient cooling/ heating. It is great that this cooler performs flawlessly but even better that it does so with little or no noise at all. Tibek also offers a two-year warranty for all its product so it's a safe buy. This helps eliminate risks especially if you're some who is very careful especially when making purchases.
The best part is that it provides all these features at a reasonable price. We love this cooler and feel its definitely worth your money. If you think this cooler is perfect for you, click here to get this cooler.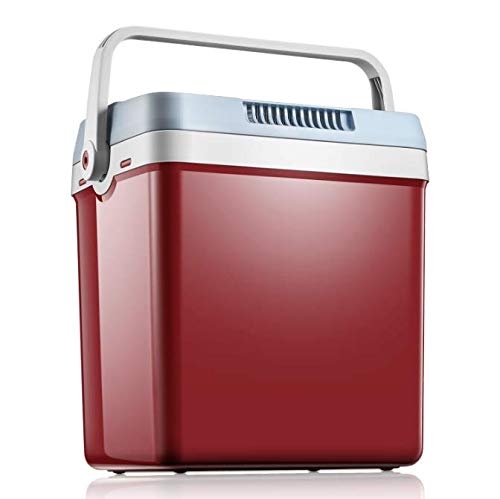 Click here to get it on Amazon!
Need expert help? Click here to use the chat box on this page to speak with a verified appliance technician right away. No need for expensive in-home service calls. No appointments. No waiting.