Have you been without power for a worryingly long time now? Are you wondering how long your refrigerator will stay cold without power before all your perishables, you know, start perishing?
Well, most refrigerators, last for about 4 to 6 hours without power before returning to room temperature.
However, this range depends on a number of different factors.
You need to consider these factors to know how long your refrigerator will stay without power.
In this article, we will highlight these factors. We will also give you some tips to help you maximize a power loss to your advantage.
Let's dive in!
Does Your Refrigerator Have Good Insulation?
Is your refrigerator one of the new models that are being produced, or is it an older model? Older refrigerator models don't have as much insulation when compared to the refrigerators that are currently being produced.
This is definitely one thing you need to consider to know how long your foods will last in the refrigerator without power.
The amount of insulation that a refrigerator has is very crucial because of heat losses or gains. A refrigerator with better insulating properties tends to retain low temperatures. This, in turn, reduces drastic heat transfer to the surroundings.
A refrigerator with not-too-good insulation tends to gain heat rapidly. This basically increases the internal temperature of the refrigerator faster, such that the fridge won't be able to stay cool for a while.
So, what kind of insulation do you have? Is it thick enough to reduce heat transfer?
How Many Hours Did Your Refrigerator Run For Before the Power Outage?
You may be thinking this question is a tad bit unnecessary, but you may be wrong. Estimating the number of hours that your refrigerator ran for before the outage can determine so many things.
On the bright side, it helps you to know whether your perishables are already going bad. It also helps to have a rough idea of what the temperature should be. If it's working optimally, the lowest temperature a refrigerator should operate is about 1 to 3 degrees Celsius.
Meanwhile, if you don't have one already, consider getting a thermometer for your fridge to be sure that you have an accurate knowledge of the temperature in it.
So, if a refrigerator is left to run for a few hours at a stretch, the lowest temperature can be achieved. This, however, depends on the performance of the refrigerator. But if it wasn't running for so long, the lowest temperature may have not been achieved. And this means that the refrigerator may lose its coolness faster.
Makes sense, right?
In addition to the factors mentioned earlier, you may also want to consider this next question.
How Filled Up Is Your Refrigerator?
Is your refrigerator filled to the brim with foodstuffs and other perishables, or is it just about half full?
It has been noticed that when a refrigerator is filled up, there's a greater chance of it staying cold for a longer time.
On the other hand, if a refrigerator is half-filled, it may not be able to stay cool for a very long time.
So, this is another factor to take note of to know how long a refrigerator will stay cold without power.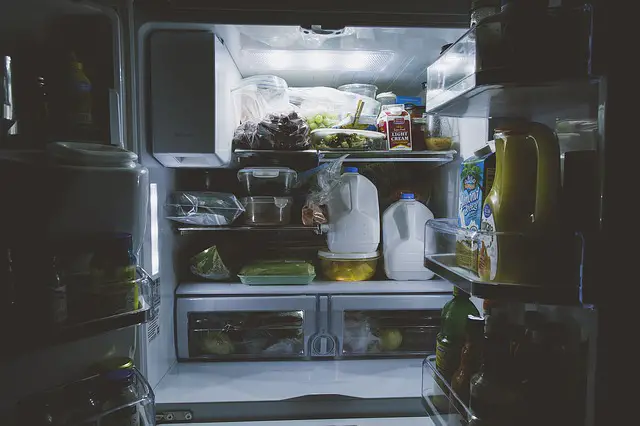 How Often Do You Open The Refrigerator?
Assuming that your refrigerator attained the lowest temperature possible before the power outage. It should probably be at about  1 to 3 degrees Celsius. This is a good range for food and other perishables to remain fresh.
However, opening the door of the refrigerator frequently lets warm air in from the atmosphere. The warm air which comes into the refrigerator will replace the cool air and warm up the fridge after a while.
So, basically, if you open your refrigerator too many times during a power outage, then your foods may be at risk. This is because the chances of it staying cold for a long period of time gets slimmer.
This is why it is advisable to keep the refrigerator shut when it loses power so that it can retain its coldness for a while.
Check out these other in-depth articles/reviews…
How Long Will A Refrigerator Stay Cold Without Power — Bottom Line
We've established the fact that a refrigerator can stay cold for about 4 to 6 hours even after a power outage. This, however, depends greatly on a number of factors.
Proper insulation: A refrigerator with proper insulation helps to retain the coolness for a longer period of time. This is unlike a refrigerator without proper insulation.
If your refrigerator was left to run for a long time, it most likely would have achieved the lowest temperature. And this would help the refrigerator stay cool even during a power outage.
A filled-up refrigerator has a higher chance of staying cool for a long time as opposed to a refrigerator which is just about half full.
Opening a refrigerator too many times may cause your refrigerator not to retain its coolness for a long period of time. This is because the warm air that goes into the refrigerator when you open the fridge will replace the cool air in it and warm up the refrigerator.
In the video below, wellness chef Geremy Capone offers tips on food safety measures to take when your refrigerator loses power. Check it out.
Related FAQs — How Long Will A Refrigerator Stay Cold Without Power?
Can I unplug my refrigerator during a power outage?
Unplugging a refrigerator during a power outage will help to prevent power surges when the power is restored. Refrigerators can be very vulnerable to power outages.
Another way to help prevent power surge is through the use of surge protectors. Refrigerator surge protectors protect the refrigerator from power surges, even when you can't unplug the refrigerator.
Click here to check out this refrigerator surge protector on Amazon
Ensure that the food in the refrigerator stays as cold as possible. Always keep the refrigerator doors closed and place block ice inside as well to aid in keeping the refrigerator cold.
How can I keep my refrigerator cold without power?
To keep a refrigerator cold without power, take note of the following:
Make sure the refrigerator and freezer doors are closed all the time to maintain a cold temperature.
Get block ice to keep the refrigerator as cold as possible if the power is going to be out for a while. 50 pounds of block ice can keep an 18 cubic feet fully stocked freezer cold for 2 days.
If you intend to eat refrigerated meat, fish or eggs while they are still at the proper temperatures, ensure that they thoroughly cooked to a safe minimum internal temperature to destroy any food-borne bacteria.
Please, check out these other articles…
What do you throw out after a power outage?
Throw out perishable foods like meat, seafood, milk, eggs, and leftovers if there was no power for about 4 hours, or a cold source like block ice.
Do not taste anything to find out whether it is safe to eat. Trash foods with unusual smells, color, or texture.
Check the temperature of food in the refrigerator and throw out any food that is above 400F. If you have foods that are below 400F, you can then refreeze or cook. However, note that perishable foods that are not properly refrigerated can cause illness if eaten, even after they've been thoroughly cooked.
What do I do once power is restored?
Check the temperature of the refrigerator thermometer. If the thermometer reads 400F or below, the food in your refrigerator is safe and can be refrozen.
Check each packaged content in the refrigerator if a refrigerator thermostat hasn't been kept in the refrigerator. It is not safe to rely on looks or odor. Also, if the food is 400F or below, you can refreeze.
If the power was out for about 4 hours, then the refrigerated food should be safe as long as the refrigerator doors were kept closed. When the power comes back on, check the temperature of the food or in the refrigerator.
How long will it take for a refrigerator to get cold?
On average, it takes a refrigerator 24 hours to get to a safe temperature.
It has to remove the heat from the metal, plastic, and insulation inside. The freezer usually gets cold first because all the cooing is made there, followed by the fresh food section.
However, if the refrigerator/freezer is less than three-quarters full, and if the refrigerator doors are opened frequently, it might take more than 24 hours for the refrigerator to reach a safe temperature. Therefore, fill the refrigerator three-quarters with food or other things that can take up space to ensure that the refrigerator gets to a safe temperature in 24 hours.
How can I tell if my refrigerator is cold enough?
To test the temperature of a refrigerator, use the liquid that has been in the compartment for about 24 hours.
Put a glass of water in the refrigerator for 24 hours. Then, stick a thermometer into the glass of water to get a reading. If you use an instant-read thermometer, you'll get your reading immediately after. For other types of thermometer, close the refrigerator doors and check again after a few hours because the internal temperature of the temperature would have stabilized, giving the thermometer a chance to get a reliable reading.
If you adjust the temperature of the refrigerator, leave it for 24 hours to stabilize, then take another reading. Continue the process until you get a safe temperature.
Need expert help? Click here to use the chat box on this page to speak with a verified appliance technician right away. No need for expensive in-home service calls. No appointments. No waiting.