Nothing hurts institutional cafeterias, delis, and restaurants badly like poor refrigeration systems. It could get really messy and we can give you the facts for free. But, thanks to durable and reliable commercial refrigerators, there's hope for the average man or woman who ventures into this line of business.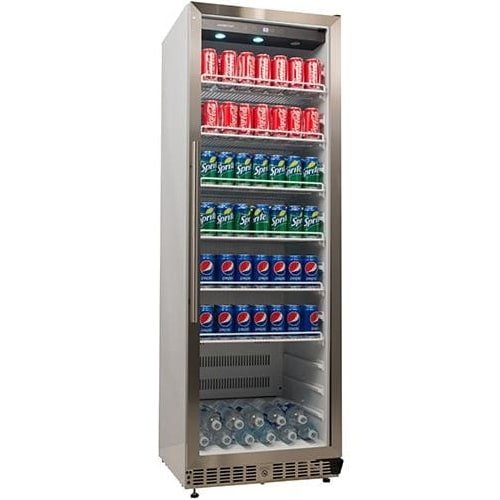 Commercial refrigerators are uniquely designed refrigerators that cater to the refrigeration needs of small to large scale food businesses. What is gladdening about the current trend in the commercial refrigerator market is that every businessman or woman can find the perfect refrigerator to keep their businesses running and their customers coming in.
As we have observed, there are different types of commercial refrigerators to choose from. The number includes reach-in refrigerators, merchandiser refrigerators, walk-in refrigerators, bar refrigeration, and display cases.
That's not all on the list of commercial refrigerators. And trust us when we say the task of choosing one from this list is no mean feat at all. Apart from the options in style and design, you've got to worry about size and storage capacity among others.
It could get really frustrating especially if you are unable to tell one apart from the other and the purpose each commercial refrigerator serves.
Not to worry, we came in our superhero capes to save the day.
This buying guide is a product of long hours of research on the hows, whys, and whats of commercial refrigerators.
We were able to get in-depth information about the different types of commercial refrigerators, what each one can do, and the kind of restaurant or food business each one can serve perfectly well.
That said, at the end of this buying guide, you can rest assured that once you are able to digest all the information we are offering you, your shopping experience will be hassle-free.
If you are still worried about finding the perfect one, ditch the worries and come along with us.
Let's show you how it's done.
Types of Commercial Refrigerators
Already, we have given you a hint about the different types of commercial refrigerators there are in the market. However, we will like to give you more concrete information about each one of them and where each one can give its 100%.
Reach-In Refrigerators
These refrigerators are the most common of all commercial refrigerators in the market. And the reason that they are isn't far-fetched.
First of all, reach-in refrigerators (and/or freezers) provide the perfect refrigeration systems for keeping items cool. But the real deal about them is in their anatomy. They make accessing items in them super easy. So no bending or squatting to get your pound of meat or bottle of toppings. You can get what you want while standing.
What's more? Reach-in refrigerators are well-designed to cool and store just about any food product you can imagine.
How to Use Reach-in Refrigerators: Reach-in refrigerators are best for food storage that will be accessible to just your staff. A good one will work perfectly behind the scenes to make your kitchen job seamless and without hassles. They may also come with glass doors so that you or your staff members can monitor the food products in it well. Here's safety, reliability, functionality, and ease rolled up in one refrigerator. You should probably give it a thought if you are in the general restaurant business.
Where to Install Reach-in Refrigerators: Your kitchen or locations towards the back of your store will be perfect for a reach-in refrigerator.
There are 2 other commercial refrigerators that also function like reach-in refrigerators. But they are a bit different.
There's the Dual Temperature Refrigerator, which shares some attributes with the reach-in refrigerator. However, unlike the reach-in, it offers 2 different temperature zones. The idea of this dual temperature zone is to cater to the needs of businesses that require cooling and freezing. For instance, a brand that needs to store 2 different food types where one needs to be refrigerated and the other needs to be frozen, will find this refrigerator super useful. It is well designed to meet the need.
Dual temperature refrigerators are best installed in back-house locations where operations are away from public view. If you also have a commercial kitchen that needs dual zone refrigeration, this will be perfect in your kitchen.
The second one is the Pass Through Refrigerator. This type offers easy access from either side. It comes with 2 doors that open to 2 sections and can be installed in the same location as a dual temperature refrigerator. It can also be installed in areas where quick access to food items is required or where space is limited.
Merchandiser Refrigerators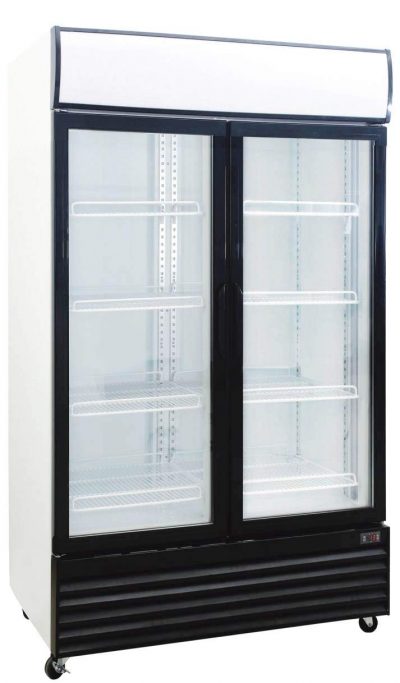 These refrigerators work like the reach-in refrigerators as well. However, they differ in a number of ways.
First, these ones are designed to be installed in public spaces. Hence, the public can have easy access to a merchandiser refrigerator. They are also well-built to keep jugs and bottles in an upright and stable position without comprising easy accessibility to the items.
How to Use Merchandisers: As we mentioned earlier, more often than not, it is the customer that has more access to the merchandiser refrigerator. The staff rarely goes there. Except to put the items in. they are perfect in stores and retail outlets because customers can easily through their doors. So, just by standing and scanning the content of the refrigerator, a customer can decide on what he or she wants to get and if it is available before he or she reaches for it.
Where to Install Merchandisers: Merchandisers are perfect in store or restaurant fronts. You may also decide to install yours close (usually behind) your front counter. It is also not uncommon to have an air curtain merchandiser in front of your front counter.
Worktop Refrigerators
These will allow you to prep your food products and also allow you to work on them before they are completed. While you are about the food preparations, the worktop offers a cooling storage unit for your ingredients just below so that you can have them within easy reach.
The versatility of worktop refrigerators make them necessities in industrial and commercial kitchens. They come in different styles and they also come in heights that make working on them comfortable.
Depending on the brand and model you choose to roll with, you may even be treated to a pleasant array of features. Some of these features include storage hoods, pans, and cutting boards. The bottom storage may also come in drawer styles or with swinging doors.
How to Use Worktop Refrigerators: They are the perfect choices for line cooking and line prepping. If you are into the pizza, salad or sandwich business where the food needs to be prepped, then you should go for a worktop refrigerator. Even if you are not in that line of business, this will come in handy if your cooked products require prepping.
Where to Install Worktop Refrigerators: Worktop refrigerators can be installed anywhere. This is largely due to their versatility. However, they are commonly found in the kitchen, close to or where front counter operations happen. Line operations see them the most.
Check out these other articles…
Undercounter Refrigerators
As the same implies, these refrigerators are located under counters. While they store food items like reach-in refrigerators do, they offer less storage space for food products. Also, because they hold small quantities of food, they can fit into smaller areas especially areas where space constraint is a challenge.
Aha! One more thing: The fact they are undercounter is all the info anyone needs to know that these refrigerators don't showcase food.
How to Use Undercounter Refrigerators: They usually allow easy and quick access to food items that you may need frequently. Also, a good undercounter refrigerator can beef up the productivity of your front counter when placed under it. If you have one installed that way your staff can enjoy easy access to it.
Where to Install Undercounter Refrigerators: Because they are very portable, they tend to fit into tight corners or small areas in your kitchen. They could also be located under your front counter.
Bar Refrigerators:
Bar refrigerators come in 3 different types.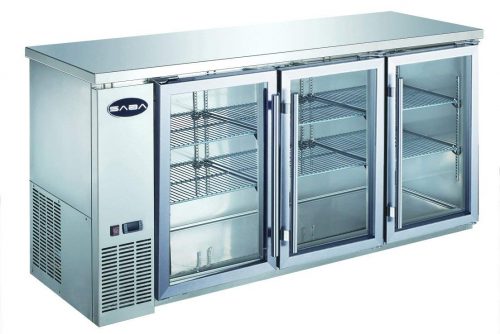 The Bar coolers usually come with glass and solid doors. The solid ones are designed for the section that functions as storage for kegs or any other relevant thing that you can't find room for. The glass doors are there to help you flaunt your array of beers.
Then there are Direct Draw Bar Refrigerators. These ones allow you and your staff to dispense and store beer kegs. It will make a good choice if you are big on time management and efficiency in service delivery.
The Hybrid Bar Refrigerators are the least common of the 3 but are super functional and even more versatile than the other two. A good one can store your beer bottle in a section and also allow you to tap or store a keg beer.
How to Use Bar Refrigerators: They are great appliances for storing your beers and spirits at the perfect temperature. If you are a beer lover, you should know that the temperature at which beers and alcohols are stored can affect the taste and quality. Not only will poor refrigeration affect the taste and quality of the drink, it can destroy it.
Where to Store Bar Refrigerators: The direct draw ones are usually best stored under a counter for ample access to staff. The back-house of most bars and restaurants is often another place to store direct draws. The coolers with glass doors are usually behind the front counter for easy and effective display to the public.
Walk-In Refrigerators
Ever heard of a refrigerator that allows you walk into it to get an item? That's the walk-in refrigerator and it has definitely been invented. With these refrigerators, you get to choose the style that you want because they come as refrigerators or freezers.
This means you can make a choice of what you should go for based on what you need the refrigerator to do.
Also, because they are very roomy, you are allowed to store really large amounts of food in them.
What's more? The walk-in feature makes accessing food items super easy. You can move freely inside the refrigerator and help yourself to whatever you need.
Where to Store Walk-In Refrigerators: Sounds like you could have an entire country in one, right? Absolutely not! And we hate to burst your bubble. But they are not for public use. The purpose is to have them at the back of the store or any behind-the-scenes location where operations go on. Of course, because they are pretty large, it's best to have them in one of those massive storage facilities.
Display Cases
A display case is the best choice in commercial refrigerators for food products that need to be displayed for public view. Often times, these products also require some refrigeration to keep them enticing. Ice cream cakes at cake shops are one such food products.
Now, don't get it twisted. Even though display cases offer refrigeration, they are not designed to preserve food products. The idea of a display case is to display the product and nothing more. So, the shelf life of the product cannot be guaranteed because it's in a display case.
There are all sorts of display cases that are uniquely designed to help businesses display specific food products. They include sushi cases for sushi and appetizers in Japanese restaurant, horizontal and vertical cases which are commonly found in airports, bakery cases for bakery products in shops and supermarkets, and deli cases found in course delis and supermarkets.
Where and How to Use Display Cases: Display cases are best located in a restaurant or storefront. In such locations, public viewing of your products goes on without hassles. What's more? The public will not have access to the products being displayed. This means access to the products on display is available to staff members alone.
Check out these other in-depth articles…
A Quick and Easy Guide on How to Choose the Best Commercial Refrigerator
Still not sure which commercial refrigerator will be perfect for your business?
Not to worry, we will show you how with this simple guide.
However, it is important to note that the task becomes easier once you are able to determine key points.
First, you need to determine what you'll store in the refrigerator. Then you also need to determine the proposed location of the refrigerator.
Here's the quick guide we promised:
For Efficiency in Kitchen or Behind-the-scenes Operations, go for a/an:
Undercounter Refrigerator: If you are looking for a commercial refrigerator that will fit into a small space or at the front counter.
Reach-In Refrigerator: If you are particular about something that will make back-house activities seamless
Walk-In Refrigerator: If you are looking to store very large quantities of food in it.
Worktop Refrigerator: If you are all about salad or line refrigeration.
Bar Cooler: If you run a beer business.
For Efficiency in Public Display of Food, for a:
Display Case: If the displayed items won't be for sale.
Merchandiser: If the displayed items will be for sale.
Bar Cooler (Glass Door): If you want to display beer.
How to Shop Commercial Refrigerators by Size
The fact that you need a commercial refrigerator is very important or you won't be here in the first place. However, getting it in the right size is just as important.
You may be working your way through your shopping with fast facts like 'is it expensive or affordable?' or 'is it big or small?' Well, while that may be a good way to eliminate certain options, it may not be so effective in situations where making the perfect choice is of top priority.
So, what are we saying? First, if you want to be sure that you'll get the perfect refrigerator in the perfect size, then you should consider finding out the dimensions of the refrigerator you want.
As a rule, the inside dimensions give a near-accurate idea of the storage capacity that the refrigerator is offering you. This means you will be very close to how much storage it offers as soon as you are able to get these measurements.
The outer dimensions, on the other hand, will help you estimate how much of your floor space the refrigerator will take.
See why it's important to keep tabs on refrigerator figures?
That said, it is also important to note that the compressor's location may also affect the storage capacity. And you should factor that in.
If you are able to get the following information while shopping, then the task will be easier. You'll be even closer to getting the perfect commercial refrigerator:
An estimate of the amount of food product that you'll need storage for and access to.
The number of customers you'll be serving.
The size of food that you'll be storing in the refrigerator.
In some cases, this information may provide better suggestions on what to go for. For instance, if you run a bakery store that is home to many customers, this information may suggest more than one deli cases.
Moving on, here are important factors that we think you should consider while sizing commercial refrigerators:
Width
Outside dimensions
Storage capacity in cubic feet
Number of doors
Compartments and sections
Note: While you are planning for the outer dimensions of the refrigerator you want, be sure to allow some 'breathing room' for the refrigerator's compressor to breathe. An allowance of about 2 to 4 inches around the refrigerator will be necessary to maintain ample airflow.
We've come to the end of this exhaustive buying guide on commercial refrigerators. We hope you found the information useful. You can now go ahead and make a choice of what you want for your business.
May the odds be in your favor!
Happy Shopping!