Wine coolers, wine chillers, wine refrigerators – they are all the same. People only call this appliance differently. But the question is, 'why wine coolers (or whatever name you call them)?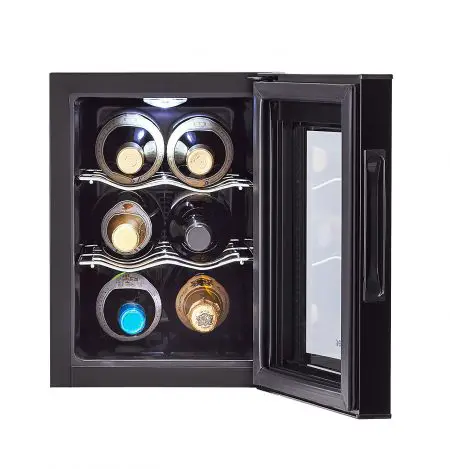 Well, for starters, the need for a wine cooler is often tied to the fact that wines need a place to call home. Often times, those who don't know that they can and should store their wines separately just use their regular residential refrigerator.
If you haven't experienced it already, wine bottles in your regular refrigerator will rob you of space. And as you keep adding more bottles, even your food and groceries will eventually get choked out of the fridge.
You don't need to have to deal with unpleasant events like not having a place to store your favorite and necessary things. Just go for a wine cooler already and take the burden off your refrigerator.
And in case you didn't know, there are certain kinds of wines that shouldn't be stored in regular refrigerators. You may damage your precious wine if you store it under the wrong conditions. And who knows how much those wines cost and how important they are to you?
If you didn't have a strong reason to have a wine cooler then you should have one now. Really, these 2 reasons are strong enough to let you know that wine coolers are necessities.
Oh, and just in case you thought only the great sommeliers should own one, we should let you know that the everyday wine enthusiast also believes he needs a place for his wines.
If you are one – whether you have a few bottles or a truckload of wine bottles – this buying guide will help you find the best wine cooler.
Come along, will you?
The Perks of Having Your Own Wine Cooler
Oh, before we get knee-deep into this buying guide, we should let you know how and why wines could get damaged.
First of all, wine is literally grapes that are still living. And you know what it is with living things. They like to be in a habitat that they are cool with. Wines are one of such things that need to be stored in the right environment. So, when taken out of what they regard as their natural habitat, all hell could let loose. And you'll soon be informed on how things have gone awry when you hold a glass of a damaged wine to your lips.
You don't want this, do you? So get a wine cooler already.
There a good number of benefits that you get to enjoy from having your own wine fridge. Chief of which is the simple fact that these appliances are designed to chill your wines. Also, much more than merely cooling the wines, a good wine cooler keeps the wines at the right temperature. The point? To protect your winery and keep them from going bad just like we mentioned earlier.
Here are some other benefits of having a wine cooler:
More storage
Having your own wine fridge is simply having more space to store other valuable things. It simply means that if you have been storing your wines in your regular fridge, you can enjoy more space. Foods and drinks in your main fridge can now have more breathing space. And if you want to add more food to the now empty space, the room is all yours when you have a wine cooler.
More Wines
You may have been considering the possibility of expanding your winery to accommodate more bottles. The job will be hassle-free if you have the perfect wine cooler. Collecting newer wines won't be a problem either.
Fresher and More Long-lasting Wines
When wine is stored at the proper temperature, it tends to last longer. Wondering why and how people still have access to wines from the 20th century? It is because those wines were properly stored. If you are keen on wine preservation for posterity sake, for instance, getting a wine cooler is a sure way to make that happen.
You can showcase your fine taste in wines to even your great-grandchildren long after you have left the earth. Plus the wine cooler will help to preserve the taste and unique flavor of your wines.
Just so you know, even if your home is kept at a comfortable temperature, the wines are still at risk because most are temperature-sensitive.
More Than a Wine Cooler
Not everything may be able to go into your conventional refrigerator. So, you can take advantage of the extra space that you may have when you own a wine fridge. Notice that we said 'may'. This is because you may decide on a cooler that has enough space to take all your wine bottles. Once the cooler is full, you may not be able to store other things.
If, however, there's still room, then you can store other items like vinegar, oils, and other beverages.
Types of Wine Coolers
The task of finding the perfect wine cooler can be so stressful; especially because there are a million and one of them in the market. Trust us when we say that the search could become quite overwhelming.
Not to worry, we will give you the 411 of the types of wine coolers and how each one differs from the other. This information will definitely give you a stress-free shopping experience.
Here they are:
Single Zone Wine Coolers .vs. Dual Zone Wine Coolers
When it comes to wines, more often than not, it is either white or red. Now, some people do both and that's absolutely fine. In fact, if you run a bar business of any sort, you are more likely to store both red and white wines.
However, when it comes to wine storage you've got to make the right choice.
Already, we know that the serving temperature of red wines differs from the serving temperature of white wines. This is where zoni
ng comes in.
Single zone wine coolers will be perfect if you are particular about just one of the two wine types. If, however, you store the 2, then you should go for the dual zone wine cooler. Talk about being able to eat your cake and have it.
That said, experts have also said that the storage temperature of both wines should be within the same range.
To cut the long story short, if you are not so keen on serving temperature, a single zone wine cooler will be perfect. Otherwise, if you want to always have a bottle of wine ready to be served, then you can choose a dual zone model.
Then again, we should also let you know that the dual zone models are more expensive than the single zone models. Understandably so, if you ask us.
Thermoelectric .vs. Compressor Models
If you have a compressor refrigerator already, then you should be familiar with the humming noise that it makes. There are also wine coolers that come with compressors. They produce the same sounds.
This is why some people tend to tilt to the side of thermoelectric models. These models run quietly. Their technology is designed to remove the sound completely.
It seems like we would readily recommend a thermoelectric model, right? Well, not really. Thermoelectric models also come with their own fair share of cons. For one, they don't get cold enough like the compressor models. In fact, the rate of cooling may get really low if your house is hot.
So, at the end of the day, the choice of whether to go for compressor or thermoelectric wine coolers depends on what you really want.
As an easy guide, a thermoelectric fridge will be perfect for you if the temperature in your home is constant. You should also choose it if you want to save energy, need a small wine chiller, and you can't stand humming sounds.
A compressor model will be the better of the two options if noise doesn't get on your nerves. If you are also keen on a wine cooler with large capacity and you are not really sure about the temperature consistency in your home, compressor wine coolers to the rescue!
Freestanding .vs. Built-In Wine Coolers
Except you are remodeling or moving into a new house, a freestanding model is always good. But that's not to say you can't choose a built-in model if you are not remodeling or moving.
For instance, you may just be a sucker for the streamlined and neat profile that a built-in model adds to your kitchen. And who will pass up on the fact that these wine coolers don't take up your much-needed floor space.
If you ask us, these reasons are valid enough for you to buy a built-in wine cooler.
However, because of their engineering, they tend to be more expensive than the freestanding models.
Unlike the built-in models, freestanding wine coolers require some clearance on the top, sides, and back of the unit for ample ventilation. As you may already know, these units may overheat and get damaged over time if there isn't ample ventilation.
How To Choose The Best Wine Cooler
Here are a few things that we think you should consider before you make a choice:
Size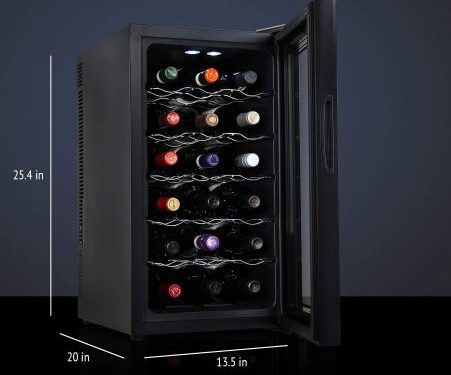 One of the first things you need to factor in is the location. And by location, we mean where would you be installing the wine cooler? Do you have enough space to install your most preferred choice?
Wine coolers come in different sizes. So, each one requires a minimum amount of space for it to be installed.
At this stage, some people will go for the built-in models. The reason is obvious. Built-in models don't take up so much floor space. But even the cabinet space to fit one in has to be sufficient.
Not sure you have enough space? Then you should measure your available space and try to match it with the cooler's dimensions. You may also check with professional installers for a second opinion. They also tend to be pricier than the freestanding models. This is apart from the fact that you've also got to pay for installation.
Capacity
While you are keeping tabs on how big, small, or simply size-perfect that wine cooler is, be sure to keep an eye on capacity. You need to know how many bottles the wine cooler can accommodate. Missing this important factor will mean taking whatever the wine cooler offers.
First, you need to ask questions like 'how many bottles will I be storing?', 'Can this wine cooler meet my space demand?'.
When it comes to capacity, don't stress yourself, you have lots of options. You may choose to go for a 120-bottle wine cooler or a 12-bottle wine cooler. And just in case, you are looking for a wine cooler for just one bottle, you've got options too. Yes, you guessed right: there are single-bottle wine coolers as well. So, it is entirely up to you to determine capacity based on what you need.
Once you are able to deal with the capacity, then you are well on your way to owning your own wine cooler.
But you've got to consider price tags too, you know.
So…
Cost
This is one other important thing to note or there will be no wine cooler at all. The price of wine coolers varies for a good number of reasons.
But you can already tell that the price of wine coolers will tend to increase with size. So, you will need to pay more for large models.
Also, more technology means more bucks. For instance, if you decide to choose a dual zone model, you should be prepared to pay more than you will for a single zone model. In spite of the extra cost, that's some added benefit. So the difference is justified.
You can easily get a small freestanding wine cooler with $100 to $300. You'll probably need to pay $200 extra to get a built-in model within the same size range, while large and sophisticated ones can come at $1,000 or even more.
Also, you may want to factor in shipping costs as well as energy costs. Wine coolers come heavy irrespective of size. So, you may want to consider cheap shipping options or a seller that offers free shipping.
If you want to pay less for energy consumption, then you should go for an energy-efficient model. Thermoelectric fridges easily qualify as energy-efficient. Only thing is that they must be used in homes where the air conditioning unit is functional for them to function well.
Temperature
If the primary purpose that you hope the wine cooler will serve is storage then it's best to keep the operating temperature at 55 degrees Fahrenheit. And just like we mentioned earlier, the ideal temperature for serving will then depend on the type of wine that you'll be storing. It could also depend on your own preferences.
Typically, wine coolers allow the flexibility of operating between 45 degrees and 65 degrees. So you can set the operating temperature to suit your needs.
This is why we recommend proper checks on the temperature range that the wine cooler you want offers. It should be able to accommodate your preferred temperatures. Again, if you drink or store white and red wine, then we suggest that you choose a dual zone model.
Noise Level
We totally love the fact that technological evolutions have brought ease and functionality to our homes and businesses. But along with the appliances that make their way into our homes comes the humming sounds and noises.
Some can deal with it. Others can't even stand it. And if you already have a refrigerator in your home then you should be familiar with the noise. Wine coolers tend to do the same – produce humming sounds.
If you fall into the category of people that can stand the noise, then we advise you to go for the thermoelectric model. But as we said before, these models aren't the best for everyone. So you should determine what you can handle and what you can't. Then you can make an informed decision on what to go for.
Also, the best way to put an estimate on the noise level of a wine cooler before you buy one is to check people's reviews on different models. Extremely loud ones will be annoying enough to warrant a user's negative comment about them. So, you can't miss that.
Style
Any appliance that will be making a home in your space should at least be stylish. Simply put, it should add aesthetic value to your space. There are a good number of stylish ones in the market. And there are the not-all-that types as well. Pictures should guide you on the style to go for.
You may also choose to go with something that features LED lights. These lights could add that chic look to your kitchen as they are cast on the different wine bottles.
Just dedicate a fraction of your time to go through all the options before you make a final decision.
Other Features
Digital Thermostat
You may want to look out for a wine cooler that comes with a digital thermostat. The idea of a thermostat and a digital one at that is to make checking and setting the operating temperature easy.
Humidity Control
If you'll be storing wines for a long time, then we recommend a wine cooler that offers humidity controls. If, on the other hand, you are likely to consume it in a short period, then a humid control won't be necessary. Humidity controls are necessary for those who want their wines to age a little longer with the intention to consume the wine at a later time.
UV Resistance
If UV rays get to the wines directly, the wines could get damaged with time. This is one reason that some wine coolers come with tinted doors. And when they feature lights inside, these lights do not emit UV rays. Buying a wine cooler that comes with tinted doors is a smart investment. But much more than that, we recommend going for models that come with doors that are UV-protected.
Now that you've been armed with all the information you need to have about wine coolers, you can go shopping without worries. And while you are at it, you may want to look out for renowned brands like Avanti, EdgeStar, Eurocave, Koldfront, Frigidaire, Danby, U-Line, and Summit among others.
Thank you for taking the time to read our buying guide. We wish you a happy and productive shopping experience.