Want to know if your trusty iPhone works with a Samsung refrigerator? Find out how to connect an iPhone to a Samsung refrigerator.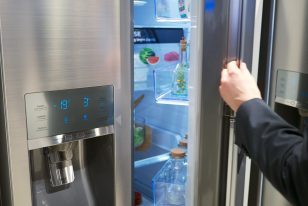 Is a Samsung Refrigerator Compatible with an iPhone?
A Samsung refrigerator is compatible with an iPhone. But it is important to note that it is not just any Samsung refrigerator that works with an iPhone. The refrigerator must be the Smart refrigerator that comes with Family Hub.
So if you have a Samsung Smart Refrigerator with Family Hub, it has room for connection to your iPhone.
How to Connect an iPhone to a Samsung Refrigerator
The following are steps to take to connect an iPhone to a Samsung refrigerator:
Step 1
Ensure you download the app Samsung Smart Home to your iPhone. You can get it from the Apple store. Also, get the details and password of the WiFi network that usually connects you to the internet.
Step 2
Open the app Samsung Smart Home on your iPhone, and with the > sign, scroll to Refrigerator and select it. A screen confirming what steps to follow will appear when you do this. You will see a password. Just so you know, it is because you will use it later.
Step 3
Go to the Family Hub main screen and tap Settings. Under Settings, tap Easy Connection and under this, tap Connect.
Step 4
Press your iPhone's Home button and tap on Settings. When the Settings of your phone opens, you will see WiFi. Under this, you will see the option Refrigerator. Select it.
Once selected, you will be asked to enter a password. Enter the password you got when you downloaded the Smart Home app under 'My device authentication'. After this, click on Join at the bottom of the screen.
Step 5
This is the time to open the Smart Home app and enter the WiFi details you use, including the password. Tap Next when you are done. Your iPhone will be connected to the Samsung refrigerator, with a notification of success appearing on the Family Hub screen.
Smart Home app lets you see what is on the Family Hub when you are not home. You can also send messages and media and write or rearrange grocery shopping lists. In fact, you can do so many things on the Hub from anywhere you are.
Important Note
You cannot switch the Samsung Smart refrigerator off when connecting your iPhone to it. But that is because you need the refrigerator switched on to take all the necessary steps. Besides, you don't have to touch any intricate components, so there is no danger of electrocution.
However, if there is any hitch in performing this task, contact the Samsung support center to request assistance. You can also chat with our appliance technicians who are experts in fixing appliances. They are always available to help you out.
Check out these other articles…
Need expert help? Click here to use the chat box on this page to speak with a verified appliance technician right away. No need for expensive in-home service calls. No appointments. No waiting.