Almost every drink seems to need ice these days. Oh, not really. Ice has actually been a necessity for a while. For iced teas, milkshakes, iced coffee, smoothies, beers, and wines.  This is why even modern refrigerators feature ice dispensers.  But nothing beats the exclusivity and functionality that good and functional ice makers bring.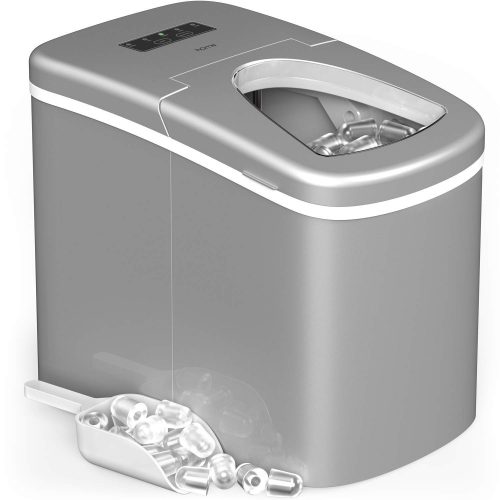 And while ice makers come in variants and styles, there are a couple of things that are common to every good ice maker. They include exquisiteness, convenience, and comfort.
Really, what could be as convenient as being able to get the kind of ice you need, whenever you need it, at the flip of a switch?
Plus, if you still have to go through the rigors of the traditional way of making ice, then trust us when we say an ice maker is all the stress-reliever you need.
To be real honest, do you really need to fill an ice tray with water, place in a freezer, and chill (pun intended) on the timer for hours before you get solid ice cubes? What's even interesting about this process is that you have to repeat it every time you run out of ice.
Buying ice bags from the local store is even the height. Let's not even go down that lane.
We don't mean to spoil the parade of the traditional ice-making process. We are only calling you to come up higher to the easy, stress-free way of doing things. What's more? You also get to save time.
Here's the thing: with all the lofty speech and hype about ice makers, finding the perfect one – especially for your business – is not a breeze at all. But if you stay longer with us in this exhaustive buying guide, we can show you all you need to learn about ice makers before you make a purchase.
Types of Ice Makers
Typically, every ice making machine in the market falls into one of the four groups that there are. These 4 groups are; Underounter Ice makers, Modular Ice Makers, Ice/water machines, and countertop ice makers/dispensers.
Undercounter Ice Makers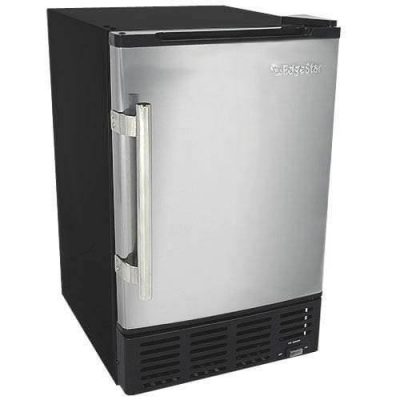 As their name implies, undercounter ice makers are small ice machines that not only dispense ice but come with storage bins. They fit snugly and perfectly under most counters that average 40 inches in height.
If you run a small bar or café or just about any business that needs some ice but not so much, then this will make a perfect choice. The ice output of this ice maker normally averages 350 pounds in a day.
So, this is where an estimate of the daily ice demand of your customers matters. An estimate will help you make careful decisions. Also, if you think the average undercounter ice maker won't produce as much ice as you want, then you can go for ice makers with higher capacity.
Modular Ice Makers
This type of ice makers produce larger quantity of ice than the undercounter ice makers. They work a bit differently from the undercounter models.
Here's how: unlike the conventional ice maker, the modular ice maker produces ice for separate units. Often times, these separate units either store or dispense ice.
This is why modular ice makers are also referred to as ice machine heads. You can have a good ice machine head sit on an ice bin or an ice dispenser so that you can readily have ice for yourself, guests, and customers.
Typically, ice machine heads come in widths of 22 inches, 30 inches, and 48 inches.
Thinking of how best to add some ice to your customers' glasses of soda, then get a modular ice machine already. You'll be surprised how much a new addition like this will have on your monthly sales and your entire business.
Ice/Water Machines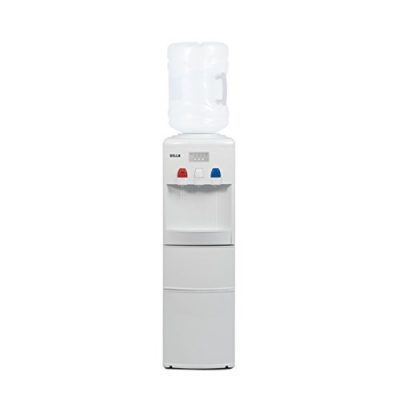 If you are thinking of something that not only dispenses ice but water as well, a combo ice machine is the easy way to go. These machines are specifically designed to dispense ice and water.
They also come in compact styles and are perfect for restaurants, break rooms, dining halls, and even healthcare facilities.
A good combination ice machine can produce as much as 500 pounds of ice every day. The other reason they are easy choices for some businesses is that they take up less space. Meaning they can sit on your countertop easily without depriving you of your kitchen or counter space.
More often than not, the type of ice dispensed by these ice/water dispensers is the nugget ice. You may want to zero in on this if you are particular about ice shapes.
Types of Ice
One of the things you should probably have at your fingertips while combing through the market is that ice machines don't all produce the same type of ice. By this we mean the shape of ice produced usually differs.
Not many customers pay attention to the type of ice in their drinks. However, knowing the different shapes will help you decide on what exactly you should go for.
As a businessman or woman running a bar or a restaurant, it will help to know that some ice types will be perfect in some cases and otherwise in other cases.
Generally, there are 5 common types of ice. They are the cube ice, nugget ice, flake ice, crescent ice, and gourmet ice.
The Cube-shaped ice is used more frequently than others. An ice cube is usually 7/8-inch on all its sides. Ice cubes also take a long while before they melt completely.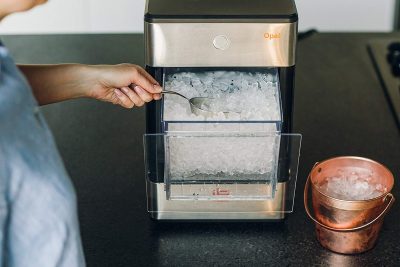 At first blush, the Nugget-shaped ice looks like small pellets. They are best for carbonated or fizzy drinks because they add extra fizziness to such drinks. One reason you should consider the nugget ice is that a considerable amount of it chills drinks easily. Plus it is also easy and nice to chew on.
The Crescent-shaped ice looks like a cylinder that has been halved down its height. There really isn't anything so spectacular about crescent-shaped ice apart from the fact that they look different and are not so common.
The Gourmet-shaped ice is some fancy, love-to-have-it ice that is best enjoyed in a glass of bourbon whiskey or Scotch whiskey. If you run a high-class restaurant or you are planning a posh event then you may want to consider gourmet ice for your guests.
Flake ice is the thinnest ice there is. It is often packed because it is small and soft and can mold into any shape. Its softness also makes it easy to chew. They are often used more in chilled meat and salad displays but are suitable for blended drinks.
Air, Water, or Remote-Cooled Ice Makers
The debate between the air-cooled, the water-cooled and the remote-cooled ice makers is something to pay attention to. The difference in operation and output of this machines is as a result of the difference in their compressor types:
Air-Cooled Ice Makers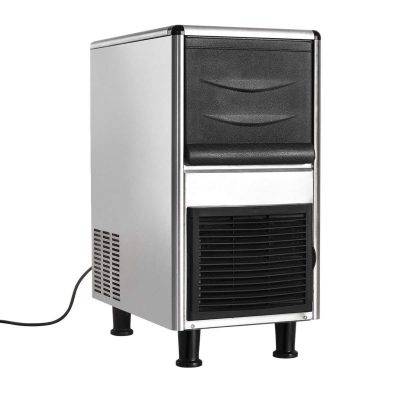 They make easy choices because they are very cost-effective. Of the 3 types of compressors, these ones guarantee some savings because you won't need to incur extra charges from having to use additional water.
They are also quite energy-efficient as most models are Energy-Star-compliant. On the flip side, they tend to require more clearance (about 6 inches of space all around) to cool the air around the unit. In spite of this, they are easy choices for most ice maker owners.
Water-Cooled Ice Makers
They tend to be even better than water-cooled models because of a few reasons. Well, that's if the water-cooled model in question is installed under certain conditions.
The conditions include operating at ambient temperatures above 80 degrees Fahrenheit, operating in an installation area where contaminants such as grease is present in high concentration. A water-cooled model is also a better option if the idea of good ventilation at the installation location is merely wishful thinking. Pretty much if the conditions necessary for air-cooled machines to work properly are not met.
Here's the reason why we think the conditions stated above must be present for water-cooled models to be better options: Water-cooled models use up more water than the air-cooled models! Duh-uh! Plus, because of this one reason, some areas don't even allow water-cooled ice makers.
Oh, you definitely want to check with your municipality to be sure that these models are allowed.
Remote-Cooled Ice Makers
They are an interesting kind of appliance. Wondering how? Well, first the 'remote' in their name is an indicator that their condensers are remotely cooled – outdoors, typically on the roof of a house.
A certain refrigerant runs between the machine and the condenser through the refrigeration lines. But here's what we love about them: their dramatic operation means they get to operate noiselessly. This is really a fresh of breath air from the noise produced by water or air-cooled models.
The only issue we have with remote-controlled ice makers is that it costs so much to install and even maintain them. More so, most people go for these models only when they don't have the right conditions to operate the other types.
Check out these other in-depth articles…
Factors to Consider When Shopping Ice Makers
Finding the perfect ice maker doesn't necessarily have to be stressful and boring especially if you know what to look out for. The following factors are some of the important things to keep at your fingertips while making a choice:
Size
The size of the ice machine will, more often than not, help you decide on the best ice maker based on capacity. But the task will be easier if you already know what purpose you want the ice maker to serve. For instance, you may want to get one:
For a business. If you are in this category of ice maker shoppers, then you should choose base on the traffic you get at your business. Once, you have an estimate of the number of customers you'll be serving every day, ensure you make allowances. Why? You may eventually exceed your production capacity and will soon be needing a new one to meet up with the growth soon.
To replace an old one. One of the reasons ice maker owners replace their old ones is that the old ones couldn't keep up with the demand. So, if you are in the market for a new one for such reasons, then you need to consider going for one that has more capacity.
Typically, ice makers come in compact sizes between 25 inches and 40 inches in height. The common width measurement is between 12 inches and 18 inches. The depth is usually between 23 and 25 inches. You may opt for a built-in model if you are particular about the neat profile, streamlined look.
Space
Ventilation is one of the factors to consider. It depends on the size of ice maker you are going for. The size will also be related to how much space you have.
You must ensure that the available space is sufficient enough to allow clearance around the unit for ample airflow. This factor is so important to the unit that it can affect the production of the ice machine.
So, you should consider the installation and clearance space as well as some room for your ice bin.
Just so you know: you can improve productivity in your business. How? Just ensure that there's ample installation space and the ice maker is well-placed.
Production Rate
This is one of the important features in an ice maker that you need to look out for. Too little production rate in your bar can hurt your business and send customers to other competitors. You need to be able to meet the needs of the customer right on time.
Most bars and restaurant provide about one and a half pound of ice to each person on the average. Hotels, on the other hand, supply 5 pounds per room occupied.
Drain and Water Supply
Ice machines need a consistent supply of cold water. Shutoff valve will also be needed as well as a drain. You should check with your local authorities for drain types and placement.
Budget
First of all, know your budget well enough. Then you can make an informed decision.
But on a general scale, you can get a good ice maker for as low as $200. But best believe it will be a supplementary one for the most part.
If you'll rather go for the high-end models, say a built-in model, then your budget shouldn't be lower than $500. And rest assured the prices go higher as the bells and whistles increase.
Also, you should bear in mind that ice makers that produce fancier ice tend to cost more than the ones that produce regular ice.
Energy Efficiency
An Energy Star-certified ice maker is a sure way to save some bucks in energy efficiency. Models of the sort will help you save water and electricity.
What's more, some Energy Star appliances may even qualify owners to get some rebates. How else can you be rewarded for protecting our precious earth?
So, go green (not with envy) and choose eco-friendly ice makers. Not only are they beneficial to the environment, they are also good for your business.
Not sure of brands that are Energy Star certified? You'll find it in the manufacturer's note. And if you don't have that information, it may help to know that a good number of remote and air-cooled ice makers are certified by Energy Star. You may want to check their spec sheets to be double sure.
Check out these other articles…
Ice Bin vs. Ice Dispenser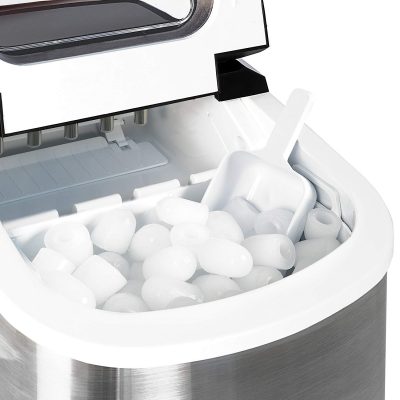 Truth be told, if you are just starting out on a business, say a bar business for the first time, you may not be able to use up all the ice produced immediately.
The big question will then be, where do you store the produced but unused ice?
This is where ice dispensers and bins come in.
If you can make an estimate of how much ice you use then you can decide on the size and capacity of the ice bin to go for. You definitely won't go wrong with a large ice bin. Better bigger than smaller. Or don't you think so?
Also, an ice dispenser can be installed to supply ice to the ice machine. This system is best used in hotels. However, because they can't hold as much ice as the average ice bin, there's often a need to use an ice bin.
With ice machines, you'll also need to factor in the ice bin size. That shouldn't be an issue if you have an idea of the demand.
Other accessories you may also need to factor in are filters. Filters purify the water and improve the taste of the drinks you serve with the ice they produce. Filters also extend the life of the ice machine. Low-quality water fed into the ice may even void the manufacturer's warranty and cost you a replacement over time.
Bin adapters are also used for a number of reasons. For instance, they will come in handy if you need to place an ice dispenser under an ice maker.
Sanitizers and cleaners are also necessary to take out impurities that may harm the machine. Also, in the spirit of keeping ice makers well-maintained, sanitary buckets and bin scoops for ice will be needed.