Side by side refrigerators are giant refrigerators that offer a lot on technological innovations. They come with relatively narrower doors that don't need as much clearance as other large refrigerator styles.
A typical side by side refrigerator is that snazzy chilling box that comes with a wide range of capabilities. And you may never really know all a side by side refrigerator has till you get one.
Imagine a refrigerator that has interior cameras or one with cooking timers. Oh, there's no point imagining, they already exist and are gaining widespread popularity.
Because of their large sizes, side by side refrigerators are known to offer large storage capacity.
What's more? The unique style of a side by side refrigerator allows easy access to frozen and fresh foods. In fact, items that are used frequently can be placed within your line of vision while the least used items can be placed at lower levels.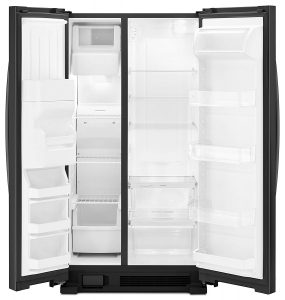 On the flip side, the shelves and storage boxes come narrow. So it's not likely that you will be able to have large platters like a turkey platter in a side by side refrigerator. These refrigerators also tend to consume more energy with size. So the larger the refrigerator the more energy it consumes. Err… that's actually a fact common to most refrigerators. But we thought we should let you know.
All that aside, the benefit of having a side by side refrigerator far outweighs the cost. Well, that's even though we know one or two of the costs are quite significant.
So, when it comes to it, the choice of shopping side by side refrigerators and having one in your home is pretty much a decision that must be carefully thought out. Among other reasons why you want to make a good choice is the fact that these refrigerators don't come cheap.
But we are here (in our superhero cape) to save the day and some valuable bucks.
In this buying guide, we will give you all the information there's to learn about side by side refrigerators. From the whys to the hows, whats, and whys.
Come along, will you?
Should You Buy a Side by side Refrigerator?
Having mentioned earlier that buying a side by side refrigerator requires careful decision-making steps, there are still a number of common reasons to have a side by side refrigerator.
Firstly, people tend to love the side by side refrigerators because of the dispenser features. Don't you think one of the coolest things about a refrigerator is that it can dispense water and ice? We think it is cool too. And even more than that, we love the idea that you don't have to open the freezer or fridge to get some ice or water. That spells energy conservation and some change on electric bills.
People who own galley kitchens also appreciate the little clearance that the doors of side by side refrigerators offer.
There's also the joy of having more food separation that comes with a side by side refrigerator. The four-door type of side by side refrigerators, for instance, provides ample storage and organization so that you can separate fresh meat and fish from the vegetables. So everyone wins. Your meat stays fresh for long and the vegetables do the same.
Another reason to go for a side by side refrigerator is that it keeps most of the food items in it at a fairly good eye level. So, items, especially the frequently used ones can be accessed easily.
Of course, there are many other reasons why you should opt for a side by side refrigerator. But we prefer you to decide on what you want based on your needs.
If you have a larger family, for instance, and you think your old fridge is being overworked in terms of capacity, a good side by side refrigerator will get on the show and save the day.
Check out these other in-depth articles…
How to Buy the Best Side by Side Refrigerators
Side by side refrigerators can be tricky choices to make for a number of reasons. For example, if not properly checked, you may find a refrigerator on your doorstep that won't be able to fit into your small kitchen space. But you don't have to make such mistakes if you know what to look out for.
Here are some of the important factors we think you should consider while shopping:
Size
As with all other types of refrigerators, side by side refrigerators come in different sizes. And with respect to sizes, you may already be aware that the energy consumption of refrigerators increases with increasing size. Side by side refrigerators are not left out.
To be real honest, the energy consumption levels is a major reason some people think twice on side by side refrigerators. But don't despair. While we advocate the need for you to be a bit conservative on the size we think you shouldn't give up a chance to get a fridge that can serve your household well enough because of its size.
So that you can eat your cake and have it, we recommend side by side refrigerators that are Energy Star certified.
A great relief, isn't it? Yeah, we think so too. But while you are celebrating your victory remember to avoid spoilers by measuring the size of your kitchen space. You don't want something that won't fit into your space. Or do you? And while you are at it, you should also consider access points in your home.
So, let's say you did your homework with the space measurement, what will you do if your order arrives and it can barely get through the doorways and hallways? To avoid such frustrating experiences, we advise you to measure the access points as well.
Capacity
Side by side refrigerators offer storage capacities between 500 liters and 800 liters. As a guide, a side by side with 500 liters can serve an average-sized family – a household of 4 adults, for instance.
One other feature you are likely to find in a side by side refrigerator is adjustable shelving. Shelves are useful for food separation and proper organization. However, they tend to reduce the capacity of the fridge. The blessing in having adjustable shelves is that you can make the capacity more flexible.
You can move the shelves to accommodate tall items and maximize the capacity of a side by side refrigerator that features adjustable shelves.
Storage and Organization
Refrigerator brands incorporate one or more of these organization features in side by side refrigerators. Here they are:
Drawers with controls: Some refrigerators also come with drawers that have temperature or humidity controls or a combination of the two controls. They may come as digital controls to regulate temperature or as a manual mechanism for controlling humidity.
Door storages: there are some side by side refrigerators with door-in-door access that you may want to take advantage of. They provide more space, organization, and storage in the door. One of the perks of having a storage like this is that you won't need to have to open the entire refrigerator to get access to certain things. You can store your milk and drinks.
Adjustable shelves: shelves that can be adjusted to your specification are useful for organization and easy access to your food items. While some brands make one or two shelves adjustable, others allow you to freestyle on the arrangement totally.
Dual Evaporators
One of the challenges of combo fridge/freezers is that vegetable may wilt and foods like fresh meat may dry out. To avoid unpleasant things like this, we advise you to look out for side by side refrigerators that come with dual evaporators.
With dual evaporators, the freezer and fridge each have an evaporator unique to that section. The purpose of dual evaporators is to prevent the air in the two sections from circulating into one another. So, there's a level of consistency in humidity at every point in each section.
Water Dispenser
A water dispenser is a common feature of side by side refrigerators. It happens to be one of the reasons people love to have one in their kitchen. And beyond just dispensing water, some side by side refrigerators can crush and make ice as well.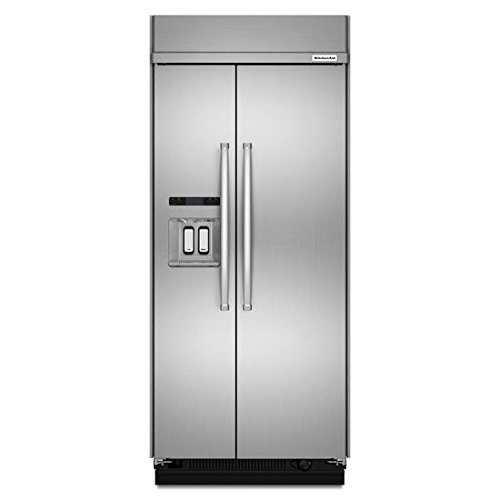 Some even give you the liberty to choose the temperature you prefer.
So, say you want a hot cup of your favorite mocha but you are in a hurry and without the chills for a boiler, a fridge of the sort will provide hot water in real time whenever you want it.
One downer though, they tend to take up some of the door space.
Air Filter
Not all side by side refrigerators have air filters in them but the newer models come with air filters. Air filters prevent orders from circulating in the refrigerator. They also remove bacteria and mold that may cause food items to spoil.
Air purifiers are even more effective than the traditional DIY baking soda. The only downer is that you'll be required to replace an air filter periodically.
Energy Efficiency
Energy efficiency is a big deal! In fact, the effects of energy efficiency is too significant to ignore. Let's start with the fact that choosing energy efficient appliances is our way of pledging our total support to make our planet a safer place to be in.
Secondly, appliances that consume lower amount of energy help owners save some bucks on electricity. As a guide, a refrigerator with a rating by Energy Star is an indication that it is one of the most efficient in the market.
Choosing an energy-efficient model can help you save about $500 or more throughout the life of the refrigerator.
As you check ratings, also check the yearly operating costs as well as the estimated annual usage in Kilowatt hours. This gives a better idea of how much you get to save.
Check out these other articles…
Smart Functions
There are so many technological advancements going on at the moment. These advancements don't look like they are slowing down at all. Newer models have newer and smarter features that make life easier for owners. Side by side refrigerators are not left out in these evolutions.
But just so you know, while there are endless possibilities with side by side refrigerators, if you want them you've got to be able to spare thousands of bucks to have them.
Another school of thought on smart options in refrigerators says that more complexities mean more areas to worry about repair issues.
All that said, smart options make operations easy and clean for the most part. Here are a few options you may want to look out for:
Energy Check: Refrigerators with the energy-check feature are able to sync with smart grids in whatever city they are located. The purpose is to schedule defrosting during periods when the energy rates are lower.
Virtual Assistants: Some of the refrigerators also come with their own version of Alexa to make certain functions pretty easy. So you may be somewhere else in your house and you'll be able to make inquiries about the air filter. You may also ask about the temperature inside the refrigerator and if it needs to be adjusted.
Other smart features include command centers like touchscreens with apps like calendars, music, and cooking recipes. You may also like to have one with an interior camera that provides a sneak peek of what is in your refrigerator remotely.
Price
As with most standard large refrigerators, the more bells and whistles side by side refrigerators have, the pricier they get. However, you can get one for as low as $1,000 and still find some that cost $10,000 or more.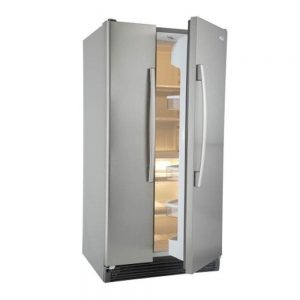 At $1,000 or slightly less you can get storage space of about 30 cubic feet with a water dispenser, and some adjustable drawers and shelves. Within the range of $2,000 and $5,000, you can conveniently get a smart refrigerator with other features like child locks, adjustable shelves, and dispensers.
If you want to go really premium, you get much more including more storage and capacity. But you must be willing to drop something between $5,000 and $10,000.
Tips about Side by Side Refrigerators to Keep at Your Fingertips
You should try a counter-depth side by side refrigerator if you are particular about the streamlined and neat-profiled look.
Consider the kind of foods you want to store in the refrigerator before you choose the specific extras you want. For bottles ensure you look out for adjustable shelves to accommodate them and other tall items.
Don't overload the refrigerator or it won't work properly. An over-packed fridge will not permit ample circulation. So, the temperature inside will be uneven.
Thank you for your time. Trust you know better what to look out for before you buy a side by side refrigerator.
Enjoy your shopping!