Upright freezers? Yeah, these freezing boxes are so called because of their anatomy. And as the name implies, an upright freezer looks like a traditional fridge. Just in case you are still wondering how they look alike, traditional fridges have single front-mounted doors. Geddit?
So, at first blush, an upright freezer looks like a metallic cupboard. Only that, unlike the traditional fridges, upright freezers are exclusively designed for preserving perishable foods by freezing them.
All that said, an upright freezer becomes a basic kitchen necessity when the need for more freezing space arises. For instance, you may already have a refrigerator/freezer combo appliance in your kitchen that does an excellent job already. But just maybe the freezer space is already grown too small for your freezing needs. A separate freezer in your space could get the job done.
More so, appliances like upright freezers as separate freezers also help with energy conservation. You won't have to open your refrigerator as frequently as you used to whenever you wanted to take an item from its fridge or freezer compartment. Of course, this only applies to units with single doors that open up to both the fridge and freezer at the same time.
In any case, of the freezer types that there are, upright freezers are the most commonly used because they can sit perfectly well in any kitchen layout. More importantly, they provide a defined organization for your food items so that accessing them becomes a breeze.
What's even more exciting about upright freezers is that they are quite easy to relocate and take up less of your floor space. They also tend to get through doorways and hallways easily.
Sounds like a list of exciting features already, right? We thought so too. However, all these come at a relatively higher price than other types of freezers.
So, we sat down and had to think about the fact that since upright freezers come at fairly high prices, the last thing anyone wants is to get the wrong upright freezer. To avoid a double tragedy of the sort, we decided to carry out a thorough research on upright freezers. This comprehensive buying guide is the product of that research.
Do you want to get your shopping experience right? Then come with us and let's show you how it's done.
Reasons Why People Buy Upright Freezers
Upright freezers among other reasons are useful for individuals, households, and restaurants who tend to store large quantities of perishable foods frequently.
For instance, a hunter who goes hunting regularly and finds game easily will need some preservation for his meat. Same goes for a fisherman who catches fish regularly.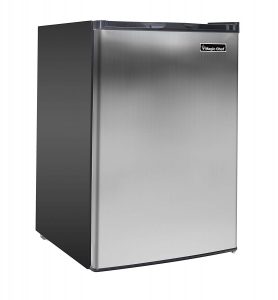 Those with medium to large households also need freezers to store foods like meat and fish in large quantity. This will reduce the number of trips made to the market, butcher's ship or grocery store. And will, in turn, help you save up on gas bills. What's more, you can rest assured that if you are saddled with the responsibility of ensuring that there's always food in the house, then there'll always be food.
Unlike chest freezers with little to no flexibility in organization, upright freezers are better organized. They come with shelves and eliminate the herculean task of having to empty the whole freezer because you want to get an item.
On the flip side, shelves also tend to reduce the storage capacity of the freezer.  But on the bright side, adjustable shelves could be all the magic you need to save the day.
Types of Upright Freezers
With the market swarming with different kinds of upright freezers, it was a bit difficult to sort upright freezers. However, what's important to note is that the really good ones have a number of similarities.
Again, it is easier to find the perfect upright freezer for you when we get to specific features to look out for. But we can show you how upright freezers differ from one another by how they defrost.
Self-defrosting Upright Freezers: As the name suggests, self-defrosting upright freezers are designed to melt excess ice or an accumulation of ice inside the freezer.
How does that work? Sometimes, the freezer can turn itself off to allow the accumulated ice to melt away. The water from the melting will then gather in a specially-designed drip tray. This drip tray is usually located at the back.
Also, the water that gathers at the back is always small and evaporates quickly. So, you won't need to empty the tray manually. Sounds like some snazzy stuff, innit?
On the flip side, more electricity is often required to restore the temperature to a point below the freezing point after a melting cycle. As a result, self-defrosting upright freezers often tend to be noisy.
Manual Defrosting Upright Freezers: With a manual defrosting upright freezer, you will be required to turn off the freezer once in six months to allow accumulated ice to melt away. In this case, the melted ice will be drained away through somewhere at the back.
Granted that it is more stressfully to defrost manually and they are not the best in maintaining a consistent temperature, all that stress is rewarded by the fact that models of the sort are usually relatively cheaper. Cheaper means lower initial cost and less energy consumption.
How to Choose the Best Upright Freezer
We are right at the point where decisions will be discussed. What's the best definition of perfect for you? We will help you define that as we explain the following factors that you should consider before you go for an upright freezer.
Size: Even though, upright freezers are popularly known as space-managing freezers, the sizes matter in the decision making. And of course, the perfect size for you will depend on the layout in your kitchen and how much of the kitchen space you are willing to give up for the upright freezer.
According to some experts, the rule for shopping upright freezers by size is to bear in mind a measurement of 1.5 cubic feet in freezer space per person. Based on this measurement, an upright freezer is considered compact if it has a measure of 5 cubic feet or less per person. You should probably consider this if you leave in a shared apartment or dormitory. Hoteliers will also find this suitable for their guests.
A compact upright freezer is also suitable for camping or boating. Models designed for such activities are usually very portable and may function with the common electrical outlet. A car battery of 12-volt could also be used in the absence of electricity.
Small-sized upright freezers measure 6 to 9 cubic feet in freezer space and will perfect in a home for a family of 5.
The mid-sized ones range between 10 and 18 feet and they can fit well into a home or apartment with 6 to 12 people. They usually offer ample storage space for foods, meat, and vegetables.
The large ones are usually about 19.5 cubic feet or even more. Large families' needs can be catered to with models of this size. If you also run a restaurant or host parties and gatherings frequently, this will be very useful. Sadly, these models consume more floor space. 
Shelves: As we mentioned earlier, one of the perks of having a good upright freezer is that you get to organize your space properly. Thanks to the shelves, you can have access to your food items easily.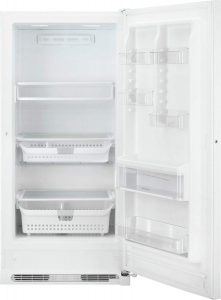 Now, as much as this is a given with upright freezers, it could get counterproductive.
How do we mean? The shelves could reduce the storage capacity by a considerable amount. This is particularly in upright freezers whose shelves are not movable.
So, for instance, if you do a lot of bulk buying like whole chicken and turkey, then you should go for a model that comes with adjustable shelves.
Space Management: It also important to look out for features that help to save space. With the exception of the really large models, the idea of a good upright freezer is to save space in the most economical way. But you can get more with some features.
For instance, a freezer that has a recessed handled can go a long way to conserve space. It means the handle won't be jutting out.
You may also want to look out for a freezer that has a flat panel at the back. This feature will help you conserve floor space as the freezer can now be placed close to the wall.
Capacity: The capacity of a freezer is estimated by how much space it has inside. To get a good idea of the storage capacity, it helps to multiply the height, length, and depth of the freezer first. Then you divide the value you get by 1728 cubic inches.
The final value is the amount of internal storage space. Having an idea of the capacity can help you make the right decision.
Temperature Alarm: The last thing that should be going on in your freezer is a rising temperature. If the internal temperature rises for any reason at all, you definitely want to be notified. This is why it is important to look for a feature like a temperature alarm.
The common culprit in a temperature change in a freezer is an open door. So, if you know you live the door open sometimes or someone you live with doors, then an upright freezer with a temperature alarm will be just fine.
Power Indicator: As a rule, the temperature inside the freezer must be constant. This is to ensure that your foods don't go bad over time. The power indicator usually comes as a light in the freezer. So, the light goes off whenever there's a power outage or popped breaker.
It will also come in handy especially in settings where kids are likely to fiddle with the controls.
Soft Freeze: Some models have the feature known as soft freeze in them. These features allow foods to be frozen but the freezing is usually at a temperature that is higher. Ice cream lovers and customers who have kids who like to have ice cream in the house will find this feature usable.
Quick Freeze: This feature offers the option of a quick freeze. An upright freezer with this kind of feature is able to freeze large quantities or batches of food. If you are keen on getting your foods frozen in the shortest possible time, then you should look out for an upright freezer with a quick freeze feature.
Door Lock: Let's tell you a scary story. Once upon a time, a child got to the kitchen in summer and wanted to try out everything. She pulled the freezer and was curious so she walked into the freezer and the door shut behind her. Thankfully, someone wanted to get a cone of ice cream from the freezer. That's how she was rescued.
Now, that didn't have to happen if there was a lock on the door. To keep kids away from the freezer for their safety and to also prevent them from leaving the door open, get a model that comes with a door lock.
Price: The price of upright freezers varies with a number of factors. For instance, at $300, you will be able to get a good compact upright freezer. This model usually comes with manual defrosting. The mid-sized models will cost more and even up to $800 with an average size of 22 cubic feet. A good number of these have the self-defrosting feature and some come with adjustable shelves.
The really high-end models usually come at a starting price of $800 and could rise up to about $1,500. The features of these models will often include temperature alarms, soft and quick freeze, and self-defrosting. The only challenge is that they come in large sizes and require ample space to fit in.
The Professional stainless steel models are the most expensive. They cost more than $1,500. What's more? They are full-sized freezers with self-defrosting, temperature alarms, soft and quick freeze. They also offer maximum storage.
Quick Tips About Upright Freezers to Keep at Your Fingertips
As per interior lights, LED lights are long-lasting and energy-efficient. These lights will come in handy if you store the freezer in your garage or basement.
You can minimize the build-up of frost inside the freezer when you open and close the freezer occasionally.
To avoid freezer burn and moisture loss, ensure you store your food items properly. Meat and fish, for instance, are better preserved when they are wrapped in foil or plastic.
Ensure food items are cooled to room temperature and not hot before freezing them.
If you want indepth information about freezers then you can check out Freezers: The Complete Buying Guide.
Happy Shopping!