The debate has long ended and the verdict is in: Refrigerators are home essentials. However, the focus of this buying guide is on French door refrigerators.
This only means one of two things: You are here because you are getting your own place – home or business – and you need a French door refrigerator or you want to replace an old refrigerator altogether.
Whether or not you fall into one of these categories, you should be living in a place where a refrigerator lives too. Or plans should be underway for a new refrigerator.
Now, if the responsibility of getting a refrigerator falls into your hands, you should know already that there are different types of refrigerators. Often times, this variation is in the style, design, layout, and organization of the refrigerator.
All that said, for fans and lovers of layouts and organization with a good dose of elegance, this is where a French door refrigerator comes in.
Typically, the love people have for this type of refrigerator is because of the functional and practical design that it offers.
Little wonder some customers prefer French door refrigerators over other types of refrigerators. For them, organization is an undebatable necessity in a refrigerator that they plan to put a name tag on.
If you'll ride the bus with these people and you love organization or you just fancy an elegant, stylish and functional refrigerator in your home, then you are in the right place.
In this buying guide, we will give you all the information that you need to have about French door refrigerators.
Just in case, you are wondering if being here will make your shopping experience worthwhile, be rest assured we worked long hours researching on all there is to know about the perfect French door refrigerator before we made this shopping guide available for public consumption.
Of course, as you may already know perfect is relative to your needs. So, for a chance to make the perfect buy, keep reading.
But, first…
What Do French Door Refrigerators Look Like?
Some people think French door refrigerators and side-by-side refrigerators are the same. Nothing could be further from the truth. Even though they share some similarities, these two refrigerators are different.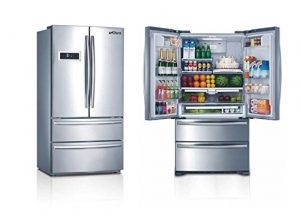 That aside, let's help you learn how to identify a French door refrigerator before you start shopping.
A French door fridge will normally have a freezer compartment below and a refrigerator compartment on top. The doors in this refrigerator are side-by-side (which is an excusable reason why people mix it up with side-by-side refrigerators) at the top section. Even though their doors appear narrower, French door refrigerators are wider when compared to other refrigerators with double doors.
It is also not unlikely that you find a French door refrigerator with one drawer or even more between the two sections. The reason for this addition is extra storage space and better organization.
Check out these other related articles…
Why Should I Buy a French Door Refrigerator?
Let's make it clear at this point that French door refrigerators don't usually come cheap. In fact, you need to be financially sure you can get a French door before you start searching for the perfect one. Meaning, unless it is merely wishful thinking, you need to plan. So, it helps to work with a budget.
But let's not get ahead of ourselves yet and deal with why we think you should consider making a new addition like a French door refrigerator to your kitchen space.
So, why?
You should definitely consider going for a French door fridge if you are able to answer 'Yes' to one or more of the following questions:
Do you eat dairy products, fresh produce, and deli quite often?
Well, we can tell you for free that most people will answer 'yes' to this without hesitating. But we would rather not assume.
Mike Endler is an engineer who makes high-end refrigerators. Here's what we gathered from his observations on French door refrigerators: On the average, people are more likely to open a fridge about 6 times a day than they will open a freezer. In essence, going by these figures, when it comes to making a choice, a French door is almost a no-brainer.
Here's why…
Typically, the fridge sections are very accessible and easy to reach without bending or straining. This makes it easy and comfortable to gain access to your vegetables, milk, juice, and deli.
Do you store large platters or wide containers and dishes?
If you would never trade the space that a platter of Thanksgiving turkey should occupy for anything in the world, then a French door fridge is some fridge you don't want to ignore. Unlike side-by-side fridges, French doors are more likely to accommodate large dishes and containers.
Is your kitchen space narrow for a double-door refrigerator?
Not everyone has the luxury of space. So if you are worried that the doors of your refrigerator may hit a wall or another appliance when you open it, then think no further than a French door refrigerator.
For instance, unlike side-by-sides that swing open, the freezer in a French door pulls out in a straight fashion. Meaning you don't need to be worried about scratches and likely damage to your door. More so, opening the door, accessing items in the refrigerator, and closing the door doesn't have to be a chore.
Are you ok with a not-too-organized freezer?
 You remember all that talk about organization, and functional layouts when it comes to French door refrigerators, don't you? We mentioned it earlier in our first few words.
Well, as per organization, more often than not, it's the fridge that comes with the features.
The freezers in French door refrigerators are usually not so organized. The shelving, if any, is usually little. In fact, what you'll likely find is at most 2 big drawers that make easy tools for losing things.
You should probably reconsider buying a French door if you are more of a frozen food person or you tend to have more frozen items and you love you some good organization. If you are, then you are better off with a top mount freezer or a side-by-side.
Are you able to pay $1,500 or more for a good one?
We know that looks like a starting price. Oh well, it is. Especially if you are keen on quality and durability. If you come across a French door refrigerator that costs less than $1,500 (and they are few), we are not sure you'll be satisfied.
Generally, the more the bells and whistles, the pricier it gets. Now, that's not to say you'll get 100% satisfaction on an expensive model. Often times, it is more than just the price tag. The brand and the product itself matters more.
Energy efficiency is another reason people go for French door refrigerators. You don't need to think deeply to know that the efficiency is related to the refrigerator's layout and design.
So, for instance, if you need to get an item from a section, say the fridge, you only need to open one door to get it. It means the other side remains properly closed. And with half of the refrigerator closed, you get to save some energy that will have been used up if the entire fridge was open.
 What Factors Should I Consider Before Buying a French Door Refrigerator?
Knowing what you want before getting into the actual shopping groove makes it easier for you to make a good choice. Here are 5 important factors you should consider before you buy a French door refrigerator:
Capacity: The capacity of most refrigerators is often stated by the manufacturer. And the unit of measurement is usually cubic feet.
Typically, French door refrigerators offer capacities within the range of 15 cubic feet to 35 cubic feet. This is why you need to make an estimate of how much space you'll be needing. This information will guide you to make the perfect choice so that you don't run out of storage space eventually.
As a guide, a refrigerator with a storage capacity of 20 to 25 cubic feet is sufficient enough for a family of 4.
Available Kitchen Space: Sometimes, one factor that disqualifies a refrigerator from being the perfect one for you is its size. And by size, we mean how well it is able to fit into your kitchen space.
To avoid really touching stories where a giant fridge robs you of your much-needed space, we advise you to do some math on your space.
How do we mean?
For starters, it is important to know how much kitchen space you are willing to spare for a refrigerator. So, instead of having a million and one choices to filter through, your search can be easier if you filter based on the refrigerator's dimensions.
So, you measure your space first and then check for something that fits your other specs that is also able to fit into your space.
Finish: The finish of the French door refrigerator is quite important. Now that you are sure your kitchen will be receiving a new addition, you don't want to skew the design of your kitchen with an ill-fitting finish.
By ill-fitting, we mean something that is completely off your existing kitchen style. Not to worry, you shouldn't be a victim if you know what to look out for.
French door refrigerators usually come in three different finishes. There's the black, white, and then the stainless steel finish.
Refrigerators with Stainless Steel finish are the most popular because they blend well with a good number of kitchen designs and color schemes. On the flip side, fingerprints show easily on them.
If you are keen on a smudge-free type of finish, then we recommend Black finish; which is perfect got modern kitchens. Refrigerators with White Finish will work with a good number of kitchen themes with ease.
Temperature Control: Temperature control seems to be a function that most French door refrigerators have and carry out well. However, some are more precise than others in delivery. 
For instance, you are assured of ample temperature control from refrigerators that will allow you to choose a particular temperature than those that come with general settings.
If you want even more control then you may want to check out refrigerators that provide localized control.
Localized control will mean that you can regulate the temperature in particular areas like the drawers. This feature will always come in handy whenever you need to store perishable items like fish and meat.
Extras:
More Drawers: if you are a big fan of having an organized refrigerator, having a refrigerator with extra drawers could help you get all the job done. They are excellent tools for organization. Plus it means you get more storage space for your foods.
Extra drawers will also help you save a little energy because you can now place foods that you need frequently in them.
Adjustable Shelves: Do you want extra control over how organized your refrigerator is? Adjustable shelves are the way to go. Some can span the whole appliance or come with dividers to create more sections. These shelves will also allow you to fit in tall items as you adjust the shelf height.
Check out these other articles…
Water Dispensers and Icemaker: One of the perks of  French door refrigerators is that you get a chance to enjoy the benefits of a snazzy water dispenser and maybe an ice dispenser.
They are usually inbuilt and located on the door for energy conservation.
So you can have some ice or water every now and then without opening the fridge. Water filters are also nice additions. You should look out for them.
WiFi/TV: Tech-savvy folks love these features and will do anything to have them. More so, those who spend a considerable amount of time in the kitchen and need internet or TV access will find these features useful.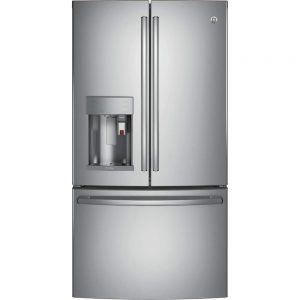 Who says you can't stream your favorite game or listen to the news while you get busy in the kitchen?
What's more, the WiFi feature can provide remote control so that you can monitor your refrigerator's health status on your phone or tablet through an app.