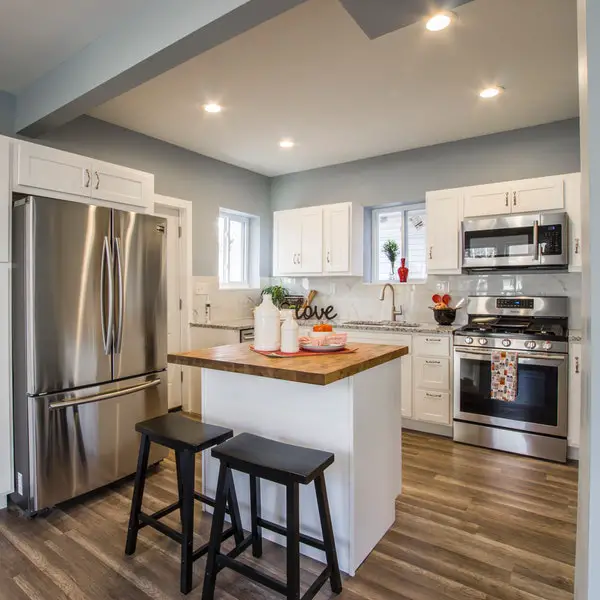 Just in case you've been considering French door refrigerators and you need to know what a French door refrigerator is, rest assured that you will find the answers you've been looking for and even more in this post.
So, let's get down to business…
What's With The Name?
The term 'French Door' was derived from the 2-door design of the refrigerator.
More so, the French Door refrigerator got its name because it shared a similar design to other French armories that feature two vertical doors at the top section and a drawer at the bottom section.
And while they look like the side-by-side refrigerators that have been in existence since the 80s, these two refrigerator types are not the same because side-by-side refrigerators don't feature bottom drawers.
What is a French Door Refrigerator and Why Do People Love It?
In most recent times, French door refrigerators have become very popular.
They are refrigerators with side-by-side doors at the top and a freezer compartment at the bottom.
This unique design makes them preferable for many people because they combine the design of side-by-side refrigerators with bottom mount refrigerators.
The freezer of the French door refrigerator is full width and is more like a drawer. Unlike other freezers that have frozen foods arranged side by side, the freezer of this refrigerator only allows you to place your frozen items in its drawers.
The Jenn-Air French door refrigerators are some of the most common French door refrigerators in the market. They are energy-efficient and a good number of them feature icemakers. They also have a filtered water dispenser to provide clean water.
There are newer French door fridges with different designs these days. For instance, rather than the conventional two-door style, some of these models come with four doors. They also feature larger freezer compartments.
More so, unlike the drawer-style freezer compartment in the conventional models, these models' freezer compartments are designed as side-by-side compartments.
One of the perks of the new freezer style is that the compartment features shelves that provide better organization than the drawer-style freezers.
If you are in the market for a French door refrigerator and you are considering going for a 4-door model, then you need to be sure that you have ample space to have it installed in. This is because these models tend to be quite large.
Moreover, a 4-door French door refrigerator will only be beneficial to you if you need it for a large household or a food business because with the large size also comes large capacity.
Prices pulled from the Amazon Product Advertising API on:
Product prices and availability are accurate as of the date/time indicated and are subject to change. Any price and availability information displayed on [relevant Amazon Site(s), as applicable] at the time of purchase will apply to the purchase of this product.
Pros of the French Door Refrigerator
Here are some of the reasons why a French Door Refrigerator may be a better choice of a fridge when compared to other refrigerator types:
The shelves of a French door refrigerator are wide, and the fridge has even larger shelves in the doors.
The amount of storage space in this refrigerator is much more than the traditional refrigerator.
So, you can store gallons of juice or milk, large bowls of soup, turkeys, casseroles, large meats, snacks, and other things you would like to keep refrigerated.
Most people access their fridge sections more than the freezer.
Because the fridge is at the bottom, you don't have to bend so much to get items out of your fridge.
But you would have to bend to get items out of the single freezer. This isn't a bad thing too, as single freezers allow you to store boxed items like frozen vegetables and TV dinners.
You may also find a chill drawer in the space between the fridge and freezer compartments.
This drawer is for storing items that should be kept in temperature colder than refrigerator temperature but not as cold as freezer temperature.
Most French doors are made of brushed metal or stainless steel which gives them a great appearance.
The doors of this refrigerator don't open like those of traditional refrigerators. So, it closes tighter and doesn't allow cool air escape.
Cons of the French Door Refrigerator
Here are some of the downsides of a French door fridge:
i. Some of these refrigerators come with freezers that do not have a pull-out bin. As a result, it becomes very difficult to search for items at the back of the freezer.
So, it is advisable to get a refrigerator with a freezer drawer that can pull out completely.
ii. French door refrigerators are more expensive than traditional refrigerators.
iii. Some of them have ice dispenser units in the freezer compartment. This reduces the amount of storage space in the freezer drawer.
The video below shows the difference between a French door fridge and a side by side fridge. You also learn tips on how to make a choice between the two. Check it out
Check out these other in-depth articles/reviews…
Garage Refrigerators: How to Buy the Best
Koolatron 33-Quart Kargo 12V Cooler/Warmer — Extensive Review
Ivation 18-Bottle Dual Zone Wine Cooler — Detailed Review
Nutrichef 18-Bottle Wine Cooler with Handle — Extensive Review
Sunpentown 12-Bottle Wine Cooler — Extensive Review
Nutrichef 8-Bottle Wine Cooler — In-depth Review
Conclusion
So, a French door fridge is a side-by-side refrigerator with a freezer drawer at the bottom.
It is a good choice for large households. However, the typical French door fridge is large. So, it will require a good installation space.
Due to their design and the features they offer, French door refrigerators are usually pricier than the other refrigerator types.
Do you have a Whirlpool French door refrigerator and want to know how to change the filter in it? Find out how to in this detailed article.