If you are asking yourself "are GE refrigerators good?", this article will help you answer the question. We will discuss the features and how they stand out.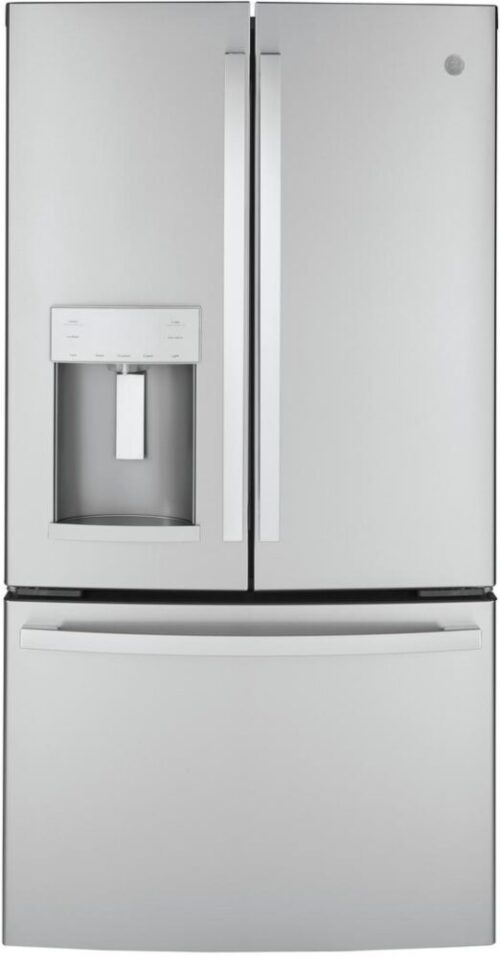 Are GE Refrigerators Good Quality?
To answer this question, let us look at features that make GE refrigerators a good brand:
1. Top-Notch Temperature Control
GE refrigerators maintain a consistent temperature within the compartment and withstand the surrounding temperature swing.
They have user-friendly temperature controls which enable you to set the temperature to suit your needs. For instance, GE's Turbo Freeze and Turbo Cool settings help the refrigerator cool faster when it is necessary.
Additionally, how well a refrigerator works lies on these: air circulation, the evaporator, and the compressor.
These, together, determine the four qualities of a refrigerator (temperature, humidity, airflow, and air filtration). GE refrigerators excel in these, excellently controlling humidity, airflow, and air filtration.
For example, the GE Profile GFD28GSLSS | GE 36″ 27.8 cu. ft. french-door refrigerator comes with 2 humidity control cabinets. You can store fruits, vegetables, and fresh food which are delicate to preserve.
2. Factory Fitted Ice Maker and Water Dispenser
Almost every GE refrigerator comes with an ice maker and a dispenser for water. There are models that come with an in-door ice maker and water dispenser.
Some others come with an external ice maker and water dispenser. What you choose will depend on your personal preference.
Furthermore, GE refrigerators have an edge over some brands since the brand tailors the refrigerators to store and provide enough ice.
For example, the GFD28GSLSS comes with an extra ice maker so you don't use up ice easily. The PYE22PYNFS is notable for dispensing both crushed ice and ice cubes. It also has a Keurig K-Cup Brewing System. This system is for making coffee.
In addition to this, the water dispenser has an autofill system. So there is no need to worry about overfill problems. It also has an alarm to call your attention once you forget to shut the door properly.
3. Aesthetic Interior Design
GE refrigerators have varying and unique interior designs to meet your home needs and taste. You may need extra sliding shelves to store small-sized items or more daylight in the compartment. You may also need to easily access regularly consumed food without letting cold air out.
Whatever the case, there is a GE refrigerator just for you. For instance, the PSS28KSHSS has glass shelves in the freezer and door bins that are adjustable (for more space). It also has multilevel drawers.
The GDE21ESKSS comes with sliding shelves and the GFD28GSLSS with the door-in-door component.
The door-in-door component allows access to regularly consumed food or drinks without letting cold air out. The sliding shelves allow you to arrange content your way.
4. Reliability
GE refrigerators are reliable, just like the other premium brands. However, more often than not, GE refrigerators do not break down as easily as some of the other brands do. So, rest assured you are not inviting a technician for repairs anytime soon.
Buy this refrigerator on Amazon
Here are other cool features of some GE refrigerators:
Touchpad to lock external water and ice dispensers.
Diary compartment that holds a gallon-sized container. It is located at the door.
The appliance is WiFi-enabled. This enables you to preheat water, adjust settings, and do more with a downloadable app.
A crisper drawer that keeps certain food at the right storage temperature.
GE appliances come with a traditional warranty.
There is no doubt GE refrigerators are durable. They have remarkable features, are user-friendly, and affordable when you compare them to the competition.
In addition, the GE brand offers the same valued services that other known refrigerator brands offer.
Note: These features also apply to GE freezers.
Other Helpful Tips
When looking to buy any appliance, do not focus on customer reviews only. Instead, look for specific problem patterns. These will indicate either design or quality control problems.
Also, try to find the rating for the model you want to purchase or something close to that.
Have in mind that every appliance manufacturer has some product defects. However, known brands like GE try to correct the defects over time.
Check out these other articles…
Need expert help? Click here to use the chat box on this page to speak with a verified appliance technician right away. No need for expensive in-home service calls. No appointments. No waiting.