A refrigerator makes different noises. Some are good while others are not good. So if your Samsung refrigerator is buzzing and you don't know why, this article shows you how to fix it.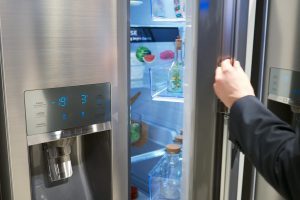 Samsung Refrigerator Buzzing – Quick Fix
Here are things to check if your Samsung refrigerator is buzzing:
1. Ice Maker
Turn the ice maker in the Samsung refrigerator off if you hear a buzzing or humming sound coming from it. That is if the water line is not connected. It is most likely the ice maker is trying to start and there is no water in it.
Buy this ice maker on Amazon
2. Water Line
If the water line is connected yet there is still a buzzing sound, then check the volume of the sound. While the ice maker is getting filled with water, there tends to be a humming or buzzing sound but it is usually quiet. And if the pressure of the water filling the ice maker is high, you will hear this sound but this is normal. Just try to reduce the pressure.
However, if the buzzing sound is high and is coming from the ice maker, turn it off.
3. Compressor
There is also the possibility the buzzing sound is coming from the compressor. But it is usually quiet as the compressor starts and runs before it slows. If the sound is high, there is a problem.
4. Fan Motors and Blades
Furthermore, a faulty fan motor can cause buzzing or humming sound. Inspect the condenser and evaporator fan motors for faults. Faulty fan motors can also explain blades having difficulty turning freely.
Also, if the blades have difficulty turning freely, then it could explain the buzzing sound as they make a strained effort to turn. Check for debris or dirt jammed in the blades.
Contact Samsung support center to request service. You can also chat with any of the experienced appliance technicians we have here. They are always handy to assist you with any appliance problem you have.
Check out these other articles…