Refrigerators are not what they used to be – just refrigerators. Now, you can do so much more with them. In this article, we take a look at how to add apps to a Samsung refrigerator.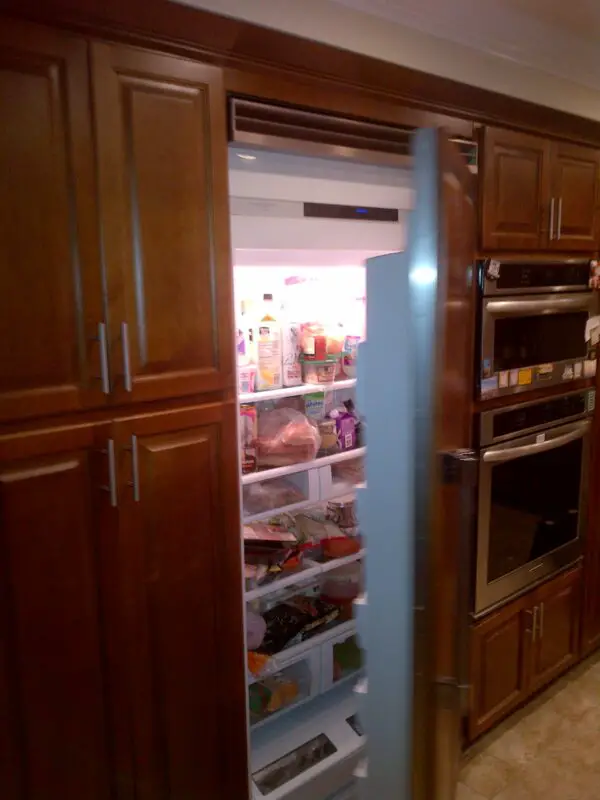 Can You Add Apps to a Samsung Fridge?
You can add apps to the Home Screen of a Samsung fridge but only to the Family Hub models. Adding apps to the fridge makes it easy to customize the home screen of the Family Hub, personalizing it.
Not only can you add apps but you can also add widgets of any size you want and customize the wallpaper. In fact, the more you personalize it, the better the experience you get from it.
However, you cannot add other apps to the fridge outside of what is already available on the Hub.
How to Add Apps to a Samsung Refrigerator
To add apps to a Samsung refrigerator, simply tap the Apps icon on the panel to see all the apps available on the Family Hub. When all the apps pop up, touch the one you want and hold it.
A pop-up menu will be displayed. When this happens, tap the Add to Home option to add that app to the Home Screen of your Hub. once done, touch the newly-created app icon and drag it to the location on the screen where you want it.
Watch this video to learn more about how to add apps to your Samsung refrigerator…
What Are the Available Apps for a Samsung Refrigerator?
The available apps for a Samsung refrigerator are what is found on the Family Hub app:
1. Food
This feature enables you to make lists for grocery shopping, plan meals, see what you have available inside your refrigerator and gain access to numerous recipes.
With this feature, you can also order meals from your favorite restaurants, find and add deals to your list, find coupons for close-by stores and so much more.
2. Entertainment
Using this feature, you can mirror the content from your smartphone or smart TV straight to your smart refrigerator.
With Smart View, you can mirror what's showing on your smart TV or phone to the refrigerator in your kitchen so you don't miss a thing. Stream music from Pandora, Spotify and Amazon Music. And listen to live radio and podcasts with NPR, iHeart Radio and TuneIn.
3. Connection
This feature enables you to share media with and leave notes for your loved ones. You can sync events and calendars, show pictures and videos on the fridge display, use the internet right there in your kitchen and distribute chores for every family member.
You can also check the weather around the world, get an Uber ride, search for flights, car rentals and hotels and set timers with this feature.
4. Home
There is room for you to control what happens in your home from anywhere you are with SmartThings.
Speak to, see and hear who rings your doorbell straight from the display on your refrigerator with Ring. keep an eye on the goings-on around your house with SmartThings.
Navigate with your voice only using the Bixby feature. And search for verified home-improvement professionals using HomeAdvisor.
There is so much you can do right from the Samsung Family Hub and when you sync it to your smartphone.
Prices pulled from the Amazon Product Advertising API on:
Product prices and availability are accurate as of the date/time indicated and are subject to change. Any price and availability information displayed on [relevant Amazon Site(s), as applicable] at the time of purchase will apply to the purchase of this product.
Recap
There is so much you can do with the new Samsung smart refrigerators. However, there is still a restriction on downloading external apps into the unit. Therefore, if you are looking to download apps to the unit, you won't be able to do it.
Check out these other articles…
How to Add Apps to a Samsung Refrigerator – Related FAQs
Can You Download Apps to a Samsung Fridge?
You cannot download apps to a Samsung fridge. You can only work with the apps or features that are already available on the Family Hub.
Can I Get the YouTube App on a Samsung Refrigerator?
You cannot download the YouTube app on a Samsung refrigerator. But you can play some YouTube videos on the Family Hub via the internet. You can also mirror the YouTube contents of your Samsung smartphone from the Family Hub screen.
Need expert help? Click here to use the chat box on this page to speak with a verified appliance technician right away. No need for expensive in-home service calls. No appointments. No waiting.