Refrigerators are major necessities in any home. And as more and more models of various kinds of refrigerators are churned out into the market, the task of shopping for the perfect one becomes stressful and time-consuming. But if you are in the market for top freezer refrigerators, then you've come to the right place.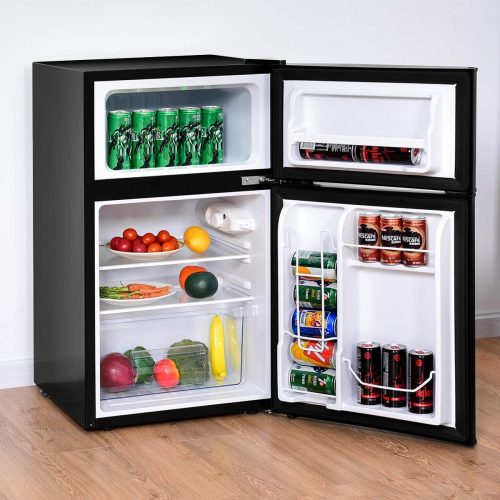 Top freezer refrigerators, otherwise known as top-mount refrigerators are those refrigerators that have their freezer compartment separated from their fridge compartment. In other words, the uniqueness of top freezer refrigerators is, pretty much, in their anatomy.
So, how can you identify a top freezer refrigerator?
It's simple. The freezer is at the top.
In most cases, the freezer is usually smaller than the fridge compartment. This is especially suitable for those who would like more refrigeration than freezing but will want them separately.
Moreover, in a case where space constraints won't allow you have separate fridges and freezers, you should try out a top freezer refrigerator.
You can have both the refrigerator and freezer all in the same unit without hassles.
The other reason, refrigerators of this variant appeal to customers is that they are manufactured and designed to be energy-efficient.
How?
For starters, because the fridge and freezer compartments are separated from each other and each one has its own door, you won't have to open the entire refrigerator to get to either one of the compartments.
Need a pound of meat from the freezer? You can do that conveniently without opening the fridge.
As perfect as top freezer refrigerators seem to appear, not all are perfect for you or your household. So, you need to make decisions based on capacity, features, finish, and the variant that you deem perfect for your needs and space.
Shopping top freezer refrigerators doesn't have to be tiresome and boring if you already know what to look out for.
Come along and we will show you how to get the job done.
Factors to Consider While Shopping Top Freezer Refrigerators.
Top freezer refrigerators usually come in various styles and design. In fact, with advancement in technology and science, more and more sophisticated models are being manufactured every year.
One of the many perks of owning a top freezer refrigerator is that you only give up a fraction of your floor space. They store up more but use up less space.
Here are a few factors to consider before you make a choice:
Capacity
Like we mentioned earlier, the beauty of having a top freezer refrigerator lies in the fact that you get to enjoy ample storage capacity without giving up so much of your space. However, not all refrigerators can fit into any and every space.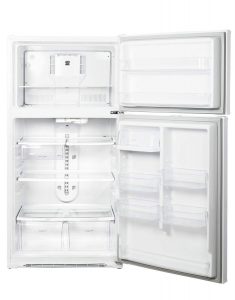 This is why matching the dimensions of the refrigerator with the space that you are willing to give up is important. You should also consider the amount of food that you'll be storing.
For small households of about 2 to 4 people, a refrigerator with a capacity of 15 cubic feet and 35 cubic feet will be perfect. If the purpose of the refrigerator is to serve more people in a household, then you should probably go for one with a slightly larger capacity.
Also, if you are that person who frequents the grocery store – say once or twice in a month – then you won't need as much storage as someone who visits weekly.
And just so you know, it helps to work with the fact that the actual storage capacity of most refrigerators is usually smaller than what is often advertised.
What to do? Double check the figures and ensure the refrigerator will meet your needs perfectly. If you eventually get to a point where you are a bit worried that a particular refrigerator will turn out to be smaller than it appears, then you should go for a larger model.
So, when in doubt go for something bigger. But be sure to check that it will fit into your space.
Check out these other articles…
Finish
Technical specs aside, even though they are important, the finish of a top freezer refrigerator as with all other types of refrigerators also matters. You need to know and zero in on the kind of finish a refrigerator features.
Finish is especially important if you are looking to match the refrigerator with the rest of your kitchen appliances. Typically, you'll find out that there are 3 major finishes in the market. There's the stainless steel finish, black finish, and then white finish.
If you, like most homeowners, prefer the stainless steel finish, then you should be mindful of the fact that some tend to display more smudges than others.
Also, if your budget can conveniently accommodate a high-end model, then you can rest assured that if it comes in a stainless steel finish, it will be smudge-proof.
So, what exactly is it that we are saying? It's simple: as much as it is important to look out for the technical specs of top freezer refrigerators, you should also look out for their finish. This is because finish affects kitchen style and design.
Organization
A good number of modern refrigerators come with adjustable shelves. These shelves make organization a breeze. So, if you are a big fan of refrigerator organization, as we hope you should be, then you should be on the lookout for these features.
Not sure how to go about that? Let's help you put some perspective to all we've been saying about organization.
So, first of all, a good top freezer refrigerator that is pro organization should have about 3 to 4 adjustable shelves to deal with personalized refrigerator arrangements. You also get to enjoy more storage and organization if the refrigerator comes with drawers as well.
While you are looking out for drawers, you may want to check out the humidity-controlled ones. These drawers give you manual control on the level of humidity in the compartment. Having this sort of control will, in turn, ensure your foods last longer and are being cooled under the right conditions.
At high humidity levels, your vegetables can find a perfect place to call home. The same goes for other foods items that tend to lose moisture quite easily.
For foods that don't lose so much moisture, you can regulate the compartment to low humidity levels.
Energy Efficiency
One of the smartest and most economical way to make the perfect choice while shopping top freezer refrigerators is to zero in on the energy efficient models.
Even though the initial cost of buying an energy-efficient top freezer refrigerator may be high, you can rest assured that you won't be spending so much on maintenance and the likes.
All that said, there are still a few concerns about the impact that a refrigerator has on the monthly bills of a refrigerator owner. Not to worry, while shopping, it helps to put that in check by looking out for an estimate of the amount of energy that the refrigerator will use.
How to? Simply, check the label with the tag Energy Guide on the refrigerator. This label will provide you with information on how much energy the refrigerator is likely to consume per annum as well as the cost implications of the consumption.
Ice Maker
Ice makers are fast becoming common in most modern refrigerators. They are usually built-in so that users won't need to deal with the mess that ice trays bring. It is not unlikely that the model you've been eyeing will come with a good ice maker.
However, knowing that the anatomy of top freezer refrigerators are unique, you may be disappointed if you think you'll find one with the ice maker in the fridge's door. All that said, if you think the ice maker is a big deal among other features that you think top freezer refrigerators don't offer then you may want to check out the side by side refrigerators.
Warranty
Generally, refrigerators are generally built to stand the test of time. So, ideally, a good refrigerator should serve you for several years without repair issues. But of course, as you may already know, the more sophisticated a refrigerator is, the higher the chances of frequent repairs.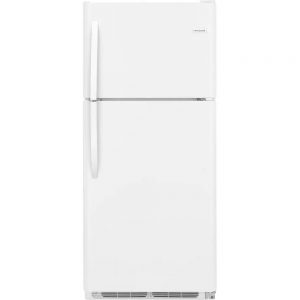 Let's not get ahead of ourselves though. If you think you can estimate how long a refrigerator will serve you, you may be disappointed. However, you can check out how the company defends the product. And it's easy. All you need to do is go for the warranty info. Then you'll get an idea of how long.
Generally, top freezers come with about 10 years or even more on compressor warranty. Some others come with one year.
One of the benefits of having a refrigerator that comes with a long-term warranty is that in the event that the refrigerator needs a repair before the warranty expires, you can have it fixed or even replaced for free.
This is a factor you definitely want to put into consideration. Otherwise, you'll be spending a lot on repairs. And you may eventually have to start thinking of some more money for something new.
Price
With all the talk about what to look out for, it is important to ask if you can afford a particular refrigerator that you like. To make the task easier and less stressful you should have a working budget. The budget will guide you on the kind of top freezer refrigerators to look out for.
All that said, the price of top freezer refrigerators will usually fall within the range of $450 and $1,000. The price variation depends on a number of other factors.
For instance, the sophisticated models with all the bells and whistles tend to cost more than the regular ones. Also, the capacity of a refrigerator can affect its price significantly. A top freezer refrigerator with a capacity of 20 in cubic feet may cost about $600 or even more (up to $950).
The refrigerator's warranty, energy saving features, and organization features may also affect the price significantly.
Bottom line, you can get just about anything you want with the combination of the features you want. But you must be ready to put your money where your mouth is.
Check out these other in-depth articles…
Quick Tips About Top Freezer Refrigerators
Keep the interiors clean. One way to ensure long-lasting use is to clean the refrigerator periodically. You want to avoid disgusting things in your refrigerator like growing mold and bacteria. So you should clean. Plus, for Pete's sake, your foods and vegetables need a clean place to chill in and call home.
Keep the refrigerator far from heat. As much as you can, ensure there's enough space between your refrigerator and other kitchen appliances that generate heat. This will include, ovens and cookers.
Keep the temperature in the middle. One of the leading causes of compressor problems comes from overworking the compressor. You should avoid this by setting the temperature of the refrigerator to the middle.
Keep the interiors organized. Organization doesn't just make the interiors look good and pleasant to the eyes, it also helps to reduce how much time you get to spend looking for a particular item. You should also bear in mind that the longer you leave the refrigerator door open, the more the energy consumed.
And … It's a wrap!
But before we go, here's a quick recap of the important facts about top freezer refrigerators:
These refrigerators come in a classic refrigerator design that makes them must-haves in spite of the popularity of bottom freezer refrigerators. They also tend to be a bit narrower than regular refrigerators so they take up less room and space.
In fewer words, if you are looking for a refrigerator that does the job well, has separate freezer and refrigerator compartments, takes up little space in the kitchen, and comes relatively affordable, then you should shop top freezer refrigerators.
We trust that reading this buying guide has put things in a better perspective for you and you can choose the best top freezer refrigerator without hassles.
if you are considering a standalone freezer for your kitchen needs, then you may like our buying guide on freezers.
Thank you for reading and Happy Shopping!