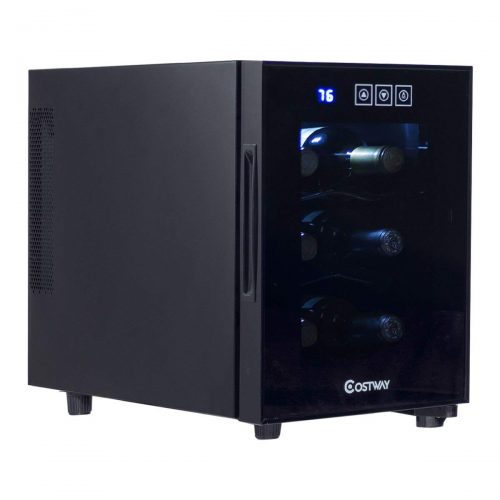 The Costway 6-Bottle Wine Cooler is produced by the UK-based brand called Costway.
Costway is owned by FDS Corporation and has been in the market for only a short period of time. Even though the brand's headquarters is in Ipswich, it also boasts branches in Germany and in the US.
It has been building its reputation in proffering the best home solutions to its customers. More so, its aim is to make life easier for its customers so that they can achieve their personal and financial goals.
The brand's core values are innovation, affordability, and convenience. And so it strives to make every product meet up with these market standards. How well the brand is growing is seen in how it has quickly risen to be one of Europe's top retailers in such a short period of time.
Costway's extensive range of products includes furniture, home appliances, electronics, outdoor equipment, baby items, and fitness equipment and gear.
However, our focus in this review is its 6-Bottle Wine Cooler. Come along with us and let's show you what we and verified customers have to say about this product.
Who Needs The Costway 6-Bottle Wine Cooler
First, if you are that avid wine collector who is looking for a unit that chills and stores a few wines at a time, then the Costway 6-Bottle Thermoelectric Wine Cooler is probably all you need.
This wine cooler is a small and compact unit that is designed to solve the problems of space constraints. So, if you've not been able to find that wine cooler that can fit into your small space, then you may want to consider this one.
The freestanding installation feature of this unit also makes it suitable for you to place the unit on a table or a countertop or under a cabinet. And if you like, you can also choose to place it on the floor.
One of the reasons this unit makes it to customers' carts is that it features a user-friendly LED display that makes temperature control easy. And speaking of temperature control, a touch of the control button is all you need to have your preferred temperature.
We should also mention how appropriate this unit can be in your personal bar.
The interior LED light doesn't just make wine collections look appealing, it also makes them visible so that you don't have to open the wine cooler's door to know what wines are in it.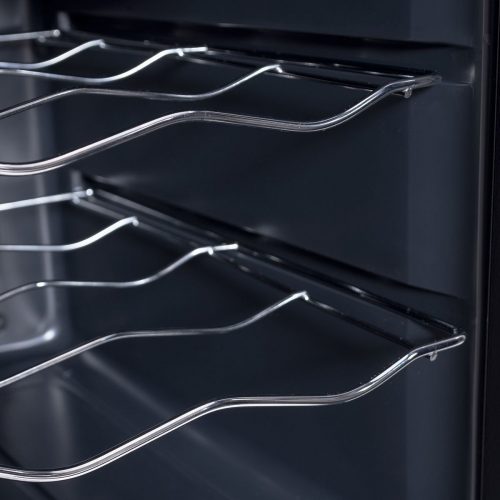 Click here to get it on Amazon!
Features Of The Costway 6-Bottle Wine Cooler
Noise Level
One of the things to look out for in a wine cooler is its noise level. And we looked out for this feature when we were conducting our research on the Costway 6-Bottle Wine Cooler.
The noise level, as we have observed is very low, if it makes any noise at all. In fact, word has it out there that it is quiet to a large extent.
If it produces any noise for whatever reason, then it won't be the type that is unbearable. In fact, someone mentioned that she had to keep checking to see if it was working because it was operating quietly.
Design
The design of the Costway 6-Bottle Wine Cooler makes it suitable for installation in an open or closed space. Please note that by 'closed' we mean with ample clearance space because this unit cannot be installed as a built-in unit.
That being said, because of the color and design, irrespective of where you place it, this unit will always fit in well. Moreover, the see-through glass door adds that touch of chicness that makes it appropriate in any space. The door also makes it easy for you to see what's chilling in the wine cooler without the need to open the door.
What's more? The recessed door handle is that simple and safe design that makes opening and closing the cooler hassle-free. So, overall, the design of the unit is truly simple and compact.
Display
More often than not, digital is easier and more user-friendly than analog. And we love that the control and display in this wine cooler are digital.
You don't need to spend hours trying to figure out how to set the temperature to your preferred degree. Plus you get to see what you are doing. So if the temperature is not where you want it to be, you'll know and you can then do what you need to do to make it right.
Oh, did we forget to mention that the display is LED? Well, it is. And it means that even if you are in a poorly lit room, knowing the operating temperature will be easy peasy.
One more thing: the interior light!
This wine cooler comes with an interior LED light that can be turned on and off at the touch of a button on the unit's door. The light casts a soft glow on the bottles and is safe for the wine in them. In other words, this light will not damage your wine.
Shelves
Apart from the fact that you get to control the temperature of this wine cooler, it may also please you to know that you can also control the number of bottles and how they are stored in it.
Granted that the maximum number of bottles you can store in this unit is six standard-sized bottles, the adjustable shelves in this unit makes it easy for you to store one or two large bottles in it. All you need to do is remove a rack and you'll be able to store that big bottle in it.
Click here to get it on Amazon!
Pros Of The Costway 6-Bottle Wine Cooler
i. Interior LED light for illumination.
ii. Its see-through glass door makes it easy to see what's in the unit.
iii. Noise level is either very quiet or bearable at best.
iv. Portable and suitable for small spaces
v. Simple and modern design adds aesthetic value.
vi. Simple and user-friendly digital display.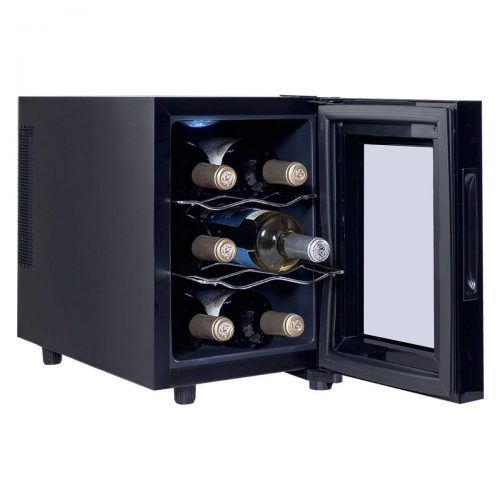 Click here to get it on Amazon!
Cons Of The Costway 6-Bottle Wine Cooler
i. A few customers wish it could get to lower temperatures.
Check out these other in-depth articles…
Alternatives to The Costway 6-Bottle Wine Cooler
Affordable Option
Magic Chef 6-Bottle Single Zone Wine Cooler
The Magic Chef Single Zone 6-Bottle Wine Cooler is another countertop wine cooler that is designed for small spaces.
We recommend this small wine unit for those who love to keep their wine collection small or those who are just starting to build their own collection.
If you fall into any of these categories, you may want to start out with a unit that is affordable but will do the job well.
This wine cooler can be stored on countertops, tables, floors, and under cabinets.
For a wine cooler that is portable, vibration, and noise-free that also has adjustable temperature control, it looks like it will make a fantastic buy.
Meanwhile, the only challenge is that it doesn't have a temperature indicator display. So you may have to get a separate digital thermometer for the unit.
You can read our complete review of this product here to learn more about it.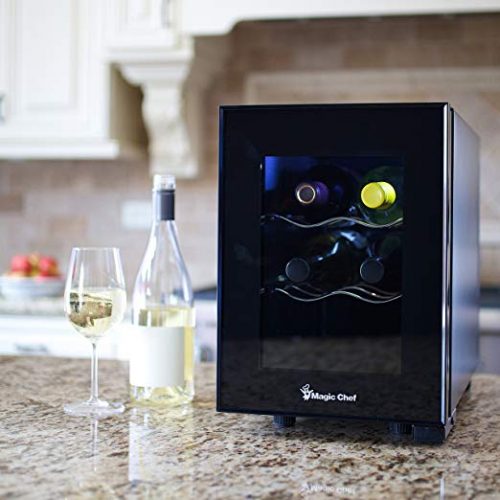 Click here to get it on Amazon!
Larger Capacity
Koldfront 16-Bottle Thermoelectric Wine Cooler
This wine cooler boasts a storage space that can accommodate 16 standard-sized bottles with ease. And being a thermoelectric cooler like the featured product, it is vibration-free so it won't cause bubbles to form in the wines.
The interesting feature of this unit is its reversible door. If you are big on things like that, then you'll like it.
But even more important is the internal fan that circulates cool air and expels hot air so that the temperature is close to constant always.
If you are new to the wine collection club, then you'll love this unit and may even appreciate its temperature range of 52 to 64 degrees Fahrenheit.
The slide-out chromes are able to hold 16 Bordeaux bottles easily. But they can be removed to accommodate bigger bottles.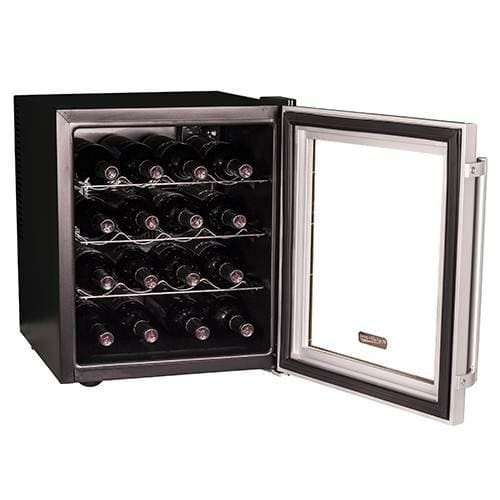 Click here to get it on Amazon!
More High-End Option
EdgeStar 32-Bottle Dual Zone Wine Cooler
If a product is supposed to be high-end then the justification for the high price should ideally be more features. This is why we recommend the EdgeStar 32-Bottle Dual Zone Wine Cooler.
This wine cooler has a considerably larger capacity and comes as a dual-zone unit. So, you get to store a good number of your favorite wines and build your own collection.
More so, its dual zoning feature makes it perfect for accommodating a wide range of wine and beverage types.
This unit will be perfect for avid wine collectors and bar owners. So, you can treat your guests and customers to your fine wine collection anytime and without hassles.
Each section of the unit also has interior LED light for illumination. The lights cast a soft blue hue on the bottles. It also makes them visible.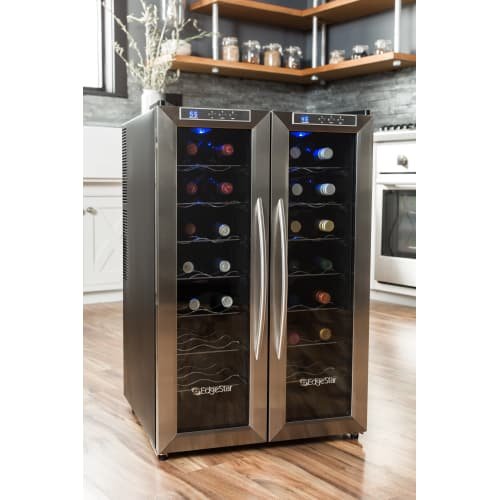 Click here to get it on Amazon!
Quick Comparison  
Featured Product
Affordable Option
Slightly Larger Capacity
More High-End Option
Product

Costway 6-Bottle Wine Cooler

Magic Chef 6-Bottle Single Zone Wine Cooler

Koldfront 16-Bottle Thermoelectric Wine Cooler

 

EdgeStar 32-Bottle Dual Zone Wine Cooler

Dimensions
20.1 inches x 9.8 inches x 14.5 inches
13 inches x 23 inches x 18 inches
20.2 inches x 17.2 inches x 21.1 inches
20.2 inches x 20.7 inches x 32.5 inches
Capacity
6 Bottles
6 Bottles
16 Bottles
32 Bottles
Zoning
Single Zone
Single Zone
Single Zone
Dual Zone
Installation Type
Freestanding
Freestanding
Freestanding
Freestanding
Available Sizes
6-Bottle

12-Bottle

18-Bottle

 

6-Bottle

 

16-Bottle

 

32-Bottle
Shelves
2 Steel Shelves
2 Chrome Shelves
2 Scalloped Chrome Shelves
6 Chrome Shelves
Color
Black
Black
Stainless steel
Stainless Steel
What Users Are Saying About The Costway 6-Bottle Wine Cooler
The general consensus on the Costway 6-Bottle Wine Cooler is that it is worth the buy. And a good number of customers had a few points to support their verdict on the wine cooler.
First, many of them accepted the fact that thermoelectric coolers like this unit operate based on the room temperature. So, they were happy with the temperature range.
Even though it wasn't explicitly stated, the lowest the wine cooler could get to was roughly 46 degrees Fahrenheit, which is just ok for white wines and great for red wines.
However, some customers wished it could really go lower to the 30s. But let's face it; this may not happen with a thermoelectric cooler like this one.
On the other hand, the low noise feature was something most of the customers appreciated in this unit. Even though we noticed one or two comments about low humming sounds, on the average, the unit was close to being super quiet.
The design also did it for some buyers. They felt it was simple, compact, and modern. One notable feature was the temperature and light control. The fact that you could control the light and temperature with touch buttons on the door without opening the unit was a good one for some customers.
To sum it all up, in terms of functionality, portability, design, and ease of use, the Costway 6-Bottle Wine Cooler may have found its way into the hearts of a good number of customers.
Check out these other articles…
Our Verdict
For a wine cooler that is slightly over a 100 bucks, we think the Costway 6-Bottle Wine Cooler could make a nice addition to a personal space. The simple yet modern design makes it appropriate in just about any space at all.
And since it operates quietly without making disturbing sounds, one wouldn't need to be wary about having a sleeping baby somewhere close to it.
Moreover, with the simplicity of this unit also comes the ease of use. It features a digital display that tells what temperature the unit is operating at. There are also touch buttons that give the user control over the temperature. So, temperatures can be set based on the user's preference.
We particularly love the fact that both the lights and temperature touch buttons are on the unit's door and not inside the unit. This means one doesn't have to keep opening the unit to get the temperature or turn the lights on.
So, if you are looking for a 6-bottle wine cooler that does the job well, you may want to try out this unit by Costway.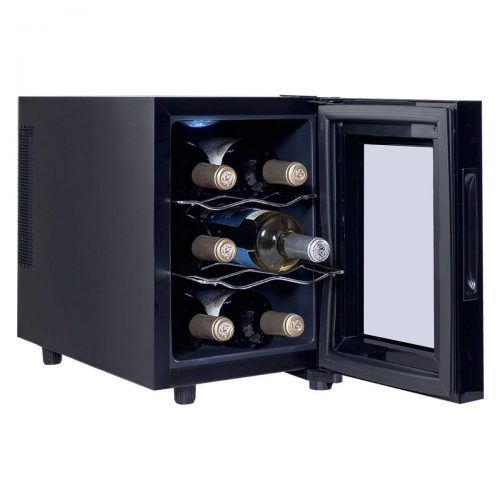 Click here to get it on Amazon!