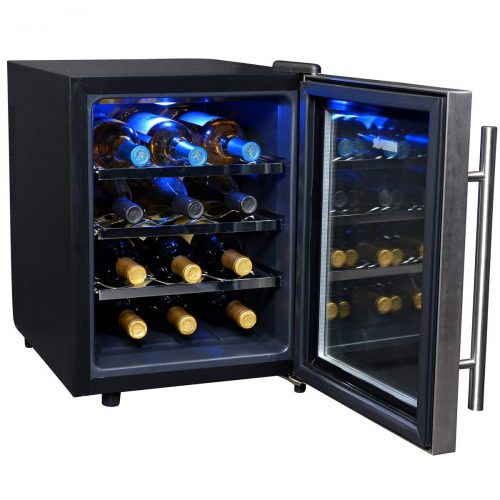 The NewAir 12-Bottle Wine Cooler is one of the products in NewAir's e extensive range of products. Other products in the range include beverage coolers, heating and cooling appliances and a good number of compact appliances.
The brand started out in a tiny garage some 15 years ago and was majorly into sales of portable evaporative coolers and air conditioners.
Fast forward to a few years later when they had made profits, the brand moved out of the garage into a big warehouse. Today, it also boasts a distribution center through which 24-hour deliveries to customers are made. The site also doubles as a repair and warranty center where customer issues are resolved.
According to the brand, it is deeply committed to providing not just any kind of product but high-quality ones that assure the customer of good value. This is why the brand places a lot of emphasis on excellent customer service as a key driver to customer satisfaction and business growth.
So, let's find out if its 12-Bottle Wine Cooler has the potential to satisfy you and proffer the wine storage solution that you've been looking for.
Who Needs The NewAir 12-Bottle Wine Cooler
The NewAir 12-Bottle Wine Cooler is primarily designed for countertops and spaces that seem too small to take standard-sized wine coolers.
If you are an avid wine collector and you love to have some of your favorite wines within your reach anytime, then a wine cooler is a necessity.
What's more? If the reason you haven't gotten one for yourself yet is that you don't think you have the space to install one in, then you may want to consider this one.
It can conveniently sit on your counter, under your cabinet, on the table, or on the floor without taking up so much of your space. And if you'll like to store red or white wines, then this will do the work for you.
And just in case, you like the sheer joy of having your exotic collection on display for your friends and guests, then you may like the idea that it comes with LED lights that cast a soft glow on wine bottles for visibility.
The adjustable shelves also act like trays only that they are scalloped to hold your bottles in place sothat they don' roll against each other.
Also, since the unit is actually designed for standard-sized bottles, you may also like the fact that the racks can be removed to accommodate larger wine bottles.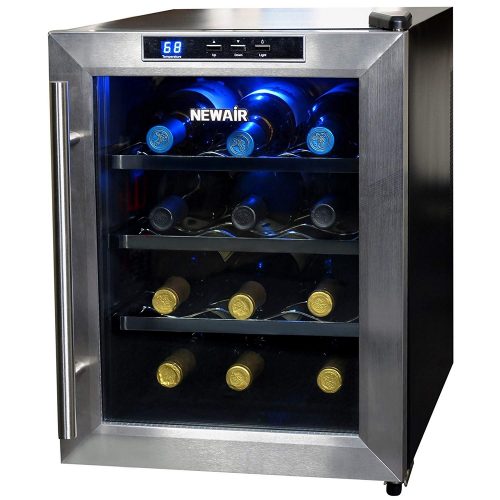 Click here to get it  on Amazon!
Features Of The NewAir 12-Bottle Wine Cooler
Portability
One of the reasons that the NewAir 12-Bottle appealed to some customers who already own one is that it is a portable unit. Not only is it portable it is also lightweight.
Just so you know, one of the perks of having a lightweight and portable unit like this wine cooler is that you can move the unit around easily and without hassles.
So, say you need to move it from the floor to a dedicated space on your countertop; you definitely won't need a crane or a trolley to get the job done.
The other thing we discovered is the sturdy construction in spite of its lightweight feature.
In some situations, especially when it comes to appliances like this, there's a tendency to write off lightweight as flimsy.
But that's not the case here. The NewAir 12-Bottle Wine Cooler is sturdy and durable.
Installation
It is one thing to hear that an appliance is potentially good in terms of operation and it's another thing to be relieved that installing it is a walk in the park.
So, when it comes to installation, it is pretty straightforward with the NewAir 12-Bottle Wine Cooler.
We will love to call this wine cooler a plug 'n' play unit, but it requires one step before you eventually 'play'. And that step involves screwing the door handle in place.
Now, doing that may require a screwdriver of some sort or an electric drill. But once, the handle is in place, then it is pretty much a plug 'n' play unit.
Temperature Range
If you are already familiar with wines then you may also know that red wines are stored differently from white wines for temperature reasons. You may also know that dual zone wine coolers are the only wine coolers that can store these two wines at the same time. If you are new to wines then this may be a new fun fact learned.
Now to the point: the NewAir 12-Bottle Wine Cooler is not a dual-zone wine cooler but a single zone type. But what we like about it is its temperature range. This range makes it possible for wine owners to store either type of wines differently without hassles.
So, you pick your choice of the two wines and store that one at your preferred temperature.
Thankfully, there a good number of customers who mentioned that it doesn't take so long for the unit to reach a set temperature.
Just be sure you read the wine bottle to know the recommended storage temperature.
Shelving
Shelves in wine coolers are the norm, but adjustable shelves are awesome. NewAir probably already considered the fact that making the unit large enough to hold all kinds of wine bottles will mean compromising on portability.
This is where adjustable shelves come in.
In the default storage mode, a 750 ml champagne bottle will fit in. But, you may struggle to fit bottles with larger diameter into it.
That's not a reason to despair.
All you need to do is take out one of the shelves and then the bottle will be able to fit in.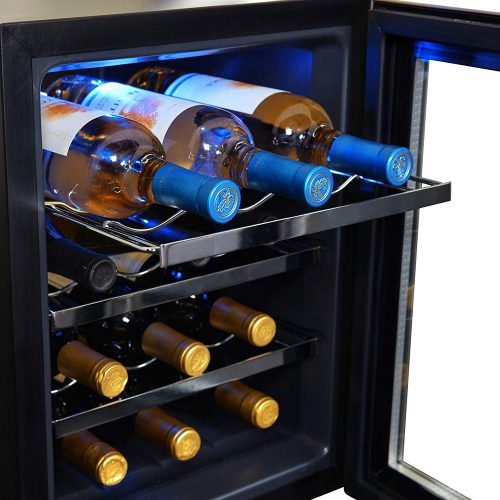 Click here to get it  on Amazon!
Pros Of The NewAir 12-Bottle Wine Cooler
i. Easy installation and set up.
ii. Has a low noise level.
iii. Adjustable shelves can be removed to accommodate larger bottles.
iv. Lightweight and portable.
v. Attractive design
vi. LED lights for illumination.
vii. Suitable for red or white wines.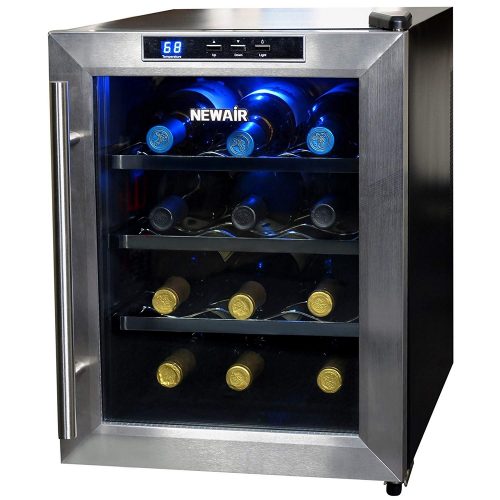 Click here to get it  on Amazon!
Cons Of The NewAir 12-Bottle Wine Cooler
i. There are a few complaints that it could get pretty noisy.
ii. Takes longer to reach a set temperature after a while.
Check out these other in-depth articles…
Alternatives to the NewAir 12-Bottle Wine Cooler
More Affordable Option
Magic Chef 12-Bottle Wine Cooler
This wine cooler by Magic Chef is a lot like the featured product. But it comes at a more affordable price. It is designed for avid wine lovers who would like to build their own wine collection.
It can accommodate 12 regular-sized wine bottles.
With a temperature range of 54 to 66 degrees Fahrenheit, you can be sure your red wines will find a place to call home in no time.
It also features a digital display with controls and an elegant finish that blends into an already existing kitchen or home theme.
More so, the 3 chrome shelves are scalloped to hold the bottles and prevent them from sliding against each other. These shelves can also be removed to accommodate larger bottles.
Just in case you are interested in this product and will like more information about it, you can take advantage of our in-depth review on it here.
Click here to get it on Amazon!
Compressor Option
Smad 35-Bottle Compressor Wine Cooler
The Smad 35-Bottle Compressor Wine Cooler is a compressor model that we will readily recommend to anyone who would like the option.
It is a single zone wine cooler that offers room for 35 3-inch-diameter bottles. So it can fit a good number of wine bottles easily.
The bottles get to sit on the adjustable wire shelves or the half wire ones. There are 5 of the full wire types and 2 of the half wire types.
It also has a wide temperature range of 39 degrees Fahrenheit to 66 degrees Fahrenheit.
You can set the temperature between 55 and 64 degrees Fahrenheit for red wines or set it between 39 and 55 degrees Fahrenheit for white wines and champagnes.
If you'll rather have the temperature displayed in Celsius, you can take advantage of the LED readout display that comes with touch controls to change the unit.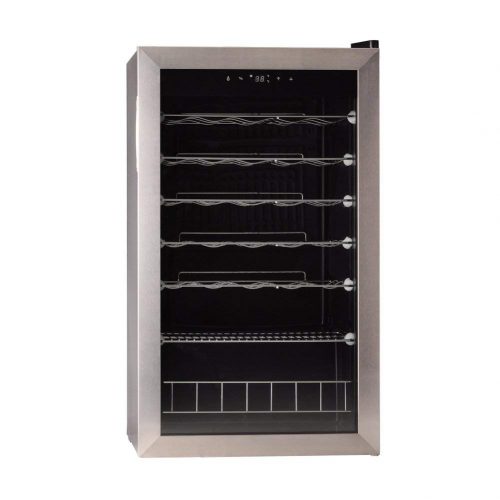 Click here to get it on Amazon!
More High-End Option
Phiestina 33-Bottle Dual Zone Wine Cooler
If you are in the market for a high-end option, then this wine cooler by Phiestina is a product worth considering. It is optimized for storing 33 of your favorite wines.
Being a dual-zone unit, this wine cooler can accommodate red wines and white wines simultaneously. The upper zone has a temperature range of 40 to 50 degrees Fahrenheit for the whites, while the lower zone has a temperature range of 50 to 66 degrees Fahrenheit for the reds.
It can also sit well in homes, offices, bars, doors, and at events. So, if you are thinking of hosting a group of people soon or you want to build a wine collection of all sorts, then you may want to consider giving this compressor wine cooler a try.
What's more, the 7 racks are removable and made from beechwood. They also allow both bottles and cans. Plus you get to enjoy the benefit of blue LED lights on your bottles and cans for illumination.
Click here to get it on Amazon!
Quick Comparison  
Featured Product
More Affordable Option
Compressor Model Option
More High-End Option
Product

NewAir 12-Bottle Wine Cooler

Magic Chef 12-Bottle Wine Cooler

 

Smad 35-Bottle Compressor Wine Cooler

Phiestina 33-Bottle Dual Zone Wine Cooler

Dimensions
14 inches x 19.5 inches x 19 inches
14.2 inches x 20.1 inches x 19.0 inches
18.9 inches x 19.3 inches x 33 inches
22.5 inches x 15.6 inches x 33.1 inches
Capacity
12 Bottles
12 Bottles
35 Bottles
33 Bottles
Zoning
Single Zone
Single Zone
Single Zone
Dual Zone
Installation Type
Freestanding
Freestanding
Freestanding
Freestanding
Cooling Technology
Thermoelectric
Thermoelectric
Compressor
Compressor
Available Sizes
12-Bottle

18-Bottle

28-Bottle

 

 

12-Bottle

19-Bottle

28-Bottle

35-Bottle

33-Bottle
Shelves
3 Chrome Plated Shelves
3 Chrome Shelves
5 Wire Shelves and

2 Half Wire Shelves

 7 Beech Wood Shelves
Color
Stainless Steel
Black
Stainless Steel
Stainless Steel
What Users Are Saying About The NewAir 12-Bottle Wine Cooler
With the NewAir 12-Bottle Wine Cooler, there really isn't a general consensus because different customers have had different experiences with it.
For instance, on one hand, some people thought the noise level was too high and some said it was louder than their refrigerator. On the other hand, a good number thought it was very quiet and the only sound they heard coming from it was the humming sound of the fan.
Also, the fact that the last three wine bottles have to sit on the bottom of the wine cooler and not on a rack was a bit of a concern for some. Well, this is not uncommon with wine coolers. So, it can be ignored as some customers pointed out.
That said, most opinions seemed to converge on a few perks of the unit.
For instance, the portability and the lightweight feature couldn't go unnoticed. Plus, when the temperature is set, the unit does its work well – chill the wines.
The other good thing is that the wine cooler can store either red or white wines.
So, overall, while some people can justify the few issues they have with the NewAir 12-Bottle Wine Cooler and relate it to its affordability, some think they could get more for the same price or even less.
Check out these other articles…
Our Verdict
If the question was thrown to us on whether this wine cooler is worth considering, we would say 'yes'. And that's because the wine cooler is portable, well –designed and lightweight.
We also appreciate the fact that regular champagne bottles can fit in without problems while larger bottles can also go in when a rack is removed. The only issue is that removing a rack to fit in larger bottles will reduce the number of bottles that can be stored.
But we can attribute that to not being able to eat one's cake and have it. In the sense that to have a wine cooler that can fit large bottles in, one may have to compromise on portability and, maybe, the lightweight feature.
It is also noteworthy that this wine cooler comes with a digital display that shows the operating temperature and has control buttons for setting the temperature.
Thankfully, the display and controls are on the door and not inside. So, monitoring and setting the temperature can be done without opening the unit.
However, it is hard to turn a blind eye to the drawbacks. The noise level is a bit uncertain because it seems to be a case of 'you never know until you get yours'. But, we may just go for it if we start to feel adventurous.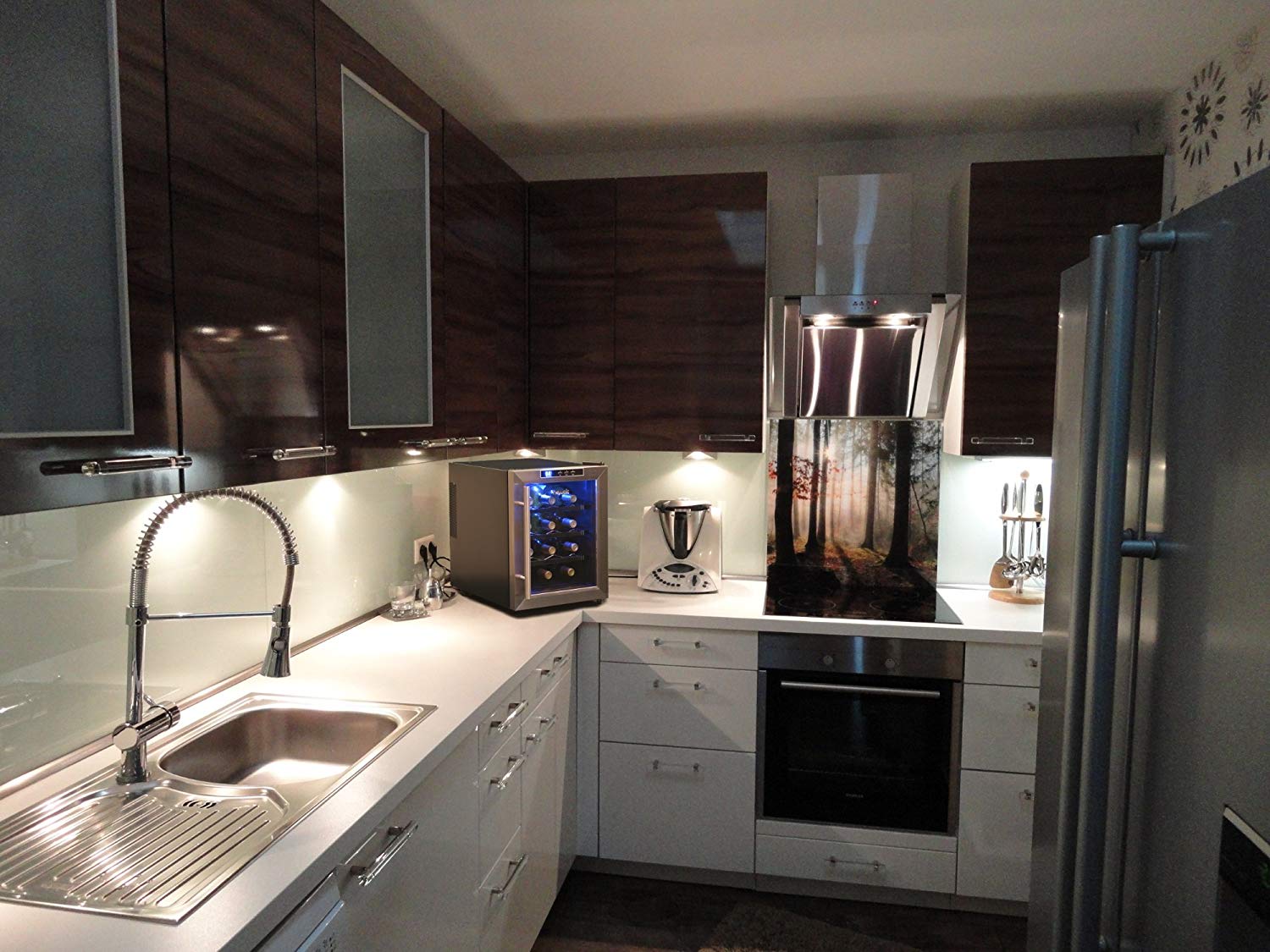 Click here to get it  on Amazon!