The Westinghouse 6-Bottle Wine Cellar is one of the many kitchen appliances that the Westinghouse brand has churned into the market.
The brand has been around for many years and is still in the business of creating those appliances that make life easier for the average person.
Over the years, Westinghouse has served many homes all over the years and has seen a number of changes as well. The most recent of these changes being the incorporation into the Electrolux family. And in case you didn't know, Electrolux is another popular home appliance brand.
Westinghouse believes everyone deserves the kind of ease that makes juggling work, career, extracurricular activities, and family life more bearable. Westinghouse admits that it certainly can't solve everyone's problems but it can make magic happen in your kitchen.
We are about to find out if it's 6-bottle wine cooler can really make magic happen in your space. Come along with us and let's give you our unbiased opinion of the Westinghouse 6-Bottle Wine Cooler.
Who Needs The Westinghouse 6-Bottle Wine Cellar
The Westinghouse 6-Bottle Wine Cellar is a portable appliance for chilling and storing red wines or white wines.
Being a single zone wine cooler, it is not able to accommodate these two wine types at the same time. But, thanks to its temperature range, the wine cooler can serve either of the two wines at different times.
So, if you love red or white wines and you want to have very few bottles of your favorite wine within reach, then this wine cellar is probably worth considering. We say this because it is designed to meet that need.
It is also suitable for anyone who loves the bliss and comfort of a wine collection but doesn't have so much space to install a regular-sized wine cellar. It can sit on a counter top, on a table, or under your cabinet.
The portable size also makes it perfect for a little housewarming, wedding, retirement, or birthday gift. So, if you know a wine lover who would be celebrating a milestone in the near future, you may want to plan ahead and save yourself the stress of racking your brain for gifting ideas by considering this wine cellar.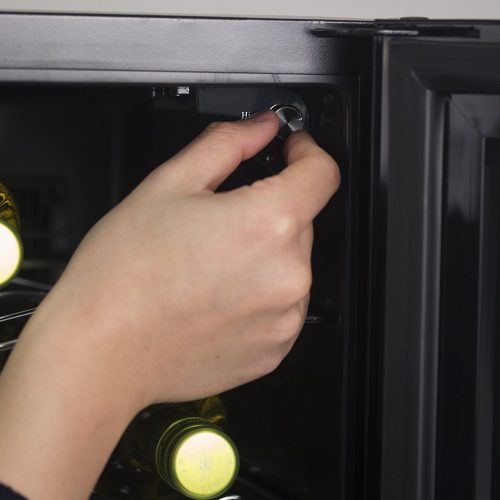 Click here to get it on Amazon!
Features Of The Westinghouse 6-Bottle Wine Cellar
Temperature Range
The temperature range of the Westinghouse 6-Bottle Wine Cellar is between 46 degrees Fahrenheit and 66 degrees Fahrenheit. That's a range that is wide enough to accommodate either white wines or red wines.
This means you can choose to store your preferred wine type at any given time with the assurance that the wine will be chilled at the best temperature. This further means one thing: you always get to have a refreshing glass of wine within your reach.
But there's one thing we should mention. You may already know that the operating temperature of a wine cooler depends on the room temperature. So, in this case, the stated range may not always apply.
As a thermoelectric cooler, the temperature typically drops to at most 20 degrees below the room temperature. This means the temperature range of 46 to 66 will only apply if the room temperature is 66 degrees Fahrenheit. So, if the room temperature in your space averages 70 degrees, for instance, the lowest temperature that this wine cellar can attain will be 50 degrees Fahrenheit.
The fact that there's no temperature display may not be fun because there's no way to know the temperature in the cooler and the impact the external temperature has on it. But, hey, not to worry, a good digital refrigerator thermometer will solve the problem.
Noise Level
It is a known fact that the reason thermoelectric units tend to win more votes over the compressor units is that the thermal units tend to be quieter than the compressor models. But that doesn't mean every thermoelectric cooler is a quiet one. There are still some noisy ones out there in the market.
In fact, this wine cooler may, at its worst though, give a humming sound after a while. But, again, the consolation here is that the humming sound is pretty low and can be ignored to a very large extent.
The noise level of this wine cellar is 38 dBA. We think this is low enough to be managed.
Design
The design of this wine cellar is such that the handle doesn't protrude out of the unit. It is recessed and located at the edge of the door. Not only is this a safe design it also enhances the appearance of the wine cellar.
While we are still talking about the design, we should also mention the fact that the hinge of the door is hidden. So, when Westinghouse was designing this unit it probably placed more priority on this unit as a portable and compact. That said, we think the design is simple but appealing.
So if you live in a small apartment or studio, you may want to consider a wine cooler that is big on space efficiency like this one.
Click here to get it on Amazon!
Pros Of The Westinghouse 6-Bottle Wine Cellar
i. Design is suitable for counter tops.
ii. Suitable were space constraints is an issue.
iii.Noise level is either very quiet or bearable.
iv. Keeps wines and water cool.
v. Removable racks make storage flexible.
vi. Modern and sleek design.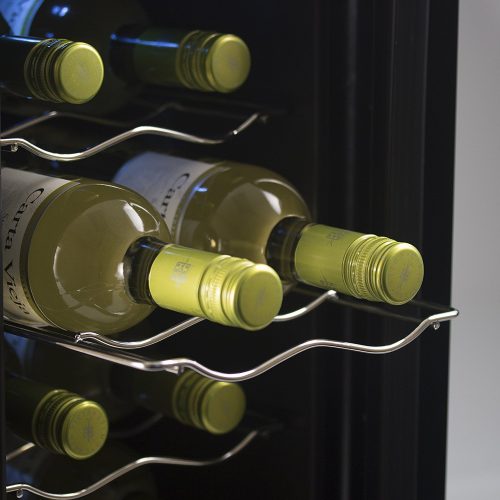 Click here to get it on Amazon!
Cons Of The Westinghouse 6-Bottle Wine Cellar
i. Doesn't have temperature display.
ii. Too much weight on the racks may cause the racks to sag down.
Check out these other in-depth articles…
Alternatives To The Westinghouse 6-Bottle Wine Cellar
Option With Temperature Display
Westinghouse 6-Bottle Wine Cooler with Digital Display
We totally understand that you may not be a fan of wine coolers that don't come with digital temperature displays. For all it's worth, those wines need to be stored and served at optimal temperatures and you need to know that the wine chiller is doing just that. This is why temperature displays are important.
So we were glad to learn that Westinghouse has a 6-bottle wine cooler that unlike the featured product has a digital temperature display feature.
However, when it comes to functions and operations, there's almost no difference between the two wine coolers. For instance, the stated temperature range is between 46 and 66 degrees Fahrenheit and the thermoelectric cooling technology also means the noise level, if it is anything to write home about, is bearable to a large extent. Of course, that also means no vibrations.
That said, one more feature that the featured product doesn't have that this one has is the touch panel. The touch panel makes tweaking the temperature settings easy and user-friendly.
We thought you should also know that it will cost you a few more bucks to get this suggested product.
Click here to get it on Amazon
Option with Wooden Racks
Wine Enthusiast 12-Bottle Wine Cooler 
Wine coolers with wooden shelves often have that sophisticated and classy edge; especially when they feature see-through glass doors like the Wine Enthusiast 12-Bottle Wine Cooler.
This particular wine cooler by Wine Enthusiast doesn't just come with the durable and beautiful wooden racks, it also offers twice the storage capacity of the featured product.
It is a CFC-free and energy-efficient wine cooler that is worth considering if you are a sucker for wooden shelves.
When it comes to cooling, this wine cooler uses the thermoelectric cooling technology. It chills between a temperature range of 50 degrees Fahrenheit and 66 degrees Fahrenheit.
Also, if you'll like to take a break from conventional appliance colors like black, then you may find its stainless steel finish appealing.
Click here to get it on Amazon!
Dual Zone Option
Haier 12-Bottle Dual Zone Wine Cooler
Of the 3 alternatives, the Haier 12-Bottle Dual Zone Wine Cooler is the priciest. And this difference is understandable. This particular wine cooler offers more features than the other products. However, the dual zone feature is the most distinguishing factor.
In the first compartment of the unit is a temperature range of 46 degrees to 66 degrees Fahrenheit, while the lower section has a range of 54 degrees to 66 degrees Fahrenheit. The purpose that the zoning serves is to make it easy for wine lovers to store different wines at different temperatures for the best taste.
For instance, you can have red wines in one compartment and then have white wines in the other compartment.
Other features include 6 chrome shelves, 2 user-friendly touchscreens (one for each zone) with LED display. The style combination of a glass door and black cabinet also makes this unit appealing.
Click here to get it on Amazon!
Quick Comparison  
Featured Product
Temperature Display Option
Wooden Rack Option
Dual Zone Option
Product

Westinghouse 6-Bottle Wine Cellar

Westinghouse 6-Bottle Wine Cooler with Digital Display

Wine Enthusiast 12-Bottle Wine Cooler

Haier 12-Bottle Dual Zone Wine Cooler

Dimensions
10 inches x 20.25 inches x 14.875 inches
10 inches x 20.2 inches x 14.9 inches
15.25 inches x 15.75 inches x 19.75 inches
9.9 inches x 20.3 inches x 26 inches
Capacity
6 Bottles
6 Bottles
12 Bottles
12 Bottles
Zoning
Single Zone
Single Zone
Single Zone
Dual Zone
Installation Type
Freestanding
Freestanding
Freestanding
Freestanding
Available Sizes
6-Bottle

8-Bottle

10-Bottle

12-Bottle

6-Bottle

8-Bottle

10-Bottle

12-Bottle

12-Bottle

 

6-Bottle

8-Bottle

12-Bottle

16-Bottle

18-Bottle

Shelves
2 Chrome Shelves
2 Chrome Shelves
3 Wooden Shelves
6 Chrome Shelves
Color
Black
Black
Stainless steel
Black
What Users Are Saying About The Westinghouse 6-Bottle Wine Cellar
The Westinghouse 6-Bottle Wine Cellar is that portable and compact wine cooler that can fit into any space without hassles. This is one reason that some customers love it and will like to tag their names to one. The portability also makes it easy to move around; especially in the event that a change in location needs to be made.
It is also noteworthy that a good number of customers think that this wine cooler delivers on its promise when it comes to cooling.
Also, we could hardly ignore the fact that there were no mentions of humming or beeping sounds.
However, the major concern with the Westinghouse 6-Bottle Wine Cellar is that it doesn't come with a temperature display. So, a good number of those who already own this unit also had to buy a separate digital thermometer to be able to set and know the unit's operating temperature.
Since you are still deciding on what to go for, you may either choose to follow suit or check out units that come with digital temperature display.
Check out these other articles…
Our Verdict
Now to our own thoughts about this wine cooler: we like that it does what it says it can do. But before you run along with our verdict, you may want to zero in a little on what this unit offers and if it is the perfect one to meet your needs.
For instance, we think that the style and design are good enough to have it placed in an open space like a counter top. Also, the maximum number of bottles this unit can store is 6. This is bearing in mind that that applies to standard-sized wine bottles.
In the default arrangement mode, (with the 2 racks in place) larger bottles may not fit into the unit properly or at all. But that could be sorted out by taking out one of the racks.
Seeing that there are no concerns about the noise level of this unit is one reason to love it and want to own it. And if we had to choose, we won't think twice.
Nonetheless, the fact that we need to figure out how to know the operating temperature on our own is one reason to rate this unit lower. But, then again, there's nothing a digital thermometer can't do. We only don't like that we have to pay extra to know the temperature.
In fairness though, we think the price of this unit makes buying it a good deal because it delivers on its promises. Plus, there are good and affordable digital thermometers in the market that could help with the major problem.
Now that you have read our unbiased review of this product, if this exactly what you've been looking for the whole time, then you can go ahead and get it now.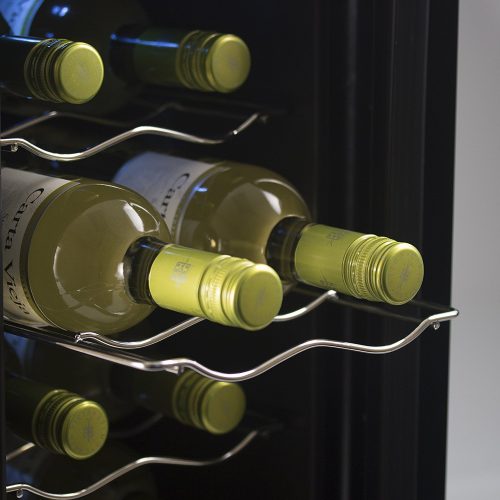 Click here to get it on Amazon!