The Magic Chef 12-Bottle Wine Cooler is one of the wine coolers that the brand known as Magic Chef manufactures.
Magic Chef started in 1951 and was transferred from one company to another. But in 2010, the brand was bought from Whirlpool by the MCA Corporation because it had potential to succeed.
Today, almost a decade later, Magic Chef prides itself in being a solution provider where the needs of its customers are concerned. It continues to employ marketing initiatives, product development, and customer relations as tools for growth and success in its field.
The brand's commitment to manufacturing the kind of products that will remain dependable is one that a good number of its customers have highlighted.
Can they say the same about its 12-Bottle Wine Cooler? Well, let's find out in this in-depth review of the product.
Who Needs The Magic Chef 12-Bottle Wine Cooler
The Magic Chef 12-Bottle Wine Cooler is designed to be a storage solution for the everyday wine lover or the collector.
With a storage capacity that is perfect for 12 standard-sized bottles, the limit to the variety of wines is only in number and cooling or serving temperature. You can literally have different kinds of wines within that number.
If you are thinking of storing big bottles or even champagne bottles in this wine cooler, you probably have to consider taking out one or two racks to fit those bottles in. This is because the wine cooler in its default arrangement setting will not be able to accommodate large wine bottles.
With a temperature range of 54 degrees to 66 degrees Fahrenheit, you can conveniently bring the serving and chilling temperature of red wines to a perfect degree. So, if you do more reds than whites, you may want to give this wine cooler a thought.
So whether you are the wine lover or someone else who you would like to gift this wine cooler is, this product by Magic Chef is designed to meet basic wine storage needs. This means you don't have to look so far to find a gift for someone who loves to have wines every now and then.
Click here to get it on Amazon!
Features Of The Magic Chef 12-Bottle Wine Cooler
User-friendliness
The controls of this unit are user-friendly such that programming it and getting it to run is easy and convenient.
The unit also has an LED display screen that helps the user to monitor the temperature at which the unit cools at every given time.
To select a preferred temperature within the unit's range of 54 degrees and 66 degrees, all you need to do is use the 'plus' and 'minus' buttons to increase or reduce the displayed temperature till the screen displays what you want.
Cooling Efficiency
The good thing about thermoelectric chillers, like this one, is that they aim to minimize vibrations and ensure low noise levels. These are features that some compressor models lack because of the moving parts.
Minimal or no vibration means the chances of disturbing the wine sediments or causing  bubbles to form in the wine will be low.
And if you are able to set the chilling temperature right, then you can achieve the perfect serving taste. The other benefit of this system is that the absence of a refrigerant makes it eco-friendly.
Design
One of the things to look out for in an appliance like a wine chiller is its style and finish. The finish will determine how conspicuous or how well the appliance will blend with the setting of the location.
It helps to know that the black reinforced glass door and cabinet can contribute to the aesthetics of a kitchen or wherever the unit is installed.
This wine chiller also comes with 3 chrome shelves that are well-sculpted. Each of these shelves is designed to dip in 3 different places across its width in order to fit the bottles in snugly and perfectly.
The fact that they are chrome shelves says a few things about durability and long-lasting use.
Energy-efficiency
Among others benefits highlighted by customers who are currently using this wine cooler is energy-efficiency. This is one factor that should be prioritized when looking out for a wine cooler.
This wine chiller runs at a low cost and doesn't bring maintenance issues with it. You don't have to worry that there'll be a spike in your electric bills that will warrant heavy bills.
Interior Lights
The interior lights make the wine display beautiful and conspicuous especially at night. What better way to show off your taste in wines than to have your bottles in a wine chiller that features a glass door and interior lights.
Portability
The Magic Chef 12-Bottle Wine Cooler is a perfect solution to the needs of wine lovers who have small spaces. In case you don't have sufficient floor space to have a large wine cooler installed, this portable one can be the problem solver.
You can choose to place it on a countertop, on a table, or under a cabinet.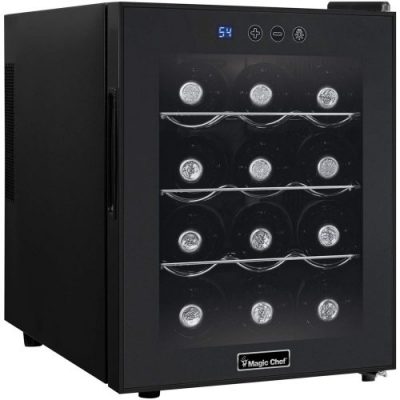 Click here to get it on Amazon!
Pros of The Magic Chef 12-Bottle Wine Cooler
i. Portable and space-efficient.
ii. Low energy consumption saves costs.
iii. Soft interior lights create a nice ambience.
iv. Suitable for small spaces.
v. Durable and adjustable chrome shelves fit 12 standard-sized wine bottles conveniently.
vi. Thermoelectric cooling minimizes vibration that may cause foaming or the wine contents to shake up.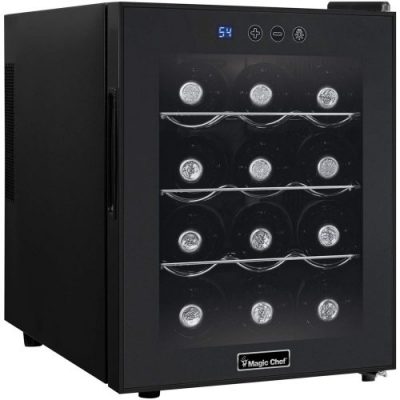 Click here to get it on Amazon!
Cons of The Magic Chef 12-Bottle Wine Cooler
i. There a few complaints that it makes beeping or humming sounds.
ii. Some customers also think 54 degrees Fahrenheit is too high for a minimum.
Check out these other in-depth articles…
Alternatives to the Magic Chef 12-Bottle Wine Cooler
Option with Wider Temperature Range
Ivation 12-Bottle Thermoelectric Wine Cooler
This 12-Bottle Wine Cooler by Ivation is one that is suitable for red wines and white wines. So, if your major challenge with the featured product is its temperature range, then you may want to give this one a try.
It boasts a stable temperature range of 50 degrees to 64 degrees Fahrenheit so that you can enjoy your favorite red and white wines at the perfect temperature.
What's more? It promises to help your wines age well and consistently. You also get to control the temperature at which the wines are chilled while displaying the operating temperature digitally.
The design and sturdy construction of the door is not just a winner in durability but it prevents odors, maintains constant humidity and blocks out harmful UV rays that may damage the wines.
It costs at least 30 more bucks than the featured product. But think of it that this may be the 12-bottle wine cooler you've been looking for after all.
Click here to get it on Amazon!
More High-End Option
Koldfront 18-Bottle Dual Zone Wine Cooler
The reason this wine cooler made it as an alternative to the featured product is that it has a larger capacity and it is a dual zone wine cooler.
It features 2 wooden shelves in each of the zones and these shelves can be removed to accommodate larger bottles. Ideally, the setting is for 750ml Bordeaux Bottles that measure 2.75 inches in diameter. But, if you are looking to add larger bottles then it will be necessary to remove at least one shelf.
Temperature control is also easy peasy with the buttons and LCD screen.
You can only install this unit as a freestanding unit, but rest assured that it will take only a little of your floor space.
Also, if you are that person who prioritizes the safety of his or her bottles, then you'll be pleased to learn that this unit comes with a safety lock for that purpose.
Would you prefer this wine cooler? Yes? Then we suggest you read this in-depth review of the product to learn more about it.
Click here to get it on Amazon!
Larger Capacity
Whynter 20-Bottle Wine Cooler 
This wine cooler has a larger capacity than the featured product. This translates to space for 8 more standard-sized wine bottles.
The black tinted glass door and the sleek cabinet make this wine cooler appealing to the eyes irrespective of where it is installed.
You can choose to have it on a countertop, under a counter, or anywhere you deem perfect for you. Only thing is that it can't be installed as a built-in unit.
It also features 5 high-grade stainless steel chrome shelves that are also scalloped to fit each wine bottle in. That way, the wine bottles won't roll and hit each other but will be properly spaced.
For a single zone wine cooler that has a temperature range of 46 to 65 degrees Fahrenheit, this wine cooler is perfect for storing red or white wines and champagne bottles. You should really consider it, especially if the storage capacity is what you've been looking for.
Click here to get it on Amazon!
Quick Comparison
Featured Product
Wider Temperature Range
More High-End
Larger Capacity
Product

Magic Chef 12-Bottle Wine Cooler

The Ivation 12-Bottle Thermoelectric Wine Cooler

Koldfront 18-Bottle Dual Zone Wine Cooler

Whynter 20-Bottle Wine Cooler With Tinted Glass Door

Dimensions
14.2 inches x 20.1 inches x 19.0 inches
26 inches x 21.3 inches x 11.4 inches
22.25 inches x 25.33 inches x 14 inches
20.5 inches x 15.79 inches x 22 inches
Capacity
12 Bottles
12 Bottles
18 Bottles
20 Bottles
Zoning
Single Zone
Single Zone
Dual Zone
Dual Zone
Cooling System
Thermoelectric
Thermoelectric
Thermoelectric
Thermoelectric
Installation Type
Freestanding
Freestanding
Freestanding
Freestanding
Available Sizes
12-Bottle
12-Bottle

18-Bottle

24-Bottle

18-Bottle
20-Bottle
Shelves
3 Chrome Shelves
5 Chrome Shelves
2 Wooden Shelves (each zone)
5 Stainless Steel Chrome
What Users Are Saying About The Magic Chef 12-Bottle Wine Cooler
Now to the general consensus on this wine cooler. The word out there is that it is a good wine cooler to have in spite of its downsides.
On the good side, some customers thought the temperature range was suitable for their wines. Yet, some others thought the minimum was too high. As a side note though, it helps to keep in mind that most thermoelectric wine coolers may not be able to meet up with every preferred temperature range out there. Dual zone coolers, on the other hand, are better suited for a wide range of preferences.
There were also references to the capacity. With 3 chrome shelves in the unit, 12 standard-sized bottles can fit in. However, in cases were larger bottles had to be placed in the unit, removing the bottom rack was the recommended resolution to the issue.
The glass door and interior lights also got a few customers talking. They thought it was just fine the way the lights glowed and their bottles could be seen through the glass door.
On the flip side, there were a few complaints about the unit being a little noisy. We are not sure why this was so because we had some customers who clearly stated that this wine chiller was quiet.
Check out these other articles…
Our Verdict
The Magic Chef 12-Bottle Wine Cooler, in our opinion, does what it says it can do. We can point to its storage capacity that is able to house 12 standard-sized bottles and also talk about the removable chrome shelves that allow storage flexibility.
The temperature range of this wine cooler which is 54 degrees Fahrenheit to 66 degrees Fahrenheit is good enough for red wines and beers. It is also able to bring the wines to a perfect serving temperature.
With the temperature range also comes the control. The plus and minus signs on the wine cooler make it easy to control the chilling and, ultimately, the serving temperature.
That said, it is tempting to give this wine cooler a second thought because of the comments on its noise level. While thermoelectric coolers are quieter than the compressor models, it is not uncommon to see thermoelectric models that are produce sounds.
Nonetheless, most of the customers said the wine cooler was quiet and if it made any sounds, the sounds could be ignored. So, considering the benefits, we think this wine cooler may be worth trying after all.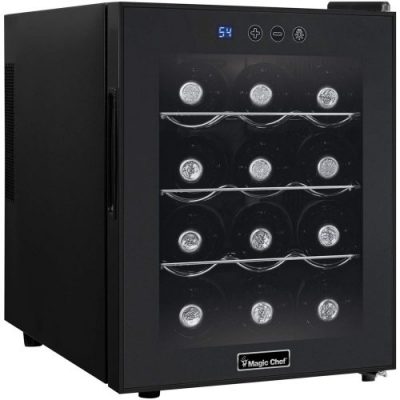 Click here to get it on Amazon!