The Magic Chef 6-Bottle Wine Cooler is a product manufactured by a brand called Magic Chef.
So, the name, Magic Chef, was introduced for the very first time in 1929. But prior to that time, a group of relatives had come together to establish a tin shop and a stove company; both of which became really popular. Soon after that, 8 different stove companies got into the industry and eventually merged into one company called the American Stove Company. 12 years had gone by when the company name was changed to Magic Chef Inc.
A couple of mergers and acquisitions later, MCA bought Magic Chef from Whirlpool because it saw the brand's potential and its dedication to customer satisfaction. By then Magic Chef's line of products had gone on to include compact refrigerators, microwaves, and a couple of kitchen appliances.
Today, Magic Chef lays claim to product development, market initiatives, and customer satisfaction as its business drivers. This is why it is big on creating convenient and dependable products for its customers' benefit.
Read our review on its 6-Bottle Wine Cooler to see if Magic Chef truly delivered on its claims.
Who Needs The Magic Chef 6-Bottle Wine Cooler
The Magic Chef 6-Bottle Wine Cooler is suitable for anyone who loves wines and is in need of a good storage appliance for a few bottles.
Its portability also makes it suitable for wine lovers who do not have the space to store a large cooler.but love the pure joy that comes with having their own wine cooler.
It is also designed to sit on counter tops without altering the design of the kitchen. The black finish of this wine cooler makes it blend well into most kitchen settings. You also won't have to worry that it will be too conspicuous.
And even though it is perfect for counter tops, this wine cooler can also fit into any space that you have. Because it doesn't weigh so much, you may even to choose to place it on a desk or on another appliance.
Moreover, if you are an avid wine collector, who likes to collect a few bottles at a time, then this wine cooler may just do the job well for you.
Of course, you will need to bear in mind that the maximum number of bottles that this wine cooler can store per time is 6.
Click here to get it on Amazon!
Features Of The Magic Chef 6-Bottle Wine Cooler
Portability
One of the features of the Magic Chef 6-Bottle Countertop Cooler is its portability. It is specially designed for countertops.
So think about any place where a counter can be. The list of possible locations will include, kitchens, bars, and restaurants.
The size also makes it easy to fit into any space.
For starters, if you are having trouble creating floor space for a 6-bottle wine cooler, this one is designed to deal with it. Plus, not everyone likes to have freestanding units strewn around the place. If you are one of such people, then this cooler may appeal to you.
The other way the size benefits the user is that moving it will usually come easy. So, say you want to change the location of the Magic Chef 6-Bottle Wine Cooler, it promises to be hassle-free.
Cooling Efficiency and Temperature Control
One of the things users look out for in wine coolers is temperature control. Being able to determine the temperature at which your wine is cooled should ideally be music to your ears. Thankfully, this wine cooler is able to deliver in this regard.
That said, the temperature can be set to any degree between 46 degrees Fahrenheit and 64 degrees Fahrenheit. That's a good range to store your wines, don't you think?
The only challenge is that unlike wine coolers that come with inbuilt digital temperature display, this one has no way of telling you when you've arrived at your preferred temperature.
It is also good to know that this portable cooler by Magic Chef does't vibrate and is not noisy.
Lights
When it comes to wine coolers, especially the ones with glass doors like this one, lights are necessities.
The Magic Chef 6-Bottle Wine Cooler also comes with lights. And they are LED. They also stay on all the time till a replacement is necessary; which doesn't happen so frequently.
The lights will make the wine bottles visible irrespective of the location of the wine cooler. They also add aesthetic value to how the bottles are displayed.
Shelving
This wine cooler comes with chrome-plated racks that are removable. The idea of the racks being removable is that you can customize the bottle arrangement.
So, while the wine cooler is designed to hold six bottles in its default arrangement setting, the racks can be removed to allow big bottles that may not fit in well.
But note that doing that may reduce the number of bottles that can fit in.
Click here to get it on Amazon!
Pros Of The Magic Chef 6-Bottle Wine Cooler
i. Portable and easy to carry.
ii. Perfect for counter tops.
iii. Adjustable temperature control allows optimal and preferred serving temperature.
iv. Soft interior LED lights.
v. Removable chrome shelves allow customized arrangement.
vi. Chrome shelves are removable.
Click here to get it on Amazon!
Cons Of The Magic Chef 6-Bottle Wine Cooler
i. Doesn't indicate temperature.
ii. Some customers thought the control knob was quite small to grip.
Check out these other in-depth articles…
Alternatives To The Magic Chef 6-Bottle Wine Cooler
Option With Temperature Indicator
Costway 6-Bottle Thermoelectric Wine Cooler
Just as we mentioned earlier, the featured product doesn't have an inbuilt temperature indicator. If you are particular about this feature and think it's a necessity, then the 6-Bottle Thermoelectric Wine Cooler with Touch Control by Costway should interest you.
It features a digital display and an adjustable temperature indicator with touch control. It also has the same capacity and cooling system as the featured product.
Apart from that, this wine cooler is perfect for countertops, tables, and even floor spaces.
Only thing is, you'll need to be able to spare an extra $20 to get this particular product. That's the difference in price between the two products. This is where you need to decide if the difference is justified and you don't mind going for a refrigerator thermometer.
Click here to get it on Amazon!
Double Capacity
NutriChef 12-Bottle Thermoelectric Wine Cooler
This product boasts a larger capacity with flexible storage features to accommodate larger wine bottles. With the way the interior is, you can even have a few bottles in upright positions. The wine cooler also features a sleek design that will add a touch of elegance to your space any time.
What's more, the Costway wine cooler has an air-tight, double-pane glass door and beautiful lights to make an appealing display of your wine bottles.
Installation options also vary. You can choose to place it on a counter top or table, under a counter, or even on the floor.
We also learned of its chilling efficiency with red wines and white wines. Please note that these wines are stored at different times and not at the same time. Only dual-zone coolers can do that.
You should check out our next alternative for a dual zone option.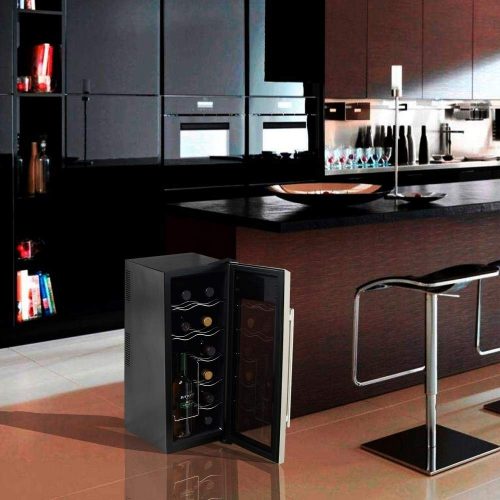 Click here to get it on Amazon!
Dual Zone Option Check
Koldfront 18-Bottle Dual Zone Wine Cooler
What makes a dual zone wine cooler so is that the cooler features two sections that operate within separate temperature ranges. The idea is to be able to store wines at different temperatures in the same unit.
The Koldfront 18-Bottle Dual Zone Wine Cooler features an upper section with a temperature range of 45 to 54 degrees Fahrenheit and a lower section with a temperature range of 54 to 64 degrees Fahrenheit.
So, you can have a particular type of wine in one section and another type in another section in order to achieve the perfect chilling and serving temperatures.
If you are considering collecting red wines and white wines, then this is an option worth considering.
The 18-bottle capacity of this wine cooler also makes it more attractive and worth considering. Think of the different bottles and wine types you can store up in this unit. Plus the racks are adjustable to accommodate bottles that are larger than Bordeaux bottles.
Click here to get it on Amazon!
Quick Comparison
Featured Product
Temperature Indicator Option
Double Capacity Option
Dual Zone Option
Product

Magic Chef 6-Bottle Wine Cooler

Costway 6-Bottle Thermoelectric Wine Cooler 

NutriChef 12-Bottle Thermoelectric Wine Cooler

Koldfront 18-Bottle Dual Zone Wine Cooler

Dimension
13 inches x 23 inches x 18 inches
20.1 inches x 9.8 inches x 14.5 inches
9.9 inches x 19.7 inches x 25 inches
19.4 inches x 13.6 inches x 26.2 inches
Capacity
6 bottles
6 bottles
12 bottles
18 bottles
Zoning
Single Zone
Single Zone
Single Zone
Dual Zone
Cooling System
Thermoelectric
Thermoelectric
Thermoelectric
Thermoelectric
Installation Type
Freestanding
Freestanding
Freestanding
Freestanding
Available Sizes
6-Bottle
6-Bottle

8-Bottle

12-Bottle

12-Bottle
18-Bottle
Shelves
2 Chrome shelves
5 Steel shelves
5 Chrome shelves
4 Chrome shelves
What Users Are Saying About The Magic Chef 6-Bottle Wine Cooler
The general consensus on the Magic Chef 6-Bottle Wine Cooler is that it is a good product.
According to the customers, among the major benefits of having this wine cooler, is that it is space-efficient and perfect for small spaces. Plus, word has it that it does the cooling quite well.
There are a number of mentions on the LED light too. Some of the users said the light added a cool and nice ambiance to the wine display.
All that said, there were a few comments about the racks not being spaced enough to hold large bottles. But what do you expect from a portable 6-bottle wine cooler like this one? Thankfully, the removable shelves make it easy to adjust the arrangement so that bigger bottles can fit in.
While we are on the drawbacks, one notable issue with this wine cooler, as many customers pointed out, is that there was no way to tell the particular temperature at which the wine was cooling. So, to deal with this issue, a good number decided to get themselves digital refrigerator thermometers.
Check out these other articles…
Our Verdict
Our thoughts on the Magic Chef 6-Bottle Wine Cooler are: functional, portable, and durable; which are major things to consider in wine coolers – especially the small ones.
However, the lack of a digital temperature indicator may be a reason to take a point out of 10 from this wine cooler. We think having one is not too much to ask for in a wine cooler. But again, we had to zero in on the price to say, 'maybe it's ok not to come with one'. So we give a quarter point back.
Nonetheless, we had a few concerns about the noise level. A few customers also pointed this issue out.
The noise level, as some said, was too loud. We, however, found out that the culprit was the fan inside the wine cooler. And while 'loud' may be relative to users, we think that the sound that comes from this unit is not unbearable.
Conclusively, considering the price and the features that this wine cooler offers, we think it is worth the price. If you think so too or have other reasons why you should get the Magic Chef 6-Bottle Wine Cooler, then go get your already.
Click here to get it on Amazon!