Is your Samsung refrigerator flashing or blinking and you are wondering what it means? Read this article to learn more.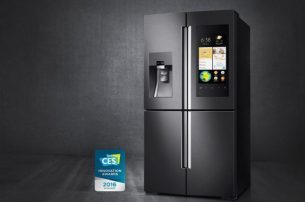 Samsung Freezer Temperature Flashing – What to Do
If the temperature display of a Samsung freezer is flashing or blinking, check the power supply to the unit to ensure it is enough. Adjust the power cord and ensure it is plugged into a dedicated power outlet, not an extension cord.
Also, check the door to see if it is open. Open and close the door to ensure it seals tightly. And if the seal is not working properly, replace it.
The flashing temperature display is an alert that the temperature inside the freezer is high and needs to cool down. Until the temperature drops, the flashing will continue. This means that it automatically resets itself when the temperature inside the freezer is cool enough.
Note: The same steps apply to a Samsung fridge or refrigerator with flashing temperature display. Check the temperature inside the unit to determine if it has risen.
Samsung Refrigerator Flashing 88 98 – Quick Fix
Press the power freeze button and the energy saver button simultaneously and hold them for about 10 seconds. This resets the error on the display.
Another option for resetting is to press the power cool button and power freeze button at the same and hold them for about 10 seconds.
Yet another option is to press the alarm button and the power freeze at the same and hold them for about 10 seconds to reset the control board and clear the error code.
If pressing any of these button combinations does not reset the error, check the display board. It could be damaged. Replace it if it is. But if it is working fine, check the main control board and replace it if it is damaged.
When you see this error code on the display, it means there is an error in communication between the main control board and the display board.
However, if you cannot check and replace the boards, contact Samsung for assistance. You can also contact an independent repair agent if you would rather go that way. Chat with any of our appliance technicians for expert advice.
Don't go any further with repairs so that you don't cause any more damage to the unit, especially if it is still under an active warranty.
Quick Note
Stop! Before you begin diagnosing or fixing, unplug the refrigerator or freezer from the wall socket. And if you cannot reach the socket, shut off the circuit breaker. This is an important first step when repairing an appliance, in order to prevent electrocution.
Check out these other articles…
Need expert help? Click here to use the chat box on this page to speak with a verified appliance technician right away. No need for expensive in-home service calls. No appointments. No waiting.