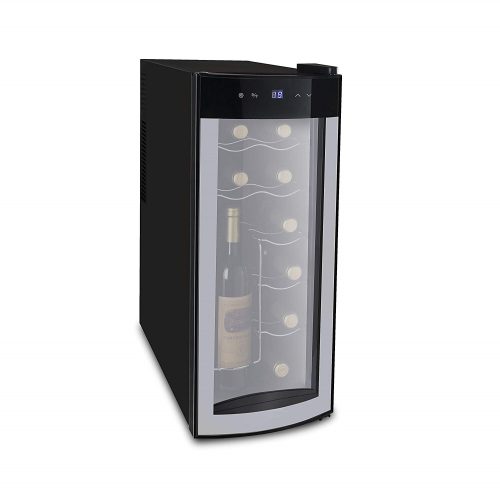 Igloo is a leading manufacturer and producer of some the popular home appliances in the market. In this complete review of the Igloo 12-Bottle Wine Cooler with Curved Door, we will let you in on all you need to know about the product.
But first, let's give you a little background on the brand, Igloo.
Igloo was established over 70 years ago as one of the regular metalworking shops at the time. From that time till date, word has it that this brand has been striving to redefine how men and women all over the world can get the best out of life.
So, whether you are working, playing or simply just living life, Igloo says it can redefine how you do what you do. And that is irrespective of the product you choose from its extensive range.
Of course, the brand name gives an idea of the kind of products it manufactures. But just so you know, Igloo seems to be one of those brands that promise to give you utmost satisfaction with cooling appliances. So, it could be a wine cooler, a refrigerator, an ice chest or anything that is designed to keep food, drinks and pharmaceutical products cool. Igloo says it's got you.
But let's find out if we can trust Igloo's word on the Igloo 12-Bottle Wine Cooler with Curved Door.
Who Needs The Igloo 12-Bottle Wine Cooler with Curved Door
One of the striking features of the Igloo 12-Bottle Wine Cooler with Curved Door is its stylish design. It comes in a black cabinet and features a curved glass door that brings a good dose of aesthetic value to whatever space you install it in.
This is a feature that you may find appealing if you are big on the design and style of appliances that make it to your space.
And speaking of space, this wine cooler is also compact and portable. This means you can have it installed in any space of your choice. For instance, if the reason that you are shopping for a 12-bottle wine cooler is that you are looking to find something that can blend into a small space, then this is one wine cooler you may want to consider.
It can sit on a counter, under a cabinet, on a table, or even on the floor. So, if you share an apartment, need a wine cooler in your dorm or in your studio, this may be the wine cooler you've been looking for all along.
But before we get ahead of ourselves, we will let you in on the features that this product offers, its pros and cons, and we will help you find out if this is the best wine cooler for you.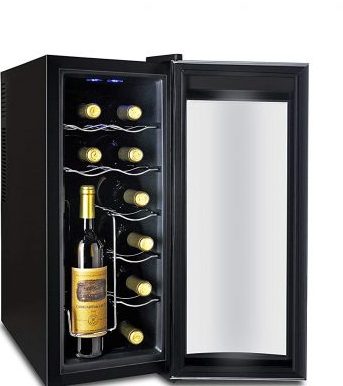 Features Of The Igloo 12-Bottle Wine Cooler with Curved Door
Storage Style
The Igloo 12-Bottle Wine Cooler with Curved Door is designed to store 12 standard-sized bottles. No more. Oh, of course, it could store less. But that's not the point here.
We should start by pointing out how flexible storage is with this unit. With 2 full wire shelves and 3 half wire shelves, storing your favorite 12 bottles promises to be hassle-free.
However, you can also switch things up a bit.
Here's how: the design of this wine cooler allows you to have some bottles in an upright or vertical position.
But what has that got to do with anything?
Well, for one, except you are a voracious drinker or you have a lot of people around to share a bottle of wine with, we don't think you can down a bottle of wine in one sitting or in a day (but we like discoveries though *winks*).
So, say you open a bottle of wine and you still have some of the wine left. Being able to store up to 4 bottles in an upright position will mean you can put that opened bottle back in the wine cooler to preserve the remaining content. This way, you don't risk a change in the taste of the wine.
Also, one reason that champagne bottles can't be stored in a horizontal position is eliminated when they are placed in upright positions.
Temperature Control
Another thing we noted about this wine cooler is the fact that it gives the user control over the temperature. With a temperature range of 46 to 64 degrees Fahrenheit, red wines and white wines can make their home in this unit without issues.
Being a thermoelectric cooler, it goes without saying that the operating temperature of this unit depends on the temperature of the room where it is installed. Usually, the lowest that an average thermoelectric cooler can go will be 20 degrees below the room temperature.
But the Igloo 12-Bottle Wine Cooler can get to 46 degrees comfortably and maintain that temperature while it cools your wines.
Adjusting it is made easy with the electronic control on the door. You can also tell the operating temperature from the temperature indicator on the door. So you may not need a separate thermometer to get the job done.
Shelves
Apart from the innovative design of this wine cooler, we also love that the shelves are adjustable. It means cleaning and maintaining the unit will be easy and straightforward. All you need to do is to bring out each shelf, clean it with a damp cloth and return it into the unit.
The other reason adjustable shelves are useful is that larger than standard-sized bottles can also fit into the unit when you take a rack out.
In this case that rack is likely going to be the bottom rack.
Soft Interior LED lights
You may also like the soft blue glow that makes wine bottles in this unit visible through the curved glass door.
The lights as well as the curved door make the wine cooler look sophisticated and appealing. But much more, the illumination makes it easy to see what is in the wine cooler without having to open the door.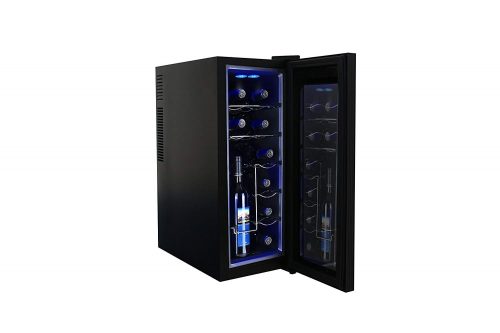 Click here to get it on Amazon!
Pros Of The Igloo 12-Bottle Wine Cooler with Curved Door
i. Features vertical storage for open bottles and bottles with large diameters.
ii. Electronic temperature display and control.
iii. Stylish and sophisticated design.
iv. Adjustable shelves for easy cleaning and flexible storage.
v. LED lights for illumination.
vi. Vibration free to avoid disturbing bottle sediments.
vii. Low noise level.
viii. Retains temperature settings after blackouts.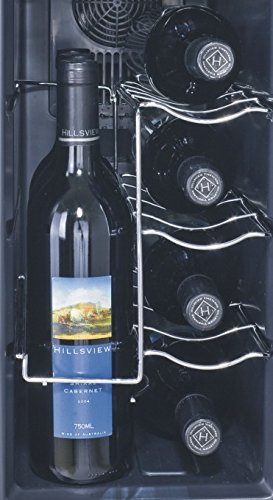 Click here to get it on Amazon!
Cons Of The Igloo 12-Bottle Wine Cooler with Curved Door
i. Some customers wish it could take larger bottles like the Pinot bottles
Check out these other in-depth articles…
Alternatives to The Igloo 12-Bottle Wine Cooler with Curved Door
Smaller Capacity
Haier 6-Bottle Wine Cooler
Have you considered your space and thought about opting for a smaller unit? Or are you thinking of a small wine collection for starters or just for the fun of it? We think you may like the 6-Bottle Wine Cooler by Haier.
This wine cooler costs less than the featured product but does what it says it can do.
For instance, since you may be considering it because of space constraints, you may like the fact that it is portable and perfect for counters. Still on how portable it is, this wine cooler has a recessed hand that opens up the unit with ease.
It also features a temperature range that allows you to store either red wines or white wines. What's more? You get to control and read the temperature with the touch buttons and from the display screen.
You may want to read our extensive review of this product here to learn more about it.
Click here to get it on Amazon!
Larger Capacity
Whynter 20-Bottle Thermoelectric Wine Cooler
The Whynter 20-Bottle Thermoelectric Wine Cooler with Black Tinted Door is a bigger wine cooler that offers storage space for 20 standard-sized wine bottles.
This unit comes with 5 removable chrome shelves that are trimmed with stainless steel. You can take out one or more shelves if you have larger bottles that will not fit into the unit in its default shelf arrangement.
It also features soft LED light inside that can be turned off whenever you like. The lights make the bottles visible and the collection appealing to customers or guests.
You may want to consider this single zone wine cooler for your personal or commercial bar.
Click here to get it on Amazon!
More High-End Option
Phiestina 29-Bottle Dual Zone Wine Cooler
The reason we recommend the Phiestina 29-Bottle Dual Zone Wine Cooler as a high-end option is that it is a dual zone wine cooler that can be installed as a freestanding unit or a built-in unit. So, it is truly a chilling box of options for the avid wine collector.
This compressor wine cooler comes with 5 removable steel shelves that can accommodate 29 wine bottles.
We absolutely love the fact that the space between each rack is enough to hold regular bottle sizes and the bottom layer is quite wide that bottles can be stacked on each other.
The lower compartment can also be used to store large bottles like pinot bottles. So, it's an invitation to go to town with your taste in wines.
Each of the cooling zones of this unit has a display screen and control buttons to set the temperature to your preferred degree. The idea is so that you are not held back from storing the kind of wine that you love.
White wines can be stored in the upper zone where the temperature is between 40 and 50 degrees Fahrenheit, while red wines can be stored in the lower zone where the temperature is between 50 and 66 degrees.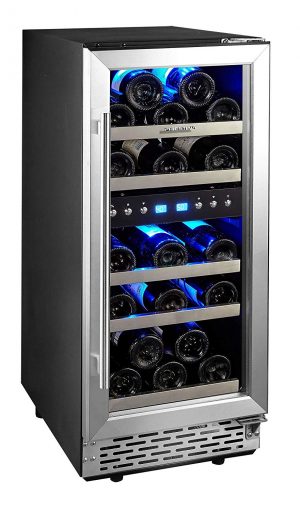 Click here to get it on Amazon!
Quick Comparison  
Featured Product
Affordable Option
Compressor Model Option
More High-End Option
Product

Igloo 12-Bottle Wine Cooler with Curved Door

Click here to get it on Amazon!

 

Haier 6-Bottle Wine Cooler

Whynter 20-Bottle Thermoelectric Wine Cooler

Phiestina 29-Bottle Dual Zone Wine Cooler

Dimensions
20.2 inches x 25.2 inches x 10 inches
14.1 inches x 20.3 inches x 9.9 inches
20.5 inches x 15.79 inches x 22 inches
22.4 inches x 14.9 inches x 33.9 inches
Capacity
12 Bottles
6 Bottles
20 Bottles
29 Bottles
Zoning
Single Zone
Single Zone
Single Zone
Dual Zone
Installation Type
Freestanding
Freestanding
Freestanding
Freestanding or Built-in
Cooling Technology
Thermoelectric
Thermoelectric
Thermoelectric
Compressor
Available Sizes
12-Bottle

 

 

6-Bottle

8-Bottle

12-Bottle

16-Bottle

18-Bottle

20-Bottle

 

29-Bottle
Shelves
2 Full Wire Chrome Shelves

3 Half Wire Chrome Shelves

2 Chrome Shelves
5 Stainless Steel Chrome Shelves
5 Chrome Shelves
Color
Black
Black
Black
Stainless Steel
What Users Are Saying About The Igloo 12-Bottle Wine Cooler with Curved Door
The general consensus on the Igloo 12-Bottle Wine Cooler with Curved Door is a good one for the most part.
A lot of the good remarks about this wine cooler is on the innovative design. The fact that you can have an open bottle in the unit so that you can preserve the taste was a major highlight for some users. Plus the design also allows champagne bottles fit in.
Another important point that has been made so far is the temperature control.
In spite of the operating temperature's dependence on the room temperature, some customers said they appreciated the fact that the unit maintains set temperatures. And in fact, cases where there was a power outage, the setting where retained after the power was restored.
Adjustable shelves are also features that got high scores because they make cleaning easy and storage a little more flexible.
The only seeming drawback of this wine cooler is that some bottles don't fit into the unit. For instance, it was observed that Pinot bottles don't fit in. If any, maybe just one.
But you don't expect a wine cooler to take wine bottles of all sizes do you? Well, we don't think it is possible.
Check out these other articles…
Our Verdict
We think that the Igloo 12-Bottle Wine Cooler with Curved Door will make a good addition to kitchens, offices and other personal spaces. It is affordable, functional, stylish, and durable.
For a wine cooler that sells at its current price, we think that buying it will be a good investment. We are glad that the promises Igloo made on this wine cooler were met and not just mere talk.
The design is one thing we love about this unit. The fact that it stands out without being uncomfortably conspicuous is one reason we would recommend it to someone who needs a 12-bottle wine cooler. That's also not forgetting that it allows bottles in horizontal and vertical positions.
Being able to store both red and white wines in it is also worth mentioning. What's more? It also maintains set temperatures and retains temperature settings. We thought you should know that this is not very common with wine coolers within the same price range as this featured product.
All that said, here's our verdict: the igloo 12-Bottle Wine Cooler with Curved Door is truly a great product.
Click here to get it on Amazon!