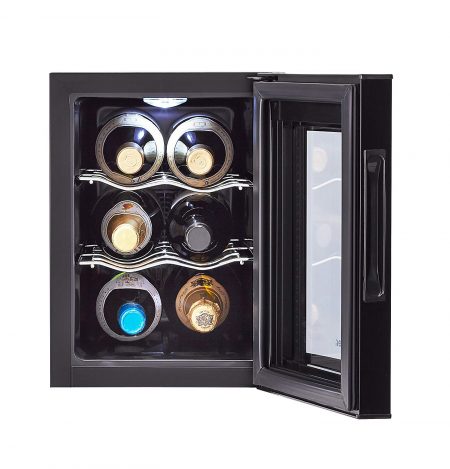 The Haier 6-Bottle Wine Cooler is a product manufactured by one of the world's leading electronic brands, Haier.
Haier is renowned for its outstanding efforts in transforming a company that was once at the edge of bankruptcy to a multibillion-dollar brand that is now both a household name and a leading manufacturer of home appliances.
The award-winning company is also known all over the world for its remarkable innovations as well as its management solutions.
If you are looking for that smart appliance to get that home job done, then you should check Haier's extensive range of products.
We love brands like Haier that go all out in research and investment to improve the quality of life of their customers. This is why we recommend its 6-Bottle Wine Cooler.
But don't just take our word for it. We suggest that you read this review to make a well-informed decision.
Who Needs the Haier 6-Bottle Wine Cooler?
The wine collector who wants a suitable cooling appliance for a few wine bottles will love the features that the freestanding Haier 6-bottle Wine Cooler offers.
We should mention that this wine cooler comes in different capacities from the 6-bottle cooler to the 18 bottle cooler which comes as a dual-zone cooler. So, it is likely that you will find something that caters to your storage and cooling needs.
If you are a wine collector who likes to store a few bottles at a time, then you'll find this wine cooler useful.
Bar owners who run small businesses and offer wines and beverages to their customers may also choose to beef up their sales with this wine cooler.
It is perfect as a countertop appliance. So, you can have it at the front counter and also take advantage of the fact that its interior light will display your collection in such a way that it appeals to your customers.
And just so you know, Haier says this 6-bottle wine cooler is an ideal chiller for preserving the taste of red wines or white wines.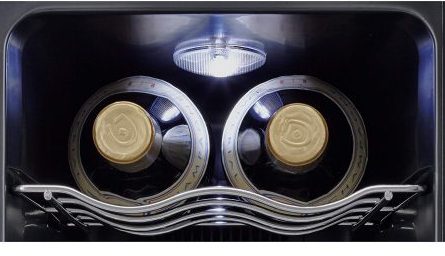 Click here to get it on Amazon!
Features of the Haier 6-Bottle Wine Cooler
Design
The Haier 6-Bottle Wine Cooler is perfect for any location, including your countertop. If you are worried about floor space that you don't have to spare, then this wine cooler will be happy to sit on your countertop.
And just as we mentioned earlier, it could make an excellent addition to your personal or commercial bar. The black finish of this cooler and its double-paned glass doors add that touch of elegance and exquisiteness to any space. So, your visitors and customers will find it hard to miss this one.
If you are looking for an effective way to show off your wine collection of 6 bottles, then this will be perfect for you.
However, because it is a freestanding unit, you will be required to allow at least 2 inches of space around it (including the rear) and 4 inches on top.
Temperature Control 
This 6-bottle wine cooler is also quite user-friendly. It features an LED electronic display that gives users temperature control. The display screen is also easy to read and program as you like. You can conveniently set the cooling temperature of the chiller to store red wines or white wines.
As you may already know, these two wines should never be stored at the same temperature or they'll get damaged.
So, having control over the temperature settings helps you decide, per time, what type of wine you want to store without the risk of damaging your collection.
Interior Light
Of what use is a wine chiller that displays your wine collection only during the day? Not so useful, if you ask us. This is why we like the fact that this wine cooler features a soft interior light that casts a beautiful glow on the bottles.
This feature puts your bottles in the spotlight and makes it easy for viewers to get a sneak peek into your collection; even at night.
 Cooling Efficiency
The Haier 6-bottle Wine Cooler uses a thermoelectric cooling system. So, there are no compressors. This means minimal vibration and noise when compared to the compressor models.
It is not just the quietness of this wine chiller that appeals to the wine lover, but the fact that the absence of vibrations eliminates the chances of having bubbles in your wines.
More so, wine coolers with this type of cooling system tend to be reliable. They also require low maintenance.
There's no way we could miss how environmentally-friendly this cooler is; especially because it doesn't use refrigerants like chlorofluorocarbons (CFC).
Mobility 
The portability of this unit is a reason customers love it. The fact that it is also lightweight is another reason some recommend it. This means moving it from one point to another won't tell on your arms or back.
So, in the event that you need to move it into a new apartment, using a trolley may not even be necessary at all.
Now, oftentimes, lightweight appliances like refrigerators don't readily appeal to some customers because the mind tends to read 'lightweight' as 'flimsy'. But the good thing is, this cooler is made from durable materials that make it sturdy and durable.

Click here to get it on Amazon!
Pros of the Haier 6-Bottle Wine Cooler
i. Energy-efficient.
ii. Lightweight and sturdy.
iii. Cooling technology eliminates vibrations and noise.
iv. User-friendly electronic display is easy to read and program.
v. Soft blue interior light makes viewing easy and does not affect wine taste.
vi. Single zone temperature control (46 to 66 degrees Fahrenheit) allows the storage of red wines or white wines.
vii. Curved and insulated double-pane glass door provides full display of wine collection.
viii. Features 2 wire shelves for easy and proper bottle organization.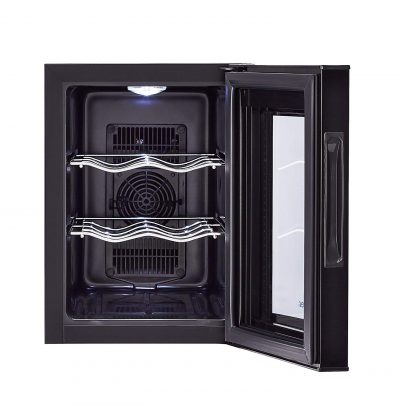 Click here to get it on Amazon!
Cons of the Haier 6-Bottle Wine Cooler
i. The feet at the bottom may come slightly uneven.
ii. The temperature doesn't go as low as some users would have loved.
Check out these other in-depth articles…
Alternatives to the Haier 6-Bottle Wine Cooler
More Affordable Option
Magic Chef 6-Bottle Countertop Wine Cooler
This is one wine cooler that is a lot like the Haier 6-Bottle Wine Cooler. These two wine coolers are alike in capacity, cooling system, rack type, and countertop feature.
So, if you are keen on the Haier Wine Cooler but your budget won't let you have it, then you should go for this Magic 6-Bottle Chef Wine Cooler. It costs less but offers about the same features.
And like some users have recommended, if you are having issues fitting in a large bottle, taking out the middle rack or any of the racks may be all you need to get the job done.
Like this wine cooler? Get more information about it in this in-depth review.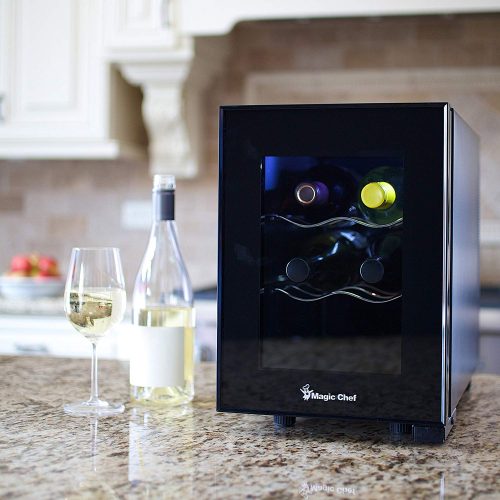 Click here to get it on Amazon!
Larger Capacity
Magic Chef 12-Bottle Wine Cooler
A number of customers would easily go for the Haier 6-Bottle Wine Cooler if it had a larger capacity. We factored that into our research just in case you wanted something like that as well.
Our search produced the Magic Chef 12-Bottle Wine Cooler. This wine cooler equally offers minimal vibrations and noise because of its cooling technology. Its sculpted doors and durable chrome shelves also make the unit appealing in any space you place it.
What's more? If you are working on a tight budget, it will please you to know that this unit also falls within the same price range as the Haier Wine Cooler. Talk about more storage at a slightly higher price.
You also get to control the operating temperature of this unit. This is really like the Haier 6-Bottle Wine Cooler with more capacity and a few differences here and there.
If you think this looks more like what you need, then we invite you to get detailed information in this detailed review.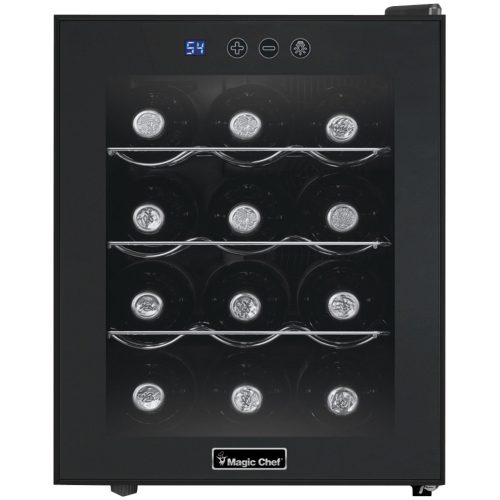 Click here to get it on Amazon!
More High-End Option
Koldfront 30-Bottle Single Zone Wine Cooler
We believe that more high-end should mean more features. This is why we recommend the Koldfront 30-Inch 30-Bottle Wine Cooler.
With two racking options and a capacity that is large enough to hold 30 wine bottles, this wine cooler promises organization and customized storage.
The normal racking feature allows 5 bottles on a shelf while the reverse racking option allows 6 bottles. So, you can decide on the kind of organization that maximizes storage based on your preference.
More so, this wine cooler runs on a compressor system so that the unit can hold up properly when the room temperature fluctuates.
We know compressor units tend to be noisy and vibrate more. Not to worry, you also get to enjoy features like a rubber bushing that absorbs the noise and vibration that the compressor is likely to produce.
Other features include its reversible double-paned glass door and adjustable temperature control.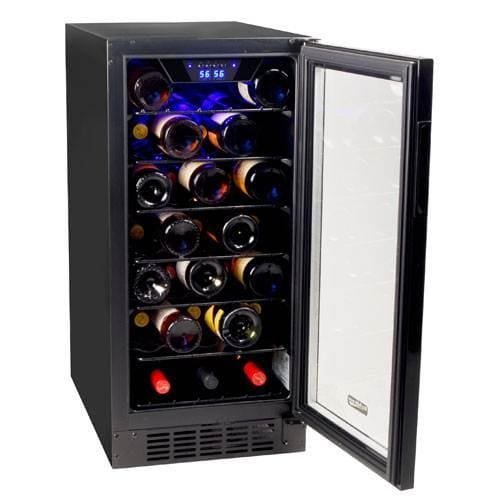 Click here to get it on Amazon!
Quick Comparison
 
Featured Product
More Affordable
Larger Capacity
More High-End
Product

Haier 6-Bottle Wine Cooler

Magic Chef 6-Bottle Countertop Wine Cooler

Magic Chef 12-Bottle Wine Cooler

Koldfront 30-Bottle Single Zone Wine Cooler

Dimensions
20.3 inches x 14.1 inches x 9.9 inches
13 inches x 23 inches x 18 inches
14.2 inches x 19.0 inches x 20.1 inches
23.7 inches x 15 inches x 32 inches
Capacity
6 bottles
6 bottles
12 bottles
30 bottles
Cooling System
Thermoelectric
Thermoelectric
Thermoelectric
Compressor
Zoning
Single Zone
Single Zone
Single Zone
Single Zone
Installation Type
Freestanding
Freestanding
Freestanding
Built-in or Freestanding
Available Sizes
6-Bottle

 

8-Bottle

6-Bottle
12-bottle
30-bottle
Available Colors
Black
Black
Black
Black
What Users are Saying about the Haier 6-Bottle Wine Cooler
Most customers who already own the Haier 6-Bottle Wine Cooler are glad to have it. In fact, some went to town with the kind of items they stored in it. The items include cheese, oils, lemonades, sparkling water, root beer, and in most cases, wines.
Of course, while there are tons of praises for the wine cooler, some of its drawbacks haven't gone unnoticed. For instance, there are a few complaints about the racks being too tight to hold some bottles.
We also read from some users about how they wished the operating temperature could go lower. But we think that customers with such complaints may be missing something.
Why do we say so? A particular customer initially had that problem and was on the verge of returning the cooler to the seller. But his wife, probably unknowingly, moved the unit from the wall and, voila, the temperature dropped by a whopping 7 degrees.
Moreover, we believe that if you stick to the rule of allowing ample clearance for freestanding units to vent hot air, you shouldn't have this issue.
That said, being a thermoelectric cooler, it was unsurprising to read from some customers that the cooler temperature seemed to fluctuate with the room temperature.
Check out these other articles…
Our Verdict
There are a few reasons not to love the Haier 6-Bottle Wine Cooler. It is perfect for kitchens and personal spaces where space constraint is a problem.
Without worrying about the lack of floor space, this wine cooler can sit perfectly on a countertop. Its interior lights make the wine bottles appealing to the eyes and easy to view.
Learning that it is a thermoelectric cooler gives the assurance of minimal vibrations and noise. Plus the absence of refrigerants like HCFC is good enough to vote it as an environmentally-friendly appliance.
Its temperature control feature which gives the user the privilege to store either red or white wines is another reason we love it.
Having said that, we wished the racks were a bit wider to accommodate at least one large bottle.
The fluctuating temperatures may also be another reason to hold back. Nevertheless, if the unit is installed in an insulated area, fluctuations are less likely to occur.
Also, to deal with the tight racks not being able to accommodate large bottles, the middle rack may also be removed to allow bigger bottles into the unit.
So, when it comes to the Haier 6-Bottle Wine Cooler, the pros outweigh the cons and we can deal.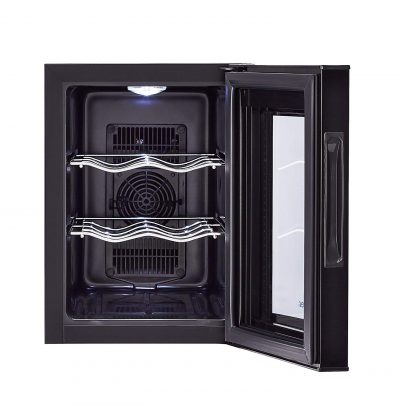 Click here to get it on Amazon!
Need expert help? Click here to use the chat box on this page to speak with a verified appliance technician right away. No need for expensive in-home service calls. No appointments. No waiting.