In this review of the Wine Enthusiast 12-Bottle Wine Cooler (Black), we will let you in on what you need to know about this wine cooler before you decide to buy it.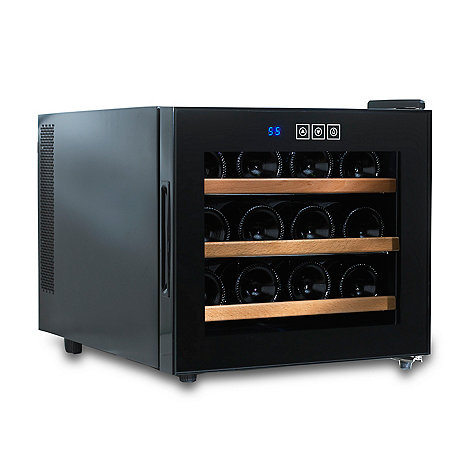 But, first, we'll like to give you a scoop on what we learned about the brand that produced this wine cooler.
The brand, Wine Enthusiast was born about 40 years ago by then newlyweds Adam Strum and Sybil Strum. Adam had been a wine salesman at the time – a pro at that. Sybil had been working as a TV personality at the same time. But among other things, the couple had one thing in common – a love for all things wine and beautiful.
But that's not even what started Wine Enthusiast. At the time, Adam and Sybil found out that the finest of wine accessories were only available to a select few – the professionals.  The average wine lover couldn't lay claim to an accessory that he or she needed.
This was what convinced the couple to start the Wine Enthusiast; a brand that will manufacture these accessories and make it available to those who need it at an affordable price.
At the end of their first year in business, they had made 100 successful deliveries. But that number was going to be one of the smallest as the brand has gone on to become a household name today.
Erika and Jacqueline, daughters of the founding couple are sustaining the legacy that their parents built today.
Come with us and let's learn more about Wine Enthusiast's black 12-bottle wine cooler.
Who Needs The Wine Enthusiast 12-Bottle Wine Cooler (Black)?
The Wine Enthusiast 12-Bottle Wine Cooler (Black) has a 12-bottle capacity. And that's obvious. But it is important to note that this isn't a one-size-fits-all wine cooler.
Here's how we mean:
Wine Enthusiast has been clear enough on the fact that this wine cooler is only able to fit up to 12 wine bottles in if the wine bottles are the standard 2.75-inch bottles that are not longer than 12 inches.
This means this wine cooler will be suitable for someone who plans to store the regular wine bottle sizes in the unit.
Also, the compactness and portability of this wine cooler make it the kind of wine cooler that someone with space issues may consider. Users can place it on the floor, on a table, or on a counter provided there's a power source close by and ample space for proper air circulation.
We should also mention that this wine cooler has a temperature range of 50 to 66 degrees Fahrenheit. This important piece of information could be vital in making a decision especially based on the type of wine that you want to cool in it. You need to be sure that your preferred temperature for the wines that will be going into this wine cooler falls within its temperature range.
So, is this something you may want to consider? Let's say a few things about the features of this product. You will be in a better informed before you make a decision by reading this.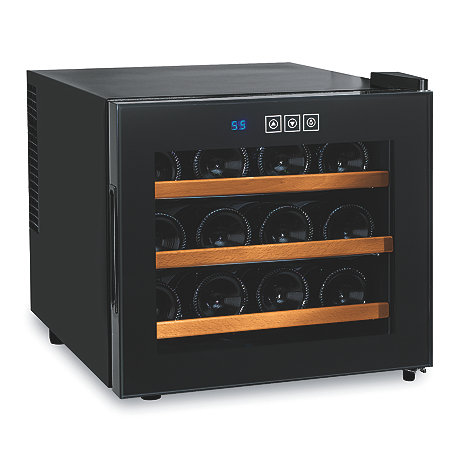 Get the Wine Enthusiast 12-Bottle Wine Cooler (Black) Now!
Features Of The Wine Enthusiast 12-Bottle Wine Cooler (Black)
Efficient Cooling
The Wine Enthusiast 12-Bottle Wine Cooler (Black) is quite efficient at cooling wines. It is able to bring a wine bottle from room temperature to set temperatures well.
All the user needs to do is take advantage of the temperature control buttons to adjust the temperature to a preferred one. And the wine cooler will do its job.
A temperature range of 50 to 66 degrees Fahrenheit makes this wine cooler suitable for storing red wines. However, if you don't store white wines at lower temperatures then you may choose to have them in the wine cooler instead. Otherwise, this is a suitable wine cooler for red wines.
We should mention that it may take a while for this wine cooler to reach set temperatures especially if the wines were at room temperatures and the unit is fully loaded. Sadly, this is something you may have to deal with it. But, if it is any consolation, once the temperature is reached, you can look forward to consistency and stability in the unit.
All that said, the noise level of this wine cooler is also an aspect we zeroed in on. Now, while this wine cooler is not whisper-silent, you may be pleased to learn that the noise level is pretty low. So, yes, you may hear a low humming sound. But rest assured that it is something that can be ignored.
Compact and Portable
This wine cooler has dimensions that make it compact and portable. So, already, it means you can place this wine cooler on a kitchen counter, for instance. You may also choose to place it on the floor or on a table in your living room.
More so, this size makes it easy to move it from one place to another especially because it is not very heavy.
Attractive Design
The design of the Wine Enthusiast 12-Bottle Wine Cooler (Black) is its most striking feature. The combination of its all-black color and its wooden shelf lend it its exquisite and elegant look.
This wine cooler will sit in any space and blend with existing appliances and furniture with ease. And we haven't talked about its heavy-duty glass door. The smoky effect of the door also makes the unit quite attractive.
What's more? The user-friendly touch buttons are located on the unit's door. So, they complement the overall look. But much more, they make it easy for the user to adjust the temperature. Meanwhile, the display screen makes it easy to monitor the temperature in the unit at any given time.
Removable Shelves
The shelves in the Wine Enthusiast 12-Bottle Wine Cooler (Black) are wire shelves that are trimmed with beech wood; which is the only part of the shelf that you'll see through the glass door.
There are 3 of these shelves in the wine cooler. And each one can hold up to 4 wine regular wine bottles with ease.
However, Wine Enthusiast has stated that the door needs to be opened to an angle of 180 degrees for you to remove a shelf should the need arise. This means you need to consider the location where you hope to install the wine cooler to ensure that there's enough room for the door to be opened this wide.
Pros Of The Wine Enthusiast 12-Bottle Wine Cooler (Black)
Attractive and elegant design.
Cools efficiently
Portable, compact and lightweight for those with space constraints.
Suitable as a countertop wine cooler.
See-through glass door makes the wine collection visible.
Has temperature control and stability.
Low on energy consumption.
Easy installation.
Shelves can be removed to accommodate larger wine bottles.
Cons Of The Wine Enthusiast 12-Bottle Wine Cooler (Black)
It takes a while to cool bottles especially when they are initially at room temperature and the unit is fully loaded.
Check out these other in-depth articles/reviews…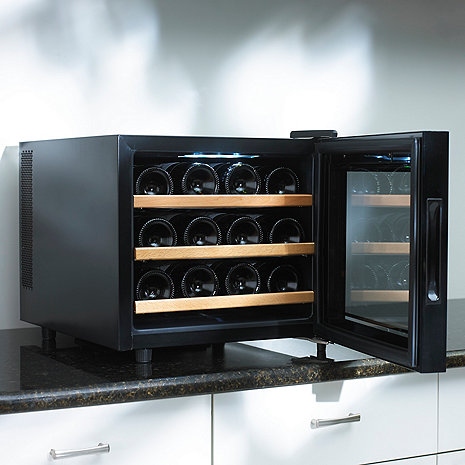 Get the Wine Enthusiast 12-Bottle Wine Cooler (Black) Now!
The Westinghouse 6-Bottle Wine Cooler passes for a small and efficient wine cooler. It will be suitable for you if you are new to wine collection and want to start one step at a time. If you also just like to keep your wine collection really small just for the fun of it or you have space constraints then it will be just fine for you.
Because of its portability and compactness, this wine cooler can literally be stored anywhere – counter tops, under cabinets, on a table or on the floor in your living room.
More so, its black color makes it suitable in any location. So, you shouldn't have any worries that it would affect your existing theme.
If you are also stuck on gift ideas for someone who you sure love or collects wines then you should consider getting him or her this wine cooler.
We can almost tell that the spacing in the feature may not sit well with you especially with large bottles. Not to despair, we found this 12-bottle wine cooler that offers flexible storage.
And by flexible we mean it allows you store the wine bottles both in the traditional horizontal way and in the upright way. This means you get to store the large bottles in the upright position. You may also take advantage of this section to store open wine bottles with some wine left to be consumed later.
You may also like that the controls must be unlocked for you to use them. That's definitely one effective way to keep your kids from tampering with the temperature settings.
What's more? The Nutrichef 12-Bottle Wine Cooler comes in an elegant design, is compact and lightweight, and it cools wines efficiently and quietly.
You may want to read our full review of this product here.
This wine cooler comes with a number of features that make it a good buy. First, it's a dual zone wine cooler. This means it can allow a wide variety of wines irrespective of their optimum cooling temperatures.
And in terms of capacity, this wine cooler offers much more than the featured product. Meanwhile, it also offers flexible storage so that you can store bottles in upright and lying positions. So, instead of leaving an open bottle out of the unit because it won't stay horizontally in the wine cooler, you can now place it in an upright position without fears of leaks and spills.
We should also let you know that this wine cooler takes a short time to reach a set temperature. So, since installation is also a walk in the park, once you get your order delivered, all you need to do is plug the unit, set the temperature, and wait a little while for the unit to start its job of cooling your wines.
Quick Comparison  
Featured Product
Smaller and More Affordable
Flexible Storage
Dual Zone Option
Product
Wine Enthusiast 12-Bottle Wine Cooler
Westinghouse 6-Bottle Wine Cooler
Nutrichef 12-Bottle Wine Cooler
Nutrichef 18-Bottle Dual Zone Wine Cooler
Dimensions
19.8 inches x 15.8 inches  x 15.2 inches
10 inches x 20.25 inches x 14.875 inches
9.9 inches x 25 inches x 19.7 inches
20 inches x 13.6 inches x 25.4 inches
Capacity
12 Bottles
6 Bottles
12 Bottles
18 Bottles
Zoning
Single Zone
Single Zone
Single Zone
Dual Zone
Installation Type
Freestanding
Freestanding
Freestanding
Freestanding
Cooling Technology
Thermoelectric
Thermoelectric
Thermoelectric
Thermoelectric
Available Sizes
12-Bottle
6-Bottle

8-Bottle

10-Bottle

12-Bottle

12-Bottle
18-Bottle
Shelves
3 Wire Shelves trimmed with Beech Wood
2 Chrome Shelves
2 Full-wire and 3 Half-wire Chrome Shelves
2 Full-wire and 3 Half-wire Chrome Shelves
Color
Black
Black
Black
Black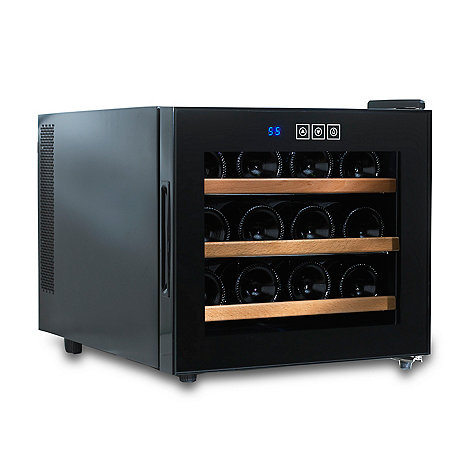 Get the Wine Enthusiast 12-Bottle Wine Cooler (Black) Now!
What Users Are Saying About The Wine Enthusiast 12-Bottle Wine Cooler (Black)
This wine cooler has had more positive than negative comments from its users. We think this is good.
So, for starters, the design got a good number of the users talking. They loved how this wine cooler graced their spaces and complemented already existing themes. The parts in the design were well-coordinated to make the overall look elegant. And that includes the all-black color, the smoky glass, and the wooden shelves.
Also, while the wine cooler is not whisper-silent, the sound coming from the unit was low and bearable to a very large extent.
On the flip side, some of the users who didn't take not of the bottle sizes that could conveniently fit into the unit had issues fitting in large bottles. This is no fault of Wine Enthusiast because it was clearly stated.
However, according to some users, one thing the brand didn't deliver well on is the time it takes to cool the wines from room temperature to lower temperatures.
Check out these other articles…
Samsung Freezer Stopped Freezing [How to Fix]

Engel Fridge Freezing Everything [How to Fix]

Westinghouse Refrigerator Freezing Everything [Solved]

GE Refrigerator Thermostat Not Working [Solution]

Samsung Ice Maker Making Very Little Ice [How to Fix]

How To Adjust Temperature in a GE Refrigerator [Quick Guide]

How to Change Water Filter in a GE Fridge [Quick Guide]

 
Our Verdict
Would we recommend the Wine Enthusiast 12-Bottle Wine Cooler (Black)? Yes. And some of the reasons why we will recommend this wine cooler is that it is functional, stylish, and sturdy.
The sturdiness, for instance, gives a level of assurance that it will take a while for the wine cooler to start showing wears and tears. It always helps to know that an appliance is built to last. And we love that this wine cooler is that type of appliance.
We also like that the design of this wine cooler makes it easy to have it installed in any place or space at all. It would blend easily and still make a bold statement wherever it is placed.
We only wish it took a shorter time for the wine cooler to cool the wine bottles to set temperatures. If it did, getting a glass of wine anytime could be sooner than it takes.
But overall, we think this wine cooler is worth the buy.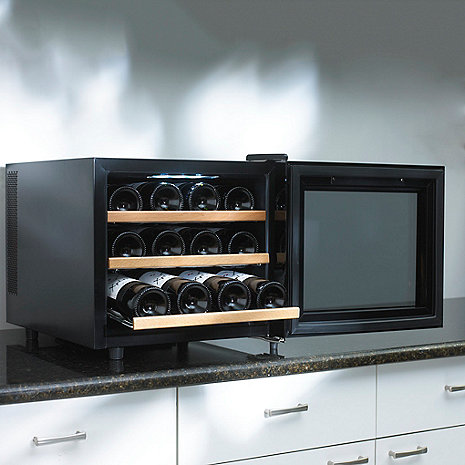 Get the Wine Enthusiast 12-Bottle Wine Cooler (Black) Now!