Knowing how to pull out a Samsung refrigerator, either to clean it or move it, is needful. This article guides you on how to do it.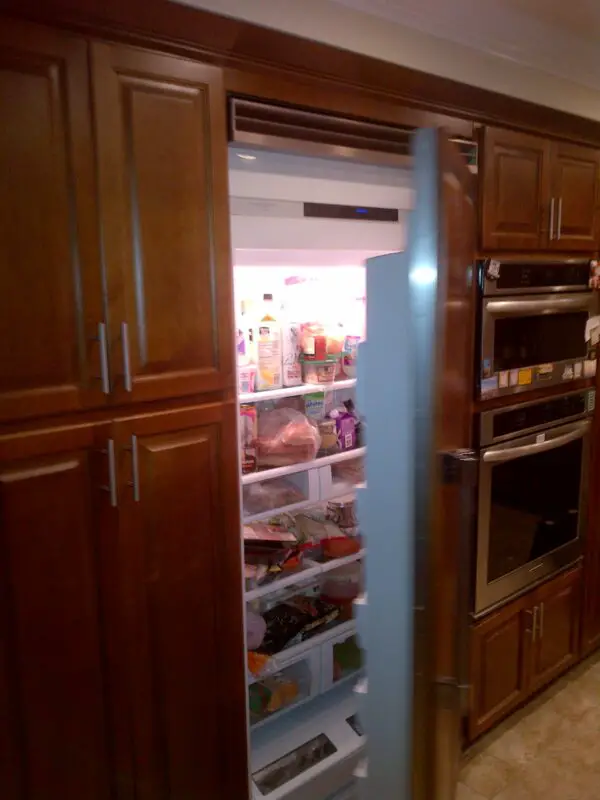 How to Pull Out a Samsung Refrigerator
To pull out a Samsung refrigerator, from the wall or from anywhere else, do the following:
Step 1
Empty the refrigerator and freezer sections of all food items and store them in another refrigerator. If you don't have access to one, store them in a cooler. But to keep them cool, use ice packs.
It is important to note here that the need to store the food will depend on the purpose for pulling out the unit. If the purpose is to clean it, it could take some time so you need to store the food.
And if it is to move houses, it will take even longer. Be sure to use enough ice if you are using a cooler. Otherwise, you are covered if they are in another refrigerator.
But if it is just to move it to another location within the house, it won't take long. So storing the food in another unit is your choice.
Step 2
Switch the refrigerator off by turning the temperature controls off. Next, unplug the unit from the wall outlet if you can reach it. If you cannot, trip the circuit breaker. Now, turn off the water supply to the refrigerator ice maker.
Step 3
If the floor of the house is made of wood or any such material that is easily destroyed, tape paper or cardboard pieces to the floor along the path through which you will move the refrigerator. Doing this keeps the floor from damage.
But if the floor is made of cement or any such strong material, you may not need to protect it.
Prices pulled from the Amazon Product Advertising API on:
Product prices and availability are accurate as of the date/time indicated and are subject to change. Any price and availability information displayed on [relevant Amazon Site(s), as applicable] at the time of purchase will apply to the purchase of this product.
Quick Note
If you find that the refrigerator is too heavy to pull out, it is best to find a helper to move it with you. Insisting on pulling it out alone could cause you injury or damage the refrigerator.
Remember that unplugging the refrigerator is the first step in keeping yourself in safety. Additionally, it keeps the refrigerator from being damaged.
Check out these other articles…
Need expert help? Click here to use the chat box on this page to speak with a verified appliance technician right away. No need for expensive in-home service calls. No appointments. No waiting.