Frigidaire is a leading manufacturer of commercial and consumer appliances. Although this article is about the Frigidaire 8-Bottle Wine Cooler, we thought to give you little information about the brand.
The company Frigidaire was founded in 1916 with the name Guardian Refrigerator Company. A couple of years later, General Motors' boss at the time, William C. Durant, saw potential in the company and decided to invest in it. It was this acquisition that led to christening the brand as Frigidaire.
The brand grew so popular that as, you may expect, a good number of Americans began to call all refrigerators Frigidaire (Irrespective of their own brand name). And maybe that's where the term 'fridge' came from. Who knows?
In the years that followed, ownership of the brand was transferred from one company to another. But today, it is owned by the company called Electrolux.
Over the years, Frigidaire has laid claims to a number of firsts including, the home food freezer, 30-inch electric range, air conditioner for rooms, and electric self-contained refrigerators.
Frigidaire believes that its users deserve to have control over their time. This is why it strives to manufacture appliances that are designed to make processes and everyday living easy. It believes that choosing its products will help you prepare and store great meals for yourself and loved ones.
Who Needs The Frigidaire 8-Bottle Wine Cooler
The Frigidaire 8-Bottle Wine Cooler is that wine cooling appliance that is suitable for wine lovers or collectors who want to be able to store a few of their favorite wines in a small and portable unit.
Its lightweight and portability feature makes it easy to move the unit for storage or to merely change the unit's location.
Not only is this unit quite portable, it can also be placed anywhere in your kitchen. It is built for counter tops, floors, tables, and under cabinets. And if you have a tiny counter or a small kitchen, this may be the wine cooler for you because it takes up only a little space.
This unit is also worth considering if you are big on low noise levels in appliances. Why do we say so? Well, one of the features of this wine cooler is that it operates quietly. This means you won't have to worry that a sleeping child will be disturbed or that the first thing that greets someone who visits your kitchen is the humming sound from your wine chiller.
Also noteworthy is the fact that this wine cooler easily fits into the category of under $100 wine coolers. This makes it an affordable unit. So, if you are working with a $100-dollar budget for a small wine cooler, then you may want to consider this wine cooler.
Features Of The Frigidaire 8-Bottle Wine Cooler
Efficient Cooling
The Frigidaire 8-Bottle Wine Cooler is said to be efficient in cooling wines as some customers pointed out. This is probably the kind of news you want to hear about a wine cooler that you want to invest in.
So, if you are in the market for a portable wine cooler that does the cooling job well, you may want to give this unit a try.
That said, the temperature range of this wine cooler makes it perfect for red wines. However, if you have a white wine fetish, it may be heartbreaking to hear that this wine chiller is not designed for white wines.
Also, we thought you should know about the operating temperatures of this wine cooler. As you may already know, the operating temperature of thermoelectric wine coolers depends on the ambient temperature. With this wine cooler, it is recommended that you allow it run only when the ambient temperature is below 77 degrees Fahrenheit.
So if you are thinking of installing it in a garage or on your patio, you may want to think again because this wine cooler is not likely to function optimally in such locations because of the temperature there.
Low Noise Level
One of the things customers look out for in refrigerators is noise level. And that's because most people have had a tough time dealing with really noisy chilling units. It's the 21st already. So, trust us when we say no one wants to have to deal with a noisy unit.
So, if you are a fan of units with low noise levels then you may be interested in this one by Frigidaire. This means that while it does the job of cooling your wines, it runs quietly. And that's one thing we love about the unit.
User-friendly Controls
The Frigidaire 8-Bottle Wine Cooler features digital controls for setting your preferred temperature and turning the lights off and on.
The controls are easy to use and don't require any form of brain racking to use. One other thing that makes control easy is the unit's small LCD display screen. The screen displays the operating temperature in real time so that you can know when to adjust it based on your preference.
Removable Chrome Shelves
Another feature that this wine cooler offers is its removable shelves. These shelves are made from chromium, a material that is both easy to clean and resistant to corrosion and rust.
So, maintaining the unit promises to be easy. All you need is a damp cloth and the unit turned off to get your cleaning job.
The other benefit of the sliding shelves is that you can decide to take the bottom shelf to make room for large wine bottles to fit in.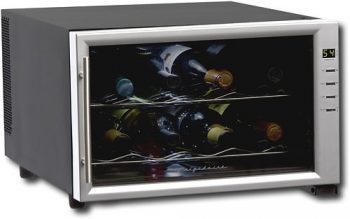 Pros Of The Frigidaire 8-Bottle Wine Cooler
i. Quiet, fast and efficient cooling.
ii. Interior lights add nice ambience.
iii. East-to-use program controls.
iv. Adjustable shelves for easy cleaning and flexible storage.
v. Double-pane glass door for easy viewing of the unit's contents.
vi. Portable and compact.
Cons Of The Frigidaire 8-Bottle Wine Cooler
i. Sadly, the lights can't be changed if they go out.
Check out these other in-depth articles…
Alternatives to the Frigidaire 8-Bottle Wine Cooler
Option With Wooden Shelves
Wine Enthusiast 12-Bottle Wine Cooler
The Wine Enthusiast 12-Bottle Wine Cooler is a thermoelectric wine cooler that is both energy-efficient and co-friendly.
It is designed to accommodate 12 standard-sized wine bottles. It also features 3 full-width wooden shelves that hold the bottles firmly in place.
Viewing the bottles arranged on the wooden shelves is possible and easy because of the unit's glass door. Not only is this appealing to the eyes, it also puts up a good show of your taste in fine wine.
You may also like the fact that this wine cooler features a digital touchscreen on the unit's exterior. This makes controlling the temperature and monitoring it convenient and easy.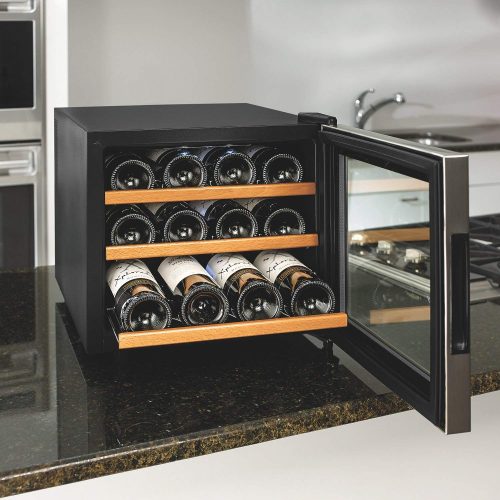 Click here to get it on Amazon!
Option with Temperature Memory Function
Igloo 12-Bottle Wine Cooler with Curved Door
This wine cooler is affordable, stylish, functional, and offers more capacity than the featured product. What's more? Unlike the featured product, this product stores and retains temperature settings. So, you won't have to adjust the temperature after a blackout or worry that the temperature in the unit would have changed during a blip whenever you are away.
You may also like the fact that this wine cooler has a temperature range that makes it suitable for cooling either red wines or white wines.
You should probably read our full review of the Igloo 12-Bottle Wine Cooler with Curved Door, if you prefer this wine cooler.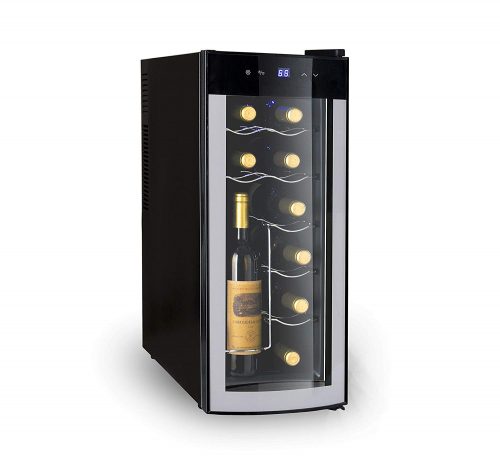 Click here to get it on Amazon!
Dual Zone Wine Cooler
Avalon Bay 21-Bottle Dual Zone Wine Cooler
This product is our honest recommendation of a dual zone wine cooler that we think you should consider. One of the reasons that we recommend it is that it is affordable and does the basic work expected from a wine cooler.
It features removable racks that make maintenance and cleaning a breeze. What's more? These racks make it easy to have larger-than-usual bottles in the unit. All you need to do is take one or more out and the bottles should be able to fit in.
The dual zone feature also allows you store all sorts of wine. So, if you love to have red wines and white wines for yourself, friends, family, guests or customers, you should consider this wine cooler.
And for a wine cooler that offers capacity for 21 bottles, we love the idea that the unit has a slim profile. So, it can fit into small spaces and those who like to store as many as 20 bottles of different kind of wines don't have to give up doing that because they don't have large installation spaces.
You can read up our unbiased review of this product here.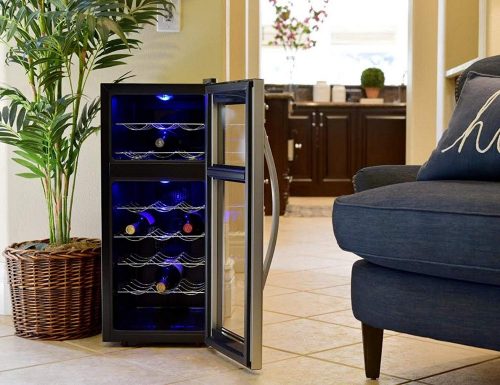 Click here to get it on Amazon!
Quick Comparison  
Featured Product
Temperature Setting Storage Option
Wooden Shelf Option
Dual Zone Option
Product

Frigidaire 8-Bottle Wine Cooler

Click here to get it on Amazon!

 

Igloo 12-Bottle Wine Cooler with Curved Door

Wine Enthusiast 12-Bottle Wine Cooler

Avalon Bay 21-Bottle Dual Zone Wine Cooler

Click here to get it on Amazon!

 

Dimensions
16.2 inches x 10.9 inches x 20.7 inches
20.2 inches x 25.2 inches x 10 inches
19.8 inches x 15.8 inches x 15.2 inches
21.6 inches x 13.6 inches x 31.6 inches
Capacity
8 Bottles
12 Bottles
12 Bottles
21 Bottles
Zoning
Single Zone
Single Zone
Single Zone
Dual Zone
Installation Type
Freestanding
Freestanding
Freestanding
Freestanding
Cooling Technology
Thermoelectric
Thermoelectric
Thermoelectric
Thermoelectric
Available Sizes
8-Bottle
12-Bottle

 

12-Bottle
12-Bottle

18-Bottle

21-Bottle

27-Bottle

 

Shelves
2 Chrome Shelves
2 Full Wire Chrome Shelves

3 Half Wire Chrome Shelves

3 Wooden Shelves
6 Chrome Shelves
Color
Black/Stainless steel
Black
Stainless Steel
Black/Stainless Steel
What Users Are Saying About The Frigidaire 8-Bottle Wine Cooler
There are already different comments from customers about their experience with the Frigidaire 8-Bottle Wine Cooler.
A number of customers praised the efficient and quiet cooling of the unit. In fact, some said they could barely hear the wine cooler running. And as per cooling, it didn't take long for the temperature to reach the set level and the wine bottles to get chilled.
One customer even recommended it as one that will be perfect for the beginner wine enthusiasts.
Nonetheless, while the popular opinion on the noise level was that it was really low and whisper-quiet, a few customers mentioned that they started hearing buzzing sounds after a while. Not sure why that is, but if you'll go with the popular opinion, then you shouldn't have a problem deciding on this wine cooler.
Some customers also surprisingly complained that the wines didn't get cooled on time. Well, the hack to fixing that if a user ran into such an issue, as someone recommended, is to ensure that the wines are not at room temperature before they are placed in the unit. Let them cool a bit in a refrigerator before placing them in a wine cooler.
Check out these other articles…
Our Verdict
We believe that the Frigidaire 8-Bottle Wine Cooler is a good option for users who are new to wines and building wine collections.
It is energy-efficient, runs quietly, and is compact enough to fit into small spaces. So, love the fact that those who have space constraints don't have to give up their wine building dreams because they don't have all the space in the world.
The interior LED lights are a plus as well. They make viewing the wine collection through the double-pane glass door easy. So, you won't need to open the wine cooler to find out what is in it. Thankfully, the lights are not harmful to the win contents. So, you, your taste buds, and your wines are safe.
On the flip side, the unit doesn't seem to store temperature settings after blackouts or blips. It means the temperature will always be reset right after power is restored.
More so, the LED lights seem irreplaceable. So, as soon as their lifespan expires, changing them will be a herculean task.
But, overall, it does its job well and makes having wines at preferred temperatures possible. So, if you ask us, we think the Frigidaire 8-Bottle Wine Cooler is worth considering.
And if you've considered it and think that it is worth every cent you'll need to pay to have it, then you should get yours now.