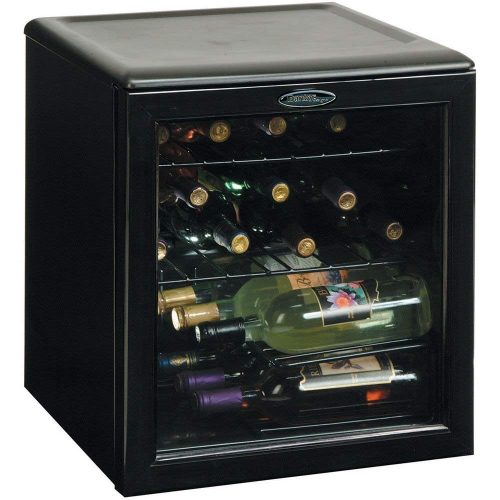 The Danby 17-Bottle Countertop Wine Cooler is manufactured by a North American electronic company called, Danby.
Danby prides itself in its ability to produce home equipment and appliances that are brilliantly designed to make life's decisions easy for its customers.
This 65-year old brand is based in Montreal, Canada but has spread its reach to the many regions of America. Its wealth of experience in the industry has earned it a place at the top of the league.
Danby says its vision is really simple: to produce brilliant appliances that make life easy for every user. In the brand's words, 'thoughtful designs are never out of season'. This is what has driven the brand to manufacture a wide range of products that have received more yays than nays.
Come along with us and let's find out if the Danby 17-Bottle Countertop Wine Cooler is as praiseworthy as it claims to be.
Who Needs The Danby 17-Bottle Countertop Wine Cooler
The Danby 17-Bottle Countertop Wine Cooler is a compressor wine fridge that is designed for avid wine lovers and wine enthusiasts who like to have compact wine cooling units that won't take up much of their real estate.
And because it operates quietly, those who are averse to noisy appliances will like this wine cooler.
It is also suitable for those who are starting or expanding their wine collection; as it offers storage capacity for up to 17 standard-sized wine bottles.
You can fit 1.5-Liter bottles in the unit without hassles. But, if you have larger bottles, you'll need to take out one or more racks to fit those in.
Users who don't like the conventional arrangement of their wine bottles may also like the idea that the lower compartment allows you to fit some bottles in sideways – especially the larger bottles.
If you are big on really cool features in a wine cooler, you may also like the idea that the door is reversible and can be turned easily on its hinges. So, you can open the unit from the left side or the right side.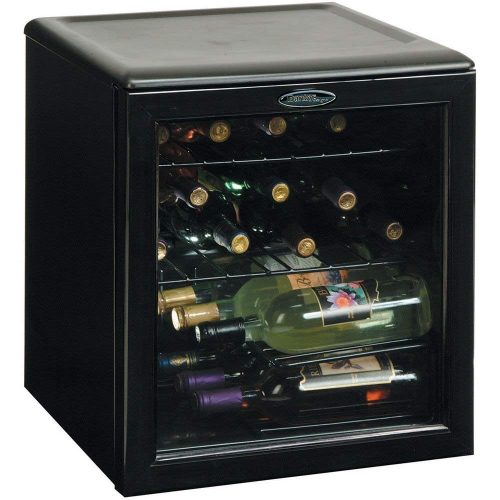 Click here to get it on Amazon!
Features Of The Danby 17-Bottle Countertop Wine Cooler
Size and Portability
We love the fact that Danby considered those who have little installation spaces when it was designing this unit.
Not only is it compact, but it is also portable. So, you can literally have it installed anywhere. Installation locations could range from tables to countertops to under cabinets, or even on the floor.
In essence, with this unit, space has nothing on you.
To be real honest, there's a sense of joy that comes with the fact that when it comes to installation space – especially in the light of the storage capacity that it offers – you can actually eat your cake and have it.
Design
This wine cooler comes as an all-black chilling inbox in a cabinet design. We think the design is really classy and will make it suitable for any location that you deem perfect for you.
You can place this unit in your office, kitchen or bar and it will still be appropriate in such locations. It also features a double-pane glass door that makes it possible for you, your guest or customer to see through to your wine collection.
What's more? The door is reversible. So you can adjust and swing it in a breeze so that you can open from the left side or the right side as you please.
Cooling Efficiency
This wine cooler cools wines to temperatures within the range of 43 degrees Fahrenheit and 57 degrees Fahrenheit. So, you can have white or red wines stored in the unit.
With this temperature range, your wines will be stored and served at optimal temperatures.
We like that this compressor wine cooler cools efficiently. But love it even more because it cools quickly.
Shelving
The Danby 17-Bottle Countertop Wine Cooler comes with shelves – 2 flexible wired shelves that are coated in vinyl and a staggered shelf.
These shelves make organizing wine bottles stress-free.
And because they are removable, they also make cleaning the unit easy and hassle-free. All you'll need to do to get the insides of the unit clean is to remove the shelves and then use a damp cloth to clean properly.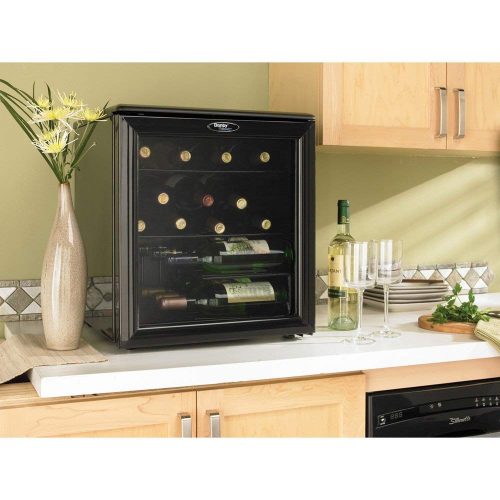 Click here to get it on Amazon!
Pros Of The Danby 17-Bottle Countertop Wine Cooler
i. Cools quickly.
ii.Comes with an 18-month warranty on labor and parts.
iii. Functions well for more than 2 years.
iv. Compact and portable.
v. Efficient cooling
vi. Elegant design makes it suitable for any location.
vii. Suitable for red or white wines.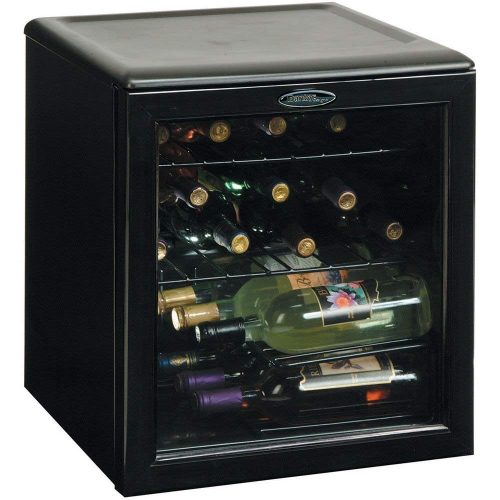 Click here to get it on Amazon!
Cons Of The Danby 17-Bottle Countertop Wine Cooler
i. It doesn't have an internal thermometer.
ii. It doesn't have interior lights.
Check out these other in-depth articles…
Alternatives to The Danby 17-Bottle Countertop Wine Cooler
Option With Temperature Display and Interior Lights
Whynter 16-Bottle Wine Cooler
The Whynter 16-Bottle Wine Cooler, unlike the featured product has a temperature display that makes it easy for you to tell the cooling temperature of the unit at every given time.
What's more? Irrespective of where you place this unit at night, there's a nice ambiance that this light adds to the room when the wine cooler is running at night.
You also get to enjoy more illumination from the blue interior lights. The lights cast a soft glow on the bottles, and makes them visible and appealing, so that you won't have to open the door to know what and how many wines are in the unit.
It seems pricier than the featured product actually. But if you consider the fact that with the featured product you will need to buy a separate digital thermometer and maybe some lights, then you may just want to go with this unit instead.
We should also tell you that while the featured product is a compressor wine cooler, this particular product by Whynter is a thermoelectric unit.
We hope this will help you make a more informed decision.
However, you may want to take advantage of our extensive review of this product here to learn more about it.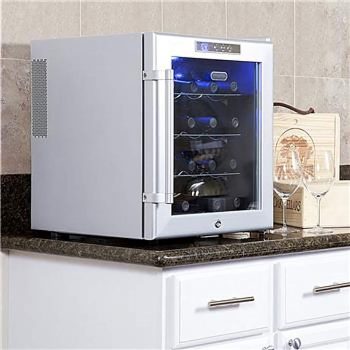 Click here to get it on Amazon!
Dual Zone Option
Kalamera 21-Bottle Dual Zone Wine Cooler
The Kalamere 21-Bottle Dual Zone Wine Cooler is ideal for those who love to explore their taste in wines. This unit comes as a dual zone wine cooler so that you can have both red and white wines stored and chilled in it.
It is a good alternative to the 17-bottle featured product by Danby because it also offers slightly more capacity. Plus, the racks can be removed to accommodate larger-than-standard-sized bottles.
Each of the two cooling zones has its own display screen where the cooling temperature can be read and monitored. They also each have their own controls for adjusting the temperatures to the user's preferred level.
More so, this thermoelectric wine cooler is backed with a 1-year manufacturer's warranty on all manufacturing defects.
You should probably go for it if this is what you want.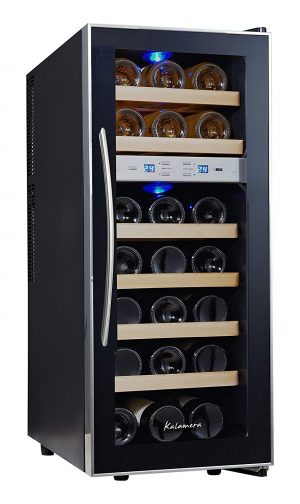 Click here to get it on Amazon!
More High-end Option
Kalamera 50-Bottle Wine Cooler
We chose the Kalamera 50-Bottle Compressor Wine Cooler as a high-end option to be considered because of its capacity, design, and intuitive LED touch display.
In terms of capacity, this unit offers almost one bottle less than 3 times the capacity of the featured product. So, if you are really crazy about wines and fancy large wine collections, then you'll find this capacity useful for your needs.
Of course, that doesn't have to be the reason to choose a 50-bottle wine cooler. This unit will also come in handy if you are thinking of expanding your wine collection at your commercial bar or if you'll be planning a large event.
It is a single zone wine cooler. And with a temperature range of 40 degrees Fahrenheit to 66 degrees Fahrenheit, red or white wines can find a place to call their home in it.
And even though it's a compressor unit, we like the fact that it incorporates an advanced technology that makes it run quietly without being a nuisance.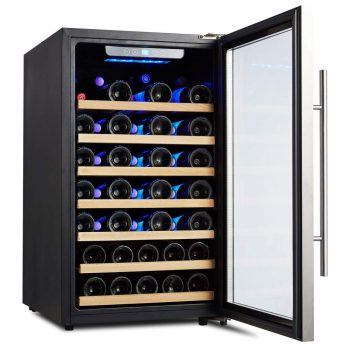 Click here to get it on Amazon!
Quick Comparison  
Featured Product
Option with Thermometer and Interior Lights
Dual Zone Option
More High-End Option
Product

Danby 17-Bottle Countertop Wine Cooler

Whynter 16-Bottle Wine Cooler

Kalamera 21-Bottle Dual Zone Wine Cooler

Kalamera 50-Bottle Wine Cooler

Click here to get it on Amazon!

Dimensions
14 inches x 19.5 inches x 19 inches
19 inches x 17 inches x 20 inches
37 inches x 24.5 inches x 18 inches
22.8 inches x 19.3 inches x 33 inches
Capacity
17 Bottles
16 Bottles
21 Bottles
50 Bottles
Zoning
Single Zone
Single Zone
Dual Zone
Single Zone
Installation Type
Freestanding
Freestanding
Freestanding
Freestanding
Cooling Technology
Compressor
Thermoelectric
Thermoelectric
Compressor
Available Sizes
17-Bottle

36-Bottle

 

16-Bottle

28-Bottle

21-Bottle

 

50-Bottle
Shelves
2 full-width and 1 staggered wired vinyl-coated shelves
3 Chrome Shelves
6 Beech Wood shelves
 7 Beech Wood Shelves
Color
Black
Silver
Black
Black/Stainless Steel
What Users Are Saying About The Danby 17-Bottle Countertop Wine Cooler
The Danby 17-Bottle Countertop Wine Cooler has drawn all sorts of comments from users. However, the comments tend to be more positive than negative.
For instance, because it is a compressor cooler, some users noted that the unit tends to cool wines efficiently and quickly. And with its temperature range of 43 to 57 degrees Fahrenheit, red or white wine can be stored and chilled in it.
There were also a handful of comments on the noise level of this unit. While some said it was quiet at first blush and began to make sounds that were not as loud as microwave oven sounds, some others thought the wine cooler was a tad bit too loud for their liking.
However, there seemed to be two major drawbacks that most customers clearly pointed out. The first is the absence of an internal thermometer that could tell the operating temperature of the unit in real time. The second drawback is the absence of LED lights in the unit.
For all it's worth, we expect that these 2 things should be included in the wine cooler. It's the 21st century already. Isn't it?
Nonetheless, in spite of the drawbacks, some users will recommend this product to anyone. Especially because it comes with an 18-month warranty and the news out there is that it can last for as long as 3 to 4 years.
Check out these other articles…
Our Verdict
The Danby 17-Bottle Countertop Wine Cooler does what it says it can do without a doubt. It cools quickly and efficiently and has an elegant all-black finish and simple design that makes it suitable for use anywhere.
We also like the compactness that it offers. So, those with space challenges don't have to give up the dream of owning a wine cooler because they don't have sufficient space. For instance, this unit can sit on a countertop perfectly without taking much of your real estate or altering your kitchen décor.
While this unit isn't whisper-quiet, we think that its noise level is just fine for the average wine lover. If it makes any sound at all, we believe that it is not unbearable. It can be ignored.
Of course, we would have loved to learn that this wine cooler had its own thermometer. That way, knowing the cooling temperature at every given time will be easy. But without it, a user may have to get a separate thermometer to know when and how to set the operating temperature.
Lights! We love lights and hate the fact that there is no light in this unit. Lights would have made the wine collection more appealing and obvious to friends, family, guests, and even customers. They also tend to add a touch of ambiance and aesthetic value to the unit.
All that being said, we would recommend this wine cooler because it works and chills wines efficiently.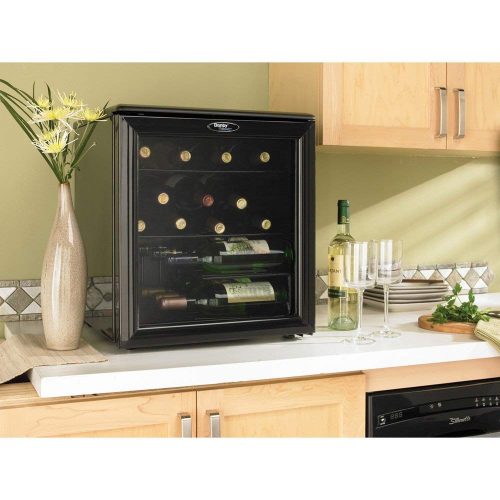 Click here to get it on Amazon!