While our aim is to give you most of the information you would like to have about the Koolatron 32-Quart 12V Cooler/Warmer, we will start with a brief history of Koolatron and what the brand currently represents.
Since 1983, Koolatron has been producing innovative products and although it started as a Canadian made travel coolers, it has grown way beyond that. Koolatron now boasts a wide range of RV refrigerators, wine cellars, compact fridges, freezers and even rain barrels and garden products just to name a few.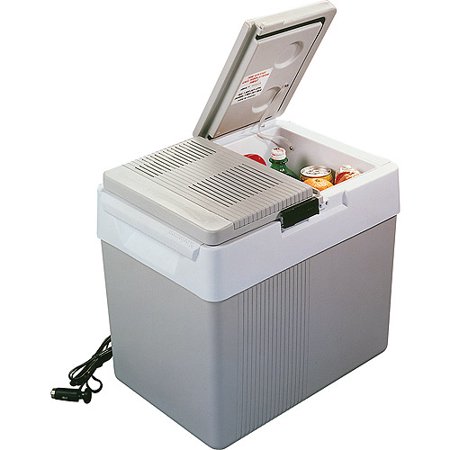 Now over 30 years after, Koolatron is a world leader for thermoelectric and refrigeration products and is known the world over for its Canadian 12 V coolers/ warmers and accessories. You may probably be thinking at this point that the name Koolatron is not very popular or that you don't hear it so often but if you think back to the last Coca- Cola fridge or travel cooler you saw you would realize that Koolatron coolers are more popular than you think. Koolatron has partnered with some global brands, including Michelin, Coca-Cola, Coors Molson, and Corona among others.
With online stores and retailers all over North America and even in the UK coupled with amazing customer service we are quite certain the Koolatron 32-Quart 12V Cooler/Warmer as well as other products from this brand will be perfect for you.
Who needs the Koolatron 32-Quart 12V Cooler/Warmer with Split-lid Design?
The Koolatron 12V Cargo Cooler/Warmer is a very portable and lightweight cooler/ heater which is perfect for most people. It will definitely come in handy when you need to take food for a picnic. Or if you have to get drinks for a small party with some friends.
It is portable and can be used as a chest or upright as a mini refrigerator.  This unit is great for travel as it cools your food during the day in your vehicle and can easily be moved to your motel/ hotel room at night. With its AC adaptor, you can plug it in your home/ motel for continuous cooling through the night.
It is especially great for people that travel a lot and it can be used on most vehicles including RVs, campers, trucks, cars and even boats. Its generous storage capacity, as well as its adjustable shelves, give a variety of perishable goods of different sizes.
There is also the option for custom thermoelectric coolers specifically designed for various uses. Some of which include, transportation of medical specimens and vaccines. They are also applicable in heavy farm equipment and in refrigerating special tobacco products for retail.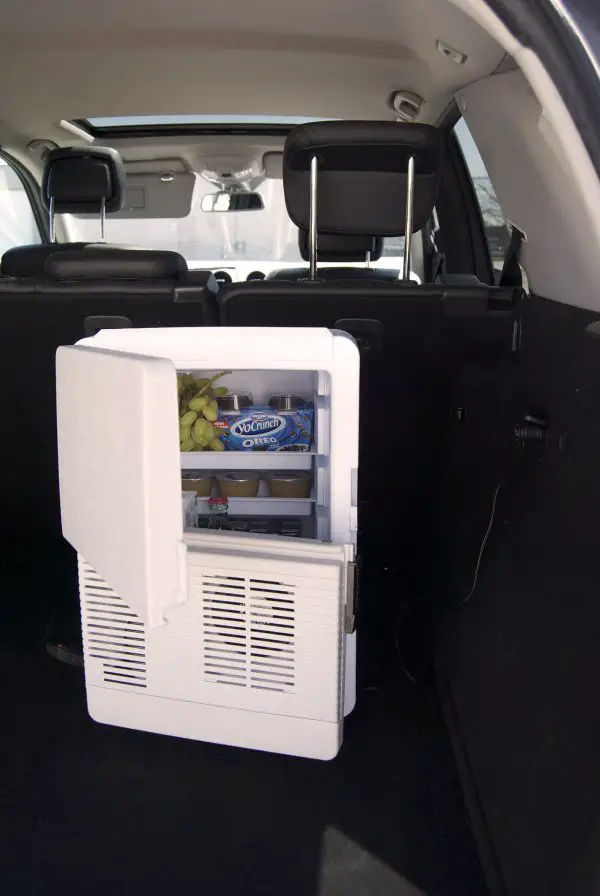 Get the Koolatron 32-Quart 12V Cooler/Warmer with Split-lid Design Now!
Features of the Koolatron 32-Quart 12V Cooler/Warmer with Split- Lid Design
Versatile and Unique Design
The Koolatron portable cooler has a simple and unique portable design and can stand both vertically and horizontally. This allows it to be used either as a mini refrigerator or as a chest. It is well insulated for both heating and cooling which is great news for you as it means that if you have to turn it off for whatever reason it will keep your goods cool for several hours.
It has dual shelves that are designed to fit in multiple positions and work well with its different orientations. Depending on if you're using it as a fridge or a chest you can adjust the shelves to suit your needs.
Another great feature of the Koolatron 12V Cargo Cooler/Warmer is its split lid design which promotes energy conservation and accessibility.
Large capacity
One of the reasons we love this Koolatron portable cooler is that it provides vast storage space.  At the same time, the unit is lightweight and very portable, so much that it seems almost too good to be true.
Measuring approximately 20by 14by 16 inches, this 31litre (33quart) heating/ cooling unit is able to hold up to 42 12- ounce soft drinks. Which would be especially useful for road trips or even picnics and mini parties. It also has adjustable shelves that allow one to optimize the storage capacity as best as possible.
Get the Koolatron 32-Quart 12V Cooler/Warmer with Split-lid Design Now!
Dual function
In addition to cooling food, this unit also functions as a heater and heats food up to approximately 135F(57C). This Koolatron cooler can be operated in the cooling mode by reversing the polarity of the power supplied to the cooler i.e. by gently pulling out the cord from the cooler, reversing the 2-pin plug and pushing it back in. While we agree with a lot of people who feel it would have been better if there was a switch instead, you will find that it's not so hard to do. Once you get the hang of it you would probably even be able to do it with your eyes closed.
However, for safe food handling, it is advisable not to leave food in the warmer for very long. If you have to carry hot food around it would be best if it doesn't stay in the heater for more than 45 minutes. That amount of time is in line with food handling guidelines. Also, heating the cooler for long periods of time could cause the cooler to bulge.
Efficient Cooling
This unit, as well as others in the Koolatron travel cooler line, employ thermoelectric technology using the latest Peltier devices. Being a thermoelectric model, the Koolatron portable cargo cooler's cooling is very much dependent on the temperature of the surroundings. This unit is, however, able to cool food and drink up to impressive temperatures. It cools to 40◦F, (which is about 20◦C) below the ambient temperature.
To get the best out of your cooler, it helps to pre-cool the unit and even the items (food and drink) you would like to place in the cooler. Though your cooler will still be able to cool warmer foods, it will take quite a long time for it to do so. It also helps if your cooler is almost full as opposed to it being empty. It is easier for your cooler like refrigerators, in general, to circulate the cool air when it's about two thirds full.
Environment-friendly
Another one of the benefits of this model being a thermoelectric cooler is that it doesn't contain any CFC's or polluting coolants that are harmful to both you and your environment. If you are someone who is conscious of your environment and health, you would be just as thrilled as we are to find that this cooler is environment-friendly.
In addition to being energy efficient, this cooler is durable and almost wear-free. It also doesn't contain any moving parts apart from the fan.
Pros of the Koolatron 32-Quart 12V  Cooler/Warmer with Split-lid Design
Split lid design promotes energy conservation and accessibility
Can stand vertically or horizontally for use as a chest or a fridge
It has a Cooler/ Heater Dual function
It has Generous capacity
Removable shelves provide flexible storage
It is environment-friendly
It is energy efficient
Cons of the Koolatron 32-Quart 12V Cooler/Warmer with Split-lid Design
Sadly it doesn't come with a household adaptor and that will have to be purchased separately
It doesn't have a thermostat.

Get the Koolatron 32-Quart 12V Cooler/Warmer with Split-lid Design Now!
This Dometic Tropicool thermoelectric 12V cooler has a seven stage temperature regulation for both cooling and heating which is perfect for those who were disappointed at the lack of a thermostat or a temperature regulator in the Koolatron portable cooler.
This cooler is quite high-tech like most coolers in the Dometic line are and it has some really cool features like an intelligent power-saver circuit, a detachable lid with magnetic lock and even a memory function. In addition to keeping drinks cold and food warm, this Dometic portable cooler has an energy class rating A ++ and will work even in tilted positions e.g. in a boat.
This cooler however is almost double the price of the Koolatron cooler but with all its great features and superb performance, it is definitely worth every last cent of your money.
This cooler has a dual function handle and wheels for rolling it on the ground and double handles for convenient carrying. It also has a removable divider included which makes two compartments and allows you to organize food and drinks in it easily.
Its 48-quart storage capacity may seem quite large but we believe it is the perfect size for large families and long trips. We are quite thrilled that it keeps food and drink at 40F regardless of the temperature of the surroundings.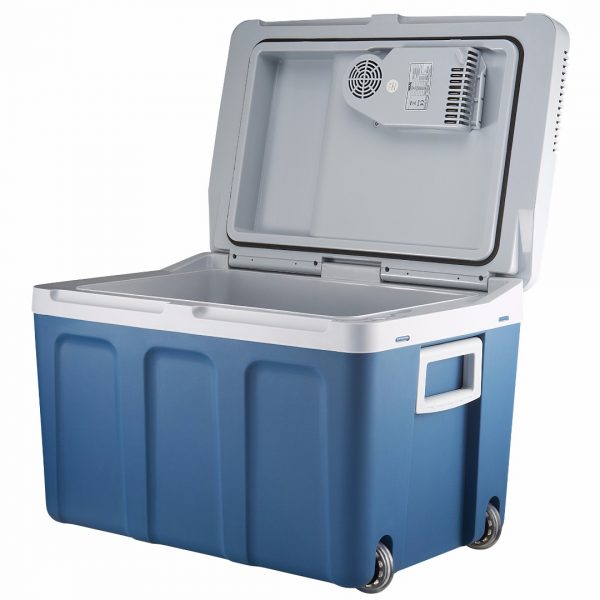 While we all love the Koolatron portable cooler and feel it's the perfect size we are also aware that it can get quite heavy when full. Considering that it has to be carried with both hands because of the placement of the handles it may not be so convenient. In light of this, we suggest a more affordable cooler which also functions as a warmer or cooler but has a heavy duty handle that goes across the cooler and makes for easy handling.
Being a thermoelectric cooler, The Wagan EL6224 cooler is able to heat up to 140 °F and cool up to 32°F (20°C) below ambient temperature and has two temperature settings. It has a 24-liter capacity which is admittedly less than that of the Koolatron cooler reviewed but is still large enough to hold as many as 27 cans and will still be just as useful.
Quick comparison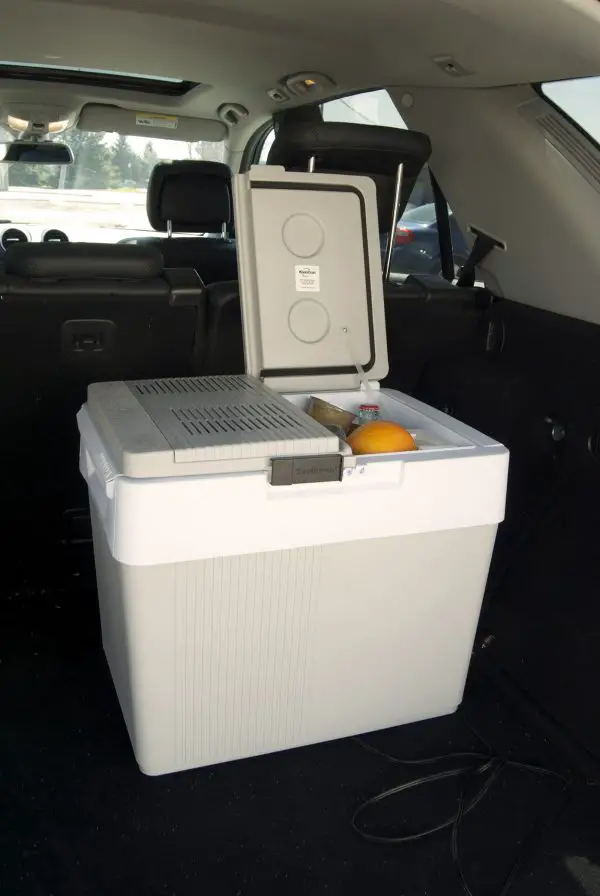 Get the Koolatron 32-Quart 12V Cooler/Warmer with Split-lid Design Now!
What users are saying about the Koolatron 32-Quart 12V Cooler/Warmer with Split-lid Design.
A lot of customers were thrilled with the size of this cooler with quite a number of them saying that it is just the right size. This is definitely because it affords a lot of space for drinks, snacks and can even fit wine bottles. The split top allows you to open either half or all of the top, minimizing temperature changes thus conserving energy. This cooler in line with its claims does a very good job of keeping food and drink cool for long periods of time. This was the general review from almost everyone that used the product.
We were pleased to hear from those who had purchased this product previously that this product lasts for a very long time. Although the power supply doesn't last as long and may need to be replaced after a while. The power supply pack also tends to heat up and while this wasn't a problem for everyone, some users had this complaint.
Another drawback of this cooler is that when it is turned off, there's a lot of condensation on the lid. This could cause dripping water when you open the cooler. The condensation could also make foods like sandwiches soggy if they're not properly covered. This may not be a problem if you run this unit constantly but for those who have to turn it off and on again and again, then this brilliant hack suggested by a customer would greatly interest you. Keeping a dish towel inside it will prevent water from getting all over your food.
While there are a lot of benefits of this unit as both a heater and a cooler, the fact that it doesn't have a switch means accidents can occur. One can mistakenly connect it in heating mode whereas the intention was to leave it in the cooling mode.
Our verdict
There's everything to love about this Koolatron portable cooler as it is versatile and lightweight which makes it perfect for almost anyone. Whether you are a truck driver who is always on the road, or a picnic lover or even a frequent camper. Its generous capacity and efficient cooling surpassed our expectation in so many ways.
Its unique design allows it to stand as a fridge or as a chest if you would want. If you are going to run it constantly in your room or office, you might have to defrost it occasionally. We do wish it came with a household adapter but it sadly it doesn't. That's too bad though because the adapter is definitely an additional and rather worthwhile purchase.
This unit is not as quiet as some other thermoelectric units. The noise is however bearable and almost unnoticeable with your car engine on. It also doesn't have a thermostat and the temperature cannot be adjusted.
With all the evidence we've been able to gather, our conclusion is that for its size, durability, and effectiveness, this cooler is definitely worth your money.
If you love this spacious and portable cooler as much as we do, you can easily order one by clicking here.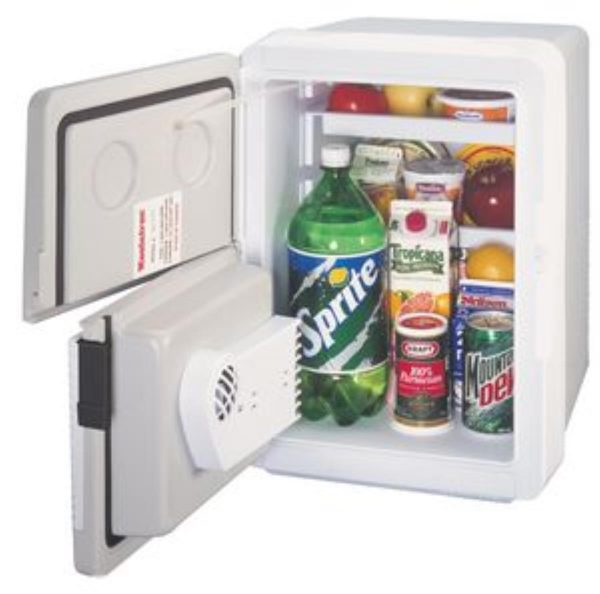 Get the Koolatron 32-Quart 12V Cooler/Warmer with Split-lid Design Now!