If you thought low-budget equals tacky and low quality, you thought wrong. Here at Refrigerators Reviewed, we believe that getting the best refrigerators under $1000 that would suit your needs and won't tear a hole in your pocket is not an impossible dream.
So, just relax and go through our round-up of carefully selected refrigerators under $1000.
Best Refrigerators Under $1000
Before you check out our recommendations, please note that we've included products that were priced below $1000 as at the time of research. Product prices on Amazon could change anytime without notice. For the current price, click through the links.
Best Refrigerators Under $1000 — Best Top Freezer Refrigerator
Our Rating — 4.1/5
Features
i. It has a sleek, simple, no-frills exterior design and comes in black, white, and fingerprint-resistant stainless steel colors.
ii. It offers ample storage space and options with adjustable glass shelves, utility cases, and door compartments with transparent door bins.
iii. 2 humidity-controlled crisper drawers help to maintain a perfect temperature and humidity level for fruits and vegetables.
iv. Consistent temperature is maintained throughout the unit with the multi airflow cooling system.
v. Temperature can be controlled with the temperature console.
vi. LED lighting adds beauty and allows for easy accessibility.
Easy on the eye and equally easy to use, the Kenmore 21-Cubic Foot Top-Freezer Refrigerator with Ice Maker is a good fit for a home or office kitchen space.
Apart from the above features, this Kenmore Refrigerator also has a quiet operation and automatic defrost system, which makes for stress-free usage.
The shelves and bins encourage easy organization, access, and cleaning.
As an extra touch, this Energy Star-certified refrigerator also comes with an ice maker to dispense ice cubes whenever you need some.
Best Refrigerators Under $1000 — Best Side-by-Side Refrigerator
Our Rating — 4.2/5
Features
i. This unit features a beautiful, elegantly simple, and durable stainless steel design with a nice white color.
ii. It has a dual-pad ice maker and water dispenser in the door that makes it easy to get ice and water as well as a see-through window to monitor the ice level.
iii. Though slim-looking, it offers multiple storages, organization, and cleaning options with the adjustable shelves, humidity-controlled crisper bins, and gallon-sized door bins to store almost anything.
iv. Dual interior LED lighting ensures easy accessibility and improved aesthetic.
v. Cooling operation is efficient and quiet, with automatic defrost.
vi. Touch control panel allows for easy adjustments.
Need we say more? The Kenmore 25-Cubic Foot Side-by-Side Refrigerator with Ice Maker is one product that speaks for itself.
With its large capacity, your storage and preservation needs are covered, aided by the shelves and bins available.
You can keep anything from leftover pizza to a milk jug and even platters of food.
It is also Energy Star-certified and has an annual energy consumption rate of 702kw/h which is about $84 in annual energy cost.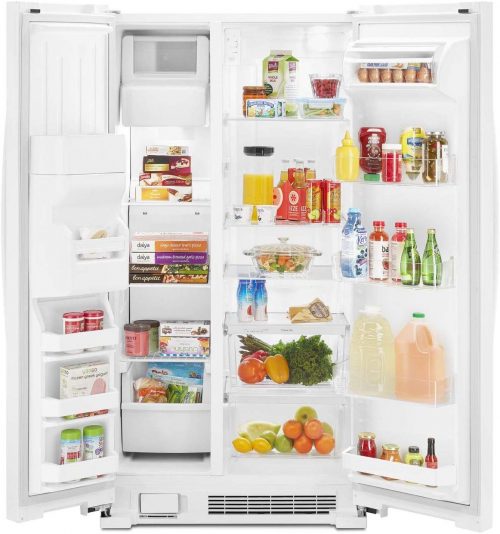 Click here to buy and check out this fridge on Amazon!
Best Refrigerators Under $1000 — Best Bottom Freezer Refrigerator
Our Rating — 3.9/5
Features
i. The simple, classy, and spacious reversible-door design fits into most spaces. Color options are white and stainless steel.
ii. It comes with adjustable glass shelves in the door, refrigerator, and freezer compartments, with a transparent crisper drawer for vegetable and fruit storage.
iii. It is frost-free and very easy to clean.
iv. It cools fast and maintains temperature well.
v. It has a quiet operation.
Don't be deceived by the relatively small capacity, the Danby 9.2-cubic foot Bottom-Freezer Refrigerator packs quite a punch when it comes to storage space.
Its configuration keeps commonly used items at eye level in the upper refrigerator compartment.
Moreso, we love the ease that the CanStor beverage dispenser offers.
Best Refrigerators Under $1000 — Best Mini Refrigerator
Our Rating — 4.5/5
Features
i. It comes in 3 color options: white, black, and silver, all of which are versatile enough to blend into most spaces.
ii. It is super compact and space-efficient with a flat back design.
iii. The door is reversible to fit your preference with shelves to accommodate tall bottles and other storage items.
iv. Temperature is easily controlled with its adjustable thermostat.
v. The interior fridge shelf is adjustable.
vi. It features a freezer compartment with an ice cube tray.
vii. It is Energy Star-certified with 201kw/h energy consumption and about $24 annual energy cost.
The Black+Decker  1.7-Cubic Foot Compact Refrigerator is for you if you're looking for a simple and small unit to meet your basic storage needs, especially if you live alone or in a shared dorm room.
It is super compact, which means it can fit into your small home space, bedroom or your office and can be placed anywhere, even on the table.
Check out these other in-depth articles/reviews…
Best Refrigerators Under $1000 — Buying Guide
Low budget, super expensive, or somewhere in the middle, there are important boxes you have to tick before you exchange your hard-earned money for a refrigerator.
Check out these important factors below. And while you're at it, you might want to read this detailed article on how much a refrigerator costs too.
Let's delve in!
Configuration
Up to 4 major refrigerator configurations exist, each with its own pros and cons. They are as follows:
i. Top Freezer Refrigerator:  This refrigerator type typically has its refrigerator section at the top and the freezer section at the bottom.
Often times, top freezer refrigerators come with 3/4 of the unit as a fridge and the remaining 1/4 as a freezer compartment.
It is the most common of the 4 configuration types.
ii. Bottom Freezer Refrigerator: This is more like the opposite of the top freezer refrigerator, with the fridge compartment above, and the freezer compartment at the bottom.
This type makes for easier access to commonly used items in the refrigerator part.
iii. Side-by-Side Refrigerator: Here, the refrigerator is split down vertically, with the freezer compartment on one side, and the refrigerator section on the other.
This division may also be asymmetrical, usually with more space allocated to the fridge compartment. This style is good for narrow spaces and it usually comes with either a through-the-door water dispenser or an ice maker, or a combination of the two features.
iv. French Door Refrigerator: This is a high-end and relatively expensive style, and with good reason, as it offers nice features and pleasant aesthetics.
It combines the features of a side-by-side refrigerator with a bottom freezer refrigerator, which offers more usage options.
Also, note that any of these configurations could come as a free-standing or built-in unit.
Capacity
There is a wide range of sizes and capacity options for refrigerators out there, and you want to pick one that suits your needs.
Consider the purpose for which you're buying a refrigerator (whether as a main or supplementary unit), your household size, eating habits, home space, and the likes. This will help you decide how much capacity you need so that you can pick a suitable refrigerator.
Energy Consumption
While the buying price of a fridge might be super low, it could end up burning a big hole in your pocket sometime later with the energy costs. This is why it is very important that you consider the energy rate of the unit you're about to buy so that you don't get shocked when the electricity bills come in.
We recommend that you buy a refrigerator that is energy efficient with the Energy Star label that shows you the annual consumption rate.
If you already have a brand in mind and you're not sure if it is Energy Star-certified, you can check on the Energy Star website to be sure and also decide if it will be worth the purchase in the long run.
Cooling Efficiency
Now, this is the meat of the matter.
The style, capacity, or energy costs of your refrigerator, no matter how perfect, are of no use if it doesn't deliver on its primary purpose of cooling and preserving your stored items.
So, it helps to look out for a refrigerator that guarantees you top-notch preservation, preferably with low energy consumption.
Ease of Use and Control
No one wants to buy something and have to struggle to use it. Make sure that the fridge you want to purchase is easy to use.
For instance, the temperature range should be easy to adjust, while the interior of the fridge should also be easy to clean.
Also go for a unit that produces little to no noise, with ample storage options like adjustable shelves and door compartments.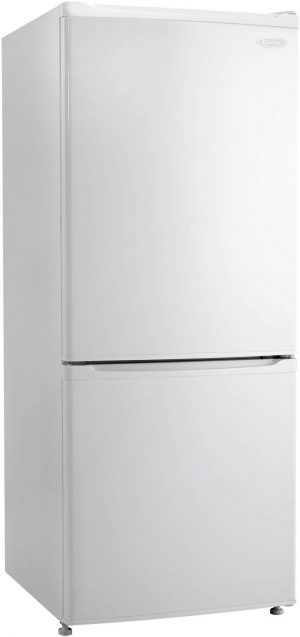 Best Refrigerators Under $1000 — Our Verdict
Based on the buying guide, and reviews from users, our best overall refrigerator under $1000 is the Kenmore 25-Cubic Foot Side-by-Side Refrigerator with Ice Maker.
The reason we chose this product is that it offers generous capacity and versatile storage.
Moreso, it is energy-efficient and cools efficiently without creating a nuisance with noise.
The elegance that this fridge brings to your space is also a bonus point.
Quick Recap
Getting the best refrigerators under $1000 that meets your needs is possible, as evidenced by our round-up of good quality refrigerators.
When choosing a unit, no matter your budget, it is important to take note of factors such as refrigerator configuration, capacity, energy consumption rate, cooling efficiency, and ease of use.
Based on the comparison with the buying guide and testimonials from users, our best overall refrigerator under $1000 is the Kenmore 25-Cubic Foot Side-by-Side Refrigerator with Ice Maker.
Need expert help? Click here to use the chat box on this page to speak with a verified appliance technician right away. No need for expensive in-home service calls. No appointments. No waiting.