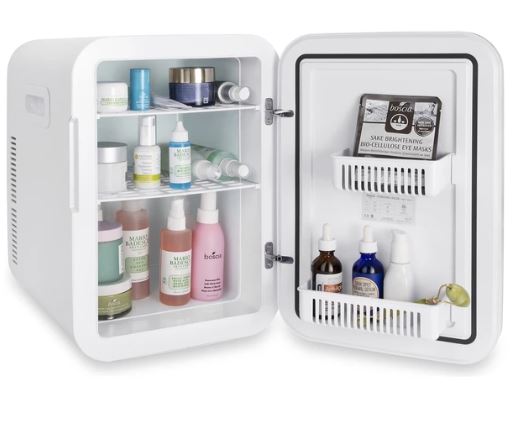 Purchasing the best mini-fridge for use in your home, office, and even in your vehicle is very important; especially if you plan to use this appliance for a long time.
A good number of brands manufacture mini-refrigerators along with the regular size and compact refrigerators. With all these options available, choosing the best mini-refrigerator may not be easy peasy.
Moreover, no one wants to end up with an appliance that stops working just a few weeks or months after purchase.
This is why we took it on ourselves to do all the dirty work of finding the best mini fridges in a market swarming with lots of fridges.
So, in this article, we will show you 6 unique mini-fridges that we discovered during our research. Hopefully, you can find the best one for you among them.
Let's get into it.
Best Mini Fridge with Multiple Power Options
Product Rating – 4.2 Star
Features
i. The matte finish of the Cooluli 4-Liter Mini fridge gives it an elegant look. This makes it suitable for use wherever you place it.
ii. Apart from the AC/DC adapter options, this mini-fridge also comes with a USB adapter to connect it to power banks with suitable capacity.
iii. The grabbable handle on the top makes mobility easy.
iv. It can accommodate up to 6 12-ounce beverage cans.
The Cooluli 4-Liter Mini Fridge is a much advanced portable refrigerator manufactured by Cooluli. Although all Cooluli refrigerators are portable, the 4-Liter Mini Fridge comes with more user-friendly options that customers love.
With its USB connectivity option, users don't have to worry about power outage anymore. In other words, you can now carry your fridge wherever you go (even the remotest places) without worrying that your items will get damaged.
If you love to go hiking or camping during summer breaks or any other time with friends and family, then you may want to consider purchasing the Cooluli 4-Liter Mini Fridge. Its portability and multiple connectivity options make it easier to have a cold beverage whenever you want or keep your meal warm wherever you are.
Meanwhile, note that this mini-refrigerator can only run when it is connected to a 2-amp power bank.
You can also learn more about the features of the Cooluli 4-Liter Mini Fridge in our detailed review of the product here.
Click here to check out this mini-fridge and buy it on Amazon!
Best Mini Fridge – Temperature Control Option
Product Rating – 4.3 Star
Features
i. Two removable refrigerator shelves and door shelves provide ample storage space.
ii. Has a digital thermostat for better temperature control.
iii. The sleek design assures users' comfort and promotes versatility in usage. This implies that you can place your mini-fridge anywhere without having to worry about its appearance.
iv. Due to the advanced technology and usage of a semiconductor for cooling, it is less noisy during operation.
The Cooluli Concord 20-Liter Mini Fridge is a portable refrigerator but can take several items. Also, the shelf arrangement allows you to store items of various sizes.
When compared to several other portable refrigerators, temperature control in the Cooluli Concord 20-Liter Mini Fridge is very efficient. While others can only switch from cooling to heating modes and vice versa, this mini-refrigerator can set the exact temperature you require.
There are control buttons in front of the fridge and a display screen that shows you the fridge temperature. You never have to worry about your delicate items freezing over or your food getting spoilt due to poor temperature controls.
Moreover, the Cooluli Concord 20-Liter Mini Fridge saves you bills on electricity because it uses less power once it reaches your set temperature.
If you plan to store items at any temperature of your choice, then this mini-refrigerator is what you need. Its digital thermostat, dual (AC/DC) connectivity options and quiet operation makes it an excellent choice for users.
There are so many more features of this appliance. Check out this detailed review to learn more about these features.
Click here to check out this product and buy it on Amazon!
Best Mini Fridge – Best Highly Rated on Amazon
Product Rating – 4.5 Star
Features
i. The semiconductor refrigeration chip is Freon-free, making it less dangerous to the environment.
ii. Its removable shelf makes it possible to store small items like cosmetics, food, medications, and skincare products.
iii. Dual temperature functions allow for cooling and warming items.
iv. It uses a quiet technology to keep sound at 25dB, so you can put it on even when you're asleep.
The AstroAI 4-Liter Mini Fridge is the best highly rated mini-refrigerator on Amazon. The 4-liter mini-fridge can take up to 6 beverage cans. Moreover, it has a dual connectivity option. You can power it up using your 12V cigarette lighter in your vehicle, and also use it in your homes and offices by plugging it to an AC outlet.
We wrote an extensive review of the AstroAI 4-Liter Mini Fridge. We suggest you check it out to learn more.
The removable shelf allows you to store small items of various sizes.
Due to its dual temperature function (cooling and warming), what you can store in your mini-fridge is only limited by size.
So, if you have only a few items to put in your refrigerator and you need a portable mini-fridge to get the job done, then the AstroAI 4-Liter Mini Fridge may be your plug after all.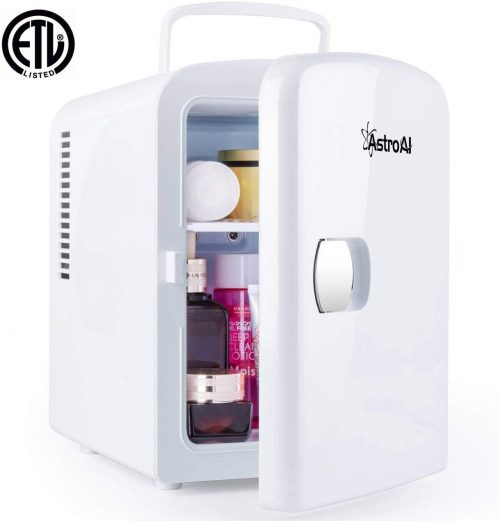 Click here to check out and buy this mini fridge on Amazon!
Best Mini Fridge – Affordable Option
Product Rating – 4.0 Star
Features
i. Features a switch for changing the temperature function from cooling to heating and vice versa.
ii. It is ETL approved and has advanced safety technology which makes it last longer.
iii. Has a handle on the top for better portability.
iv. Its small size and sleek design make it suitable for use anywhere. Also, you can choose from a variety of colors.
The Chefman 4-Liter Mini Fridge with Eraser Board is on this list because it is one of the most affordable mini-fridge to have. Just in case you are skeptical about its efficiency because of its price, it may help to know that a good number of those who have used this product or are currently using have testified that it is a really good product.
This mini-refrigerator comes with the typical AC and DC connectivity options of portable refrigerators. Also, you can use it to cool your beverages, cosmetics, and other items, and also warm your snacks and meals.
For people who have a lot of things to do during the day, the door of the Chefman 4-Liter Mini Fridge also serves as a dry-erase board. So, you can write your goals, tasks or append your to-do list on it and wipe them off as you get them done.
Click here to buy this product on Amazon!
Best Mini Fridge – Speaker Option
Product Rating – 4.1 Star
Features
i. It has a well-functioning speaker which makes using your mini-fridge a lot more interesting, especially when you go for picnics and hangouts.
ii. It can cool up to 32°F below ambient temperature, and warm up to 150°F. So, your food won't get cold until you're ready to eat.
iii. Two detachable power cords come with your mini-fridge for connection to AC outlets in your homes or the 12V DC cigarette lighter in your vehicle,
iv. It can contain about 6 beverage cans and occupy really small spaces, making it very appropriate for small dorm rooms.
It is quite unusual to find a mini-refrigerator with an inbuilt speaker.
The Gourmia 4-Liter Mini Fridge is on this list because it comes with a Bluetooth speaker and other great features. This mini-refrigerator prevents you from getting two separate appliances (a fridge and a speaker) at a very affordable price.
The Gourmia 4-Liter Mini Fridge with Bluetooth Speaker also comes with dual connectivity options, cooling and warming function, and an easy switch for changing temperature functions.
This mini refrigerator is most suitable for students in dormitories. While storing their personal items, they can also entertain their friends with great music.
We have taken some time to put down more information on the Gourmia 4-Liter Mini Fridge here. Check it out to learn more about its features.
Click here to get this mini-fridge on Amazon!
Best Mini Fridge – High-End Option
Product Rating – 4.3 Star
Features
i. It has an LED display in front of the door which makes operating your refrigerator a more interesting experience.
ii. It has an energy-saving mode that you can turn on and off whenever you wish.
iii. This refrigerator also has both AC and DC connectivity
iv. It has a very sturdy handle for easy mobility.
The OMORC 10-Liter Mini Fridge is on this list because it is more sophisticated than the others in the category. Although this refrigerator is not the largest mini-refrigerator, it is able to contain more than 6 cans. You can store small plates of food in it for a long time, except there's no power supply.
Also, this mini-refrigerator has a very useful feature – the ECO mode. The ECO mode allows you to save money spent on power consumption. On the LED display, you would notice this power saving (economy) mode as one of the options. It is advisable to leave this mode active as your refrigerator still warms and cools properly when it is turned on.
We've written everything you need to know about the OMORC 10-Liter Mini Fridge here. It is a good option for people who want to spend some money on something both fancy and effective. Check out the in-depth review.
Click here to get this product on Amazon!
Best Mini Fridge – Buying Guide
Now that we've taken you through the best mini-refrigerators you can purchase on Amazon, you may be very eager to go ahead and make your order. But before you do so, there are various things you need to know so that you can make the right decision.
Moreover, you may even realize that instead of buying a mini-refrigerator, you may need a compact refrigerator or even a regular-sized refrigerator.
Do You Need a Mini Fridge?
Various individuals who buy mini-refrigerators already have a large refrigerator at home where they store most of their items.
A mini-refrigerator isn't always the right option if you're looking for a refrigerator to assist the one you already have in your kitchen because it is filled up.
Mini-refrigerators are portable. This is because they are made for those who need a fridge to use in their cars or carry from home to the office. People buy mini-refrigerators to use in their bedrooms to store cosmetics, drugs, and other items. But that is mostly because they don't want to place these items with foodstuff in the fridge.
A compact refrigerator is what you should get if you need an appliance to support the main refrigerator in your home. It is larger than the mini-refrigerators and contains more items, but it can't be carried from place to place. You can also check out this list of best compact refrigerators to find a suitable one for you.
So, if you're sure that you need a mini-refrigerator, come with us and let's show you factors to put into consideration before you decide to pay for that mini-refrigerator.
Factors to Consider Before You Buy a Mini Fridge
Size (Capacity)
It is very important to take note of the size of the mini-refrigerator you're purchasing. For instance, if you purchase a 4-liter mini refrigerator but you plan to store large containers of beverages, alongside bottles and cosmetics among others, you may be setting yourself up for a not-so-good after-sale experience.
Before you get the mini-refrigerator, put in mind what you want to use it for.
For smaller sized items like breastfeeding bottles and skincare products, you can get the Astro AI 4-Liter Mini Fridge. But if you have something bigger to preserve, consider the Cooluli Concord 20-Liter Mini Fridge.
Convenience
For people who would love to carry their refrigerators with them when they travel or go hiking or camping, it helps to know if your mini-refrigerator would be convenient for you.
What do I mean?
Various refrigerator manufacturers put refrigerator handles at different locations. For some, you have to carry it by the sides with both hands. While for some others like the AstroAI 4-Liter Mini Fridge, there's a strong handle attached to the top. This allows you to lift the refrigerator with one hand.
The strength and location of your fridge handle shouldn't be overlooked if you want to get the best mini-refrigerator. They determine, to a great extent, if you will be comfortable when taking your mini-refrigerator around.
Available Space
Some people do not want to move their mini-refrigerators. While some prefer to whisk it wherever they go, these people are either buying it for their offices, homes, or vehicles. Although they are really small and can be placed anywhere, you do not want to put a mini fridge where traffic will be obstructed.
For instance, people who need their mini-refrigerator to stay in their car may not want to get an excessively large one so that it doesn't become a nuisance when you have a full car.
To avoid this, it helps to have a good idea of the dimensions of wherever you wish to place your refrigerator before making your purchase.
Power Source
The power source of your mini-refrigerator determines where and when you use it. When traveling for hours with friends or relatives, you would need a refrigerator with a 12V DC connectivity. Fortunately, most mini-refrigerators have that.
But what if you're going hiking?
In this case, you can't take your car everywhere. Also, you may not find an AC outlet on a hiking trip. In such an instance, having a mini-refrigerator that has a USB power bank adapter option would be a smart choice to make.
While considering this factor, also consider other factors like size. For example, the Cooluli 4-Liter Mini Fridge has all three connectivity options (AC, DC, and USB), but may not be favorable in terms of size.
So, if you have a lot to store, then it is advisable to go for a mini-refrigerator like the Cooluli Concord 20-Liter Mini Fridge. Because you can't leave it on at all times, you have to keep the door shut except you want to get something out. This way, your beverages would stay cold for long periods.
Warranty
All electrical appliances become faulty after some time, and your mini-refrigerator is not an exemption. For some people, their mini-refrigerators may get damaged only a few weeks or months after purchase.
A warranty helps you replace your faulty mini-refrigerator with ease. For some refrigerators, the warranty is only 1 year long. Some people have discovered that their mini-fridges break down just a short while after the warranty period has expired.
Some manufacturers give up to 3 years warranty on their mini-refrigerators. This gives you enough time to make changes if anything happens.
Noise Level
Because most mini-refrigerators use thermoelectric cooling with the aid of semi-conductors, they do not make a lot of noise during operation. But, this is not always true for all mini-refrigerators.
For example, several users of the Chefman 4-Liter Mini Fridge with Eraser Board have complained about the noise coming from it. But, this kind of noise is not observed in the Cooluli Concord 20-Liter Mini Fridge.
Conclusion
Choosing the best mini-refrigerator for your home, vehicles, or offices may appear tricky. But if you follow the guidelines we've given above, you'll end up with a great item.
Remember, you need a mini-refrigerator that not only offers great features, but also cools and warms food well, and lasts for long periods.
When ranking the best mini-refrigerators, the Cooluli Concord 20-Liter Mini Fridge comes on top. It satisfies a majority of the requirements to consider when buying the best mini-refrigerator.
Although it has only a 1-year warranty and no USB adapter option, it can contain more items than the others. Also, it makes less noise during operation and has a nice handle for portability. Its temperature control feature is also pretty awesome.
So, you can now head over to Amazon to buy your mini-refrigerator. Remember to get the right fridge based on your storage needs, where you want to use it, and any other specific features you may want.