If you find that your Frigidaire refrigerator is only making crushed ice, this article shows you how to fix it quickly and easily.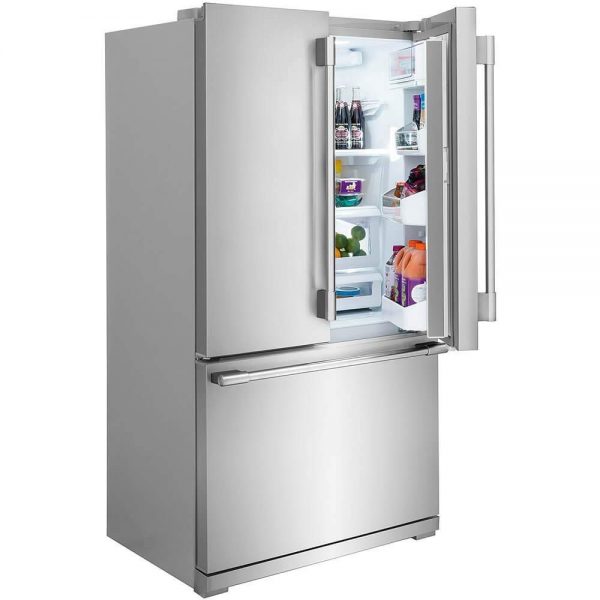 Frigidaire Refrigerator Only Making Crushed Ice – Solved
Take the ice bucket out of the refrigerator and empty it of its contents. Turn it so that the bottom is facing up. Now, check the area from where ice discharges from the bucket. It looks like a door with slants that let the ice out.
This area opens if you want only crushed ice but closes if you want cubed ice. Also, it should be free of ice or any debris.
Run hot or warm water into the ice bucket so that it drains through the discharge area. If there are tiny pieces of ice sticking there, preventing the area from functioning well, the water will clear them.
To determine if this area is still functional, pull the actuator rod to move it up and down. It is a thin steel rod that runs along the ice maker's side, extending from front to back.
If the rod moves freely, check the discharge area to see if it closes and opens as you move it. If it does not, it means it is faulty. You have to replace the ice bucket.
However, if the area functions well when you move the rod, put the ice bucket back into place. This time, make sure it gets to the back of the compartment and clicks into place. Try dispensing cubed ice. If the problem persists, take the ice bucket out again.
Solenoid Is Faulty…
Take a look at the back of the freezer. You will see a white piece that looks like a plunger where the actuator rod rests. It is a solenoid for dispensing cubed or crushed ice, and it is on the right-hand side of the auger motor at the back. For some models, it is on the left side.
See if you can slide the plunger down and up freely. If you can't, you need to fix it. That is what is causing the ice bucket to remain in crushed ice mode. You can easily unstick it if you find it is sticking or replace the plunger assembly if there is any damage.
Here is how to replace the solenoid…
But if it slides freely, make sure the auger motor is running well. Otherwise, you may have to replace the bucket or hire a technician for further troubleshooting. If you have an active warranty, contact Frigidaire for repairs.
Check out these other articles…
Need expert help? Click here to use the chat box on this page to speak with a verified appliance technician right away. No need for expensive in-home service calls. No appointments. No waiting.