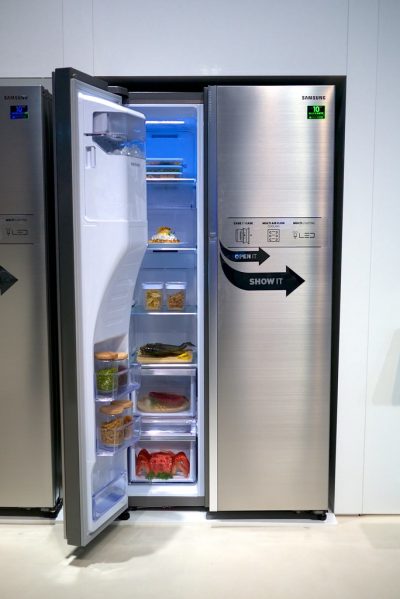 So, you just bought your Samsung refrigerator and you're yet to install it. If your refrigerator is quite large, you may have to remove the fridge and freezer doors before you can install it. If you are here for tips on how to remove Samsung refrigerator doors, then you can rest assured that this article will give you those answers.
For some people, removing the doors is not necessary. It is advisable not to even try to remove the doors if you don't need to.
In fact, to keep your refrigerator intact and prevent all the stress of reinstalling the doors, don't touch those hinges if you don't have to.
But if you must, then come with us as we guide you on how to remove Samsung refrigerator doors.
How To Remove Samsung Refrigerator Doors — Step by Step Procedure
Unscrew the door
When you get your refrigerator to the point where you can't move it anymore, open the doors.
Then, locate and remove the screws holding down the top table.
Afterward, separate the connected wires around those screws.
Disconnect the connectors
There are two connectors located on the door.
Depending on the type of Samsung refrigerator you purchased, they may either be on the left or right side of the doors.
Disconnect both connectors.
Then, remove the water coupler by twisting and pulling it from the hinge.
Note that if there's a red clip on the water coupler, you should remove it before pulling out the coupler.
While pressing the round mouth of the water line coupler, remove the waterline.
Remove the hinge lever
To remove the hinge lever, simply pull it out.
Using a suitable lever (like a Philips Screwdriver), remove the ground screw attached to the door hinges.
Then, remove the left and right door hinges.
Remove the door
After the door hinges are removed, there's usually nothing else holding your door in place. But you must be very careful so that the door doesn't fall to the ground to avoid further damages.
To remove the door, grab both ends and lift the door straight up. You can then continue with the moving and installation process of your refrigerator.
Re-installing your door can be done in the reverse order in which you removed it.
Need a video tutorial on how to remove your Samsung refrigerator doors? Check this one out!
Check out these other in-depth articles/reviews…
How To Remove Samsung Refrigerator Doors Successfully — Quick Tips
Ensure you know where the connector cables belong. One way to do this is by marking the wires or making a few notes when removing the door.
If you already have your refrigerator plugged in, ensure you disconnect the fridge from the power source before you remove the refrigerator door or drawer.
While removing the door, be careful not to scratch, damage, or drop the door in a way that it gets destroyed.
Also, take proper care when carrying out the removal process (i.e. when handling all the equipment), so you don't get injured.
When you reattach the refrigerator door, ensure you don't skip any step. If the door isn't attached well, you could waste a lot of energy, and moisture would form in your refrigerator due to leakage from the door not being closed properly.
How To Remove Samsung Refrigerator Doors — A Recap
Removing your refrigerator door shouldn't take you up to thirty minutes if you know the parts of your refrigerator well. If you don't, you can still get this done, but at a much slower rate.
To remove your refrigerator door, unscrew the door, disconnect the connector and water line coupler, remove the hinges, and then raise the door out of its position.
If you find the process confusing or difficult, then it is advisable to call a professional to get it done.
Finally, be sure that it is absolutely necessary to remove your Samsung refrigerator doors before you remove them.
Want to learn how to reset your Samsung refrigerator? Find out in this detailed article.
How to Remove Samsung Refrigerator Doors — Related FAQs
How Do I Align a Samsung Refrigerator Door?
To align your Samsung refrigerator door, set a 2-foot level on the refrigerator without it resting on the doors. Make sure the bubble is resting in the middle of the lines. If it is resting on one side, it means your refrigerator is not balanced. To ensure that the refrigerator is leveled, pull the grill above the floor and adjust the refrigerator leveling legs until the bubble is sitting in the middle.
To determine if the doors of your side-by-side Samsung refrigerator must be aligned, check if one door is hanging higher than the other by feeling with your hands or looking from afar. Then, adjust the door-adjustment screws using your wrench until the doors are aligned.
How Much Does it Cost to Replace My Refrigerator Door?
To repair or replace your refrigerator door, you will spend between $100 and $240.
The main reason you should replace your refrigerator door is if there's a dent on it. If the refrigerator door isn't shutting properly and you're losing gas, there are more affordable steps you can take such as changing the refrigerator door seal or gasket.
Replacing a faulty refrigerator seal will cost you about $50 to $70, but it doesn't take time to replace and will save you money.
How Do I Fix My Refrigerator Door that Won't Stay Shut?
To fix a refrigerator door that won't stay shut, dip a clean cloth in warm soapy water and wipe the seal clean. Then, wipe it dry. Apply vaseline on your cloth or paper towels and rub it on the seal. Shut the door.
Sometimes, you don't need to change the gasket if the door is not shutting properly. Your door seal may be dry and need lubrication. This would save you the cost of buying a new door seal, and you can complete the process in 5 minutes.
How Long Can My Samsung Refrigerator Door Stay Open?
The average time you can leave your Samsung refrigerator door open without damaging anything in it is 1 – 4 hours.
However, the time varies depending on the type of food items you have in your refrigerator and the quality of the refrigerator you use. For instance, some refrigerators keep food cool even though the door has been left open for longer than 4 hours. But some are warm within 2 hours. Also, some foods spoil faster than others when left under warm temperature conditions.
What Happens if I Leave My Samsung Refrigerator Door Open for Long?
When you leave your Samsung refrigerator open for too long, the cooling coils become frozen, because your compressor is constantly running but it is unable to get the fridge cold. Your food also gets warm and spoils if the door is left open for too long.
Also, it takes longer periods for you to get your fridge warm when you finally close the door. This is because the cooling coils will be ice-clogged and have to go through a defrost cycle.
Does Leaving My Samsung Refrigerator Open Use More Electricity?
Leaving your Samsung refrigerator door open uses more electricity and may cost you some money, but if you close it quickly, you would lose at most $1 per year.
You shouldn't intentionally leave your refrigerator door open for long periods. However, there are other practices that will cost you even more money than leaving your refrigerator open.
For instance, when you put hot food in the refrigerator, it warms the interior and makes the compressor run for longer periods, thereby increasing your electricity usage.
Need expert help? Click here to use the chat box on this page to speak with a verified appliance technician right away. No need for expensive in-home service calls. No appointments. No waiting.