If you are looking for the difference between GE and GE profile refrigerators, you have come to the right place. This article points out the clear differences between the two types of GE refrigerators.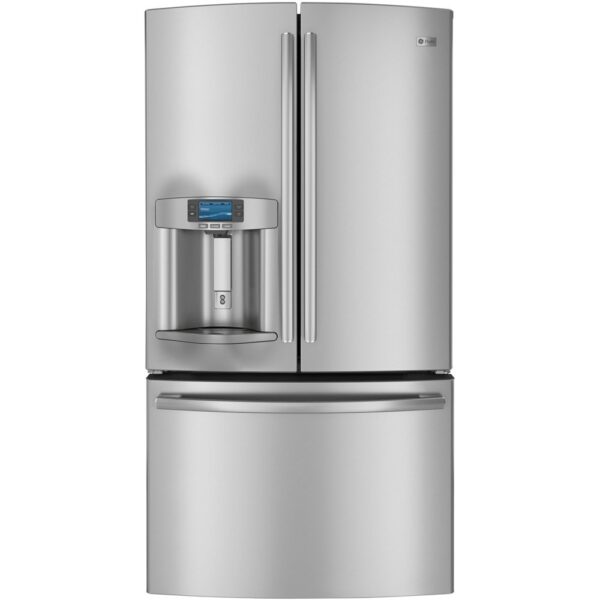 What Is the Difference Between GE And GE Profile Refrigerator?
Let us look at the features of each type:
GE Refrigerator
The Standard/Regular GE refrigerator, as its name implies, provides just the standard GE refrigerator services. That is it offers quality and reliability.
It does not have special features; it comes with just the basic functionalities of a refrigerator. This makes it straightforward and simpler to use.
In addition, a Standard GE refrigerator is more affordable than other types. This makes it perfect for you if you are buying on a budget.
GE Profile Refrigerator
The GE Profile refrigerator takes its features a notch higher than the GE standard refrigerator. While it serves both quality and reliability, it also has better aesthetic designs and features.
For instance, the GE Profile series has smart technologies like interconnectivity and wireless integration.
Furthermore, because of the flair in the features of the GE Profile, it is more expensive than the GE refrigerator.
So, if you will love a sleekier refrigerator, with awesome features, then the Profile refrigerator should be your pick.
The difference between GE and GE Profile refrigerators is in their price, functionality, and aesthetics.
Difference Between GE Profile and Cafe Refrigerators – Answered
Here is the difference between GE Profile and Cafe refrigerators:
GE Profile Refrigerators
The GE Profile refrigerators are sleekier in appearance when compared to the Cafe refrigerators. They have more streamlined glass door handles to accentuate them.
In addition, it is not as expensive as the Cafe refrigerators, making them an affordable luxury appliance.
A GE Profile refrigerator is best for homeowners who like a contemporary look to their kitchen.
GE Cafe Refrigerators
The Cafe refrigerators are built to look like the refrigerators you see in a restaurant. They look sturdy, have big control dials, and hefty door handles.
In addition, they have the same functionalities as restaurant refrigerators. They have an exclusive climate zone to keep humidity and temperature at a specified level. This keeps food fresher.
They also dispense both cold and hot water, as opposed to the Profile refrigerator that dispenses just cold water.
Furthermore, the GE Cafe series is more expensive than the Profile series. However, it is not up to the cost of a restaurant refrigerator. So, if you want your kitchen to feel and look like a professional kitchen, then the Cafe it is.
Watch this video to learn more about the differences between the 2 refrigerator series…
While General Electric has several types of refrigerators which differ in price, appearance, and functionality, their standards remain the same. With GE refrigerators, you are sure of quality, reliability, and at least a year's warranty.
Check out these other articles…
Need expert help? Click here to use the chat box on this page to speak with a verified appliance technician right away. No need for expensive in-home service calls. No appointments. No waiting.