EdgeStar is one of the popular and go-to brands for a wide range of home appliances including the EdgeStar 103-can and 5-Bottle Beverage Refrigerator.
The brand is one of the subsidiaries brands owned by the parent company called, Living Direct.
Some of the products EdgeStar manufactures include beverage coolers, wine coolers, mini-refrigerators, compact refrigerators, and some other kinds of home cooling solutions.
EdgeStar also boasts a team of skilled researchers and designers who constantly invest hours into developing products that make life easier for its customers.
And if for any reason customers have some after-sale issues, the brand promises excellent customer service to help them resolve those complaints so that they can get good value for their money.
But because EdgeStar says it doesn't mean this particular product is the perfect one for you. This is why we have put in several hours into researching what this 103-can beverage refrigerator offers.
So, at the end of this review, you will be in the right place to make an informed decision about it.
Who Needs the EdgeStar 103-can and 5-Bottle Beverage Refrigerator?
There are different reasons why people shop for beverage coolers. One such reasons may be for exclusivity. In the sense that rather than cramp their main refrigerator with cans and bottles of drinks, users can make much-needed space available for foods and vegetables in the refrigerator. And they can easily do this by moving the drinks to a unit, like a beverage cooler, that is specially designed for them.
But much more than that, because the EdgeStar 103-can and 5-Bottle Beverage Refrigerator doubles as a beverage cooler and wine cooler, it becomes the perfect cooling appliance for those who need the luxury of being able to cool wines, beers, sodas, and water in the same unit.
More so, with a wide temperature range that allows the unit to cool drinks to as low a temperature as 32 degrees Fahrenheit, different kinds of drinks can be cooled in it without hassles.
That said, another reason that this cooler may be suitable for you is if you are also particular about the unit's door being reversible. We know his feature is actually useful especially if you haven't decided on where to install the unit yet and don't know if the final resting place will require left-hand or right-hand opening.
Meanwhile, if you are very keen on the safety of your liquid treasures, then you may be pleased to learn that this cooler also has a safety lock.
Well, since we all know 103 is quite a number to have all stored up in one place, restricting access to your collection would be an effective way to ensure that drinks are not disappearing from your unit mysteriously.
Features of the EdgeStar 103-can and 5-Bottle Beverage Refrigerator
Effective and Quiet Cooling
One of the Perks of the EdgeStar 103-Can and 5-Bottle Beverage Refrigerator is that it cools drinks effectively.
And because this cooler is designed to cool not just canned drinks but bottled drinks like wines, its temperature range makes it possible to cool different kinds of drinks in it.
So, if you plan to have wines, sodas, beers, water, and juices in this unit, you can rest assured that this cooler will make that plan a reality.
What's more? Even though we know this isn't a silent wine cooler, it helps to know that its noise level is pretty low. So, being a compressor cooler, it is likely that you will hear some low humming sounds from time to time. But even that is often low and you may not even hear it till you are close to the unit.
Low Cooling Temperature
This beverage cooler has a temperature range that spans between the low 30s and the high 50s in Fahrenheit. So, it means that it can get to really low temperatures. In fact, if you are one of those who like their beers and sodas ice cold, then you may be happy to learn that temperatures in the unit can get to as low as 32 degrees Fahrenheit.
That said, we should let you know that the thermostat, as well as, the defrosting method in this unit is mechanical.
So, the temperature setting will require the user to turn a dial till a set temperature is achieved. And with this cooler, the range is between 1 and 5; with 1 being the highest (warmest) temperature and 5 being the lowest (coldest) temperature.
Users who have used or are using this product have mentioned that leaving the dial on the 5th mark makes for a really cold environment for their drinks and sees them picking out frozen cans after 2 to 3 days. So, for a good number of people, the 4th mark seems like the perfect setting.
You may want to keep this piece of information on one hand as you decide on whether or not this cooler is suitable for you.
However, it will be a lot useful to have a digital fridge thermometer in the unit to be sure of the temperature at which your drinks are cooling.
Removable Racks
The EdgeStar 103-Can and 5-Bottle Beverage Refrigerator features 6 chrome shelves. 5 of these shelves are full-length while the last one is a half-length rack.
The first 5 racks designed for the cans are arranged in such a way that cans are made to lie on each rack to fit in, while the half-length at the bottom allows the racks to sit upright in the cooler.
In any case, these shelves are removable. So, if you have larger or taller cans, you always have the liberty to customize the shelf arrangement to fit in some of such cans.
Also, the fact that the shelves are removable assures the user that in the event that he or she needs to clean the unit, the task will be easy, effective, and quick.
That said, we should also mention that there's a scalloped wine rack in this unit as well. The scallop effect ensures that each bottle is held in place without rolling into another bottle.
But we also thought you let you know that this wine rack is only suitable for 750ml wine bottles with 2.5-inch diameters. So, longer or fatter bottles like the sparkling wines may not fit into the unit.
Integrated Safety Lock
This feature is quite a no-brainer especially because it has a large capacity. So, imagine that an event planner or host is in the market for this cooler. He or she will want to monitor what leaves the unit and how frequent the drinks disappear.
In fact, even if the purpose is for personal use, it just helps to know that you can protect your collection and restrict access to it.
So, if you are keen on keeping unwanted hands – like the under-18 hands away from the alcoholic drinks in your fridge – then you will find this feature very useful.
Nice and Attractive Design
The EdgeStar 103-Can and 5-Bottle Beverage Refrigerator also has a nice design.
First, the shelf arrangement makes it easy to arrange the cans and bottles in the unit in a neat and aesthetically pleasing manner. And even all that nice looking stuff is made visible to the observer through the unit's see-through glass door.
So, you can actually show off your collection or allow a guest or customer the pleasure of peeking into your inventory to decide on what drink they want to have without the need to open the unit.
Also, there's an LED light in this unit that lights up the interior, makes the collection look more beautiful and visible even in a poorly lit room.
Back to the unit's door:
Not only is this door predominantly glass, but it also has a strong stainless steel frame to line its edges. But more importantly, the door is reversible. So, the user can change the hinge to whichever side he or she prefers.
Pros of the EdgeStar 103-can and 5-Bottle Beverage Refrigerator
i. Effective and quiet cooling.
ii. Its nice and attractive design makes the unit suitable in almost any space.
iii. Has a generous capacity.
iv. Offers cooling and storage for up to 5 wine bottles.
v. Its heavy-duty door is reversible.
vi. Design features a recessed handle.
vii. Removable and slide-out shelves make arranging, sorting, and cleaning easy.
viii. Instructions on installation, reversing the door, and using the unit are straightforward.
ix. Features an integrated lock for the safety of the collection.
x. Features an interior LED light with a switch to decide when the light should be on or off.
Cons of the EdgeStar 103-can and 5-Bottle Beverage Refrigerator
i. Shelves may sag when they are fully loaded.
ii. Condensation may form on the glass door at really low temperatures.
Check out these other in-depth articles/reviews…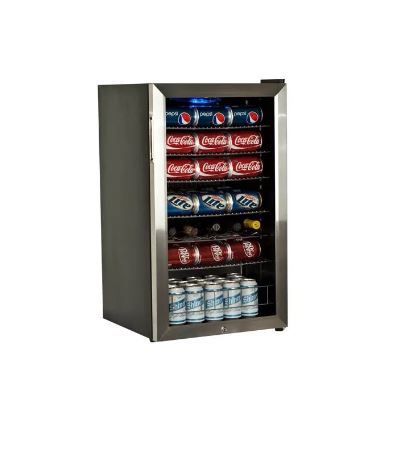 Get the EdgeStar 103-Can and 5-Bottle Beverage Refrigerator Now!
Alternatives to the EdgeStar 103-can and 5-Bottle Beverage Refrigerator
Option with Glass Shelves? 
RCA 110-Can and 4-Bottle Beverage Refrigerator
Like the featured product, this beverage refrigerator by RCA is suitable for cooling, not just canned drinks but wines also.
However, unlike the featured product which has metal shelves for the cans to stand or lie on, this particular beverage cooler has glass shelves. And not only are these glass shelves strong and durable, but they are also stylish.
What's more, the RCA beverage cooler offers storage capacity for up to 110 cans where the featured product can take 7 cans less.
Another reason that you may like this beverage cooler is that it is frost-free. Plus the chances of condensation forming on the glass door are slim.
You can learn more about this beverage fridge here.
Dual Zone Option
NewAir Dual Zone Beverage Cooler
The NewAir Dual Zone Beverage Cooler is a recommended cooler for users who like to have wines, beers, and sodas all in one place.
So, the top section of the unit can have your drinks cooling within the range of 36 to 50 degrees Fahrenheit, while the bottom section can cool drinks within the range of 50 to 66 degrees Fahrenheit.
One unique feature of this beverage cooler is its SplitShelf™ wine rack configuration. So, asides being able to slide out easily, the unique configuration of the racks allow users to add modular shelf for double stacking or to accommodate taller bottles.
What's more? The unit features temperature control buttons for both zones, light control for the interior LED lights in them, and a display screen to monitor the temperature in each zone.
Option with Larger Capacity 
NewAir 126-Can Beverage Cooler 
We recommend this beverage cooler because it offers storage capacity for up to126 canned drinks. In fact, it may be a better choice to opt for especially, if you want the unit to be exclusive to cans without the wine bottles.
Another reason that we recommend this cooler to you is that it has a temperature range of 34 to 64 degrees Fahrenheit. This means that its minimum temperature is lower than that of the featured product. So, if you are that beer lover who likes to have his or her drinks icy cold, then this fridge is your plug.
There are also removable and adjustable shelves for users to fit in beer bottles and a few wine bottles. So, even if you want to include bottles into your collection, you can do that easily.
You can also get in-depth information about this cooler here. 
Quick Comparison
Featured Product
Glass Shelves
Dual Zone
Larger Capacity

Product

EdgeStar 103-Can and 5-Bottle Beverage Refrigerator

RCA 110-Can and 4-Bottle Beverage Refrigerator

NewAir Dual Zone Beverage Cooler

NewAir 126-Can Beverage Cooler

Click here to get it on Amazon!

 

Dimensions
33 inches high x 19 inches wide x 18.25 inches deep
24 inches x 24 inches x 23.5 inches
22.6 inches long x 23.70 inches wide x 33.6 inches high
19 inches long x 19.25 inches wide x 33.13 inches high
Capacity
103 Cans/5 Bottles
Approx. 96 Cans
70 Cans and 20 Bottle
126 Cans/ 3.4 Cubic-feet
Zoning
Single Zone
Single Zone
Dual Zone
Single Zone
Installation Type
Freestanding
Freestanding
Built-in/Freestanding
Freestanding
Cooling Technology
Compressor
Compressor
Compressor
Compressor
Temperature Range

(degrees Fahrenheit)

Low 30s – Mid 50s
41 – 64
Top: 36 – 50

Bottom: 50 – 66

34 – 64
Available Sizes
103-Can/5-Bottle
96-Can
70-Can/20-Bottle
126-Can

 

Shelves
5 full-length Chrome Shelves,

1 Half-length Chrome Shelf, and

1 Full-length Scalloped Wine Rack

3 Glass Shelves and 1 Chrome Wire Shelf
Top: 1 full wire shelf and half wire shelf

Bottom: 2 Wooden Shelves

5 Metal Shelves
Color
Stainless Steel
Black
Black
Black
What Users Are Saying about the EdgeStar 103-can and 5-Bottle Beverage Refrigerator
The EdgeStar 103-can and 5-Bottle Beverage Refrigerator is one good beverage refrigerator that some users will gladly recommend to those who are in the market for an appliance of the sort.
Here's why:
First, for most users, the generous capacity of the cooler is one that they particularly love. So, while they can cool up to 103 cans of sodas or beers, they can also cool up to 5 wines in the unit without hassles.
What made it even better for some people is that the unit could get to really cold temperatures to ensure that the bottles and cans aren't just sitting idly in the unit.
So, whether it is champagne, red wine, beer, soda, water, or juice, the temperature range appeared to be more than willing to accommodate them.
Meanwhile, the lock feature was a plus for some of the users. The sheer fact that they could monitor what enters and leaves their cooler was something they loved. They could easily restrict access and also keep unwanted hands out of the unit.
All that said, the major concern for a few of the users was that the wire shelves seem to sag visibly under the weight of the cans. Well, some people noted that this happened when the unit was fully loaded; which is why some wished that the shelves were made from glass rather than metal.
Check out these other articles…
GE Refrigerator Evaporator [Issues and Solutions]

GE Freezer Is Frosting Up [Solved]

GE Refrigerator Fan [Issues & Solutions]

Whirlpool Refrigerator Compressor [Issues Solved]

Kenmore Refrigerator Compressor [Problems Solved]

Maytag Refrigerator Compressor [Issues and Solutions]

KitchenAid Refrigerator Compressor [Issues Solved]

 
Our Verdict
Like the users, we also think the EdgeStar 103-can and 5-Bottle Beverage Refrigerator is a pretty good cooler and one worth considering.
In terms of cooling, it is effective in bringing drinks to set temperatures in no time. And it does that quietly without being a nuisance.
We also love that it can get to low temperatures where some beers lovers love their drinks to be. What's more?  The range is accommodating of different kinds of drinks.
Also, speaking of variety, we particularly love that this cooler doubles as a wine cooler. So, one can easily have up to 5 wines in the unit.
The design of the unit is also quite simple and nice with its reversible door, recessed handle, stainless steel look, and interior LED light.
We only wish that the insulation in the unit was a lot better to avoid the condensation that forms on the door at really low temperatures.
But in spite of this, we think that this cooler is worth every cent paid to have it.