Haier is one of the top leaders in the consumer appliance world. It manufactures a wide range of products and home solutions that a good number of customers have come to love and appreciate. These include the Haier 150-Can Beverage Center.
One of Haier's mantras is that although its large and growing customer base is keen on getting high-quality and functional appliances from the brand, on its own, Haier strives to do much more than deliver good products.
According to the brand, apart from being able to provide solutions that make everyday life easier and each day worth taking on, it also adds life to those activities with its products.
So, customers also get to liven up their weekend and transfer that energy to the work-filled and energy-sapping weekdays. This includes getting laundry done and making the perfect dinner for your family and friends during or after the day's work.
As a home appliance brand, Haier says it is always eager for its customers to get back home where it can help them get their personal lives sorted out with ease.
In this review of its 150-can beverage center, we will let you in on all you need to know about the product before you decide on it.
Who Needs the Haier 150-Can Beverage Center?
Errrm….First of all, let's talk about its capacity…
So, one of the things that make this beverage center worth checking out is its capacity. A cooler that can cool up to 150 cans of beers and sodas will be very useful to someone who is in the market for large capacity.
And if that person is you, then you may want to stay a little longer on this review to find out what else this beverage center offers and if it is, in fact, what you've been looking for.
This beverage center may also be a necessity if one of the things you are looking for in a beverage fridge is a safety lock. And since you will be having a large collection of drinks all in one place, it is not out of place to look out for the safety of the collection as well. So, the fact that this beverage center has a lock may be a sign that it is what you need.
What's more? If you are also looking to have bottles in the unit, then the well-spaced shelves and the bottom gate may appeal to you. The bottom gate, for instance, will allow you to fit in some beer bottles if you choose to.
All that said, the Haier 150-Can Beverage Center is a suitable beverage cooler for someone who is in the market for larger capacity, quiet and efficient cooling, customizable storage, and lock feature.
However, to get more info about all these and how well Haier delivered on them, we suggest that you keeping reading this review.
Features of the Haier 150-Can Beverage Center
Efficient and Quiet Cooling
Haier 150-Can Beverage Center has a temperature range of 39 to 61 degrees Fahrenheit. This range is suitable for cooling beers, sodas, water, juices, and even wines; depending on how tall and thick the bottles are.
This means that getting a drink whenever you, a guest or a customer needs one will be an easy task. And if you decide to change the temperature at which the unit cools your drink, the adjustable thermostat will help you get the job done.
Unfortunately, this unit doesn't have a temperature display screen to tell you the temperature in the unit. You can only estimate it by the position of the thermostat. This is why we recommend that you get a digital thermometer for the unit. With this, you can also control the temperature in the unit based on your preference.
That said, one other good thing about this cooler is that it runs fairly quietly. So, you can actually share the same room with it.
Generous Capacity
Just as we mentioned earlier, 150 is quite a number. And we think this is quite generous for a beverage cooler.
It means that this unit will be useful at events were a sizable number of people will be. If you are in charge of catering to that event, then you may want to include this to the list of appliances to have at such an event.
Plus, even if this for personal use, you are sure that if your friends, colleagues, and loved ones come visiting, you will always have a drink to offer them.
So, if for instance, you use your man cave, game room, or studio often, and your friends share that space with you, you don't have to make several trips to the main refrigerator to get a drink for yourself or your friends.
More so, having a beverage center with this capacity will help you create your much-needed space for food and groceries in your main refrigerator if that's where you've been cooling your drinks before now.
Lock Feature
This beverage center also comes with a lock feature. The lock feature will help you safeguard your collection and also restrict access to it.
So, whether you decide to have it installed in your home, office space, or at an indoor event, you can be sure that there's some form of safety for your collection.
This feature ultimately helps you keep unwanted hands and inquisitive kids out of the unit.
Simple and Nice Design
The Haier 150-Can Beverage Center has a simple but nice design that brings aesthetic value to any space where it is installed.
So, this beverage cooler will gladly fit into your personal space while blending with your furniture and existing appliances.
One of the design features is its tinted glass door which has a stainless steel frame all around it. Now, with this glass door, the reception varies with users. So, while some love it, some don't.
However, most people love that the door is reversible. The door being reversible means that the user can adjust it to the right-hand or left-hand opening.
Plus, the interior LED light is one that doesn't emit any heat that may increase the temperature in the unit. This LED light creates a nice ambiance in the unit and can be turned off and on with a switch.
What's more? Even though this beverage center offers a large capacity, it is actually quite compact. So, it is really a case of large capacity with a small footprint.
Customizable Storage
There are 4 vinyl-coated shelves in black color in this unit. These shelves are designed to hold sets of cans.
There's also a bottom section that has a gate where cans can be stacked on each other. You may also choose to place beer bottles in this section instead of cans. It really depends on what you decide.
The shelves can also be removed to customize the available space and also include taller cans like the Red Bull can and some other bottles.
Pros of the Haier 150-Can Beverage Center
i. Efficient and quiet cooling.
ii. Has 4 vinyl-coated and removable shelves to accommodate cans of different sizes and bottles.
iii. The door is reversible.
iv. Lock feature safeguards the collection when it is used.
v. Has a simple and nice design.
vi. Features interior LED light which creates a nice ambiance.
vii. Has a recessed handle.
viii. Offers generous storage capacity.
Cons of the Haier 150-Can Beverage Center
i. Some users don't like the black tint on the door.
Check out these other in-depth articles/reviews…
Alternatives to the Haier 150-Can Beverage Center
Option with Smaller Capacity
EdgeStar 62-Can Beverage Cooler
This 62-can beverage is one of the smaller beverage coolers that we recommend because it is not just smaller in capacity but is also compact and space-efficient. This means it will be a good choice if you don't have so much space to give up for the featured product.
The EdgeStar 62-Can Beverage Cooler allows drinks with different size without hassles. So, you can actually have up to 40 units of 16-Ounce cans in it or decide to go for the 12-Ounce cans and store up to 62 cans in the unit. Alternatively, you can have 32 Gatorade bottles in it.
You can also rest assured that your set temperatures will be reached quickly so that you don't have to wait on your hands for your drinks to get cold.
Learn more about this beverage cooler here.
Dual-Zone Option 
Phiestina 24-Inch Dual Zone Beverage and Wine Cooler
The Phiestina 24-inch Dual Zone Beverage and Wine Cooler offers efficient dual cooling and even more.
This cooler doubles as a wine and beverage cooler and it is evident even in the design of the unit. So, it comes in a French-door style such that one side of the unit is dedicated to cooling the cans and the other side is dedicated to cooling wines and beers.
Beverages are cooled in the right section within a range of 38 to 50 degrees Fahrenheit while wines are stored in the left section within a range of 40 to 66 degrees Fahrenheit.
The shelves in this unit are removable and adjustable for customized storage options. So, users can adjust the shelves to accommodate larger bottles and taller cans.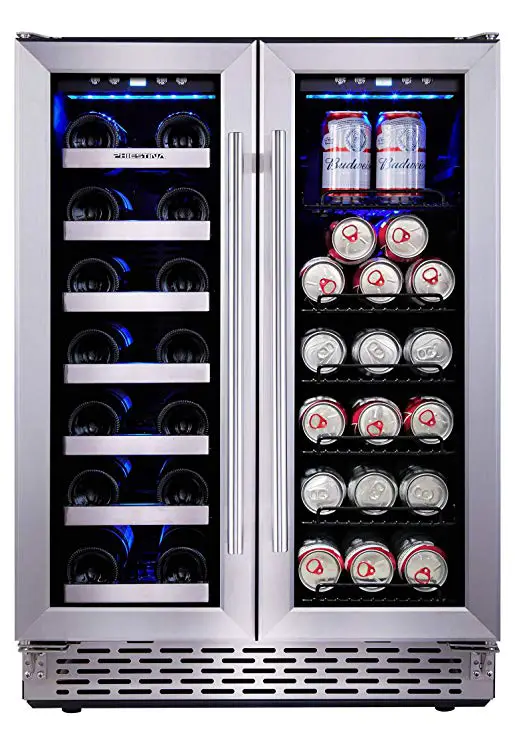 Different Color
Whynter 120-Can Beverage Refrigerator
The Whynter 120-Can Beverage Center is a compressor cooler that is also designed to cool wines, beers, and sodas of your choice. However, we recommend it because of its white color. So, if you don't want to stick to the conventional, then you may want to give it a try.
Even though this beverage cooler offers slightly less storage space for your preferred drinks, it is actually quieter than the featured product. So, if you think you won't be able to deal with a noisy cooler and you don't mind the 6-can difference, then you may want to consider going for Whynter's beverage center instead.
This beverage cooler has a modern and elegant design that will definitely add to a face-lift if you are thinking of remodeling your kitchen or personal space anytime soon.
It also has a lock and a pair of keys so that you can keep unwanted hands out of your unit.
You can learn more about this beverage cooler here.
Quick Comparison
 
Featured Product
Smaller Capacity
Dual Zone Option
Different Color
Product

Haier 150-Can Beverage Center

EdgeStar 62-Can Beverage Cooler

Phiestina 24-Inch Dual Zone Beverage and Wine Cooler

Whynter 120-Can Beverage Refrigerator

Click here to get it on Amazon!

 

Dimensions
21.25 inches x 20.5 inches x 31.4 inches
20 inches high x 17 inches wide x18.5 inches deep
23.4 inches x 22.4 inches x 33.9 inches
19 inches wide x 17 inches deep x 25.25 inches high
Capacity
150 Cans
62 Cans
20 Bottles and 63 Cans
120 Cans/ 3.4 Cubic-feet
Zoning
Single Zone
Single Zone
Dual Zone
Single Zone
Installation Type
Freestanding
Freestanding
Built-in/Freestanding
Freestanding
Cooling Technology
Compressor
Compressor
Compressor
Compressor
Temperature Range

 

(degrees Fahrenheit)

39 – 61
High 30s to Mid-50s
Beers: 38 – 50

 

Wines: 40 – 66

30 – 60
Available Sizes
150-Can
62-Can
20-Bottle/63-Can
120-Can
Shelves
4 Vinyl Shelves
1 Chrome Shelf
Left: 7 Metal Shelves

 

Right: 6 Wire Racks

5 Metal Shelves
Color
Stainless Steel
Black/Stainless Steel
Stainless Steel
White
What Users Are Saying about the Haier 150-Can Beverage Center
The Haier 150-Can Beverage Refrigerator has drawn different reactions from some users. With responses like 'perfect', 'just okay',  and 'does the job' being the summary of a good number of them, we can safely say that this beverage center made some users happy.
Here are a few of the things users had to say about the Haier 150-Can Beverage Refrigerator:
For some users, the generous capacity of this cooler was what they particularly loved about it. The sheer fact that this large capacity allows them to go to town with the drink variety was one thing that they appreciated.
So, whether it was for personal use, commercial use at a bar, or for an event that the user was hosting, the capacity, more often than not, always gets things moving whenever a customer or guest needed a can of cold drink.
The design of this unit is another feature that some users like. Now, with this particular aspect, the responses were divided between those who liked it and those who didn't like it. Well, most of them were comfortable with the recessed handle, outer cabinet, and the fact that the door is reversible. However, some don't like that the door is tinted.
That said, the LED lights in the unit and the bottom rack that could hold beer bottles in an upright position also got the attention of some users.
Check out these other articles…
How to Stop a GE Refrigerator from Rolling [Quick Guide]

How to Pull Out a GE Refrigerator [Quick Guide]

How to Get a GE Refrigerator Out of Demo Mode [Quick Guide]

How to Change GE Fridge from Celsius to Fahrenheit [Quick Guide]

GE Cafe Refrigerator WiFi Setup [Quick Guide]

GE Refrigerator Evaporator [Issues and Solutions]

 
Our Verdict
We don't think the Haier 150-Can Beverage Center is a bad beverage cooler. In fact, we think that it may be worth the try.
And this is because it cools beverages within its temperature range efficiently and quietly. With this efficiency, we also noted the generous capacity of the unit which can be useful in different settings.
One good thing about this beverage center that we love is that it is space-efficient in spite of its large capacity. So, it may also be suitable for someone who has a small space for an appliance.
However, it would have been a lot better if it could get to lower temperatures; especially for beer lovers who like their drinks served really cold.
Need expert help? Click here to use the chat box on this page to speak with a verified appliance technician right away. No need for expensive in-home service calls. No appointments. No waiting.