The aim of this review is to provide you with detailed information about the Dometic Tropicool TC35 33-Liter 12V Cooler/Warmer. But we would like to begin with a short summary of the brand that manufactures it — Dometic.
Dometic's journey to being one of the household names when it comes to cooling solutions started in 1933.
Today, decades later, it boasts a full line of hi-tech travel coolers. Other products manufactured by this brand include portable toilets, electric refrigerators, and a number of other travel appliances. The brand also has a wide range of RVs and RV accessories specifically designed to make mobile life easy and fun.
This brand is known for its durable, long-lasting travel appliances ass well as its amazing customer service.
With its increased focus on sustainability, Dometic shows that it places value on its user's needs as well as the needs of the environment.
Having been in business for a long time, Dometic has become a global leader in mobile living. It has been able to keep its products up to date with the current environmental and technological standards over the years.
We like brands that offer good service and products. That is why we recommend this Dometic portable cooler.
But don't just take our word for it.
We advise you to go through the rest of this article to see if this portable cooler is perfect for you.
Who Needs the Dometic Tropicool TC35 33-Liter 12V Cooler/Warmer?
More and more people around the world are living mobile these days.
For instance, professional truck drivers may live mobile for work-related reasons. Other mobile life scenarios include camping, long road trips, and vacations.
This Dometic Tropicool TC35 33-Liter 12V cooler/warmer has a sturdy construction.
It will definitely be the perfect addition to your road trip because, with it, you won't have to worry about buying ice or risk your food getting spoiled.
It is also energy-efficient and can work in tilted positions. This will be great news if your trips include bumpy rides an/or boat cruises.
In addition to that, being able to work with an AC adapter gives it a dual function. This means it can also be used in your room, hotel, or even office. It can also be run constantly as a mini-fridge even in your bedroom because it is not a noisy model.
Speaking of dual function, this portable cooler also doubles as a warmer and would definitely come in handy if you ever need to take cooked food to an event, picnic or potluck.
Click here to get it on Amazon
Features of the Dometic Tropicool TC35 33-Liter 12V Cooler/Warmer
Cooling and Heating Function
As with most appliances from this brand, this Dometic portable cooler has quite a number of hi-tech features that are uncommon with other products within this same price range.
For instance, it has a seven stage temperature regulation for both cooling and heating which helps the user to control how hot or how cool the unit gets.
This unit also features a memory function that will retain the temperature you set on the cooler. What that means is that even if you have to turn off the cooler for whatever reason, your settings will still be unaltered.
What's more? The control buttons of this unit are dust and moisture-proof with an LED temperature display that is also weatherproof.
Energy Efficiency
This a feature we love and we are sure you will love it too as it means you get to save your money by using less power.
The Dometic Tropicool TC35 33-Liter Cooler/Warmer has an energy class rating of A++ so you don't have to worry so much about it draining your car's battery or it having a drastic effect on your power bill.
This model has an intelligent power saver circuit which functions in such a way that when the device has reached the set temperature range, it will automatically change to the energy save mode.
In this mode, the only energy consumed is what is required to reach the temperature in the box.
Design
The Dometic Tropicool TC35 33-Liter Cooler/Warmer is compact and lightweight which makes it very portable and suitable for mobile use. It has a solid, fold-away handle that neatly folds down when it is not in use or needed.
For even more ease of use, the cooler can be powered by either an AC or DC power source. Simply put, this means you will be able to enjoy this cooler either from the comfort of your home or in any kind of vehicle.
It is also able to tilt to an angle of 30° which is great if you plan on taking it on a boat ride.
Capacity
This 33-Liter portable cooler boasts a generous amount of space that can accommodate as many as 42 cans and even take some bottles standing in upright positions.
It also has a removable shelf which allows the user to customize the available storage capacity.
Cooling Efficiency and Noise Level
This high-quality thermoelectric cooler has such an exceptional performance that is almost at par with compressor operated appliances. It is able to cool items to as low as 30 °C (86 °F) below ambient temperature and also to heat them up to 65 °C (149 °F).
It operates with a wear-free fan and circulates efficiently through the hot air vents.
As expected with a  good thermoelectric cooler, this unit is quiet.
With the engine of your car on, it would definitely drown out whatever noise that may have been previously audible.
You can also run the cooler in your bedroom or hotel room at night and still enjoy a good night's rest without being disturbed by a noisy refrigerator in the background.
Click here to get it on Amazon
Pros of the Dometic Tropicool TC35 33-Liter 12V Cooler/Warmer
i. Can function as a Cooler or Heater.
ii. Has a generous capacity.
iii. It is environmentally-friendly.
iv. It is energy-efficient.
v. Has a detachable lid with a magnetic lock.
vi. Has a seven stage temperature regulation for both cooling and heating.
vii. Sturdy and durable.
viii. It has a low noise level.
Click here to get it on Amazon
Cons of the Dometic Tropicool TC35 33-Liter 12V Cooler/Warmer
i. It is a bit heavy.
Check out these other in-depth articles/reviews…
Alternatives to the Dometic Tropicool TC35 33-Liter 12V Cooler/Warmer
More Affordable Option
Koolatron Voyager 27.5-Liter 12V Portable Cooler 
Although this cooler is a bit smaller, it is a more affordable alternative.
It is durable, has a nice design, and is perfect for a range of outdoor activities including camping, boating, and picnics.
This portable cooler boasts a state of the art cooling technology; and being a thermoelectric cooler, it is able to cool below the ambient temperature at a low noise level. It also has a quite generous amount of space and is a lightweight unit.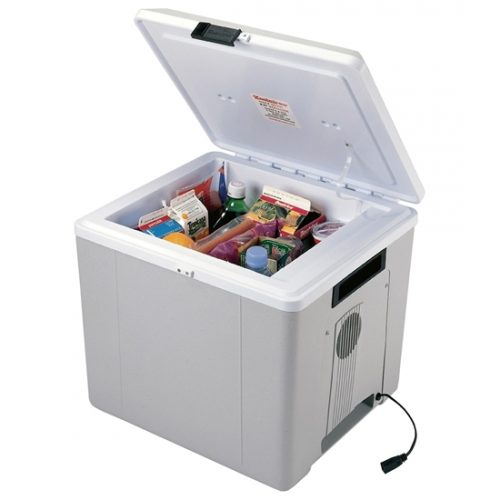 Click here to get it on Amazon
Smaller Capacity
Dometic 9-Liter Portable 12V Fridge/Freezer 
The Dometic Tropicool TC35 Cooler is a nice 12V cooler. But it may get a little heavy when it is full. So it may be better suited for larger families.
Against this backdrop, we suggest a much smaller, and lighter cooler to meet the needs of those who aren't particularly pleased with the large size of the Tropicool cooler.
This smaller model from the same brand has all the quality that Dometic coolers are known for. It is however a little different in that it functions as a portable refrigerator or freezer. In fact, it is able to cool down to as low as 0°F.
However, unlike the featured product, it doesn't have a heating function.
It has an adjustable shoulder strap which makes it easy to carry it around. Sadly, this cooler can only be used with DC supply. What this means is that you can't connect it to a power source in your home, office, or any place other than your vehicle.
It is also worthy of note that this cooler though smaller is much more expensive than the Dometic Tropicool TC35 cooler.
Click here to get it on Amazon
Larger Capacity 
Coleman PowerChill 38-Liter  12V Hot/Cold  Cooler
This versatile thermoelectric cooler from the renowned brand Coleman is pretty impressive as it keeps food items at an ideal temperature.
Due to its large capacity, this cooler is able to accommodate a considerable amount of food and drinks; making it perfect for families and on long trips.
Its design allows it to be placed horizontally and used as a chest or to stand vertically and be used as a fridge.
More so, the doors open from either the right or the left side which gives more flexibility to its placement.
Click here to get it on Amazon
Quick Comparison
| | | | | |
| --- | --- | --- | --- | --- |
|   | Featured Product | More affordable | Smaller Capacity | Larger Capacity |
| Product | Dometic Tropicool TC 35 33-Liter 12V Cooler/ Warmer | Koolatron Voyager 27.5 Liter 12V Portable Cooler | Dometic 9-Liter Portable 12V Fridge/ Freezer | Coleman PowerChill 38-Liter  12V Hot/Cold  Cooler |
| Capacity | 33 Liters | 27 Liters | 9 Liters | 38 Liters |
| Cooling System | Thermoelectric |  Thermoelectric |  Compressor | Thermoelectric |
| Dimensions | 22.4 inches  x 20.3 inches  x 15.3 inches | 17.5 inches x 16 inches  x 5.4 inches | 21.6 inches  x 9.4 inches  x 14.1 inches | 24 inches  x 17.2 inches x 16 inches |
|  Features | Magnetic lock and Seven stage temperature regulator | Dual orientation | Adjustable shoulder strap | Dual Orientation |
| Available Sizes | 14-Liter, 20-Liter, 33-Liter | 27-Liter | 9-Liter,17-Liter, 24-Liter, 33-Liter, 38-Liter, 47-Liter, 76-Liter, 104-Liter | 38-Liter |
| Available Colors | Grey, Green | Grey | Dark Grey | Black/Grey |
Image
Title
Price
Prime
Buy
Dometic TC35-DC-A 12V Tropicool Tc35 Thermoelectric Cooler/Warmer

Prime

Eligible

Buy Now
Koolatron P27 12V Voyager Travel Electric Cooler and Warmer for Camping Travel and Picnics (29 Quarts/27.5 Liters Iceless Thermoelectric Technology)

Prime

Buy Now
Dometic CDF11 12v Electric Powered Cooler, Fridge Freezer

Prime

Buy Now
Coleman PowerChill Hot/Cold Portable Thermoelectric Cooler, 40 Quart

Prime

Buy Now
Prices pulled from the Amazon Product Advertising API on:
What Users are Saying About the Dometic Tropicool TC35 33-Liter Quart 12V Cooler/Warmer
A good number of those who bought this product were quite happy with its overall performance.
One thing that they love about it is that it is energy-efficient and has a power-saving function. They also love that it saves money and is environment friendly.
Another feature that they consider pretty cool is the indicator light which tells the user when the cooler is on so that they don't have to open it frequently to check.
There is also a general consensus that this unit is quiet even when it's running and once it switches to power saver mode, one may forget that there's a refrigerator running in the background.
Of course, there's hardly one thing that is a hundred percent perfect. So, as amazing as this cooler is, it does have a couple of drawbacks.
The first drawback is that although it comes as a lightweight cooler, it gets really heavy when it is fully loaded.
So, except the user will be transporting it in a vehicle, carrying it or moving it will not be convenient.
Another complaint that users had was that its cooling is dependent on the ambient temperature (well as expected; being a thermoelectric cooler).
So,  if it gets really hot outside or one is traveling through the desert it would not cool as well as it would at lower ambient temperatures. In such situations, it would help to provide some sort of shade for the cooler and ensure that it is not in direct contact with the rays from the sun as a verified user suggested.
Also, while the users love the seven-stage temperature regulator, some opined that it would have been a lot better if there was a temperature display system for users to monitor the temperature inside the cooler.
Check out these other articles…
Caulking a Samsung Ice Maker [Quick Guide]

Samsung Ice Maker Auger Not Turning [How to Fix]

How to Turn off a Samsung Refrigerator [Quick Guide]

Samsung Ice Maker Broken [How to Fix]

My Bosch Fridge is Freezing Everything [Solution]

KitchenAid Refrigerator Freezing Everything [Solution]

 
Our Verdict
True to its claims, this Dometic cooler true is a good investment.
This is because it delivers well on most of its features and should serve you for many years. Thanks to it being durable and low maintenance.
This quality, high-tech cooler is a suitable addition to a smooth road trip.
It also helps that the brand has an excellent customer service and will be willing to help and support a user if problems arise with the product.
This unit is well insulated and is able to keep your food cool for hours even when it is not plugged in.
However, it works best if you pre-cool both the cooler and the food you would like to place in it.
Also, being a thermoelectric unit, this cooler is dependent on ambient temperature; which is the temperature of the environment. This is not so bad unless of course you are going through a desert or it is extremely hot outside.
That said, we love that this unit runs quietly. Now, this feature may seem basic but it is very important if you plan to use the cooler in your hotel room. Alternatively, if you plan to run it constantly in your home or office it won't be a disturbance in any way.
In our opinion, a cooler like this that offers versatility, excellent performance, and convenience is definitely worth the money.
Click here to get it on Amazon
Dometic Tropicool TC35 33-Liter 12V Cooler/Warmer — Related FAQs
Can You Set a Specific Temperature on the Dometic Tropicool 33-Liter Cooler/Warmer?
No, you can't set a specific temperature on the Dometic Tropicool 33-Liter Cooler/Warmer. You only have a set of keys on a keypad to increase the level of coldness or hotness for the cooler and warmer functions respectively.
It is important to note that the degree of coldness you can get from the Dometic TC35 depends on the ambient temperature. So, the cooler will get to colder temperatures if the temperature in the environment is cold than it will when you take it with you to the beach on a sunny day.
Meanwhile, the Dometic Tropicool TC35 33-Liter Cooler/Warmer is able to reach up to 40 degrees Fahrenheit below the ambient temperature.
How Long Will Contents in the Dometic TC35 Stay Cold After the Power Has Been Turned Off?
Contents in the Dometic TC35 Cooler can stay cold for 8 to 9 hours after the power has been turned off as long as all the items in the cooler were cooled down to between 30 to 35 degrees Fahrenheit and you don't open the cooler at all.
That being said, to avoid food safety issues, it is important that you don't leave perishable items in the cooler for too long without power. You can either consume them after a short period under the recommended conditions or move them into a refrigerator that has a constant power supply.
How Loud is the Dometic Tropicool TC35 33-Liter Cooler/Warmer?
The Dometic 33-Liter Cooler/Warmer is a quiet cooler. For perspective, if you place the cooler in your car, you are not likely to hear it running while driving.
Meanwhile, remember that the sound level of an appliance will be perceived differently by different people. However, the Dometic TC35 is generally quiet and won't be a nuisance in your space.
More so, it doesn't run continuously once it has reached a set temperature. If you want the cooler to reach a set temperature quickly, you can either pre-cool your food items before placing them in the cooler or cool down the cooler on 110V AC supply before moving it to your car and using the 12V supply.
How Much Time Before the Dometic Tropicool TC35 33-Liter Cooler/Warmer is Cool Enough to Keep Food Fresh?
Dometic recommends that you allow at least 1 hour after turning on the Dometic Tropicool TC35 Cooler before you place fresh foods in it.
It is, however, advisable to pre-cool your food in a refrigerator before placing them in this Dometic Tropicool Cooler. While it is not absolutely compulsory to pre-cool your foods, pre-cooling them will help the Dometic TC35 to reach and maintain a cold temperature easily.
Also, ensure that you set the cooler to its coldest setting to get the best cooling results from it.
Can the Dometic Tropicool TC35 33-Liter Cooler/Warmer be Left Plugged into a Car When the Car is Off?
This depends on how your car's cigarette lighter is wired. If the cigarette lighter stays on when the car's ignition is off, then you can leave the cooler plugged in. Otherwise, there will be no power supply to the cooler, and perishable items in it may be at risk.
By the way, whether or not your cigarette lighter stays on all the time, it is best to minimize battery drain by pre-cooling your items before placing them in. You can also place packs of ice in the cooler. That way, even if your cigarette lighter goes off when the car engine is off, the contents will have retained enough cold to stay cool when the engine is not on.
Does the Dometic Tropicool TC35 33-Liter Cooler/Warmer Have a Control to Switch Between AC and Battery Supply?
No, the Dometic Tropicool TC35 Cooler doesn't have a control to switch between an AC power supply and Battery. You would have to manually switch the AC and DC plugs manually to change the power supply.
Thankfully, the Dometic Tropicool TC35 comes with these AC and DC cords. So, you won't need to buy them separately.
However, in the event that one or both of them gets damaged with use, you can visit the Amazon or Dometic store to order a replacement.