The Alpicool 15-Liter 12V Mini Fridge/Freezer is an impressive portable refrigerator from Alpicool.
Foshan Alpicool Electrical Appliance Co. Ltd is a top-notch manufacturing company based in China. It is located in Shun De; a place commonly referred to as " the City of Electric Appliances". Even though it has only been around for a few years, Alpicool has made a name for itself in that short period with high-quality products at an affordable price.
Alpicool has a range of different products to its name. However, in recent times, it has focused more on its mini fridges.
This global distributor also boasts a team of skilled workers in its production unit who ensure a high standard is maintained and that products are delivered in the best condition possible.
In this review, we will give you all you would need to make an informed decision on this Alpicool 15-Liter 12V Mini Fridge/Freezer.
Come with us.
Who needs the Alpicool 15-Liter 12V Mini Fridge/Freezer?
This Alpicool portable refrigerator is an ideal travel companion and would come in handy whenever you are on the road.  It comes with a 12-volt DC cable. So you may even be able to plug it to your vehicle's cigarette lighter.
What's more? Its portable size makes it suitable for use on outdoor trips.
So, if you are looking for a portable refrigerator to keep your food and drinks cool during picnics and other outings, this cooler may just be what you need.
Although this cooler has more popularity among road travelers, its use is not limited to this group alone. Anyone can purchase this cooler if they would like to enjoy cold drinks while they drive around town. You may even choose to use its AC adapter to have it run as a mini fridge in your home.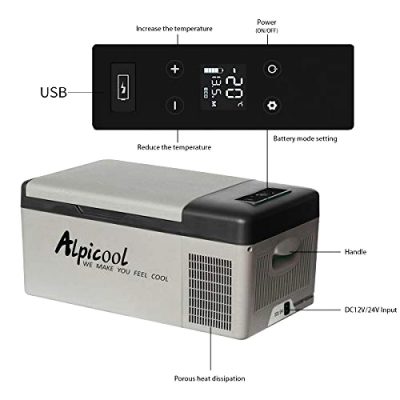 Click here to get it on Amazon!
Features of the Alpicool 15-Liter 12V Mini Fridge/Freezer
Cooling Efficiency
One of the things to love about the Alpicool cooler is that it cools food and drinks efficiently. This is a great feature because we think there is no point investing in a portable cooler that is unable to adequately cool its contents.
This cooler runs on compressor technology and is able to bring the items in it to the right temperature irrespective of the ambient temperature.
The Alpicool cooler can also function as a mini freezer; in which case it can get to as low as -4 degrees Fahrenheit just like a regular refrigerator.
Its thick insulation keeps the cold in and ensures continuous cooling throughout your trip even when you turn off your vehicle.
Now, there's a limit to how long this unit can keep things cold when it is not connected to a power source. So, the insulation may only be very effective over a long period of time if the items were frozen before the power cut.
Versatility
The versatility of the Alpicool cooler is related to its power source options.
So, for starters, the fact that it is a 12/24-volt cooler means that the user can decide to have it run on almost any type of vehicle battery. This means there is no limit to the kind of vehicle you can use this cooler in.
It also comes along with an AC adapter that gives the user the option of using it with a 110-240V mains in a home, hotel or office.
Not all portable coolers come with an adapter so we are thrilled that Alpicool decided to include one. So, you won't need to have to get one separately.
Aha! We thought we were missing out on something: this cooler also runs on solar energy.
Quite versatile, right?
Construction
This portable cooler comes with handles on both sides. The handles make it more portable and easier to carry the cooler around. The fact that this cooler is pretty lightweight is a plus because not everyone want to have to lug a heavy cooler about.
This cooler is made from strong plastics. So, it boasts durability and sturdiness.
With this cooler, bumpy rides on road trips have absolutely nothing on you or the contents in the cooler. Well, we say this because not only is this unit vibration-resistant but it is also designed and constructed in such a way that you can have it tilted at angles up to 44 degrees and the cooler and its contents will be just fine.
This means the Alpicool cooler can go with you on that boat cruise you plan to have with your friends and family. Just stock it with your favorite things and you can be sure to have them whenever you want.
Capacity
This cooler's storage capacity is best described as 'just the right size'. We love that it is small and lightweight and even more that its size doesn't compromise its storage capacity.
With a 15-liter capacity, this cooler can hold as many as 20 cans of soda. This is an adequate amount of storage for a personal cooler or one that can be shared with friends. It could even be used to keep drinks cool for a mini party, or a road trip with friends and/or family.
Energy Consumption
True to its claims, this Alpicool cooler really performs well. It cools its contents quickly and forms ice just as quick.
In some cases, ice was already formed in the cooler in less than an hour.
However, to get the best out of this cooler, it is advisable to pre-cool the items before placing them in the cooler just as you would with your regular refrigerator.
In addition to these features, there's a three-stage battery protection system that protects your vehicle's battery. So, if you were worried that your battery may up and go right in the middle of nowhere, then you can relax knowing that it has some protection. 
Click here to get it on Amazon!
Pros of The Alpicool 15-Liter 12V Mini Fridge/Freezer
i. Fast and Powerful cooling.
ii. It has a 3 stage battery protection system so your battery is never completely drained.
iii. No need for additional ice as this cooler is able to cool and even freeze its contents.
iv. Adequate storage space.
v. This cooler is lightweight, portable and easy to carry around.
vi. It comes along with an AC and DC cable and they don't have to be bought separately.
vii. Durability makes it resistant to shock and bumpy rides.
Click here to get it on Amazon!
Cons of the Alpicool 15-Liter 12V Mini Fridge/Freezer
i. Its controls are difficult to understand and there are a number of hidden figures that suggest this cooler might be better for tech-savvy people
Alternatives to Alpicool 15-Liter 12V Mini Fridge/Freezer
Smaller Capacity
Dometic CoolFreeze 10.5-Liter Portable 12V Fridge/Freezer 
This Dometic cooler has a lot of great features like being lightweight and portable.
We love that its small size doesn't diminish its overall capacity.
This efficient cooler doesn't just function as a fridge but as a freezer as well. So, it is able to get to temperatures as low as 0 degrees Fahrenheit.
The Dometic CoolFreeze is also low on energy consumption such that it can also run on solar energy. The fact that it doesn't consume so much energy means you won't have to worry about
Although this cooler is almost half the size of the Alpicool cooler in the review, its price is about double its price.
Click here to get it on Amazon!
Larger Capacity
The Knox 48-Quart 12V Cooler/Warmer with Wheels
The Knox cooler is an affordable alternative to the featured product even though it runs on thermoelectric cooling technology. We thought it best to suggest a much larger cooler that is suitable for parties and larger families. One thing we love about this cooler, however, is that its large size doesn't compromise its cooling ability.
Being a thermoelectric cooler, it is unable to freeze its contents, but what it lacks in cooling it makes up for with its alternative heating function. This feature allows you to use your cooler all year round during the cold seasons of the year. So, you can enjoy cold drinks in summer and hots soups and teas when the cold begins to set in.
It comes with folding handles, side handles and wheels; all of which make it easy to move the cooler around. So, you can pull on it just like you would with your carry-on luggage.
It is worthy of note, however, that this Knox cooler though much larger, is less expensive than the Alpicool cooler reviewed.
If you are interested you might want to check out our in-depth review of this Knox 48-Quart 12V Cooler/Warmer with Wheels here.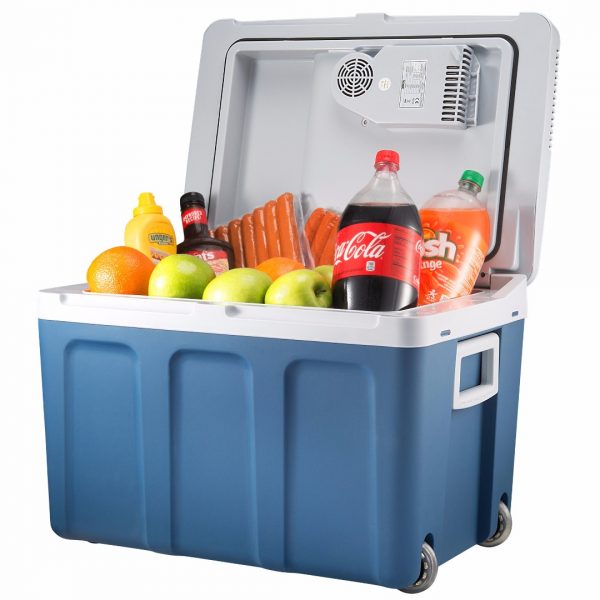 Click here to get it on Amazon!
More High-End Option
Dometic CoolFreeze 35-Quart 12V Refrigerator with Wifi App
This is another impressive cooler from the brand Dometic.
It boasts a couple of nice features. Its cooling is quiet and powerful which is a huge plus as compressor coolers are usually noisy.
This cooler features an automatic interior LED light that comes on when the cooler is opened makes it easy for you to find what you're looking for. This is especially useful at night if you have to open the cooler when it is dark.
With its digital temperature display, you can monitor effectively the temperature of your refrigerator at any time.
It also features a USB port that can be used to recharge its battery whenever the need to arises.
Its storage capacity of 35 quarts is rather large and there is a wide range of bottles, cans etc that can conveniently fit inside this cooler.
Additionally, its storage basket is removable and allows for flexible storage. More than that, it makes it easy to remove and place items in the cooler as the storage packs can always be brought out.
We love that this cooler is able to cool its contents to temperatures as low as -22 degrees Celsius. This cooling performance is also independent of the temperature of the surroundings.
Its price is much higher than that of the Alpicool cooler as is usually the case with high-end coolers.     
Click here to get it on Amazon!
Quick Comparison
 
Featured Product
Smaller Capacity
Larger Capacity
More High-End
Product

Alpicool 15-Liter 12V Mini Fridge/Freezer

Dometic CoolFreeze 10.5-Liter Portable 12V Fridge/Freezer

Click here to get it on Amazon!

 

Wagan 46-Quart 12 V Portable Cooler/ Warmer with Wheels

Click here to get it on Amazon!

 

Dometic Cool Freeze 35-Quart 12V Refrigerator with Wifi App

Capacity
15-Liters
9-Liters
60 cans/44-Liters
32-Liters
Dimensions
22.4 inches  x 12.6 inches x 12.6 inches
21.6 inches  x 9.4 inches  x 14.1 inches
21.75 inches x 16.25 inches  x 17.5 inches
27.2 inches x 16.1 inches x 15.6 inches
Features
Adjustable shoulder strap, Digital temperature regulator
Adjustable shoulder strap
Two side handles, a folding handle and wheels
Digital temperature regulator, Wifi-App
Available Sizes
15-Liter
10.5-Liter, 17-Liter, 24-Liter, 33-Liter, 38-Liter, 47-Liter, 76-Liter, 104-Liter
44-Liter
10.5-Liter, 17-Liter, 24-Liter, 33-Liter, 38-Liter, 47-Liter, 76-Liter, 104-Liter
Available Colors
Dark Grey
Grey/Black
Blue and white
Grey
What users are saying about the Alpicool 15-Liter 12V Mini Fridge/Freezer
The general consensus on this Alpicool cooler is that its cooling is rather efficient. A lot of the users were pleased with their purchases because this portable cooler in their words "works like it's supposed to". It cooled food and drinks to low temperatures very quickly with some users commenting on how it turned their drinks to slush.
Some of the users also opined that this portable fridge will give you your money's worth.
They were thrilled to find out that this cooler performs just as well as other more high-end coolers that are pricier.
In addition to this, the cooler's power-saving functions were also greatly appreciated by the users. But who wouldn't love a feature that helps you save energy and protect your car's battery.
However, this cooler is not without some drawbacks.
For instance, there's the issue of the complexity of the controls. And so a number of our users weren't able to get the best use out of the cooler because they couldn't figure out its functions. They were also unable to access the some hidden features.
Still on the drawbacks, some users complained about the temperature gauge being incorrect. This was a problem for some but was easily resolved by using an external thermometer to calibrate the cooler's temperature.
Our Verdict
Here's what we think about the Alpicool Portable 12V Cooler:
One of the things we love about this cooler is that it is able to bring food and drinks to optimum temperatures efficiently and quickly with the option to function as a freezer.
We were also impressed that this cooler came with a power-saving function so it doesn't drain your battery. We also like that the cooler comes with an AC adapter. Not a lot of coolers come with this and sometimes it has to be bought separately.
However, the user's guide that comes with this unit is a bit vague and makes it difficult to figure out the usefulness of some of the unit's features.
So, before you make a final decision on this product, we think it is very important to state that you may not get the best out of this unit if you are not very tech-savvy.
But, if you love a good challenge and don't mind trying to figure them out, then you may want to consider it.
All that said, we think this cooler is at par with other high-end coolers which are almost double its price. It is efficient, durable, and relatively affordable.
Click here to get it on Amazon!