This Black+Decker 2.3-Gallon 12V Cooler/ Warmer was made by the trusted and popular global brand Black+Decker
Black+Decker has humble beginnings starting as a small machine shop in Baltimore but has now grown to be renowned. Being in business since 1910, Black + Decker has a ton of experience under its belt as one would expect from a company that has been in business for over 100 years.
This brand is known for, quality, and ingenuity, their aim is to provide value to its customers. It is because of these high-quality products as well as their many inventions that they've been able to remain relevant for so long.
In the period they have been in business, they have produced, invented, and distributed countless products all over the world. One of the things that makes this brand stand out apart from their experience and reliability is that all their products are Eco-Friendly. With sustainability being a priority, you can enjoy their consumer appliances and products without any harmful emissions to the environment.
They boast a wide range of consumer products including power drills, portable coolers. They basically almost any other product you can think of that would be useful both inside and outside of your house.
We love brands like this that be trusted for quality products and that is why we recommend this Black+Decker Cooler to you.
Who Needs the Black+Decker 2.3-Gallon 12V Cooler/ Warmer?
You should really consider this Black+Decker cooler if you've ever been in any of these situations or they apply to you to some extent:
You want a cooler and warmer for your road trips and travel, but you can't afford one of those hi-tech coolers that have really cool features but also rather expensive. Perhaps you're out to get a 12V cooler but you don't want one of those bulky coolers. It is not like you have a large family anyway so you really don't need to be lugging about a heavy cooler on your trip. It may also be that like the rest of us, you're tired of the hassle involved in using regular coolers that need ice. You're fed up with the ice-making a mess and making all your food soggy.
This cooler combines comfort and class in the most practical way possible. It has a compact and elegant exterior and comes with an adjustable shoulder strap which makes carrying the cooler around very easy. This Black+Decker portable cooler is ideal for anyone looking for a compact and lightweight portable cooler.
This cooler because of its size and its price would also make the perfect gift for any of your loved ones on their birthday, anniversary, or even as a Christmas present. Its quiet and efficient cooling is not easy to come by and sometimes an efficient cooler is noisy or a quiet cooler is not efficient. It also has a dual function and you can enjoy this cooler all year round. Having cold drinks in the summer, and nice hot soups and teas when the cold begins to set in.
Are you already interested in this cooler? Continue reading to find out if this cooler is perfect for you.
Click here to get it on Amazon
Features of theBlack+Decker 2.3-Gallon 12V Cooler/ Warmer
Elegant/ Compact Design
This Black+ Decker Portable cooler is definitely very attractive. Its black outer finishing is elegant and you shouldn't be worried about it getting spoilt, Because like they say Black don't crack.
On a more serious note, however, this cooler would look good in your vehicle home or office. It also comes with an accessory pouch that helps you look stylish even while carrying your cooler around.
It's adjustable carry- on strap allows you conveniently move around with your portable cooler. We really love this feature as well as the size of this cooler. You can say goodbye to lugging around heavy coolers or carrying them about awkwardly after this purchase.
Still, on the stylish features of this cooler, it comes with a number of accessories that allow you to maximize your cooler as best as you can. These accessories include the shoulder strap which has already been mentioned. There's also the zippered storage pocket at the side and an accessory pouch.
Click here to get it on Amazon
Dual Function
This Black+ Decker Portable cooling unit is able to cool food and drink efficiently. It is essentially a thermoelectric cooler and so it's cooling is dependent on the ambient temperature( that is the temperature of the environment. That being said, this portable cooler is able to cool it's contents up to 40 below the temperature of the environment. That cooling rate is good enough to get your drinks cool enough. Though you would get the best results if you pre-chilled your food and drink before putting it in your cooler.
Alternatively, this cooler can be used as a warmer when summer is over and it begins to get cold. The warming function is part of what makes this cooler very practical as the cooling wouldn't be needed anymore at certain times of the year. In its heating mode, this cooler is able to heat food and drink as high as 120F. Which is enough to keep your food and drinks piping hot just like you want them.
We love that this cooler is functional and because of its dual function, it can be used all year round and not just in the summer or winter like other coolers.
Storage Capacity
Despite its small appearance, this cooler offers quite an amount of space. It's generous capacity as well as it's compact size makes it the perfect choice for you if you're at a loss for space.
Its 2.3-gallon capacity allows you to put up to 12 cans in your cooler which is the equivalent of two packs of six cans. It also allows you to store food alternatively or a mix of food and drink depending on your preferences.
This Black+ Decker cooling unit also comes with a dual cup holder. With this feature, you can say goodbye to looking for where to put your cups, mugs, bottles, etc when you're on the road.
Being a thermoelectric cooler, there is no need for additional ice in this unit. That's great news because you can use all the space the extra ice would have taken to store more food and drink. 
Protected Cooling
We all know how saddening it is for your appliances to get damaged as a result of power surges and high voltages. Luckily that won't be a concern for you when it comes to this cooler because this unit has s voltage shut down feature. What it does is us to protect your battery against unexpected power surges and prevent damage to the refrigerator.
That's not all, this your cooler, monitors the voltage of your car, and will shut down the cooler whenever it detects a low voltage. It also protects your car battery by keeping your cooler from draining its battery. This is such a relief to us as you can rest knowing that you're not walking up to find a drained or damaged battery. 
AC and DC Adapters
This Black+ Decker Portable cooler comes with a 12V power cable that allows you to run your cooler on the road. It can be powered by any kind of vehicle and allows you to enjoy cool or hot food and drink whether you're going on a long trip or short trip as long as you are in your vehicle.
This cooler can also be plugged to the power outlet of your boat and so you can enjoy the benefits of this cooler even on a boat ride. We really love that this cooler's use is not restricted to land alone. And this is great news for those who own a boat or simply just enjoy fishing.
Though this cooler doesn't come with an AC adapter, it can be bought separately and used with the unit. With the aid of the AC adapter, your cooler has added utility. It allows you to use your cooler not just in a vehicle but in your home, office, dorm you name it. You can also use this to pre-cool your food and drink at home before setting out. And have your drinks at your desired temperature by the time you get to the park or whenever you're ready to take them.
Click here to get it on Amazon
Pros of the Black+Decker 2.3-Gallon 12V Cooler/ Warmer
i. Protected Cooling
ii. Efficient heating and cooling
iii. Quiet operation
iv. Environment-friendly
v. Generous Storage Capacity
vi. Compact Design
vii. Elegant and attractive look
Cons of the Black+Decker 2.3-Gallon 12V Cooler/ Warmer
i. Sadly, it doesn't come with an AC adapter and it will have to be bought separately.
Check out these other in-depth articles/reviews…
Alternatives to the Black+Decker 2.3-Gallon 12V Cooler/ Warmer
More Affordable Option 
The Wagan 6-Quart 12V Personal Cooler/Warmer
The Wagan personal cooler is an equally stylish and lightweight portable cooler/ warmer. Its impressive features are very similar to that of the Black+Decker Cooler. They both have a compact and elegant design allowing you to appear stylish while solving your refrigerating needs.
Both coolers also come with an adjustable shoulder strap which allows you easily carry the cooler around. Even when the cooler is full, it can be conveniently carried by a single person. They also cooling food and drink efficiently with minimal operational noises. This is great news for most as nobody wants a noisy cooler. The heating and cooling function is a feature both coolers share. Allowing the users the freedom to enjoy cold drinks or to heat up soups or leftovers.
A major difference between the two coolers, however, is that this Wagan cooler is a bit cheaper than the Black+Decker portable cooling unit. It is however worthy of note that the Wagan cooler is also a bit smaller than the Black+Decker Cooler.
Click here to get it on Amazon
Larger Capacity 
Tibek 12V Mini Fridge/Warmer with Automatic Locking Handle
If you want all the other features of the Black +Decker cooler, but would prefer a much larger cooler, then this is the mini refrigerator for you. It is a powerful
thermoelectric cooler and is able to cool drinks and heat them up alternatively flawlessly. It also performs these functions with a low power draw making it the perfect cooler for you if you're on a budget.
Being a thermoelectric cooler, it has no harmful refrigerants in it and you can use this cooler without any worries knowing that it is environment-friendly. One really cool feature this cooler has is built-in AC and DC cables. We love that they both come along with the cooler and wouldn't have to be bought separately. More than that, because they are built-in you can't forget one of the cables at home or misplace any of them. This is also especially important if you have little kids around that might mess around with the cooler and its power cables.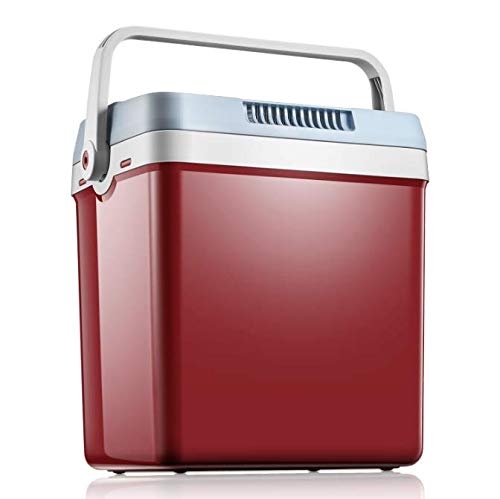 More High-end Option
Dometic Tropicool TC35 Thermoelectric 12V Cooler/ Warmer 
This cooler might interest you if you prefer the finer things in life. It is a portable thermoelectric cooler that cools food and drink and also can equally heat food and drink just with a flip of a switch. It is energy-efficient and environment-friendly so you can run this cooler without putting a negative impact on our environment or electricity bill.
Having the high quality and sturdy build Dometic coolers are known for, this functional cooling unit is also a smart cooler. It has a seven-stage temperature regular for both heating and cooling. So you can set the temperature of your cooler to suit your cooling or heating needs. It is much larger than the Black+Decker cooler and is also rather heavy. It also has a detachable lid with a magnetic lock which keeps the contents of your cooler safely locked in even if your cooler was to topple over during a bumpy ride
This cooler is much more expensive than the Dometic cooler and is about triple its price but with all its amazing features, it is well worth the price.
Click here to get it on Amazon
Quick Comparison
 
Featured Product
More Affordable 
Larger Capacity
More High-End
Product

Black+Decker 2.3-Gallon 12V  Cooler/Warmer

Tibek 12V Mini Fridge/Warmer with Automatic Locking Handle

Click here to get it on Amazon!

Dometic Tropicool TC35 Thermoelectric 12V Cooler/ Warmer

 

Capacity
9-Liters/ 12Cans
6 Quarts/ 9cans
26-Liters
33-Liters
Dimensions
17.7inches  x 13.6 inches x 10.7 inches
8.1 inches x

 

5.3 inches x 8.1 inches.

13.8 inches  x

 

11 inches x

15.7 inches

22.4 inches  x 20.3 inches  x 15.3 inches
Features
Dual cup holder, shoulder strap, side storage compartment
Adjustable Carry-On strap, Dual cup holder
Automatic Locking handle
Magnetic lock and Seven stage temperature regulator
Function
 
Cooler/Warmer
Fridge/Warmer
Fridge/ Warmer
Available Sizes
9-Liters
6-Liters
26-Liters
14-Liters,

 

20-Liters,

33-Liters

Available Colors
Black
Grey
Red and White
Grey, Green
Image
Title
Price
Prime
Buy
BLACK+DECKER TC212B Portable Travel Cooler/Warmer with 12V DC Power Adaptor: 12 Can, 2.3 Gallon Capacity

Prime

Eligible

Buy Now
Wagan EL6206 - 6 Quart 12V Portable Electric Cooler/Warmer for Car, Truck, SUV, RV, Trailer DC Powered

Prime

Eligible

Buy Now
Dometic TC35-DC-A 12V Tropicool Tc35 Thermoelectric Cooler/Warmer

Prime

Eligible

Buy Now
Product prices and availability are accurate as of the date/time indicated and are subject to change. Any price and availability information displayed on [relevant Amazon Site(s), as applicable] at the time of purchase will apply to the purchase of this product.
Prices pulled from the Amazon Product Advertising API on:
What Users Are Saying About the Black+Decker 2.3-Gallon  12V Cooler/ Warmer 
There were a lot of reactions to this Black+Decker portable cooler and most of our users that purchased this product was rather pleased with its overall effect.
They love its quiet cooling as would anyone, because no one wants a noisy unit especially if you plan to run it constantly in your bedroom or office.
Another feature they loved is that this cooler is has a compact design and is really portable and lightweight. Its stylish and elegant exterior is also a plus as most people would have to carry it around at some point.
Its cooling and heating functions were also pretty impressive and most of our users were satisfied with it. They even offered some hacks that they used to help you get the best cooling out of this mini-refrigerator. You could precool the items before placing them in the cooler, and also pre-cool the fridge itself before using it. Alternatively, you could place an ice pack or a frozen bottle of water to help with the cooling and maintain the cooler's temperature. Also putting ice in your cooler overnight could help.
There are some downsides to this product however one of which is that it draws a lot of power. Even though it is said to have a low battery cut off, some users reported finding their car batteries dead when they left it running overnight. It also may not function properly if you have an old vehicle with some electrical issues sadly.
Another downside is that it doesn't come with an AC adapter and some users feel that for its price an AC adapter should be included. The AC adapter has to be bought separately by those who needed it so they could power their portable cooler in their hotel rooms or homes. 
Check out these other articles…
Frigidaire Refrigerator Compressor [Issues and Solutions]

LG Refrigerator Compressor [Problems & Solutions]

GE Ice Maker Crush… [Issues And Solutions]

Amana Refrigerator Compressor [Problems and Solutions]

Thermador Refrigerator Compressor Noise [How to Fix]

Galanz Mini Fridge Compressor [Issues and Solutions]

Westinghouse Fridge Compressor [Problems Solved]

 

 
Our Verdict
The verdict is in, this black+Decker portable cooler/ warmer is definitely a must-have for travelers and vehicle owners alike. We love its elegant and compact design as well as its portability. It is a rather practical cooler as it has a storage compartment on the side and a shoulder strap so it can easily be carried around.
This cooler is much quieter than the average cooler and we believe this is a huge plus generally. Its quiet cooling is also going to be a deal-breaker for those that are noise sensitive or plan to run the cooler in their bedrooms or offices where there is no car engine to drown the noise out. You should, however, have a strong car battery because its power draw is a bit high.
We are thrilled with this cooler's powerful and efficient cooling and heating. Definitely, this cooler will come in handy while you're on the road. It is however sad that it doesn't come with an AC adapter and it has to be bought separately. That is why we won't give this cooler a five out of five stars.
Nevertheless, it's a very durable and high-quality cooler which is also affordable. It is worth considering whether you are looking for a gift for a friend or family member or a personal cooler for your self.
Click here to get it on Amazon  
Need expert help? Click here to use the chat box on this page to speak with a verified appliance technician right away. No need for expensive in-home service calls. No appointments. No waiting.